Some of the best things to do in Nafplio include walking around the historic old town, enjoying the views from Palamidi castle, taking a boat to the Bourtzi, and visiting beaches like Arvanitia.

This Nafplio travel guide to the best things to do in Nafplion will help you plan the perfect itinerary. Whether visiting for a day trip or staying for several nights, there's plenty of attractions to see in Nafplio.
Old Town Nafplio in Greece
The charming town of Nafplio is often considered to be one of the most romantic places in Greece.
The pedestrianized center means that you can stroll the pretty alleyways and admire the colorful bougainvillea flowers to your hearts content, and the overall ambience is relaxed and laidback. It's no wonder that Athenians visit Nafplio for weekend getaways!
I've been living in Athens since 2015, and have visited Nafplio perhaps a half a dozen times on various day trips and weekend breaks. The last time I went to Nafplio was in January 2022, which explains the jeans and the jacket in the photo of the famous Bourtzi below.
If you're visiting Nafplio in summer (which is when most people go), you'll only need shorts and a T-Shirt – and you'll probably still think it's too warm! The Nafplio weather is typically hot and dry during the tourist season (May until September).
Where is Nafplio?
Nafplio (sometimes written as Nafplion and Nauplio) is a small town in the Eastern Peloponnese in Greece. It's about 150 kms (93 miles) away from Athens, and you can get there by driving, buses, or even as a day trip from Athens.
Nafplio is a picturesque coastal town, surrounded by the remnants of huge Venetian and Ottoman castles, namely Palamidi fortress, Akronafplia castle and Bourtzi. The town of Nafplio was the first capital of modern Greece between 1827 – 1834, to which it owes its beautiful neoclassical architecture.
What to do in Nafplio itinerary
Its fascinating history and abundance of things to do make Nafplio a wonderful place to visit. Some people are content to simply stroll the cobbled streets, stopping off at the tavernas and cafes in between looking at the boutique shops. If you're looking to fill out your Nafplio itinerary with more things to do though, you won't be disappointed.
In addition to the three castles, there are many museums to visit including an archaeological museum, a folk museum and a unique komboloi (worry beads) museum. There's even a UNESCO site just a few kilometres down the road!
Here are some of the best things to do in Nafplio Greece.
1. Visit the impressive Venetian fortress, Palamidi Castle
You don't need to be a Greek history buff to appreciate the enormous Palamidi Fortress which looms over the town. It consists of eight bastions spread out in a really large area, offering fantastic views of Nafplio town.
The impressive Venetian castle was built between 1687 and 1714, and seized by the Ottoman Empire in 1715. It was captured by the Greek people during the Independence War, in 1822, and was later used as a prison and a place for executions.
There are two ways to climb up Palamidi castle hill. The easiest way is to get to the south entrance on the asphalt road, by taxi, car or bus.
If you are up for a challenge, you can climb to the castle through the famous staircase carved on the rock. The hike up offers stunning views of Nafplio, and is definitely worth it if you are feeling fit.
You will find several reports online as to the number of steps, from 857 to 999. In my experience, they are 901, but counting them accurately sounds easier than it actually is!
Opening hours and ticket prices vary by season, and there is also a combined ticket offering entrance to multiple sites including Ancient Mycenae and Ancient Tyrins. Check the official website in advance of your visit.
2. Stroll around Akronafplia castle
Akronafplia fortress is the oldest of the three castles in Nafplio. It stands on a rocky peninsula underneath Palamidi, overlooking the old town.
Parts of the walls of the Akronafplia castle date back to the Bronze Age. Fortifications were subsequently built by the Romans, the Byzantines, the Venetians and the Ottomans, while the fortress was also protected by a moat.
You can drive or walk up Akronauplia castle following the paved road all the way to the top. On your way, you will see the abandoned Xenia hotel, which is now covered in graffiti. Nafplia Palace, further up, is in operation, and offers splendid views of the town.
There is no entrance fee for Akronafplia castle, and you can visit anytime of the day. It's a great spot to watch the sunset from.
3. Take a boat trip to Bourtzi castle
The third iconic castle in Nafplio, Bourtzi, is located on a little islet in the Argolic Gulf. It was first fortified by the Venetians in 1473, to protect Nafplio from pirates.
Like Palamidi, Bourtzi fortress was captured by the Greek people in 1822. In 1865, it became a residence for the executioners who were appointed to execute convicts imprisoned at Palamidi castle.
I was surprised to find out that, between about 1930 and 1970, the Venetian castle served as a boutique hotel with an acclaimed restaurant! It was closed down during the military dictatorship.
These days, Bourtzi is a tourist attraction. Small boats take visitors there from Nafplio's port, and tickets cost 4.5 euro. Before you go, ask if it's possible to walk around the site, as construction works are often in place.
During the summer months, the Nafplio Summer Music Festival and other cultural events are occasionally hosted in Bourtzi.
I found that one of the best things to do in Nafplio was to try and get a half decent photo of the Bourtzi. It's not as easy as you might think!
4. Explore the collections at the Archaeological Museum
Right on the impressive Constitution Square, you will see the Archaeological Museum of Nafplio. It is housed in a Venetian building which was originally used as ammunition storage space, and later as an Officers Club.
The museum hosts exhibits from important archaeological sites near Nafplio, such as Tyrins, Asini, Dendra and other places in the Region of Argolida.
5. Get acquainted with Greek culture at the Folklore museum
The privately run Folklore Museum is a small, yet interesting museum exhibiting items made in the past couple of centuries.
Visitors can see traditional costumes, bridal dresses, silverware, toys and everyday objects, including an impressive exhibition of looms.
The shop on the ground floor has a large collection of art books and some nice souvenirs.
6. Visit the War Museum
The War Museum in Nafplio is an appendix of the War Museum in Athens. Visitors can follow the history of the first military school in Greece, known as "Evelpidon", and find out more about the recent history of modern Greece.
The museum exhibits various works of art, engravings, guns and other items relevant to the Greek Revolution, the Balkan Wars, World War I and World War II.
You can also find out more about the first head of state of Greece, Ioannis Kapodistrias, who was assassinated in Nafplio.
7. Check out the quaint komboloi museum
Who would have thought that there is a museum for Greek worry beads? And yet, there is one! The quaint komboloi museum is the place to head to if you've always been fascinated by worry beads.
Here, you can see string of beads that have been used by various people – Greeks, Catholics, Buddhists, Hinduists and Muslims – from many different countries.
The privately owned museum has a small entrance fee of 2 euro, and photos are not allowed. If any of this is off-putting, you can just visit their Shop, where you can check out worry beads made out of many different materials.
Tip: Nafplio is full of komboloi shops. If you are interested in buying a quality set of worry beads, shop around.
8. Enjoy the beautiful architecture
Along with the Venetian architecture, the neoclassical houses make Nafplio one of the most beautiful cities in Greece.
All around the town, you will see lovely neoclassical buildings painted in various colours. Many of them have been transformed into hotels or shops, but the original architecture has remained intact.
Each time you stroll around the narrow alleyways and streets, you will discover a new, fascinating element of architectural beauty. And when you are tired of walking, you can sit for a coffee and watch the world go by.
9. Sit for a coffee at Syntagma Square
When in Athens, you cannot miss the chance to have your coffee in Syntagma Square. The same thing goes for Nafplio – especially if you are enjoying a sunny day!
Syntagma Square, or Constitution Square, is the main square in Nafplio, and one of the most impressive squares in the whole of Greece. It's lined up with neoclassical buildings, cafes and restaurants offering traditional Greek dishes.
Order a Greek coffee, or perhaps a frappe, and enjoy the lively, charming town.
Don't just save visiting Syntagma Square for the day though – it's also very lovely to stroll around at night with an ice cream!
10. Walk on the coastal road around Nafplio town
During your Nafplio visit, do not miss a walk on the beautiful Arvanitia promenade by the coast, on the western side of the town.
The walk begins at Arvanitia Square, right above the small Arvanitia beach. Just behind the big parking lot, you will find an entrance to a path, which will lead you all the way to the port area of Nafplio.
The walk shouldn't take you more than 20-30 minutes at a relaxed pace, and it's a great activity if you are in Nafplio for a day or two.
Occasionally, the gates to the path may be closed. You can still get across – just follow the locals.
11. Take the seaside walk to Karathona beach
If you feel like exploring the seaside, you can take the path leading to Karathona beach, to the east of Nafplio. This is a protected Natura 2000 area, and you will see various types of trees and flowers, as well as birds.
Related: Flower Captions for Instagram
The walk begins at Arvanitia Square, and follows the coast. The path is easy, with just a short steep spot. Karathona beach is 2.5 kms (1.6 miles) away.
Once at Karathona, there are a couple of places to eat and get a drink. Or you can go for a refreshing swim in the shallow waters.
During the summer months, there is usually a local bus service that you can take to return to Nafplio if you don't want to walk back.
12. Go for a swim at the beaches in Nafplio
Any coastal town in Greece offers good opportunities for a swim in the sea, and Nafplio couldn't be an exception! The Nafplio beaches are just what you need to cool off after a day of sightseeing.
The closest beach to Nafplion to go to is Arvanitia beach, right below the big car park. Many locals swim year-round, though the best time to swim in Greece is, generally speaking, from May to October.
Another nearby beach that you can easily reach on foot is Neraki, a small, pebbly beach halfway between Nafplio and Karathona.
Visitors with their own vehicle can drive further out to Tolo, Kastraki or Drepano. Here's Tolo pictured below.
13. Visit the ancient archaeological sites near Nafplio
History buffs will be delighted to know that there are several ancient sites that you can visit close to Nafplio city. Some of them date from the Mycenaean Era.
– Archaeological site and museum at Ancient Mycenae
Ancient Mycenae was one of the most important centres of Greek civilization. This city state was perhaps the home of the legendary King Agamemnon. It reached its peak at 1,350 BC, at which time it had an estimated population of 30,000 people.
Today, Ancient Mycenae is a UNESCO World Heritage Site, along with Tiryns. Visitors can see the impressive remains of the Cyclopean Walls, and explore the excellent museum.
Mycenae is a 30-minute drive out of Nafplio. There are also buses to the ancient site.
Read more about how to visit Mycenae here: Ancient Mycenae
– Archaeological site of Ancient Tyrins
While Ancient Tyrins shares its UNESCO World Heritage Site status with Ancient Mycenae, it is often overlooked by visitors. Yet, Tiryns reached its peak at the same time with Mycenae, and its Cyclopean walls were famously described by Homer.
Today visitors can walk around the massive stones and climb up and down the ancient citadel. The size of the walls will blow you away!
Ancient Tiryns is a 10-minute drive out of Nafplio. There are also frequent buses to the ancient site.
Read more here: Ancient Tiryns
– Theatre and healing centre at Ancient Epidaurus
People visit from all around the world to watch a performance in the theatre at Ancient Epidaurus. This theatre with the world-famous acoustics is located inside the ancient site of Epidaurus, which was the most important healing centre in Ancient Greece.
The small museum might be slightly dated, but it will offer a great introduction to ancient healing methods.
Read more here: Ancient Epidaurus
– Temple of Zeus and Stadium at Ancient Nemea
Another archaeological site worth visiting from Nafplio is Ancient Nemea. Here, you will see the impressive ruins of the temple of Nemeios Zeus, which has been partly reconstructed. The small museum showcases findings from the wider region.
A few hundred metres away, you can visit the ancient stadium where the Nemea Games used to happen every 4 years, since 573 BC. It is estimated that 40,000 people gathered to watch the athletic events.
Ancient Nemea is about 40 minutes by car from Nafplio. The area is famous for its wineries, most of which you can visit.
– Enjoy wine tasting in the area of Nemea
One of the most enjoyable activities near Nafplio is wine tasting. There are, literally, dozens of wineries in the area of Nemea and around.
Some of the best known wineries in this region are Palivou Estate, Semeli Estate and Gaia. Here, you can taste local wines, learn more about wine making in Greece, and buy a bottle or two to take back home.
14. Best restaurants in Nafplio
No Greek holidays are complete without tasting the delicious Greek cuisine! Though Nafplio has its fair share of touristy restaurants, you can also find several quaint tavernas where you can enjoy a traditional local meal.
For a quick local lunch, it's hard to go wrong with Karamalis. This is a no-frills, authentic taverna where you can have huge portions of home-made food. Have a look at the display where you can see the specials of the day.
The corner of Kavalaris, a two-minute walk from Constitution Square, is a great option for dinner. A stylish restaurant with tasty dishes at regular prices. Closed on Mondays.
A short walk from the Old Town, you will find Pidalio Tavern. They offer a mix of traditional Greek cuisine and some fusion dishes, like the quinoa-stuffed kalamari. A great restaurant with friendly service. Closed on Tuesdays.
Note: We visited Nafplio in January, when many restaurants were closed. These three restaurants are open year-round, which is a real bonus if you are visiting in the off-season.
When is the best time to visit Nafplion in Greece?
The Spring and early Autumn are are best seasons to visit Nafplio, with the months of April, May, and September being the most perfect. During these months, the flowers are in bloom, the heat is comfortable, and the numbers of tourists are lower than in high season.
Check my guide on the best time to visit Greece for more information and insights on weather and the seasons.
How to get to Nafplio
Nafplio is a couple of hours away from Athens. You can get there by car, or on the KTEL bus departing from Kifissos bus station. If you've never taken a bus in Greece before, read my guide on public transportation in Greece.
I've also a detailed guide here on how to get from Athens to Nafplio.
If neither of these options sound appealing, there are also numerous Nafplio tours you can take from Athens. Most of these day trips combine a visit to Nafplio, Ancient Mycenae and Ancient Epidaurus.
Here is a selection of the best day tours from Athens to Nafplion.
Where to stay in Nafplio
There are, literally, hundreds of hotels, boutique hotels and rooms to let in Nafplio.
If you have mobility issues, make sure you read the hotel descriptions carefully. Some of them are only accessible through stairs, which are often steep. If you are planning to rent a car, bear in mind that many of the hotels do not have a private parking, and you may have to park far away.
As the town is a popular destination, prices vary a lot. Budget-minded travelers could consider staying outside the Old Town.
Tip: If you are visiting Nafplio in summer, make sure your room has air conditioning. Similarly, if you are visiting in winter, avoid rooms that have no heating option, as they can be surprisingly chilly.
For a choice of the best hotels in Nafplio town, check out booking.com.
Frequently asked questions about things to see in Nafplio
Here are some questions often asked by people visiting Nafplio town:
Is Nafplio worth visiting?
Nafplio is considered one of the most charming and romantic towns in Greece. There's plenty of things to do in Nafplio, and it was the first capital of the modern Greek state. Its rich history and beautiful architecture make Nafplio a popular place to visit.
How do I spend a day in Nafplio?
Some of the best things to do in one day in Nafplio include visiting Palamidi fortress, Akronafplia castle, and strolling around the Old Town.
How do I get to Nafplio Greece?
You can easily get to Nafplio from Athens by car, bus or day tour. The travel time is around two hours.
Does Nafplio have an airport?
Nafplio does not have an airport. The closest airport are the Athens Eleftherios Venizelos International airport, and the small airport at Kalamata.
Is there a train from Athens to Nafplio?
There is currently no train from Athens to Nafplio. The only way to get here by public transportation is by KTEL bus.
What was the first capital of modern Greece?
The first capital of modern Greece was Nafplio. It served as the capital of the First Hellenic Republic from 1829 to 1834, after Greece gained independence from the Ottoman Empire. The city is located in the northeastern part of the Peloponnese peninsula and was chosen as the capital due to its strategic location and port, which made it easier to communicate with the rest of Europe.
It was in Nafplion that the first Greek constitution was drafted in 1827. It was also in Nafplio that the first Greek parliament was convened, and the first president of the Hellenic Republic, Ioannis Kapodistrias, was elected.
In 1834, the capital was moved to Athens, where it remains to this day.
Nafplion Greece
Nafplio is a small town with lots of hidden gems. From local restaurants to off-the-beaten path attractions, there are plenty of things to do in Nafplio for those who want an authentic experience. For visitors looking for a one-of-a-kind vacation spot, Nafplion should be at or near the top of their list!
Have you visited Nafplio Old Town and have any travel tips to share? Do you have any questions about putting together a sightseeing itinerary of Nafplio and other places in Greece? Leave a comment below, and I'll add some more information into this Nafplio guide.
---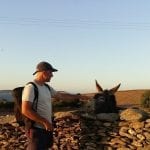 –
Dave Briggs
Dave is a
travel writer
who has been living in the Greek capital Athens since 2015. In addition to writing this travel blog about the best things to do in Nafplio, he's written hundreds of other itineraries and travel guides to destinations all over Greece. Follow Dave on social media for travel inspiration from Greece and beyond: