Which is better, Mykonos or Santorini? Mykonos has amazing sandy beaches for miles, yet Santorini has glorious caldera views and iconic architecture. If you can only visit one, choosing between Santorini and Mykonos will depend what type of Greek vacation you are after. Let's take a look!

In this Mykonos vs Santorini comparison guide, I lay out the main differences between two of the most famous Greek islands.
Santorini or Mykonos?
Two Greek islands feature on most lists of the top places to visit in Greece: Mykonos and Santorini.
In an ideal trip to Greece, you'd get to visit both islands. But, if you could only pick one of these Cycladic islands, which one would it be? A lot comes to what type of traveler you are, and what your expectations are.
It might also matter when you want to visit Mykonos or Santorini. For example, there's no point in going to Mykonos between November and April as most places will be closed. There's enough places open in Santorini on the other hand to make off-season travel worth considering.
Related: Where is Santorini
I've been living in Greece for over eight years, and have been fortunate to have spent considerable time in both Santorini and Mykonos on multiple occasions. The photo was taken in the off-season in Santorini – hence the jackets! Which leads me to the first insight to share: – March is a great time to go to Santorini if you want to avoid crowds, but don't expect summer sun!
Here's a chart with the key differences looking at Mykonos vs. Santorini side by side. Later on in this guide, I go into more detail so you can decide whether Mykonos or Santorini would be the best for you to visit.
Oh, and if you want to know which island I think is best, I won't leave you hanging – I prefer Santorini over Mykonos! However, my tastes might be different than yours, so read on…
Mykonos vs Santorini Quick Comparison
Most people travel to the Greek islands in high season, i.e. the summer months. Here are my suggestions on how to choose between the two.
Best island for views, landscapes and villages – Choose Santorini
---
Best for parties and nightlife – Go to Mykonos. It's well known as the party island!
---
Honeymoon /romantic destination – Go to Santorini, but take into account that there will be crowds
---
Best for beaches – Definitely go to Mykonos. The Mykonos beaches are far superior.
---
Gourmet food and wine – Both islands have high-end restaurants, but Santorini has over a dozen wineries you can try wine tasting at, and several restaurants with unique caldera views.
---
Ancient history and culture – I loved Ancient Delos, so I'd vote Mykonos for this one, even though it's a separate island!
---
Best for sailing tours – Both islands have great boat tours you can take.
---
Best for budget travel – Tough one, but between Mykonos and Santorini, it's easier to visit Santorini on a budget.
---
Better for off-season travel – Go to Santorini, as the landscape is unique and there are more activities. In fact, Santorini is much better outside peak season, as it's less busy and the lower temperatures make it much easier to get around. Between Mykonos and Santorini, Santorini is more of a year round destination (although very sleepy between December and February).
---
If you get the chance, visit both! It's just a 2.5 hour ferry ride from Santorini to Mykonos island!
Bottom line:
Mykonos and Santorini are really totally different in nature.
So, the island that suits you best will depend very much on your personality and reasons for your trip to Greece in the first place.
In this guide, I'll compare these two well-known Greek islands so you have a better idea of what Mykonos and Santorini have to offer.
Let's have a look at comparing the two islands in more detail.
Would you suggest Mykonos or Santorini for overall ambiance?
This is very personal, as people are after different things when they visit Greece on their vacation.
In a nutshell, Mykonos island Greece is famous for its wild partying, beautiful sandy beaches and celebrity spotting.
Santorini on the other hand, is world-known for the volcanic landscapes, pretty town of Oia, and sunset views towards the caldera.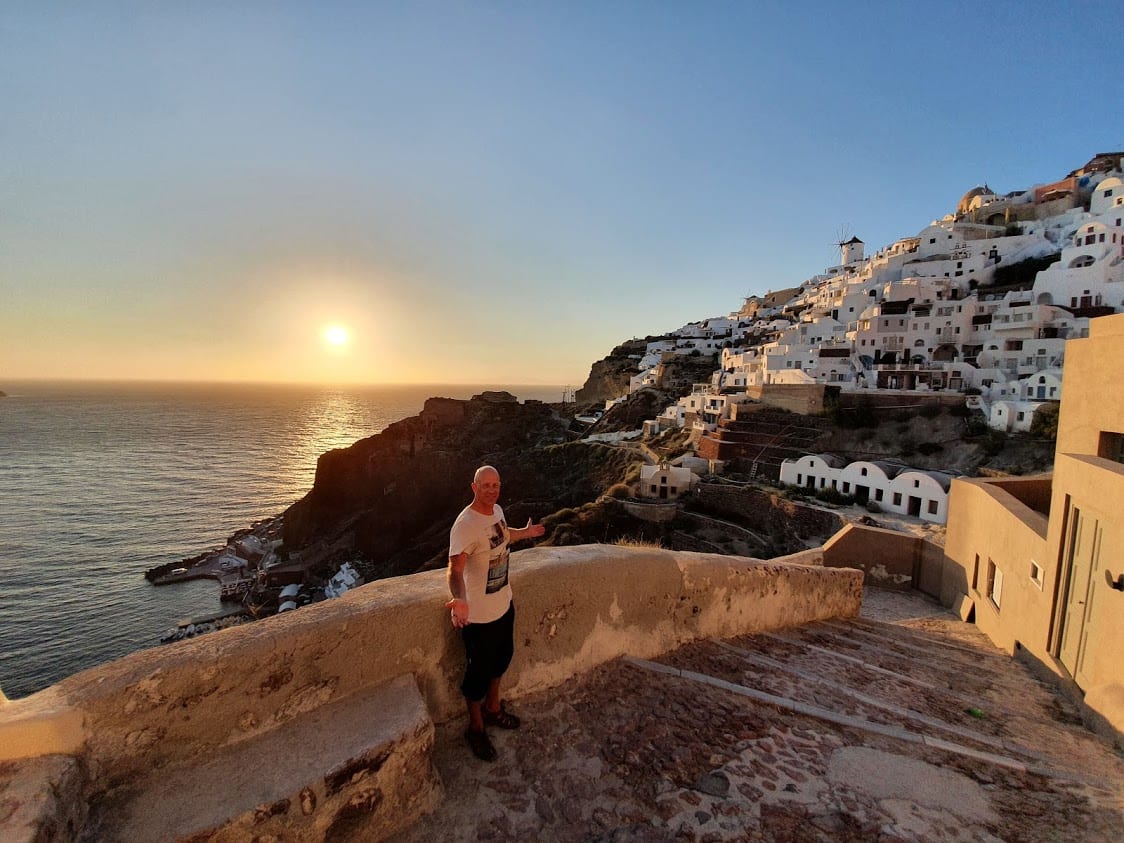 If parties, nightlife and busy beach clubs are what you are after, you should definitely choose Mykonos. It's not that Santorini doesn't have beach bars or pubs, but they are more low-key.
If you are after unique landscapes and romantic views to the Aegean sea, Santorini is a better choice.
With that said, it also depends what time of year you visit. Santorini has a much longer season, which stretches out from March to November. During this whole period, it is generally quite crowded, and you may find it's less relaxed than you hoped for.
High season in Mykonos is in June, July and August. If you are travelling in April or October, you will see Mykonos without the crowds, and with less nightlife. In 2020, we saw a very authentic side of the island, and really loved our kayaking trip away from the crowds.
Conclusion: Personal preference. Mine is that Santorini wins this category.
Santorini vs Mykonos for Sightseeing, landscapes and villages
When it comes to sightseeing, landscapes, and natural beauty, Santorini has a distinct advantage. You can find beaches and wild countryside on many Greek islands, but only a handful have an active volcano!
Here's a look at things to do in Mykonos and Santorini.
What to do in Santorini
Visitors who are interested in unique landscapes will love Santorini island. The wild cliffs and the stunning views to the volcano are one of a kind, especially during sunset.
Fira, Oia, Firostefani and Imerovigli are the best areas to stay on the caldera-facing side of the island. There are literally hundreds of cliff-top hotels and villas, with semi-private balconies, plunge pools and impressive views to the Aegean Sea.
The two main towns, Fira and Oia, are rather overbuilt and touristy. Still, they are pretty and interesting to explore. There is a large selection of expensive restaurants and bars where you can see the famous sunset from.
Here are my favourite ways to explore the otherworldly landscapes and the caldera:
For an extra touch of romance, you can also enjoy the views from your private terrace in one of Santorini's top rated hotels.
The inland villages, such as Pyrgos, Megalochori and Emporio, have kept more of their original character. You will love walking around and exploring the quaint alleyways and dozens of blue-domed churches. In addition, many of the cafes and restaurants are very reasonably priced.
Note – Santorini has steps, lots of steps, and many of them are steep. People with limited mobility will probably find it challenging.
Sightseeing in Mykonos
Like on most of the Cyclades islands, the landscape in Mykonos is rocky, dry and arid. There are few trees, many bushes and several sandy beaches.
The main attraction on the island is the sprawling Old Town also known as Chora. This main town has a seemingly never-ending maze of white-washed alleyways and narrow little streets. You can see the tiny area of Little Venice, the iconic windmills, and plenty of high-end shops.
Besides Mykonos town, there are no other picturesque villages on the island. The only other proper town, Ano Mera, is often described as an authentic Cycladic village with great restaurants. In my experience, it was far from that, and the tavernas on the main square were nothing to write home about.
The focal point of this small town is Panagia Tourliani monastery. If you haven't been to other monasteries in Greece, you will probably find it impressive.
Another interesting place to visit in Mykonos island is the Armenistis Lighthouse. The sunset views over the Aegean are wild and beautiful.
Conclusion: Santorini wins this category.
Should I go to Mykonos or Santorini for archaeological sites and museums?
Ancient sites and museums might not be the first thing that comes to mind in Mykonos or Santorini Greece. However, history lovers and culture buffs will be happy in both islands.
Santorini has more things to do in terms of sites and museums. In my opinion though, it's hard to beat Ancient Delos, which is easily accessible on a day trip from Mykonos.
Sites and museums in Santorini
Santorini is home to one of the most important ancient settlements in Greece, Ancient Akrotiri. This area, located at the south of Santorini island, has been inhabited since about 4,500 BC.
After a massive volcano explosion in the 16th century BC, the site was buried under lava and volcanic materials. It was discovered in the late 19th century, and has been one of the top attractions in Santorini for several years.
Apart from Akrotiri, you can also go to the site of Ancient Thera, up on the mountain close to Kamari.
There are also several museums, if you are interested in ancient and contemporary culture:
Museum of Prehistoric Thera in Fira
Archaeological Museum of Thera in Fira
Gyzi Cultural Centre in Fira
Argyros museum in Messaria
Maritime Museum in Oia
Lignos Ethnographic museum in Kontochori
Tomato Industrial Museum in Vlychada
Icons & Relics Collection in Pyrgos
Museum of Minerals & Fossils in Perissa
Ancient history in Mykonos
This long list of places to visit in Santorini is definitely hard to beat. However, Mykonos is most people's starting point in order to go to the UNESCO site of Ancient Delos.
In my opinion, Delos island is one of the most impressive ancient sites in Greece. During the Roman Era, this small island was a massive commercial hub. People from all around the known world lived and worked here.
The stunning Delos island is one of the most important archaeological sites in Greece, and is only a short ferry ride from Mykonos. In my opinion, this half-day activity to the island of Delos is quite unique, even if you are not particularly interested in ancient history.
In Mykonos Town, you can also pop into the Archaeological Museum of Mykonos, the Folklore Museum and the Aegean Maritime Museum.
Conclusion: Mykonos wins this category solely because nearby Delos is so amazing!
Is Mykonos or Santorini better for the beaches?
When it comes to the best beaches, Mykonos wins hands down. With over 30 amazing beaches to choose from, it has some of the best sandy beaches on the Cyclades.
I've written a guide you might want to read for more details: Best beaches in Mykonos.
During peak season, many of them, like Psarou and Super Paradise, are lined with sunbeds and umbrellas. Others, like Agios Sostis or Fokos, are largely under-the-radar and a lot quieter.
Most of the beaches in Santorini are covered in gray-black sand. They might be picturesque, but otherwise they are far less appealing than on most other islands in Greece. Plus, the dark pebbly sand gets super hot, so you'll definitely need shoes to walk to the sea.
I don't find the Santorini beaches to be my cup of tea, but some people rave about them. Even the famous Red Beach of Santorini isn't that special to swim on – though it definitely looks pretty in the pictures.
Both islands offer plenty of options in terms of water sports, but in my opinion Mykonos is better. For example, beaches like Ftelia, Kalafatis or Korfos are ideal for windsurfing and kite-surfing.
Scuba diving and snorkelling are also available on both islands, and the deep-blue water around Mykonos is absolutely crystal-clear. We also tried kayaking in Mykonos and had a blast.
When it comes to sailing trips, there are dozens of options on both Mykonos and Santorini. Popular options are the day trip to Delos and Rhenia, another small island nearby, or the south beaches sunset cruise.
If you are taking a Greece vacation to visit beautiful beaches, the better option is Mykonos compared to Santorini.
Conclusion: It's no competition. Mykonos wins this by a mile!
Food and wine in Santorini vs Mykonos
Both islands have an abundance of high-end restaurants offering fine dining, where reservations are necessary.
In Santorini, many of them overlook the caldera, so having a dinner is much more than a culinary experience. In Mykonos, you will find some top-rated gourmet restaurants right on the beaches.
Santorini island offers a chance to tour some of the best wineries in Greece. Venetsanos, Sigalas, Gavalas and Santo Wines are just few of the famous wineries on the island.
You can drop by one or two of them on your own, though I recommend taking a wine tour where everything is organised in advance.
Even if you don't take a winery tour, make sure you try the famous vinsanto wine. This is a naturally sweet wine that is made out of sun-dried grapes. It is somehow similar to port, but it's got its own distinct flavour.
By comparison, Myconian wines are much less famous. Mykonos Vioma is a small organic farm and winery, with a farm-to-table approach. You can book your visit on their website.
And what about people who are looking for authentic, no-frills Greek food? Both islands offer options for budget meals. However, you will generally find that food prices are higher than in any other Greek destination.
I don't have a personal opinion on any of the top-end restaurants, but I visited a few local tavernas in both islands. While the food wasn't bad, I have definitely enjoyed Greek food a lot more in other places I've been in Greece. Living here, I'm spoilt!
Conclusion: Santorini wins this category because of the many wineries you can see.
Accommodation prices in Mykonos vs Santorini
If you're planning trips to Mykonos and Santorini, you'll need to work out what sort of hotel you want to stay in.
In terms of accommodation prices, both islands are among the most expensive destinations in Greece. There is an abundance of stylish and luxury hotels and private villas, for people who are after the best of everything.
Generally speaking though, it's easier to find budget hotels in Santorini, even in peak season. This comes as a surprise to some people.
Like mentioned above, hotels on the caldera side of the island are very popular. Despite their high prices, they can get booked months in advance.
However, it's possible to spend a few days in Santorini without extreme accommodation costs. You can stay on Perissa or Perivolos, the black sand beaches on the east side of the island. There are plenty of budget-friendly, self-catering rooms to let that most visitors should find affordable.
Mykonos on the other hand, is quite expensive when it comes to accommodation. This is not only the case for five-star hotels. The hundreds of boutique hotels, villas and even simple rooms on the island are definitely not on the cheap side.
With that said, a large party of people travelling together would be much better off sharing a private villa rather than booking individual hotel rooms.
You can also stay in late September or October, when the prices have dropped. Here's an article on where to stay in Mykonos.
Conclusion: Santorini has more options for varied accommodation prices.
Is Mykonos or Santorini better if I want an authentic Greek island?
This is the million dollar question, and in my opinion the answer is neither. The two Cycladic islands have been popular for several decades. They both rely heavily on the tourism industry. None of them would fit my definition of "Essential Greece".
If the main thing you are looking for in your Greek vacation is authenticity, it's best to choose lesser known destinations. These are the main groups of islands in Greece:
Cyclades islands, including Paros, Milos, Naxos, Folegandros and Koufonisia
Ionian islands, including Kefalonia and Lefkada
Dodecanese, including Rhodes
Sporades, including Skiathos
Argosaronic islands, including the car-free Hydra
The Northeastern Aegean islands, including Lesvos
Evia, an island close to Athens
Crete, Greece's largest island
Conclusion: Santorini is slightly more authentic compared to Mykonos due to the small villages.
Which Greek islands are the most authentic?
Out of these 200+ islands, the more authentic ones are those that you haven't heard of. A few examples in the Cyclades include Andros, Tinos, Iraklia and Schinoussa.
If you have several days in Greece, you can take a direct flight to Athens, Mykonos or Santorini, and go on an island-hopping trip. You can check ferry connections and book your ferry tickets at Ferryhopper.
There is an almost indefinite number of island combinations that you can include in your travel plans. A very popular itinerary includes Athens-Santorini-Mykonos. If you want to include a couple more islands, you could try Athens-Mykonos-Paros-Naxos or Athens-Santorini-Naxos-Milos.
There are frequent ferries between Athens and the islands, which you can take from either Piraeus or Rafina ports. Popular companies include Blue Star Ferries, SeaJets and Fast Ferries. For an incredibly in-depth guide to the Greek ferries, click here.
Based on my experience travelling around the Greek islands, I could recommend Milos for beaches, Tinos for villages, Naxos for beaches, landscapes and variety, and Andros for beaches and culture.
Take a look at my guide to Greek islands near Mykonos.
FAQ About Visiting Mykonos and Santorini
Here are some commonly asked questions which might help you decide between choosing Mykonos or the island of Santorini for your vacation.
Can you take a day trip to Mykonos from Santorini?
There are several ferries a day between the two islands. Choose the earliest, fastest ferry, and you will have a few hours of sightseeing on Mykonos before taking the last ferry back to Santorini. It's a bit rushed though!
Where is Mykonos Greece?
The popular and famously cosmopolitan island of Mykonos is a part of the Cyclades island chain of Greece. It's positioned, between Tinos, Syros, Paros and Naxos, and is between 2 and 5 hours away from Athens by ferry depending on which ferry is used.
How to get to Santorini from Mykonos?
The best way to travel from Santorini to Mykonos is to take a ferry. The journey time is around 2.5 hrs and during the high / summer season there are 4 ferries per day.
Is Mykonos worth visiting?
Mykonos is definitely worth visiting if you're looking for a beautiful and cosmopolitan island with plenty of activities to keep you busy. The shopping and the beaches are fantastic! However, if you're looking for an authentic Greek island experience, I would recommend choosing one of the lesser known islands.
Is Santorini worth visiting?
Santorini has a romantic atmosphere perfect for honeymoon vacations, and the enigmatic blue domes of the churches contrast wonderfully with the Cycladic whitewashed architecture of the buildings. Santorini is one of the most popular islands in Greece, and for good reason!
How big is Mykonos?
The area of the island is 85.5 square kilometres (33.0 sq mi). At the last census, there were just over ten thousand inhabitants. You can use public transport or hire vehicles to get around the island when visiting Mykonos.
Is Mykonos better than Santorini?
It really depends what you are looking for, as both islands have something different to offer from one another. Santorini is more romantic destination, whilst Mykonos has better beaches and a world-class party scene.
Is Mykonos or Santorini more expensive?
Overall, Mykonos is the most expensive island as unlike Santorini, Mykonos does not have as many budget hotel and accommodation choices.
How far is Mykonos from Santorini?
The port to port distance between Santorini and Mykonos is about 188kms. The quickest ferry trip between Mykonos and Santorini is around 1 hours and 55 minutes
You might also be interested in these other travel guides:
Pin this Santorini Mykonos guide for later
Use the image below to add this travel guide to Santorini and Mykonos Greece to one of your boards for later. Do you have any questions about planning Mykonos and Santorini holidays? Leave a comment below and I'll get back to you!
---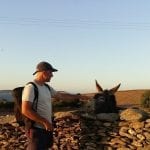 –
Dave Briggs
Dave is a
travel writer
originally from the UK, and now lives in Athens Greece. As well as creating Greece travel guide on visiting Mykonos or Santorini, he's written many more blog posts about hundreds more destinations in Greece. Follow Dave on social media for travel inspiration from Greece and beyond: