On some years, there may be a daily ferry from Andros to Naxos, but other years you may need to take an indirect route via Mykonos first. This guide shows you how.
Naxos Island In Greece
Naxos is a beautiful island in Greece that is well known for its beautiful sandy beaches, crystal clear waters and charming villages. The island is also home to some of the best restaurants in Greece, and is a great place to relax and escape the hustle and bustle of everyday life.
While Naxos might not be a household name in the way that Mykonos and Santorini are, it's actually the largest of the Cyclades islands. There's plenty to see and do here, and it makes a good choice of an island to visit after Andros. There is one small issue though…
Taking the Naxos ferry from Andros
Although both Andros and Naxos are reasonably popular destinations, the ferry connections between them are sporadic.
During the off season, there are no direct ferries at all. During the high season, you might find a direct ferry runs some years but not others. If it does run, it is likely to be run by Golden Star Ferries.
You can check if direct ferries from Andros island sail to Naxos by looking for ferry schedules on Ferryhopper.
So, what do you do if there isn't a direct boat on the Andros Naxos ferry route?
Travel via Mykonos
In order to travel to Naxos from Andros you would need to go via another island first. The best island to consider going via is Mykonos.
There are plenty of daily ferries from Andros to Mykonos, and 8 or 9 ferries a day from Mykonos to Naxos. The chances are that you won't need to hang around Mykonos ferry port for too long before getting the next boat to your destination.
A few more insights here: Andros to Mykonos by ferry and Mykonos to Naxos by ferry.
Naxos Island Travel Tips
Here's some travel tips for planning your itinerary when visiting the island of Naxos:
Passengers should be at island ferry ports at least a half an hour before departure
---
Booking ferry tickets in Greece is made easier by using Ferryhopper. You can check all the itineraries there, and compare the ticket price of different ferry operators sailing on the same route.
---
Staying in Naxos for just a couple of days? Perhaps Chora (Naxos Town) is the best choice. Areas to consider for longer stays include Apollonas, Plaka, Agios Georgios, Moutsouna, Filoti, and Agios Prokopios. Read my guide on where to stay in Naxos for more insights.
---
---
---
---
How to go from Andros to Naxos FAQ
Questions about about traveling to Naxos from Andros include:
How do we get to Naxos from Andros?
To make a journey from Andros to Naxos you would need to go via another island first such as Mykonos. There are normally no direct ferries sailing to the Greek island of Naxos from Andros.
Is there an airport in Naxos?
The Greek island of Naxos has a domestic airport which offers flights to and from Athens.
How long is the ferry crossing from Andros to Naxos?
With no direct ferries going to Naxos island from Andros, it is hard to calculate the exact travel times. If connections line up perfectly, it could be 6 hours or less. In the worst case, you may need to stay over night on Mykonos.
Where do I buy ferry tickets to Naxos?
I find that the Ferryhopper website is the best place to book ferry tickets online. Although I think it's better to book your Andros to Naxos ferry tickets in advance, you could also wait until you are in Greece, and use a travel agency.
If you're looking to travel from Andros to Naxos, be prepared for a few possible connections. There is no direct ferry connection between the two islands, so you'll need to go via another island like Mykonos. Check the Ferryhopper website for schedules and compare prices before booking your tickets. Naxos is a beautiful island with plenty of things to see and do – make sure to check out my guide for tips on what to do when visiting.
---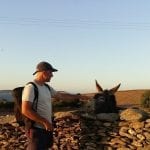 –
Dave Briggs
Dave is a
travel writer
based in Athens, Greece. In addition to creating this travel blog post about ferries from Andros to Naxos, he's created many other guides about Greek islands and destinations in Greece.Follow Dave on social media for travel inspiration from Greece and beyond: