Winter in Santorini can be a great time to visit. If you are looking to explore the island without the crowds, the off-season is ideal. Read on for more ideas and tips to plan a winter trip to Santorini.
Reasons to visit Santorini in the Winter
One of the best reasons to go to Santorini during the winter months, is that it there will be fewer crowds. Mass tourism is practically non-existent at this time of year, as there are very few cruise ships.
Winter months in Greece are December, January and February. Winter is considered to be the low season in Santorini.
You can really enjoy your time exploring and experience local life with fewer people around. This is a great opportunity to have more space, peace and quiet. You can walk around the famous towns, Oia and Fira, without the thousands of other tourists.
Moreover, winter is the cheapest time to go to Santorini. Though some hotels will be closed, you will be able to find affordable accommodation very easily.
Flights will also be cheaper at this time of year. Check my guide on how to find cheap flights.
Finally, visiting Santorini in the low season will also reward you with a chance to chat to the locals. This is a great way to get a feeling for the real Santorini and not just its tourist side. You will see what it feels like to live on a Cycladic island year-round.
Note: Few visitors choose to visit Santorini in winter. The most popular season for the Greek islands is summer, from June to August. In addition, thousands of people visit in spring and autumn.
Related: Best time to visit Santorini
What is the Santorini weather in winter like?
Overall, the Santorini winter weather is mild. Generally speaking, December is a little warmer and drier than January and February.
Winter temperatures range between 9 and 16 degrees C (48 – 61 F), with ten to eleven hours of sunshine per day. However, Santorini weather can sometimes get rainy and windy. In addition, there have been a few times when it snowed – Take a look at this video!
Locals typically wear their winter clothes, like woolen jumpers, sweaters and jackets. At the same time, although sea temperatures are low, you might see a few winter swimmers.
Layers are the best option during winter days in Santorini. It's best to pack a couple of jackets and sweaters. You can layer them with lighter clothing items, such as t-shirts and jeans.
I have visited Santorini in both summer and winter. I found the winter temperatures more comfortable for exploring than during the summer months.
This is partly due to the island's volcanic soil and famous black sand beaches. They attract the rays of the sun and make everything feel warmer.
Overall, you shouldn't expect super warm weather if you visit Santorini in winter. Still, you might be pleasantly surprised at how mild it is!
Related: Europe's Warmest Countries In December
What is closed during winter in Santorini?
While visiting Santorini in winter is great, you should be aware that not everything is open.
First of all, many Santorini hotels are closed. Winter is the time for refurbishment and similar works. Still, there will be plenty of hotel rooms available. You might even be able to find cave houses or a room with a hot tub at budget prices.
Check out my guide here: Where to stay in Santorini to look at which area it's best to stay in during the off season.
In addition, you should know that most restaurants in Santorini are seasonal. Many of Santorini restaurants open in spring, and close for winter.
That is not to say that you won't find anywhere to eat – quite the opposite. The restaurants that stay open in winter cater for locals. You will be able to enjoy some authentic, delicious dishes without worrying about making reservations.
As you would expect, beach bars will also be closed, given that Santorini winter weather is not ideal for swimming. Bonus – you can take beautiful photos of the beaches without the crowds! Nightlife is limited too.
Finally, you should know that most shops close in winter. Regardless, you will be able to find everything you need, as the small island has well over 20,000 permanent residents.
Related: How to get from Santorini ferry port to Oia
What is there to do in Santorini in winter?
People planning to explore Santorini in winter are in for a treat, as there are many amazing things to do.
To begin with, you will be able to visit the ancient sites and excellent museums without the crowds or the extreme summer heat.
In addition, you can easily drive around the island, without the usual summer traffic. You can then enjoy the famous towns and villages with whitewashed houses in Santorini.
Finally, winter is a perfect time to take in the scenery and enjoy Santorini's natural beauty. You can do the famous Fira to Oia hike, or just drive to the photogenic Santorini's beaches.
Here's a look at some of the things to do in Santorini in the winter:
Visit the Ruins of Akrotiri
For such a small island, Santorini has more than its fair share of ancient history.
The best known archaeological site is the ancient town of Akrotiri, which has been connected to the Minoan civilization. The prehistoric settlement was first inhabited at around 4,500 BC. It had developed into a proper town by the 18th century BC.
A volcanic eruption in 1,613 BC buried Akrotiri under mud and volcanic ashes. Several French and Greek archaeologists have been involved in the excavations, which are ongoing.
Today, you can visit the ancient site on your own, or with a licensed guide. On the way back, you can pass by the famous Red sand beach.
Visit Akrotiri Lighthouse
A short drive from the ancient site of Akrotiri, you will find Akrotiri lighthouse. This remote spot is worth visiting for the breathtaking views of the Aegean Sea.
Walk around the rocks and find a spot you like. This is one of the best places in Santorini to watch the famous sunset.
Visit Ancient Thera and the museums in Santorini
Apart from Akrotiri, another important site is Ancient Thera, on Mesa Vouno mountain. It was inhabited much later than Akrotiri, from the 9th century BC. Due to the high summer temperatures, it is much more pleasant to visit during the off-season.
To learn more about Santorini's history, you should visit the museum of Prehistoric Thera, in Fira town. You will see artefacts that have been discovered οn the entire island.
In addition, you can visit the Historical and Cultural Archaeological Museum of Santorini, also in Fira. You can see artefacts from the Minoan period, impressive vases from the 5th century BC, and artwork from the Hellenistic and Byzantine Eras.
Related: Where is Santorini?
Explore the famous Santorini's volcano
During the summer months, there are literally hundreds of sailing tours in Santorini. You won't find as many in winter, but you can still go on a sailing trip to explore the famous volcano.
These boat tours will typically take you to the volcano and back. You will have enough time to walk on the caldera and explore the deserted volcanic islands, that were created after the famous eruption.
Walking on the volcano is really unpleasant in summer, as the temperatures are uncomfortably high. So if you visit Santorini in winter, you will enjoy it a lot more. At least that was my own experience when I visited Santorini.
Hike from Fira to Oia
The famous Fira-Oia hike is stunning! It was one of my favourite things to do on the iconic Greek island.
The caldera trail is about 10 kms / 6.2 miles. It begins at Fira and brings you on a scenic route towards the famous white-washed village of Oia.
On your way, you will pass by a couple of villages, Firostefani and Imerovigli. You will always have the caldera cliffs and Aegean Sea to your left hand side. The views are absolutely stunning!
After you've explored Oia, you can use the local buses to get back to Fira. Public transport is very reliable, and you can find the timetables here.
The path should be easy for anyone in reasonable shape. During high season, the trail might be crowded with other visitors, but it will be lovely in winter.
You will need a decent pair of shoes for this hike. Bring some water, a snack and a couple of warmer clothes just in case. Santorini winter weather can change quickly, so come prepared. With the photo stops, it will take you a few hours to complete the hike!
Visit Skaros rock
A short walk from Imerovigli, visitors can see the iconic Skaros rock. This is a large promontory which was a result of the volcanic eruption.
During the Byzantine / Venetian Era, a large fortress was constructed around Skaros rock. Over 200 houses were built here, and the area became the medieval capital of the island.
In subsequent centuries, several earthquakes caused a lot of damage to the settlement. Skaros rock was eventually abandoned in the early 18th century. Today, it is a cool viewing point, where you can also see a few ruins.
If you are hiking from Fira to Oia, you can make a detour to visit Skaros.
Enjoy Oia without crowds
For many people, this is the number one reason why winter in Santorini is great. You can enjoy Oia, as well as the entire island, without the crowds!
Oia gets insanely busy in high season. If you have your own vehicle, parking can be difficult. When you visit Oia in winter, you will be able to walk around the village and enjoy a more relaxed atmosphere.
Most of the elevated town of Oia is only accessible on foot. There are literally hundreds of stairs, many of which lead to hotels. You can also walk down to sea level, to either Ammoudi, Armeni or Katharos beach.
One of the most famous attractions in Oia is the castle. You will see the Byzantine ruins, but all in all the castle is more famous as a sunset spot. The view from above is absolutely breathtaking!
Explore Santorini's quaint villages
Apart from Oia, there are more villages worth exploring in Santorini.
Pyrgos is one of its largest villages in Santorini. This Venetian settlement is built on top of a hill, and is a typical Cycladic castle. Pyrgos enjoys fantastic views, especially during sunset. Bring your walking shoes and explore!
While in Pyrgos, don't miss the Ecclesiastical Museum inside the church of Holy Trinity. You can see several precious treasures, including rare icons dating from the 16th and 17th centuries.
Another medieval town you should include in your Santorini itinerary is Emporio, also known as Empoureio. This is a maze-like village with just one entrance. You can wander around the remains of a venetian tower and enjoy the cool views to the Aegean Sea.
Megalochori is another charming village in Santorini. This traditional settlement with its white houses and narrow streets has managed to retain much of the old-world charm that makes it so special.
Finally, Messaria village is the busiest village of Santorini in winter. Many of the locals live here, and you will have a chance to chat about the recent history of the island. You will also get the chance to take even more photos of the quaint white-and-blue churches.
As you are exploring, keep an eye out for a few windmills all around the island.
Stroll around Santorini's beach towns
Since Santorini winter weather is mild, you can visit the numerous beach towns on the island.
Most of these towns are on the east coast. This is where you will find Perivolos and Perissa beach Santorini. The long stretch of gray-black volcanic sand is really picturesque.
Further north, you will find Kamari and Monolithos. While you might not be able to swim, they are definitely worth a visit. You will be able to snap a few photos without the crowds!
Enjoy Better Sunsets in Santorini
It might come as a surprise, but winter sunsets in Santorini are much more colourful! In fact, there is a long scientific explanation for this. You can read it here.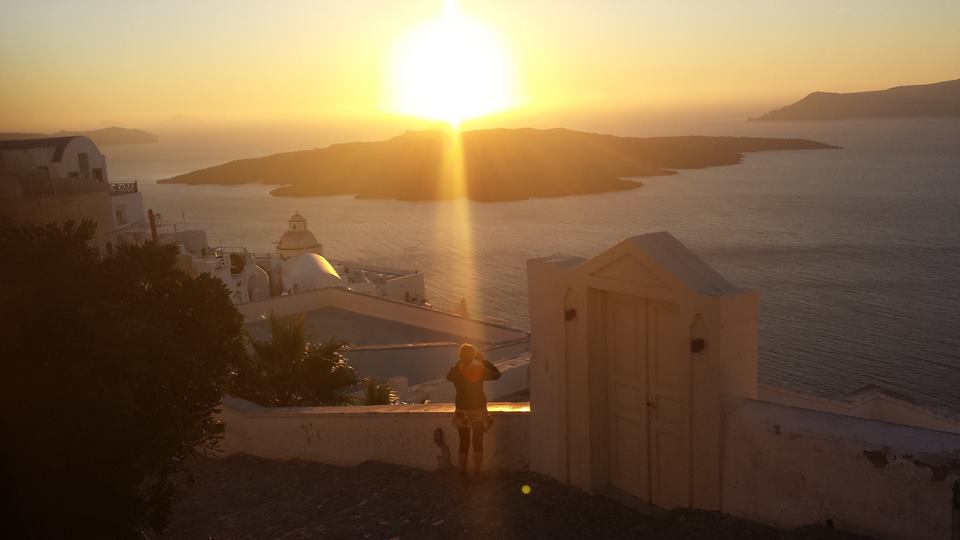 So, not only is Santorini winter weather mild, but it's also better if you want to enjoy the famous sunsets!
Any spot on the west coast of the island is great to see the sunset. Apart from Oia, you can watch it from Skaros rock, Fira, or the Akrotiri lighthouse, on the south. I also enjoyed sunset from Pyrgos village, up on the hill.
Enjoy Wine Tasting in Santorini
Everybody who has been to the famous Greek island will agree: when in Santorini, enjoy the fantastic wines!
Due to its volcanic soil, Santorini wines have a unique taste. There are few other Greek islands that can boast such a great number of different wines.
There are more than a dozen wineries in Santorini that you can visit. Many of them are walking distance from each other. You will find wineries all around the island, but many of them are located around Exo Gonia and Fira.
Some of the famous wineries in Santorini are Boutaris, Hatzidakis, Argyros, Santo, Gavalas and Venetsanos. You can visit some of them on your own, or take a Santorini wine tasting tour. Here is some more information on wine tasting tours in Santorini.
Where is the best place to stay in Santorini in the winter?
The best place to stay in Santorini in winter is one of the busier towns. Messaria and Pyrgos have many permanent residents, so they would both be good choices.
Fira would also be a good option, especially if you want to stay at a hotel with a caldera view. Solo travellers who don't want to rent a car will probably prefer to stay in Fira. This is where buses to all other villages in Santorini depart from. More info here: How to get around Santorini
On the other hand, Oia and popular beach resorts, like Perissa and Kamari, are exactly what you'd expect – quiet and tranquil. Most people would find them too secluded.
Take a look at: Sunset Hotels in Santorini
How to get to Santorini in winter
You can get to Santorini either by plane, or ferry from Piraeus port. Here's a guide on getting from Athens to Santorini by ferry and plane.
Most international flights to Santorini are seasonal, and they don't run in winter. However, you can catch a short 45-minute flight from the Athens airport. This is probably the best option.
Moreover, you can get to Santorini by ferry from Piraeus. While in summer there are many types of ferries, only the slower ones run in winter, and the ferry ride will typically be around 8 hours. You can get your ferry tickets on Ferryhopper.
Visiting Santorini in Winter
Let's sum up the pros on cons of visiting Santorini in winter:
Pros
There will be few other tourists and you will be able to move around easily
You can take great photos without the crowds
Accommodation is much cheaper
Activities like hiking and sightseeing are much more pleasant
You will see an authentic side of Santorini which is impossible to see in summer
Cons
The weather can be cold and unpredictable
For most people, beach time and swimming won't be possible
There will be fewer sailing tours
Many hotels and restaurants will be closed
You will find fewer flights and ferries to Santorini
I hope this guide on visiting Santorini in winter has been helpful. If you have any questions, please comment below!
Also, check out my guide to other dream destinations around the world.
Santorini Island in Winter FAQ
Readers planning a winter visit to Santorini and other Greek islands often wonder what it is like to travel outside of the peak season. Here's some typical questions they ask:
Is Santorini worth visiting in winter?
Many people prefer it because there are much fewer tourists. Santorini is very quiet in the winter however, and beach time and swimming will not be possible, and many hotels and restaurants will be closed.
How cold is Santorini in winter?
The temperature in Santorini in winter varies a lot. It can be very cold, or it can be quite mild. In January, the average high temperature is around 15 degrees Celsius, but you should really expect cooler weather.
Does Santorini shut down in winter?
No, Santorini does not shut down in winter. While many businesses, such as hotels and restaurants, are closed, there are still plenty of activities to enjoy on the island. Some of the popular things to do in Santorini in winter include wine tasting, hiking, sightseeing and exploring the villages.
Is January a good time to visit Santorini?
January is probably the quietest month of all in Santorini. If you're looking for the cheapest time of year to go to the island, January is probably it, but you may find the island very quiet.
Related:
---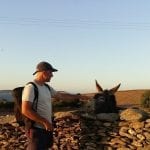 –
Dave Briggs
Dave is a
travel writer
originally from the UK, and now living in Athens, Greece. As well as creating this travel guide to visiting Santorini in the winter months, he's written many more articles about destinations in Greece. Follow Dave on social media for travel inspiration from Greece and beyond: