This guide on how to get to Meteora from Athens, includes Athens to Meteora train, bus, and driving information. Whether you are planning your own Meteora tour from Athens, or want to visit Meteora monasteries on an organized tour, here's everything you need to know.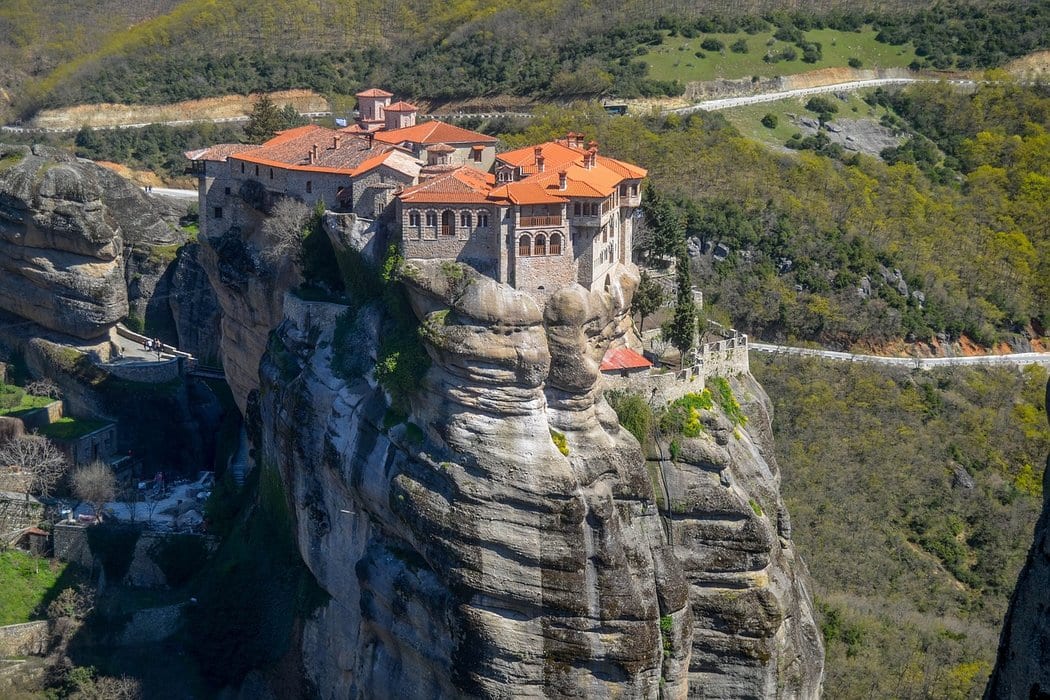 How to get from Athens to Meteora
There's a few options available when you plan your next trip from Athens to Meteora:
Day Trip – Easiest way is to take a guided tour. Click here for more details.
Quickest – Public transportation on the trains
Most convenient – Rental car
Most hassle – Using the buses
Meteora in Greece
Meteora is a popular destination for people visiting the mainland of Greece. Famous for its fantastic looking rock formations and monasteries, its landscape is truly out of this world.
The UNESCO World Heritage Site of Meteora is the largest archaeological site in Greece, and the closest town is Kalambaka (Kalampaka/ Kalabaka) just one or two kilometres away.
Which reminds me – I'll be using the words Meteora and Kalambaka interchangeably in this travel guide, but will provide full information so you can plan your trip!
How do you get to Meteora in Greece?
You can get from Athens to Meteora by train, bus, car, and even on a day tour. The easiest way to get to Meteora from Athens is via train, and the journey takes around 4 hours and 15 minutes. Traveling by car can be a little slower, and takes between 4 and 5 hours.
How far is Meteora from Athens?
The distance from Athens to Meteora train stations is 265 km. The distance by road between Athens and Meteora is 359.7 km.
** Click here for more info on Meteora Day Trips from Athens **
How many days do you need in Meteora?
It would be best to spend 2 or 3 days in Meteora if possible, in order to see sunrise, sunset and explore the Meteora Monasteries. If you're short on time, it is possible to visit Meteora on a day trip from Athens.
---
How to get to Meteora yourself
You've got three options when it comes to getting to Meteora, which are train, bus, and car. Having your own transport (car) is always going to be the easiest, but driving in Greece is not for everyone.
This means that the most popular way to get to Meteora is by train. The bus from Athens to Meteora loses out because it is not entirely straight forward and takes longer.
I've also written this travel guide on the basis that most people will travel to Meteora from Athens. I think you'll have enough clues in here to plan your own trip to Kalambaka from Thessaloniki or other areas of Greece however.
** Click here for more info on Meteora Day Trips from Athens **
---
Athens to Meteora Train
Although most people refer to it as the Athens to Meteora train service, in actual fact, it should be described as the Athens to Kalambaka train. The reason being, as you may have guessed, the train terminates at the Kalambaka train station.
The train runs regularly between Athens Railway Station and Kalambaka station, with several services a day.
You're going to want an early start taking the train from Athens, especially if you are trying to visit Meteora in a single day.
Athens to Kalambaka Train Tickets
You can check out the Athens to Meteora train schedule by visiting the Train OSE website. Up in the top left hand corner of the screen, you can swap the language from Greek to English.
Enter the dates you want to travel, remember, your destination is Kalambaka, and you'll get the train schedule.
The 884 Athens to Kalambaka train is for most people the more sensible option. As of writing this post, the train leaves Athens at 08.20 and arrives in Kalambaka at 13.18.
Whilst you can buy train tickets to Meteora from Athens railway station, I'd suggest booking them online. The Athens to Kalambaka train can fill up in the busy season, so it makes sense to get them in advance.
You can buy the tickets through the website after registering. Note – Some people have said that the site has a problem with Visa but accepts MasterCard.
How much does the Athens to Meteora train cost?
The ticket cost for the train between Athens and Meteora can vary between 25 and 30 Euros. I have no idea why there isn't a set price, or how the ticket price works! I do know that booking in advance seems to get the better price. If you want to keep the Athens to Meteora train cost low, use the website previously mentioned.
Kalambaka Train Station
Unless you are meeting up with a tour directly on arrival, you'll need to get a taxi from Kalambaka train station to your hotel or to a place in the Meteora area you have already determined. In all honesty, I think visiting the area within one day by yourself is not really a viable option. It's far better to stay at least one night if not two.
** Click here for more info on Meteora Day Trips from Athens **
---
Athens to Meteora Bus
The bus service in Greece continues to baffle me. Each area is run by a separate KTEL organization, which means there is no central website to check. At least not one that I have found yet!
(Side note: One of my pet projects is going to be to develop a website for KTEL buses in to make public transportation in Greece easier!)
This means that the Athens to Meteora bus route is not an easy one to follow. As at the time of writing this travel guide, the following is the best way to catch the Athens to Meteora Bus. If you have an easier way, please let me know in the comments below!
Athens to Meteora Bus Service
The bus station in Athens is located near the Kato Patissia (green line) station. Getting just to this station can be a bit of a mission:
Use the metro system in Athens, and head for Monastiraki station. Swap to the Green line and head towards Kifissia.
When you get to Kato Patisssia station, get off the metro and walk about 1km to the bus station. If you prefer a taxi, it should cost you less than 5 Euro. Make sure you tell the driver you need Liossion Station and not Athens bus station.
Once at the bus station, you then have to travel from Athens by first getting a bus to Trikala. This is the biggest city near Kalambaka / Meteora.
From Trikala you can catch a bus to Kalambaka bus station. It will probably have been a bit of a journey, so get a taxi from Kalambaka bus station to your hotel and crash!
---
Athens to Meteora by Car
The easiest way to get to Meteora by Athens is by car – if you have one! Not only is the route straight forward, but you then also have the car to use to take you around Meteora.
The most difficult part of the journey is probably getting out of Athens! Once you've done that though, head for route E75 towards Trikala.
Get off at Lamia, and from here, the route becomes a little harder, but I'm sure it's nothing that Google maps can't handle! Head to Trikala and then Kalambaka and you will have arrived.
People planning a road trip around Greece sometimes leave from Athens, stop in Delphi, and then continue to Meteora the next day.
---
Meteora Tour from Athens
The final option of getting to Meteora from Athens is to take a tour. I describe such a tour in my day trips from Athens blog post, and I'll back up here what I mentioned there.
Whilst it is possible to make a Meteora day trip from Athens, I personally wouldn't do it. It really doesn't leave enough time to enjoy the UNESCO-listed Meteora Monasteries, and it's a LONG day!
Still, seeing something is better than nothing. If you still want to make the Meteora tour from Athens though, take a look at these possibilities which feature an English-speaking tour guide.
---
Meteora Unesco World Heritage Site
The Meteora is a rocky formation in central Greece hosting one of the largest complexes of Eastern Orthodox monasteries, second only to Mount Athos.
The six monasteries are built on immense natural pillars and boulder-like rocks that dominate the local area. Check out this guide for more information on the monasteries at Meteora.
Where should I stay when visiting Meteora?
If you are visiting Meteora and plan to stay overnight, you can find accommodation in Kalambaka and the smaller village of Kastraki. There's accommodation for all budgets, and also campsites in both places.
Read more about Meteora
Have any questions on visiting Meteora in Greece? Leave a comment below and I'll do my best to answer them.
---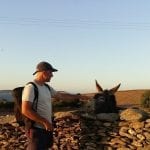 –
Dave Briggs
Dave is a
travel writer
who writes about and lives in Greece. If you enjoyed this guide to visiting the UNESCO World Heritage site of Meteora on a trip from Athens, you might want to spend some more time on the blog looking for itineraries and insights about Greece. Follow Dave on social media for travel inspiration from Greece and beyond: