Taking the ferry from Sikinos to Folegandros in Greece is very easy, and the journey is less than one hour. Here's all the information you need on how to take the Sikinos Folegandros ferry.
Sikinos to Folegandros Ferry
The Greek islands of Sikinos and Folegandros are very close to one another, and the ferry journey takes around 45 minutes. Several ferry companies run boats on this route, meaning there is normally at least one ferry to Folegandros from Sikinos per day in the summer.
If you are the type of traveler that likes to pre-book tickets, or have an idea of what ferries there may be, I recommend using: Ferryhopper.
It's very easy to use, and you can also reserve ferry tickets online.
You should note that most ferry companies traveling from Sikinos to Folegandros offer an e-ticket. Others may not. In this case, you would need to collect your Folegandros tickets at the ferry port in Sikinos after reserving it online.
Check online here: Ferryhopper
Where does the Sikinos Folegandros ferry leave from?
The ferry from Sikinos to Folegandros leaves from Sikinos port, which is located in the settlement of Alopronia. This is the port you will have arrived at when first coming to Sikinos.
The port at Sikinos is very small, with a ticket office, covered shelter, and area for cars to wait. Nearby, there are some cafes to have a coffee if you have time to kill.
If you haven't pre-booked ferry tickets online, you can buy tickets at the port. I would suggest doing this a few days before you want to depart, rather than buying Sikinos to Folegandros tickets on the day.
As the port at Sikinos is so small, there's really no need to get there too early for your ferry to Folegandros. Providing you have your ticket printed and ready, even arriving 15 minutes before departure is likely to be fine.
More information here: Sikinos Travel Guide
Where does the Sikinos to Folegandros ferry arrive at?
The ferry to Folegandros from Sikinos arrives at the island's harbour, which is located at Karavostasis. This is another small ferry port, and the only one on the island.
I've got a travel guide here on the best things to do in Folegandros island.
If you have booked accommodation in Folegandros, your host will usually be waiting for you on arrival. Unless you have your own transport, it's probably better to make sure they do this to make life easier.
When we visited Folegandros, we stayed at Coral Apartments which we found to be very nice quality, and also included a kitchen. In September of 2020, the price was 45 Euros per night. I'd expect this to be more expensive in August.
If you haven't arranged a place to stay in Folegandros yet, take a look at the map below which shows some of the hotels in Folegandros you might like to choose from.


Onward travel from Folegandros
From Folegandros, you can continue exploring the Cyclades islands of Greece, carry on to the Athens ports of Piraeus and Rafina, or even go on to Crete.
Timetables and routes will vary depending upon the time of year. For up-to-date ferry routes and ticket availability, check out: Ferryhopper.
Planning to travel to more Greek islands? These travel guides may prove useful:
Which ferry companies operate the Sikinos Folegandros route?
The following ferry companies operate the Sikinos Folegandros route: Zante Ferries, Maistros Santorini, and SeaJets.
How long is the Sikinos to Folegandros ferry crossing?
The ferry crossing from Sikinos to Folegandros takes around 45 minutes.
Where can I buy Greek ferry tickets before my trip?
If you would like to buy ferry tickets before your trip, I recommend using Ferryhopper. It's very easy to use, and you can see the latest timetables journey times to other destinations as well in the Cyclades islands.
---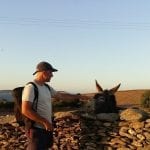 –
Dave Briggs
Dave is a
travel writer
from the UK who's in Greece since 2015. As well as creating this guide to to buying Folegandros ferry tickets from Sikinos, he's written many more articles about destinations in Greece. Follow Dave on social media for travel inspiration from Greece and beyond: