Everything you need to know about getting from Ios to Santorini on a ferry. Includes Ios Santorini ferry route schedules and day trip info.
Ferries from Ios to Santorini
The Ios to Santorini ferry route is popular during the summer with visitors who want to travel around the Cyclades islands in Greece.
As the two islands of Ios and Santorini are close together, the ferry trip is short, and there are plenty of options to choose from.
In the high season months, there may be up to 7 ferries a day sailing from Ios to Santorini. In the shoulder seasons this frequency will be less.
To look at ferry schedules and book ferry tickets online, I recommend Ferryscanner. It's a great place to plan the logistics for your Greek island hopping adventures.
Ios Santorini – Dave's Note
Travel Tips: If you are trying to plan and book ferry tickets for the Ios – Santorini route online months in advance, you should be aware that a ferry schedule may not yet be available.
I would suggest using openseas.gr in order to see what ferries were running on your desired dates in the previous year. This will give you an indication as to the expected availability when the schedules get online.
Typically, the summer schedules for the Ios to Santorini crossings may not be published until after Greek Easter.
Also read: Best things to do in Ios, Greece
Ios Santorini Ferry Times
On some days during the peak tourist season in Greece, there can be up to 7 daily direct ferries from Ios to Santorini.
Depending on the type of ferry, the time it takes to get from Ios to Santorini can be very quick indeed. For example, in 2022 SeaJets operated the WORLDCHAMPION JET which took only 30 minutes to complete the Ios – Santorini route.
You should be aware that the quicker boats traveling between the Greek islands of Ios and Santorini also tend to be the most expensive option of course.
During the winter, the ferry service between Ios island and Santorini gets reduced to just 1 direct ferry every 2 or 3 days.
Ios to Santorini Ferry Ticket Costs and Information
The cost of a ticket for the ferry from Ios island to Santorini will depend on which boat you decide to take. The quicker ferries can cost anywhere between 40 and 65 Euros.
The slower ferries, which can take up to an hour to make the crossing but at awkward times in the morning, can cost as little as 19 Euro.
Book tickets at: Ferryscanner
Cheap Ferry Tickets
If you're looking to save money traveling on your vacation between the popular destinations of Ios and Santorini, consider taking the Blue Star Ferries crossing.
Ticket prices for passengers start at 19 Euros, but the journey begins at odd times. In 2022, the Blue Star ferry leaves Ios at 00.45 and arrives at Santorini at 01.45.
Ios to Santorini Day Trip
It is just about possible to plan a day trip from Ios to Santorini. It would involve taking the earliest ferry that leaves Ios for Santorini, and then returning on the last ferry leaving Santorini to Ios.
In the summer of 2022, you can do an Ios to Santorini day trip on most days of the week. Keep in mind that you might only have 4 or 5 hours on Santorini though.
Personally, I don't think this is enough time, but check out my one day in Santorini guide to see what you might be able to see and do when there.
The best place to look at timetables to plan a day trip by ferry from Ios to Santorini is at Ferryscanner.
Ferry Ios Santorini Departure
The ferry to Santorini island from Ios will leave from the main port, which is 2 km away from Ios Chora. It is possible to walk down to the port from the Chora, but you may prefer to take a bus or taxis instead.
Down at the port, there are a selection of tavernas and cafes so you can have a drink or something to eat while you wait for your boat from Ios to Santorini.
It is recommended that passengers arrive at the port an hour before ferry departure.
Arriving in Santorini
All ferries to Santorini currently arrive at the main ferry port. Officially it is called Athinios or the 'New Port'. You'll probably mostly just see it referred to as Santorini (Thira).
The port in Santorini is located at the bottom of the towering Caldera. It's not really worth the effort of walking out of the port. My suggestion is to get off the ferry as quickly as you can, and then onto one of the waiting buses.
Alternatively, you can pre-book a taxi to wait for you in Santorini port. More here: Welcome Taxis
If you need to get to the airport right away, read this guide: Santorini ferry port to airport
And here's how to travel from Santorini Athinios ferry port to Fira
Santorini Travel Information
If you're planning to spend any time on Santorini, you may find the following guides useful:
Ios Santorini Ferry Schedules FAQ
Readers who want to travel between the popular Greek islands of Ios and Santorini often ask questions similar to:
How long is the ferry from Ios to Santorini?
The trip duration times for the Ios to Santorini route vary depending on the ferry company that you choose and the time of year. A high speed ferry may take 30 minutes, whereas conventional ferries sailing Ios to Santorini may take an hour or more.
Can I fly from Ios to Santorini?
No, Ios does not have an airport. The only way to get to Santorini is by ferry.
Do Golden Star Ferries sail the Ios Santorini route?
Yes, Golden Star Ferries operates a ferry service between Ios and Santorini. Their Ios Santorini ferry takes around 40 minutes.
Can I take a day trip to Santorini from Ios island?
As Santorini is just 40 minutes away from Ios by ferry, it may be possible to take a day trip from Santorini provided that you can get a suitable return boat to Ios in the evening. You'd want to spend at least 6 hours in Santorini in order to make the day trip worthwhile.
What ferry operators run between Ios and Santorini?
It varies from year to year, but typically three or four ferry companies run services between Ios island and Santorini. These include SeaJets, Blue Star Ferries, Golden Star Ferries, and Zante ferries.
For up to date information on ferry operators on the Ios Santorini route check Ferryhopper.
Ferry Ios to Santorini
If you found these insights on taking the Ios to Santorini ferries useful, please share it on social media. If you have any questions, leave them at the bottom of the blog post and I'll answer them as soon as I can!
Looking for onward travel options from Santorini? Check out this Santorini island hopping guide.
---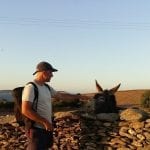 –
Dave Briggs
Dave Briggs
is a travel writer and author of several travel guide books to the Cyclades islands. Originally from the UK, he is currently living in Greece. Follow Dave on social media for travel and adventure inspiration: