I spent nearly two weeks cycling in Croatia during my 2016 Greece to England bike trip. During that time, I followed the beautiful coastline, cycled across a handful of the countless small islands, and was rewarded with stunning views. Here are my route maps and vlogs from cycling across Croatia, along with information that might be useful if you are planning your own bicycle tour there.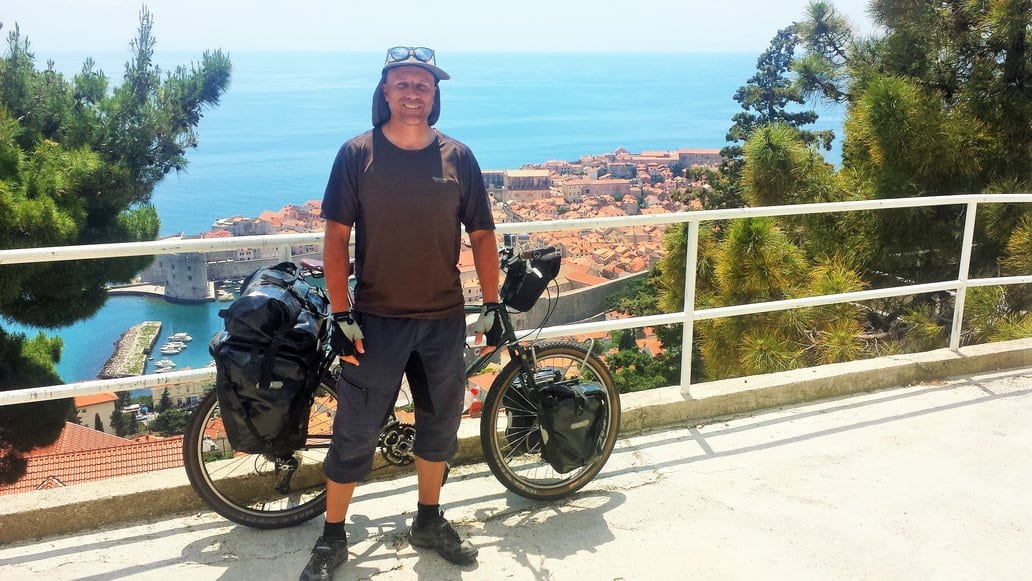 Cycling in Croatia
Is Croatia in the Balkans or not? Opinion is divided, but my view is that it is a cross-over country. I think it combines western European traits with a Mediterranean flair. For the cyclist, this means good roads, friendly people (well, south of Dubrovnik at any rate!), and countless mini-markets to stock up on supplies. Although the road system that follows the coastline is not really designed with cyclists in mind, drivers for the most part give cyclists room as they pass.
Bicycle touring in Croatia is not a novelty. Dozens of companies offer guided cycling trips along certain sections of the coastline. So, if you don't feel up to cycling in Croatia independently, you could always book an organised cycling vacation. For me though, the beauty of bicycle touring is being able to set your own pace and itinerary. It is an ideal way to see any country, and especially Croatia.
I toured through Croatia at the end of May and the beginning of June. The idea was to avoid the insane heat of late July and August, and also dodge the tourist crowds. This worked perfectly for me, and I would certainly suggest that this is the best time of year to go cycling in Croatia. Touring at this time of year will also avoid some of the price hikes which occur, especially for accommodation.
When it came to route, I for the most time followed the coastline from South to North. There are of course plenty of other routes, and a lot more country to choose from! There are a number of online resources you can use to plan cycling in Croatia. This one about bikepacking in Europe includes some lovely looking routes from Croatia, as well as other countries.
Route Maps and Vlogs from Cycling in Croatia
Here then, I include the cycling route in Croatia, as well as the daily vlogs I kept during my trip. I really recommend that you watch the vlogs if you are planning on cycling in Croatia. Not only do they showcase the scenery and road conditions you might encounter, but they also include my thoughts on each day, as well as a running commentary.
Cycling from Greece to England Vlog Day 19 – Herceg Novi to Dubrovnik
For a full route map, click here >> https://connect.garmin.com/modern/activity/embed/1190376243
Time off in Dubrovnik
Cycling from Greece to England Vlog Day 23 – Dubrovnik to Neum
For a full route map click here >> https://connect.garmin.com/modern/activity/embed/1194240143
Cycling from Greece to England Vlog Day 24 – Neum to Makarska
For a full route map click here >> https://connect.garmin.com/modern/activity/embed/1194240188
Cycling from Greece to England Vlog Day 25 – Makarska to Split in Croatia
For a full route map click here >> https://connect.garmin.com/modern/activity/embed/1194240254
Cycling from Greece to England Vlog Day 26 – Cycling from Split to Camping Tomas
For a full route map click here >> https://connect.garmin.com/modern/activity/embed/1196631070
Cycling from Greece to England Vlog Day 27 – Camping Tomas to Camping Bozo
For a full route map click here >> https://connect.garmin.com/modern/activity/embed/1196631291
Cycling from Greece to England Vlog Day 28 – Camping Bozo to Kolan
For a full route map click here >> https://connect.garmin.com/modern/activity/embed/1198599402
Cycling from Greece to England Vlog Day 29 – Kolan to Senj in Croatia
For a full route map click here >> https://connect.garmin.com/modern/activity/embed/1199666556
Cycling from Greece to England Vlog Day 30 – Senj to Ogulin in Croatia
For a full route map click here >> https://connect.garmin.com/modern/activity/embed/1201087256
Cycling from Greece to England Vlog Day 31 – Ogulin to Big Berry Campground in Slovenia
For a full route map click here >> https://connect.garmin.com/modern/activity/embed/1204782358
For the second part of the route map click here >> https://connect.garmin.com/modern/activity/embed/1204782379
If you would like to find out more about Croatia, take a look here – Croatia