Should you go to Greece or Croatia for your next summer holiday? Here's a comparison of these two European countries.
Comparing Greece and Croatia
The age-old debate of Greece versus Croatia for travel is a tough one. Both Mediterranean countries offer beautiful beaches, rich history, and stunning scenery. So, how do you choose between them?
As I live in Greece, I'm hugely biased – it should be Greece of course! Greece has far better beaches, history, food, and … well everything really!
However, that would make for a short blog post. Therefore, I'll do a side by side comparison of Greece vs Croatia so you can decide for yourself (but I hope you will decide in favour of Greece!).
Greece v Croatia In Brief
Beaches: Greece has some of the most beautiful beaches in the world. From bright blue waters to hidden coves, you can find a beach to suit all tastes. Croatia also boasts some gorgeous beaches but they tend to be more rocky than those in Greece.
History & Culture: Greek civilization is one of the oldest in the world. Therefore, you can expect to find plenty of ancient ruins and monuments in Greece. Croatia also has a rich history but the majority of its sites are medieval or Renaissance-era.
Food: Greek cuisine is renowned for its fresh ingredients and delicious flavors. From feta cheese to baklava, there's something for everyone in Greece. Croatian cuisine is also delicious but it tends to be more influenced by Central European flavors.
Weather: Greece offers a warm climate throughout the year, making it an ideal destination for spring and autumn as well as summer travel. Croatia can get cold during the winter months, so you'll want to visit between May and October if you want to enjoy its sunny beaches.
Comparing Beaches: Croatia vs. Greece
When it comes to sun-drenched beaches, both Croatia and Greece have some of the best in Europe. Greece has many sandy beaches which are surrounded by azure waters. These beaches can be found on both mainland Greece and its thousands of islands.
Croatia also has some stunning beaches, but they tend to be more rocky than those in Greece.
Croatian Beaches
Some of the most well known beaches in Croatia include Zlatni Rat in Bol, and Brela beach on the Makarska Riviera. These beaches tend to be very crowded during peak season but offer stunning views of the Adriatic Sea and some great swimming spots.
Greek Beaches
Greece has thousands of spectacular beaches, ranging from secluded coves to bustling resorts. Some of the most popular Greek beaches include Myrtos Beach in Kefalonia, Sarakiniko Beach in Milos, and Elafonisi Beach in Crete.
Overall, Greece has more beach variety and better beaches than Croatia, making it a top summer destination for beach lovers.
Related: Tips for visiting the beach in Greece
Exploring History and Culture: Greece vs Croatia
When it comes to history and culture, both Croatia and Greece have a lot to offer. Greece is home to some of the oldest civilizations in the world and has thousands of archaeological sites, from ancient temples to amphitheatres.
Croatia also has a rich history but most of its ruins are from the Middle Ages or Renaissance period. Croatia was once part of the Austro-Hungarian Empire, which left behind beautiful architecture such as Rijeka's Stone Gate and Dubrovnik's Old Town.
Greek History and Culture
Greece is known as the cradle of Western Civilization and the birthplace of democracy. The words, thoughts, and philosophies of ancient Greeks are still highly influential in modern society.
In addition to its impressive history, Greece is also known for its vibrant culture. From traditional festivals and feasts to the unique music and dance styles of each region, Greece has a rich cultural heritage that's worth exploring.
Croatian History and Culture
Croatia has its own fascinating history, with influences from many different cultures. The country has eight UNESCO World Heritage Sites including the Plitvice Lakes National Park and the old city of Dubrovnik.
Croatia is also known for its vibrant cultural life. Traditional music and dance are still popular activities in villages throughout the country, while cities like Zagreb boast an eclectic mix of museums, galleries, and music venues.
Overall, it's clear that both Greece and Croatia have a lot to offer when it comes to culture and history. However, if you're looking for an ancient civilization with plenty of ruins to explore, then Greece is the better choice.
Ruins and Monuments: Greece vs Croatia
Due to its rich history, Greece is home to many ancient ruins and monuments. Sites like the Acropolis in Athens and the Temple of Apollo at Delphi are some of the most famous archaeological sites in the world. Greece has 18 UNESCO sites to be explored!
Croatia also has plenty of ruins from its long past, but they tend to be more medieval or Renaissance-era than those found in Greece. Sites like the Diocletian Palace in Split and the Euphrasian Basilica in Porec are among Croatia's most popular archaeological attractions.
Famous Greek Monuments
Some of the most well known monuments in Greece include the Parthenon and Acropolis in Athens, Delos island near Mykonos, and the Palace of Knossos on Crete. In addition there are literally thousands of archaeological sites all over the country, from the ruins of ancient cities to monuments from Roman and Byzantine times.
Famous Croatian Monuments
Croatia also has some impressive archaeological sites that date back centuries. The most popular attractions include the Diocletian Palace in Split, the Euphrasian Basilica in Porec, and the Plitvice Lakes National Park. There are also many other medieval churches, castles, and fortresses scattered all over Croatia.
Overall, if you're looking for an extensive range of ancient sites to explore, then Greece is the better choice. However, Croatia does have some impressive historical monuments that shouldn't be overlooked.
Island Hopping Adventures
If island hopping is your thing, Croatia and Greece have you covered. With Greece boasting a whopping 6,000 islands and Croatia trailing behind with a "measly" 1,000, you'll never run out of new places to explore.
But, of course, there are some key differences between island hopping in these two Mediterranean paradises. Croatian islands are so close to each other that they practically hug the mainland, making island hopping a breeze. Meanwhile, Greek islands are spread out and require more time-consuming travel arrangements.
Croatian Island Hopping
Prepare to be dazzled by the variety of Croatian islands, from larger ones like Hvar and Vis to smaller gems like Rab and Korula. And if you're wondering which are the best islands to visit in Croatia, look no further than Hvar, Vis, Rab, Korula, Bra, Mljet, Cres, Murter, Silba, and Dugi Otok—each offering its own unique charm and beauty.
Greek Island Hopping
Greece, with its iconic islands like Santorini and Mykonos, and lesser known island like Sikinos and Tinos offers a different kind of island-hopping experience. With more ferries and passenger boat connections, you'll have an easier time getting around, but brace yourself for longer travel times between islands.
When choosing to go island hopping in Greece, it's best to stick to an island group. So for example you could choose islands in the Cyclades, Dodecanese, or Sporades groups.
Which one is best – is it even a competition? There's a reason you've heard of Greek island hopping and never heard of Croatian island hopping!
Book ferries at: Ferryhopper
Gastronomic Delights: Croatian vs. Greek Cuisine
Ah, the joy of Mediterranean cuisine. Both Croatia and Greece offer a delightful mix of regional delicacies for you to savor. Croatian cuisine is a real mix of regional delights, while Greek cuisine offers Mediterranean-influenced dishes that are sure to tantalize your taste buds. But let's not be fooled into thinking these countries are culinary twins—each has its own unique flavors and dishes to discover.
So let's dive into the gastronomic wonders of Croatia and Greece, shall we?
Croatian Culinary Experiences
Croatian cuisine features a delightful blend of fresh seafood, mouthwatering meats, and flavorful vegetables. From the seafood-centered dishes of Dalmatia, like Octopus Salad and Black Risotto, to the spicy sausages of Slavonia, such as Slavonian Kulen. And let's not forget the national drink of Croatia, Rakija, a fruity spirit that's just delightful when enjoyed straight up!
But Istria's Italian-influenced cuisine, with its emphasis on cured pork and truffles, truly takes the cake.
Greek Food Favorites
Greece features a range of dishes based on fresh Mediterranean ingredients. From the classic Greek salad to Gyros and Souvlaki, the delicious street food that's found all over the country. Not to mention, of course, the beloved Greek feta cheese.
Some special dishes to look out for include Moussaka, Spetsofai (a sausage and pepper stew), pastitsio (a Greek-style lasagna with ground beef and béchamel sauce) and the famous Greek honey dessert Baklava.
As for drinks, Greece has its own unique take on coffee called freddo espresso – a no-froth espresso mixed with ice cubes and sugar, and often topped with cold milk or cream.
Clearly, both Croatia and Greece have unique gastronomic experiences that are worth discovering. Ask yourself the question though – in your own country do you have more Greek restaurants or more Croatian restaurants? Greece (in my opinion again!), wins out.
Nature and Outdoor Activities
For those who prefer to spend their vacations exploring the great outdoors, both Croatia and Greece offer an array of natural attractions and outdoor activities. From national parks and waterfalls in Croatia to mountains, gorges, and caves in Greece, there's no shortage of breathtaking scenery and exhilarating adventures to be had.
I've cycled through both countries, and each one has a fantastic landscape to be enjoyed.
Greek Nature Escapes
Greece, on the other hand, offers a diverse landscape with mountains, gorges, and caves for you to explore. There's no shortage of outdoor activities, including hiking, mountain biking, rock climbing, kayaking, sailing, windsurfing, and scuba diving.
So whether you're an adrenaline junkie or simply looking to connect with nature, Greece has something for everyone.
My opinion: Greece has a more varied and interesting landscape, with more opportunities to get out and enjoy nature.
Related: Best nature quotes
Croatian Natural Wonders
Croatia is home to some truly amazing national parks, like Plitvice Lakes National Park and Krka National Park, conveniently located near the coastal cities. These parks boast breathtaking waterfalls, caves, tall mountain peaks, and a myriad of hiking trails, perfect for nature lovers.
Even views of Dubrovnik are amazing when seen from above – here's me when cycling through Croatia.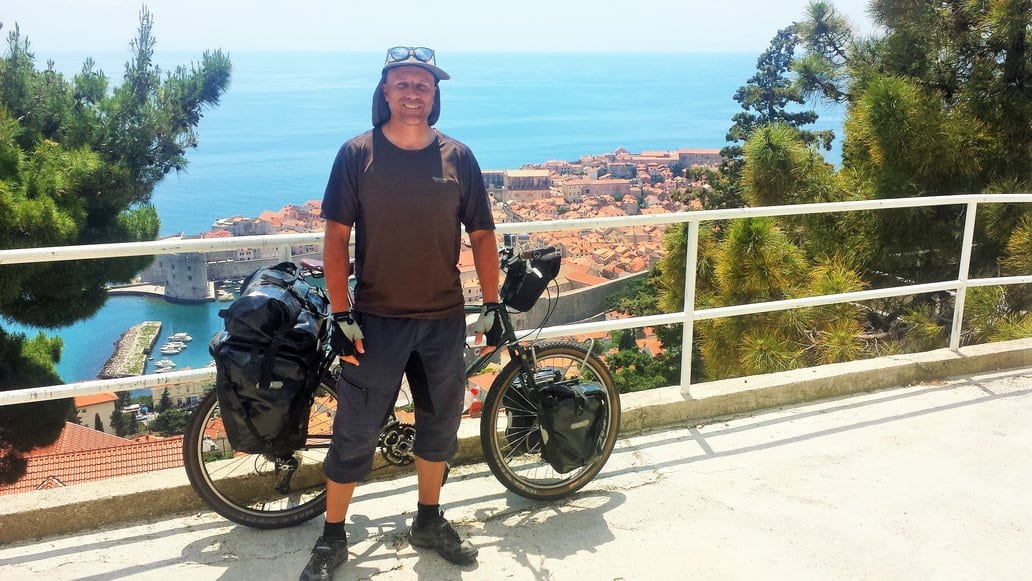 And with Croatia having more impressive national parks than Greece, including some that are part of a UNESCO World Heritage Site, you're bound to find a natural wonder that leaves you in awe.
Nightlife and Entertainment
When the sun goes down, the party starts in both Croatia and Greece. With Croatia offering a more upscale nightlife scene and Greece being the more affordable option for young party-goers, there's a nightlife and entertainment scene for everyone.
But let's dive into the specifics and see what each country has to offer when it comes to nightlife and entertainment.
Croatian Nightlife
Croatia's nightlife scene is nothing short of fabulous, with popular nightclubs and beach parties in destinations like Hvar, Pag Island, and Zre Beach. From thumping clubs to laid-back bars and music festivals, Croatia has a nightlife scene that caters to all tastes.
Just be prepared to spend a pretty penny, as nightlife in Croatia tends to be on the pricier side.
Greek Nightlife
Greece, on the other hand, offers a vibrant and diverse nightlife scene, with lively clubs, bars, and beach parties across the country. From the iconic party mecca of Mykonos to the more laid-back nightlife centered around late night meals in Folegandros, there's something for everyone in Greece.
And with more affordable prices than Croatia (apart from Mykonos!!), Greece is the perfect destination for those looking to let loose without breaking the bank.
Travel Costs and Budget Considerations
When it comes to travel costs and budget considerations, both Croatia and Greece can be surprisingly affordable, as long as you avoid the exorbitant prices during high season.
Affordability in Croatia
Croatia was for a few years an affordable destination, with lower costs for accommodations, transportation, and food and drinks. However, it has started to get more expensive especially for hotels and food. While you can still find luxurious resorts and upscale dining, there are also plenty of budget-friendly options for those looking to save a few bucks.
So if you're looking to experience the beauty of the Adriatic Sea without breaking the bank, Croatia might just be the perfect choice for you.
Affordability in Greece
Greece is still one of the more affordable countries to visit in Europe. Accommodation costs have remained relatively low, although there are plenty of more expensive luxury places to stay if that's your thing. Food and drinks are also much cheaper than other parts of the continent. A typical meal for two with a couple of drinks will rarely cost more than 35 Euros – and it will be a BIG meal!
Related: Cheapest Greek Islands
Climate and Best Time to Visit
When it comes to climate and the best time to visit, both Croatia and Greece offer beautiful weather, with hot, dry summers and mild winters. However, there are some differences between the two countries when it comes to the ideal time to visit. Croatia tends to have milder winters, while Greece offers better weather in late September and October.
So, when is the best time to visit these two Mediterranean gems? Let's find out.
Croatian Climate
Croatia enjoys a Mediterranean climate, with hot, dry summers and cold, wet winters. The country has three distinctive seasons: a low season from November through April, a shoulder season from May to mid-June and from mid-September through October, and a high season from mid-June to mid-September.
With temperatures ranging from a scorching 30°C (86°F) in the summer to a chilly -5°C (23°F) in the winter, you'll want to plan your visit accordingly.
Greek Weather Patterns
Greece, on the other hand, boasts a Mediterranean climate with hot, dry summers and mild winters. The best time to visit Greece is arguably during June, or late September and October when the weather is still warm, but the crowds have thinned out.
This is the perfect time for an epic road trip to explore the country's beautiful islands, historic sites, and indulge in outdoor activities without the sweltering heat and throngs of tourists.
Summary
In conclusion, both Croatia and Greece offer stunning beauty, rich history, and unforgettable experiences for travelers. From the sun-drenched beaches and ancient ruins to the vibrant nightlife and diverse outdoor activities, there's something for everyone in these Mediterranean gems.
On balance though, Greece is the better country, and many travelers return year after year to explore more of it!
Frequently Asked Questions
Which is better to visit Greece or Croatia?
For those looking for a cultural experience, visiting Greece is an obvious choice! The fascinating past and beauty of Greece make it the perfect spot for anyone wanting to explore history and architecture. Croatia has the attraction of being a lesser known destination.
Is Croatia as nice as Greece?
Comparing Croatia and Greece is like apples to oranges – both locations offer an unbeatable travel experience, so the choice ultimately comes down to personal preference. But if you're after crystal-clear waters, ancient ruins, and gorgeous sunsets, then Greece has it all.
Is it cheaper to go to Greece or Croatia?
Greece is generally cheaper to visit than Croatia thanks to its wider variety of accommodation choices and food options. Since Croatia joined the Euro in January 1st 2023, it has been easier to compare prices from Croatia with Greece, and it has revealed Croatia is more expensive.
When should I go to Croatia and Greece?
If you want to have the most enjoyable vacation ever, you should plan your trips to Croatia and Greece in May and June or September and October. That way, you can enjoy the beautiful weather and scenery that these two stunning countries have to offer!
Is Croatia near Greece?
What a great opportunity for a sun-filled summer trip – Greece and Croatia are neighbours, so why not get double the fun and check out both countries! Greece is known for its stunning beaches, ancient ruins, and delicious cuisine. Croatia is known for its stunning coastline, vibrant cities, and rich culture. Both countries offer something unique and special, so why not take advantage of the opportunity?