There are no direct ferries from Syros to Amorgos in the summer. During off-season, there may be one a week. This guide contains travel tips, ferry information, and island hopping advice!
How to get from Syros to Amorgos
If you are looking how to travel between the Greek islands of Syros and Amorgos, you should be aware that although Syros has an airport, taking a plane between Syros and Amorgos is not possible. Therefore the only way to get from Syros to Amorgos is to take a ferry.
To slightly complicate matters, Amorgos island has two ports – Katapola and Aegiali. These are positioned more or less at opposite ends of the island.
When planning your Amorgos island break, keep in mind that which ferry port you arrive at might determine which area you want to stay in. Or vice-versa.
Ferries to Amorgos from Syros
In 2021, during the busiest time of summer, there are no direct vessels sailing the ferry route from Syros to Amorgos.
This means that the only way to get between these two Cyclades islands is to make an indirect trip via another island such as Naxos or Mykonos.
In the off season, there is one departure per week from Syros to Amorgos. This ferry to Amorgos from Syros is operated by Blue Star Ferries.
The quickest indirect ferry journey from Syros going to Amorgos takes around 4 hours. The slowest indirect ferry sailing to Amorgos from Syros island takes around 10 hours.
The direct crossings during the off season take around 5 hours and 25 minutes.
On some days, the ferry from Syros may stop at both ports in Amorgos. On other days, it may just stop at one.
You can generally expect faster ferries to have more expensive tickets prices. Check out Ferryhopper for Greek ferry tickets and up to date timetables.
Amorgos Island Travel Tips
A few travel tips for visiting the Cyclades island of Amorgos:
Ferries depart from Ermoupoli port in Syros. Ferries arrive at Katapola and Aegiali ports in Amorgos.
---
For where to stay in Amorgos, I suggest using Booking. They have a great selection of accommodation in Amorgos and areas to consider staying include Chora, Katapola, and Egiali / Aegiali. If you are traveling to Amorgos in the peak months of summer, I advise reserving apartments in Amorgos a month or so in advance.
---
Readers recommend visiting the following beaches in Amorgos: Mouros, Agia Anna, Levrosos, Agios Pavlos, Kalotaritissa, Psili Ammos, and Egiali.
---
The best place to look at Greek ferries online is Ferryhopper. I suggest you book your Syros to Amorgos ferry tickets in advance, especially during the height of the tourist season.
---
---
---
How to make a journey from Syros to Amorgos FAQ
A few of the questions readers ask about traveling to Amorgos from Syros include:
How do we get to Amorgos from Syros?
The only way to make a trip from Syros to Amorgos is by ferry boat. There are up to 4 ferries per week sailing to the Greek island of Amorgos from Syros.
Is there an airport in Amorgos?
The Cyclades island of Amorgos does not have an airport. The closest airport to the island in on Naxos, which has flight connections with Athens.
How long is the ferry ride from Syros to Amorgos?
The ferries to Amorgos island from Syros take between 3 hours and 45 minutes and 4 hours and 35 minutes. Ferry operators on the Syros Amorgos route may include SeaJets and Blue Star Ferries.
How do I buy ferry tickets to Amorgos?
I find that the Ferryhopper website is the best place to book ferry tickets online. Although I suggest you book your Syros to Amorgos ferry tickets in advance, you could also use a local travel agency in Greece.
---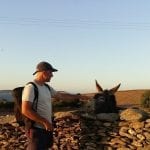 –
Dave Briggs
Dave is a
travel writer
based in Athens, Greece since 2015. In addition to writing this guide about ferries from Syros to Amorgos, he's written hundreds of other insightful travel guides to Greek islands and destinations. Follow Dave on social media for travel inspiration from Greece and beyond: