There are good ferry connections between the Greek islands of Syros and Naxos, with 2 or 3 ferries per day sailing the Syros Naxos route. Here's all the travel information you need in order to take the Syros to Naxos ferry.
(Photo of the Portara in Naxos)
How to travel from Syros to Naxos
With Syros being the administrative capital of the Cyclades islands, and Naxos being the Cyclades biggest island, you would be correct in thinking there are good ferry connection between the two popular destinations.
In fact, during the summer tourist season, there are two and sometimes three ferries per day sailing from Syros island to Naxos.
These ferries to Naxos from Syros are operated by Blue Star Ferries, Fast Ferries, Minoan Lines and SeaJets.
Syros Naxos Ferry Route
The quicker boat from Syros going to Naxos takes around 1 hour and 50 minutes. The slowest vessel sailing to Naxos from Syros island takes around 2 hours and 55 minutes.
Special note must be made of the Fast Ferries vessel name – "Thunder". Perhaps the coolest name for a Greek ferry so far!
The simplest place to look at schedules for Greek ferries is at the Ferryhopper website.
Timetables and Ticket Prices
As a rule, the faster boats are generally more expensive when it comes to ferry ticket prices. SeaJets for example, can cost 59.70 Euro per passenger! Their journey is the fastest at 1 hour and 15.
Ticket prices for the other ferry companies vary. The best prices are normally with Blue Star Ferries who offer a rare 8.50 Euro crossing. The travel times at 2 hours and 55 minutes are the slowest.
Check Ferryhopper for the latest schedules and prices.
A note on flying: Even though Syros and Naxos both have airports, it is not currently possible to fly between the two Greek islands. Their airports only connect with Athens.
Naxos Travel Tips
Here's a few travel tips for visiting Naxos that might help your vacation planning:
---
---
---
---
---
---
---
How to travel from Syros to Naxos FAQ
Questions about about traveling to Naxos from Syros include:
How do we get to Naxos from Syros?
In order to get from Syros to Naxos the best way is by using a ferry. There are up to 2 ferries per day sailing to Naxos island from Syros. It is not currently possible to fly between the two islands.
Is there an airport on Naxos?
The Greek island of Naxos does have an airport which has flights to the main airport in Athens.
How long is the ferry ride from Syros to Naxos?
The ferries to the Cyclades island of Naxos from Syros take between 1 hour and 50 minutes and 2 hours and 55 minutes. Ferry operators on the Syros Naxos route may include Blue Star Ferries and SeaJets.
How do I buy ferry tickets to Naxos?
One of the best places to look at ferry schedules and to book tickets online is at Ferryhopper. Although I think it's better to book your Syros to Naxos ferry tickets in advance, you could also use a local travel agency in Greece.
Which ferry companies operate the Syros to Naxos route?
Minoan Lines, Sea Jets, Blue Star Ferries, and Fast Ferries all offer direct ferries leaving from Syros and going to Naxos.
More Cyclades Group Ferries From Syros
In addition to the Naxos ferry route from Syros, you can also plan trips to other islands nearby. Some of the most popular islands in the Aegean Sea to visit after Syros include:
---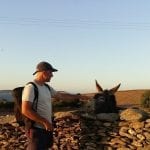 –
Dave Briggs
Dave is a
travel writer
living in and writing about Greece. As well as creating this guide to ferries from Syros to Naxos, he's also written many more travel blogs about destinations in Greece. Follow Dave on social media for travel inspiration from Greece and beyond: