There are at least 2 and sometimes 3 daily Syros to Mykonos ferry services. The Syros Mykonos ferry route is operated by Blue Star Ferries and SeaJets.
How to get from Syros to Mykonos
With Syros being the administrative centre of the Cyclades islands in Greece, and Mykonos being one of the most popular destinations, it will not come as a surprise that these two islands are well connected by ferry.
During the summer months, which is the high season in Greece, you can expect a minimum of 3 ferries per day sailing from Syros to Mykonos. Over the weekends, ferry companies add some extra crossings so you may find 4 or 5 ferries.
It's also one of the quickest ferry trips in the Cyclades group of islands, with the fastest ferry taking just a half hour. Even the slower boat has a relatively quick travel time of 1 hour and 15 minutes.
Ferry Operators Syros Mykonos
These ferries to Mykonos from Syros are predominantly operated by Sea Jets and Blue Star Ferries. You may also find that other ferry companies such as Minoan Lines and Fast Ferries have occasional crossings in the ferry schedule according to demand.
Cheap ferry tickets can normally be found on the Blue Star vessels. Foot passenger ticket prices can start from as little as 11 Euro per person on the cheaper crossing. Prices may be higher in the summer.
The simplest place to look at schedules for Greek ferries is at the Ferryhopper website.
An additional note: Even though both Syros and Mykonos have airports, it is not possible to fly between these two Greek islands.
Mykonos Island Travel Tips
A few travel tips for visiting the Cyclades island of Mykonos:
Ferries sail from the main port in the town of Ermoupoli in Syros. Arriving ferries dock at New Tourlos port, a few kilometres from Mykonos Town in Mykonos.
---
For apartments in Mykonos, I recommend looking at Booking. They have a great choice of rooms to rent in Mykonos and areas to consider staying include Megali Ammos, Platis Gialos, Ornos, Agios Stefanos, Psarou, Mykonos Town, and Agios Ioannis. If you are traveling to Mykonos in the busiest time of summer, I advise reserving places to stay in Mykonos a month or so in advance. I've a full guide here: Where to stay in Mykonos.
---
Make sure to check out these beaches in Mykonos: Lia, Kalafatis, Paradise, Super Paradise, Platis Gialos, Agios Sostis, and Agrari. A full guide here: Best beaches in Mykonos.
---
Ferryhopper is perhaps the easiest site to use when it comes to booking Ferry tickets online. Although I recommend you book your Syros to Mykonos ferry tickets in advance, especially during the peak months of summer, you will find that there are lots of local travel and ticket agencies on the islands to but tickets from.
---
---
I've already linked to some of my Mykonos travel blogs above. Some other guides about spending time in Mykonos include:
---
How to make a trip from Syros to Mykonos FAQ
Readers sometimes ask these question about traveling to Mykonos from Syros:
How do I get to Mykonos from Syros?
If you want to take the journey from Syros to Mykonos the best way is by ferry boat. There are at least 2 and sometimes 3 ferries per day sailing to Mykonos island from Syros.
Is there an airport in Mykonos?
The Greek island of Mykonos has a small international airport which connects with some European destinations, as well as the airport in Athens. It is not currently possible to fly from another Greek islands into Mykonos airport.
How many hours is the ferry from Syros to Mykonos?
The ferries to the Greek island of Mykonos from Syros take between 30 minutes and 1 hour and 15 minutes. Ferry operators on the Syros Mykonos route may include SeaJets and Blue Star Ferries.
Where do I buy ferry tickets to Mykonos?
I find that the Ferryhopper website is the best place to book ferry tickets online. Although I recommend you book your Syros to Mykonos ferry tickets in advance, you could also wait until you are in Greece, and use a travel agency.
With at least three daily ferries in high season, there should be no problem finding an available ferry year round. You can find out more about ferry schedules on Ferryhopper or by contacting your nearest travel agent.
If you have any questions about planning a Greek island hopping trip, leave a comment below, and I'll do my best to answer!
---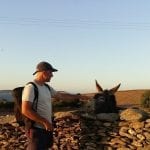 –
Dave Briggs
Dave is a
travel writer
from the UK who lives in and writes about Greece As well as creating this travel guide to ferries from Syros to Mykonos, he's written hundreds of other insightful travel guides to Greek islands and destinations. Follow Dave on social media for travel inspiration from Greece and beyond: