Autumn in Greece is an ideal time to enjoy a vacation as it's still warm enough to go to the beach and there's not many other tourists around! In this article, I will explain what you can expect along with a few inside travel tips to help you plan your Greek holiday!
Visit Greece in Autumn
Many repeat travellers to Greece prefer to visit in autumn. Why, you ask?
First of all, the weather's not quite as hot as in summer. In addition, accommodation prices are generally lower, and it's easier to book last-minute.
Another reason to visit Greece in autumn is that there are fewer tourists. This makes it a great time to explore our beautiful country.
Whether you are planning to visit some of the Greek islands, or some other destinations, you will definitely enjoy your holidays.
In this article, I'll answer a few of the most commonly asked questions about spending autumn in Greece. Hopefully, they will help you plan your autumn break to Greece and remember it fondly for years to come!
What is the weather like in Greece in Autumn?
The autumn months in Greece are September, October and November. They follow from three hot summer months, where temperatures often rise way beyond 30 C. In fact, they sometimes exceed 40 C in August!
As a rule, September is one of the most pleasant months to travel around Greece. The average temperature around the country ranges between 20 and 26 degrees. Sunset is at around 19.00 – 19.30, which gives you plenty of daylight, without the summer heatwaves.
October and November are milder, as temperatures drop to about 15 to 20 degrees. Still, they are quite warm in many areas of the country, like Crete or Rhodes. You may also get a few days of rain. This is why November is considered off-season in Greece.
Related: Best time to go to Greece
Can you still swim in the sea in autumn?
Most visitors will be happy to swim in the sea in Greece in September and much of October. November will be cold for many travelers, but it depends on where you are coming from. Quite a few Greeks swim year-round, so it's absolutely possible.
In fact, if your main priority is to swim, autumn is the best season to visit Greece. The seas are much warmer, and you can spend a longer time on the beach without getting a sunburn.
Another good thing about visiting the Greek islands in autumn, is that the meltemi winds will have stopped. These are strong, seasonal winds that blow in the Aegean Sea in summer, and in particular affect the Cyclades islands.
All in all, visitors who want to enjoy quiet beach time should definitely consider an autumn break. This is also the case if you are travelling with family.
Hiking in Greece during the autumn months
Autumn in Greece is ideal for visitors who enjoy hiking holidays. As the weather is cooler, you can easily explore the hundreds of hiking trails in Greece.
Hikers should always remember to bring appropriate shoes, a hat, sunscreen, sunglasses, snacks and plenty of water. If you are serious about hiking, look out for the dedicated maps, that you will find on many islands.
Related: Hiking in Greece
What are the best Greek islands in Autumn?
The Greek islands are great in autumn. There is something unique about visiting famous destinations without the summer heat or crowds.
Any Greek island will be perfect to visit in September. In fact, the tourist season is still going strong on the best known islands like Mykonos. Regardless, accommodation prices for hotels are significantly lower, which is ideal for budget-minded travellers.
Three of my favourite islands to visit in September are Milos, Naxos and Tinos in the Cyclades. The Ionian islands, such as Lefkada, Corfu and Zakynthos, the island with the Shipwreck beach, are also great destinations.
As the weather gets colder from October onwards, it's best to go south. Crete and Rhodes would be great choices as they offer plenty of activities. In addition, you can explore the traditional villages, beautiful beaches, lovely nature and delicious food.
I've been to Santorini in both July and November, and I enjoyed it much more in November. The temperature was a lot more pleasant, and hiking between Fira town and Oia village was absolutely wonderful. Moreover, our sunset photos were much more colourful!
That said, November can be a little hit and miss in terms of weather. If swimming is a priority, visit earlier in the season.
Take a look here for the cheapest Greek islands to visit.
Things to do during the Greek autumn
Apart from going to the beach, hiking and enjoying nature, there are tons of things to do in autumn in Greece. Visitors will find plenty of other interesting activities, which they can enjoy without the usual crowds.
Wherever you go in Greece, you won't be far from an archaeological site. The most famous Ancient Greek sites include the Acropolis in Athens, Knossos in Crete and Akrotiri in Santorini. If you are visiting Athens for a short autumn break, you could take a day trip to Delphi, Epidaurus or Mycenae.
Anyone interested in ancient Greek history should also explore the dozens of museums in Greece. Many of the best-known museums, like the Acropolis museum or the National Archaeological museum, are in Athens. Wherever you go, look for smaller, local museums that will give you an insight into the culture.
And finally, don't miss out on the delicious Greek food! Make sure you check out a few tavernas in your destination, and taste the local specialties and drinks. It's an integral part of all holidays in Greece.
Take a road trip in Autumn in Greece
Greece may have literally hundreds of islands, but many of the must-visit places are on the mainland. A road trip is an excellent way to discover the country, and you can include off-the-beaten-track areas.
A popular region in Greece to travel by road is the Peloponnese. It would take you several weeks to explore it all, but you can see some of the highlights in a week or two. Make sure you include the seaside town of Kalamata, and spend at least one day in Mani, a wild, almost barren area.
The Meteora Monasteries are one of the most famous places in Greece. Autumn is a fantastic time of year to visit, as nature in this area is stunning. What's more, you will get to visit the monasteries without the peak season crowds.
You can combine Meteora with the nearby Zagorochoria villages, on the impressive Pindus mountain range. Moreover, you could visit the quaint Ioannina town, and take a boat trip to the small island in the adjacent lake.
These destinations are located in an area called Epirus, one of the lesser known regions in Greece. If you have only been to the main cities or the islands, you will think you are in a different country!
Harvest season in Greece
Autumn is the grape and olive harvest season in Greece. If you are planning to search for seasonal work, it's a fantastic time of year to be in the country. Plus, you can get to taste fresh local wine!
The exact harvest dates vary widely across the different regions. Generally speaking, grapes are ready to pick between late July and September, depending on the type.
It takes at least a few weeks for the grapes to be fermented into wine. The most famous Greek wine might be retsina, that some people love and others hate.
However, there are plenty of other wine varieties you should try. In fact, wine-making is a long-standing tradition in many regions of Greece.
Among foreign visitors, Santorini is the most famous place for wine production. You might be interested in my guide on wine-tasting tours.
Olive harvest begins in late October or later. Areas with the most sun, like Crete, tend to have their harvest in late November or even December.
If you are travelling with family, you could time your holidays in Greece to coincide with the harvest activities. Children will love picking the olives from the olive trees and it will give a real insight into local life in the country! If this doesn't sound appealing, you can always just buy some fresh olive oil to take home.
Athens and Thessaloniki International Film Festivals
Two of the most popular events in Greece in autumn are the two major Film Festivals. They focus on art films and other independent movies, and attract hundreds of Greeks and foreign visitors.
The Athens Festival happens in late September / early October. Dozens of new movies are presented each year. You can check out more information on their website.
The Thessaloniki International Film Festival takes place in November. Apart from independent movies, you can also see a range of documentaries. For more information, check their website.
The "Ohi" Day
The 28th October is one of the two National Days in Greece. This is the day that Greeks celebrate the famous "Ohi" (No) Anniversary.
On 28 October 1940, Greece's Prime Minister of the time, Ioannis Metaxas, denied access to the Italian army forces. With a single word, "Ohi", he rose against the Italian dictator, Benito Mussolini. And the rest, as they say, is history – or, more precisely, World War II history.
The "Ohi" Day is a public holiday, celebrated with parades all around the country. In addition, all archaeological sites and public museums are free to visit.
The Athens Marathon
Hundreds of people travel from all over the world to run the Authentic Marathon route, which happens in the second weekend of November. It is one of the most popular off-season events in Greece.
The race starts in the town of Marathon, the place where the battle of Marathon took place in 490 BC between united Greek tribes and the Persians. It ends in central Athens, in the Panathenaic Stadium.
According to legend, an Athenian messenger called Pheidippides ran the 43-km distance to announce that the Greek army had won the battle. Upon delivering his victorious message, he died. His legendary race inspired the modern event.
Here's everything you need to know about the Authentic Marathon. Note: As the tourist industry starts to get back to normal, we've heard the Athens Marathon is planned to go ahead in November 2021!
Greece autumn ideas
I hope that you will visit Greece during autumn! The beautiful scenery, the milder weather than other times of year, and the special events happening in around the country make it a perfect time to come explore.
Where have you visited Greece during Autumn? What did you think about the experience? Leave a comment below!
Travel Guides
Here are a few more other travel ideas and articles you can read using the links below:
Visiting Greece in Autumn FAQ
Readers planning a Greek vacation outside of the summer season find that autumn offers many advantages as a time to travel.
When does the summer season end in Greece?
The summer season in Greece usually ends in late September or early October. However, the peak season finishes at the end of August when the school holidays in Europe are over.
Is the Greek fall still tourist season?
September is considered to be the tail end of the tourist season, with mid-October onward being shoulder season.
When is the perfect season to travel to Greece?
In my opinion, September is the best month for a Greek vacation. The excessive heat of August is over, the sea is still warm enough to swim, and the tourist crowds are noticeably fewer during Autumn in Greece.
Which popular islands in Greece are good to visit in mid September?
Crete, Rhodes, Mykonos and Santorini are all still good to visit in September. Other islands may start to close down further into autumn in Greece.
---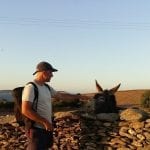 –
Dave Briggs
Dave is a
travel writer
who's now living in
Greece
. If you enjoyed reading this guide to what Greece is like in autumn and what you might expect, you should also take a look at his other travel blog posts! Follow Dave on social media for travel inspiration from Greece and beyond: