During the summer season you may expect up to at least 12 ferries per week sailing from Folegandros to Santorini, with the quickest travel time taking just 50 minutes.
Folegandros Santorini Ferry Trip
Santorini makes a good choice of an island to visit after Folegandros. This is because Santorini has an airport, and so it can be the last destination on a Greek island hopping trip.
The two islands of Folegandros and Santorini are also close to one another, meaning the journey time between the two is not too long. The slowest boat takes 3 hours, but the quickest ferry from Folegandros to Santorini takes only 50 minutes.
Folegandros to Santorini Ferry Schedules and Operators
These ferries to Santorini from Folegandros are operated by SeaJets, Zante Ferries, and Maistros Santorini. During the summer, Seajets sail every day (leaving around 11.30), whereas the other two ferry operators only sail a few times per week.
While the SeaJets high speed ferries are the obvious choice and most consistently scheduled, ticket prices are also the more expensive. You should expect passenger prices to start from around 54.70 Euro.
Zante Ferries is likely to offer passengers the cheapest tickets, but the sailing duration of around 3 hours is longer.
For information in the Folegandros ferry to Santorini, and to book ferry tickets online, check out Ferryhopper. It's the best booking engine for working out routes for passenger ferries in the Greek islands!
Note that during the low season, the Seajets vessels will most likely not be sailing. However Zante Ferries and Maistros Santorini offer year round trips between these two Cyclades islands.
Santorini Island Travel Tips
A few travel tips for planning your island hopping itinerary in the Cyclades group, and visiting the Greek island of Santorini:
The best place to look at Greek ferries online is Ferryhopper. I think it's better that you book your Folegandros to Santorini ferry tickets in advance, especially during the high season (July and August).
---
Ferries leave from Karavostasis ferry port in Folegandros. Ferries arrive at Santporini main port Athinios port, a few kilometres from Fira in Santorini.
---
If you have your e tickets ready, you can be at the port a half an hour before departure. If you want to buy your ticket in the port area on the day you sail, you'll want to be there at least an hour before.
---
The best areas to consider finding a hotel in Santorini include Perissa, Oia, Fira, Kamari, Firostefani, Monolithos, and Imerovigli. I've a guide here on where to stay in Santorini.
---
If you are traveling to Santorini in the height of summer, I advise reserving hotels in Santorini a month or so in advance.
---
---
---
---
---
How to go to from Folegandros to Santorini FAQ
Readers sometimes ask these question about traveling to Santorini from Folegandros include:
How do I get to Santorini from Folegandros?
The only way to get from Folegandros to Santorini is by using a ferry. There are daily ferry crossings, and sometimes up to at 12 ferries per week in the summer. Ferry companies on this route include SeaJets, who offer daily ferries, and Zante Ferries and Maistros Santorini who provide 2 or 3 crossings each per week.
Is there an airport in Santorini?
The Greek island of Santorini has an international airport which has flight connections with some European cities, as well as with the much larger Athens International Airport.
How long is the ferry crossing from Folegandros to Santorini?
The trip duration for the ferries to the Cyclades island of Santorini from Folegandros take between 50 minutes on a high speed ferry and 3 hours on a conventional ferry.
Where do I buy ferry tickets to Santorini?
Ferryhopper is perhaps the easiest site to use when it comes to booking an e ticket online. It's also very easy to find any ferry schedule for other islands in the Aegean Sea here as well.
---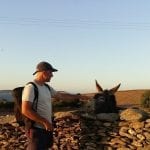 –
Dave Briggs
Dave is a
travel writer
based in Greece As well as writing this travel guide about ferries from Folegandros to Santorini, he's written hundreds more guides to other destinations in Greece. Follow Dave on social media for travel inspiration from Greece and beyond: