Note – The one ferry a week from Folegandros to Syros does not seem to be operating for the summer 2023.
Syros island in Greece
Syros is a Cycladic island in the Aegean Sea, located 78 nautical miles southeast of Athens. The island has an area of 83.30 square kilometers and a population of 9,684 inhabitants (2011 census). Syros is the administrative center of the South Aegean region.
The main town and capital of the island is Ermoupoli, built on a hillside overlooking the north coast. It's often called the Queen of the Cyclades due to its regal looking buildings.
While Syros is not the most popular destination to visit after Folegandros, it can offer a very good contrast.
Folegandros Syros Ferry Route
There are year round ferry schedules linking Folegandros to Syros. The ferry company operating this route is Blue Star Ferries, and the vessel is conventional ferry the Artemis.
It's a slow crossing at around 6 hours and 25 minutes, but quite cheap, with tickets starting from just 12.50 Euro.
I find that Ferryhopper is a good website to use to book ferry tickets online.
Indirect Ferries to Syros from Folegandros
A once a week direct route might not be suitable for everyone. So, it's good to be aware of other options if you absolutely have to make Syros your next island to visit after Folegandros.
You can take a look at the timetables on Ferryhopper, and see if you can include an indirect route via other islands. Paros might be a good choice.
An example itinerary that involves changing ferries at other Cyclades islands might be Folegandos to Paros by ferry and then taking a different ferry from Paros to Syros.
Obviously, your travel times are going to be longer, and you may even need to stay overnight in Parikia in Paros before taking a ferry on to Syros the following day.
Syros Island Travel Tips
A few travel tips for traveling to the island of Syros from Folegandros by ferry, along with some vacation insights:
While you can buy a ticket ticket at a travel agency in Folegandros, it's just as easy to make a booking for an e ticket online and the price is the same.
---
The best place to look at Greek ferries online is Ferryhopper. I recommend you book your Folegandros to Syros ferry tickets in advance, especially during the peak months of summer when once a week sailings might sell out.
---
Ferry services leave from Karavostasis ferry port in Folegandros. Passengers should be at the port, ferry ticket in hand, at least a half hour before boat departure.
---
Ferries arrive at Ermoupoli port in Syros. Ermoupoli is also the island's capital, and perhaps the best place to stay for short trips of a couple of nights. Read my guide here on where to stay in Syros.
---
For accommodation in Syros, other areas to consider staying include Finikas, Azolimnos, Poseidonia, Ermoupoli, Galissas, and Ano Syros. If you are traveling to Syros in the peak travel season, keep in mind that hotel prices are higher and accommodation can book out in the more affordable places.
---
Make sure to check out these beaches in Syros: Komito, Azolimnos, Galissas, Delfini, and Grammata.
---
---
---
How to make the journey from Folegandros to Syros FAQ
A few common questions about ferry companies traveling to Syros from Folegandros include:
How do I get to Syros from Folegandros?
In order to make a trip from Folegandros to Syros the only way is to use a ferry. There are is one ferry per week sailing to Syros island from Folegandros.
Is there an airport on Syros?
Syros does have an airport, but it only has connections with Athens Airport.
How many hours is the ferry from Folegandros to Syros?
Conventional ferries to the Greek island of Syros from Folegandros have a travel time of around 6 hours and 25 minutes. Ferry operators on the Folegandros Syros route may include Blue Star Ferries.
How do I buy ferry tickets to Syros?
I find that the Ferryhopper website is the best place to book ferry tickets online. Fares for passengers start at around 12.50 Euro.
---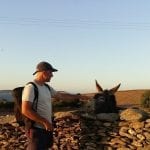 –
Dave Briggs
Dave is a
travel writer
living in and writing about Greece. As well as writing this travel blog post about ferries from Folegandros to Syros, he's created many other guides about Greek islands and destinations in Greece. Follow Dave on social media for travel inspiration from Greece and beyond: