The Greek island of Rhodes is known for its medieval castles, great beaches, warm weather, and natural beauty. Rhodes is one of the most popular holiday destinations in Greece.

What Rhodes Is Famous For
Rhodes, a Greek island in the Aegean Sea, is famed for its beautiful beaches, fascinating archaeological sites, and charming Old Town – a UNESCO World Heritage Site. The largest of the Dodecanese islands, Rhodes boasts a rich history that spans thousands of years, from ancient Greece to Byzantine, Ottoman, and Italian rule, leaving behind a legacy of impressive monuments and landmarks for visitors to explore.
I've been fortunate to have visited Rhodes several times now. I find Rhodes Old Town a fascinating place to wander around (I'm a bit of a castle addict!). I also like the overall climate in what is known as the shoulder seasons (April-May and September-October). These are the best times to visit Rhodes – at least in my opinion!
The purpose of this blog post about Rhodes, is to describe the things that Rhodes is most well known for, as well as some of the things you might not realise about it. This way, you can decide if visiting Rhodes should be in your travel future – I hope it is!
Reasons to go to Rhodes
Explore a unique blend of history, culture and natural beauty in Rhodes.
Discover ancient wonders and medieval marvels in Rhodes like the Acropolis of Lindos and the Palace of the Grand Master of the Knights of Rhodes
Sample delicious local cuisine, explore vineyards & take part in outdoor activities in Rhodes like hiking and kayaking.
Rhodes: A Blend of History, Culture, and Natural Beauty
Rhodes is a treasure trove of historical sites, boasting connections to ancient Greece and a rich heritage that spans the ages. From the UNESCO World Heritage Site of the Medieval City of Rhodes to the Acropolis of Lindos, the island offers a fascinating glimpse into ancient history.
No wonder then, that it is one of the top destinations in Greece to visit!
Even in the ancient world, Rhodes was well known. The Colossus of Rhodes (which legend has it stood astride the harbor entrance) was one of the 7 wonders of the world. By the way, it's not there today, so don't go looking for it!
Instead, step into the ancient world as you wander through the cobbled streets of Rhodes Old Town, where the grandeur of the Palace of the Grand Master and the medieval architecture transport you back in time.
Marvel at the Acropolis of Lindos, perched high above the azure waters of the Mediterranean Sea. And don't forget to explore the nearby Dodecanese islands, each with its own rich history and distinctive character, including some fascinating ancient sites.
Related: Do you need to rent a car in Rhodes?
UNESCO World Heritage Site: The Medieval City of Rhodes
The Medieval City of Rhodes, also known as Rhodes Town or Old Town, is the largest and most intact fortified city in Europe.
Designated as a UNESCO World Heritage Site (one of 18 Unesco sites in Greece), this well-preserved citadel offers a glimpse into the island's rich past, dating back to the Roman Empire and later, the Knights of Saint John who ruled here in the 14th century.
As you stroll along the charming, paved alleys, you cannot help but feel transported back to the Middle Ages, surrounded by historical monuments and breathtaking architecture.
The city's cultural significance is evident in its many attractions, from the impressive Palace of the Grand Master to the Street of the Knights, where the various knightly orders reside.
As you explore the Old Town, make sure to take the time to appreciate the magnificent medieval castle, which stands as a testament to the grandeur and power of the grand masters of the Knights of Saint John.
Ancient Wonders: Acropolis of Lindos
Another must-visit site on the Greek island is the Acropolis of Lindos, an ancient Greek temple with Hellenistic columns that overlooks the island's stunning east coast.
Perched atop a hill, the Acropolis offers breathtaking views of the surrounding landscape and the sparkling Aegean Sea. To avoid crowds and the heat, it's best to visit the Acropolis early in the morning or later in the day.
There's also some nice beaches at Lindos, so after you've wandered around the town and ancient site, you'll have the perfect excuse to chill out on the beach afterwards!
Related: Rhodes day trips and tours
Beaches and Coastal Attractions
Talking of beaches…
Rhodes Island boasts a stunning coastline with an array of beaches and coastal attractions that cater to all tastes. From the pristine sands and crystal-clear waters of the east coast to the more rugged and secluded coves of the west coast, there's a beach for everyone on this sun-kissed island.
Whether you're looking to soak up the sun, swim in the inviting waters of the Mediterranean, or indulge in water sports and activities, Rhodes' beaches offer endless possibilities for relaxation and adventure.
So grab your swimsuit and sunscreen, and let's dive into the best coastal spots that Rhodes has to offer.
Best Beaches in Rhodes
The east coast of Rhodes is home to some of the island's most popular beaches, such as Tsambika Beach, Lindos Beach, and Glystra Beach. Known for their golden sands and calm, turquoise waters, these beaches are perfect for sunbathing, swimming, and snorkeling.
Want a highly oraganized beach with plenty of sunloungers, umbrellas and beach bars? Head to Faliraki Beach in Rhodes!
For a more secluded experience, head to Agathi Beach, Anthony Quinn Bay, or Traganou Beach. These lesser-known spots offer a peaceful escape from the crowds, allowing you to fully immerse yourself in the beauty of Rhodes' coastline.
With so many incredible beaches to choose from, you'll be spoiled for choice as you explore the east coast paradise that is Rhodes.
Kallithea Springs: A Unique Seaside Experience
Located on the east coast of Rhodes, Kallithea Springs is a one-of-a-kind seaside attraction that combines natural beauty with a touch of history. Known for its healing springs, Kallithea offers a unique experience that goes beyond the typical beach outing.
Visitors can explore the beautifully restored buildings, admire the stunning mosaic floors, and take in the breathtaking sea view. Afterward, relax on the small beach, complete with deckchairs, umbrellas, and a restaurant, where you can enjoy a refreshing dip in the crystal-clear waters.
Kallithea Springs is an enchanting destination that should not be missed during your visit to Rhodes.
Cultural Highlights and Villages of Rhodes
Beyond its historical sites and beautiful beaches, Rhodes also offers charming villages and cultural highlights that provide a glimpse into the island's rich traditions and local life. From the picturesque town of Lindos to the peaceful village of Monolithos, Rhodes' villages are a delightful way to experience the island's authentic charm.
As you wander through the cobblestone streets and white-washed houses, you'll discover plenty of nice tavernas where you can sample the delicious flavors of traditional Greek cuisine. So let's take a closer look at the cultural highlights and villages that make Rhodes such a captivating destination.
Charming Lindos: White Houses and Cobblestone Streets
Nestled on the east coast of Rhodes, the picturesque town of Lindos is renowned for its stunning white-washed houses and charming cobblestone streets. This enchanting village provides a perfect backdrop for leisurely strolls, as you explore its narrow alleys, traditional tavernas, and local shops. Lindos in Rhodes can be a great place top pick up souvenirs in Greece!
Lindos is also home to the impressive Lindos Acropolis, an ancient archaeological site that towers above the village. Here, you can explore the remains of an ancient theatre and the last remaining fragments of the Temple of Athena Lindia. The Acropolis offers breathtaking views of the surrounding landscape, making it a must-visit attraction for anyone exploring Lindos.
Monolithos Village: Breathtaking Views and a Taste of Local Life
Situated in the hills of Akramiti Mountain, Monolithos Village offers a peaceful retreat from the bustling tourist areas of Rhodes. This serene village is known for its stunning views and authentic local life, providing a unique opportunity to experience the island's true charm.
As you explore Monolithos, make sure to visit the 15th-century Monolithos Castle, perched atop a 100-meter cliff. This impressive fortress offers incredible panoramas of the surrounding landscape, making it a must-see attraction.
Afterward, indulge in some delicious local cuisine at the village's tavernas, where you can sample traditional Greek dishes and immerse yourself in the warmth and hospitality of the local people. Don't forget to visit the modern Greek art museum nearby to complete your cultural experience.
Nature, Adventure and Outdoor Activities
For those who seek adventure and love the great outdoors, Rhodes offers a wealth of activities and experiences to satisfy your wanderlust. From exploring the enchanting Valley of the Butterflies to taking part in exhilarating water sports, the island caters to thrill-seekers and nature lovers alike.
Whether you prefer hiking through lush forests, kayaking along the coastline, or simply soaking up the natural beauty of the island, Rhodes provides endless opportunities for outdoor exploration.
Two of my favorite activities were hiking in Rhodes (a hiking tour to the Summit of Akramitis) and a sea kayaking trip that included Anthony Quinn Bay.
Valley of the Butterflies: A Natural Wonderland
This turned out to be one of my favorite places to visit in Rhodes. It probably had something to do with the peace and quiet and natural surroundings!
The Valley of the Butterflies, a verdant forest that comes alive with millions of butterflies each summer. From June to September, the valley is transformed into a fluttering kaleidoscope of color as the butterflies of the species Panaxia guadripunctaria congregate in the area.
As you wander through the lush greenery and admire the beautiful waterfalls, you'll be surrounded by the mesmerizing sight and sound of countless butterflies. While the valley's main attraction is seasonal, it remains a beautiful destination for nature lovers year-round, offering scenic trails and the chance to spot other wildlife in the area.
Water Sports and Activities: Making a Splash in Rhodes
If you're looking to add some excitement to your Rhodes vacation, the island offers a wide range of water sports and activities to get your adrenaline pumping. From windsurfing and kitesurfing at Prasonisi Beach to sea kayaking along the coast, there's no shortage of ways to make a splash in Rhodes.
For those seeking a more leisurely aquatic adventure, consider embarking on a sea kayaking tour to explore hidden coves and sea caves or taking a catamaran day cruise to discover nearby islands and secluded bays. With so many exciting water activities available, Rhodes is the perfect destination for thrill-seekers and those looking to enjoy the island's stunning coastline from a different perspective.
Rhodes' Culinary Delights and Wine Culture
No vacation to Rhodes is complete without indulging in the island's mouthwatering culinary delights and time-honored wine culture. From traditional Greek dishes to ancient wine-making traditions, Rhodes offers a taste of the Mediterranean that is sure to satisfy your taste buds.
Savor the flavors of Rhodes as you sample local specialties and explore the island's vineyards, where you can learn about the ancient art of wine-making and even join a wine tasting tour. So grab your appetite and raise a glass, as we explore the culinary delights and wine culture of this enchanting island.
Traditional Greek Dishes: Must-Try Meals on Rhodes
When it comes to traditional Greek dishes, Rhodes does not disappoint. The island offers a variety of mouthwatering local specialties, such as lacan, a dish made with goat, chickpeas, and cumin, and soupiorizo, a flavorful rice soup. Seafood is also a staple of the local cuisine, with fresh catches featured prominently in many dishes.
Don't forget to try the classic feta cheese with honey and sesame seeds, a delicious combination that perfectly showcases Rhodes' culinary heritage. With so many tempting dishes to choose from, you'll find yourself eagerly anticipating each meal and discovering new favorites along the way.
Ancient Wine-Making Traditions: Exploring Rhodes' Vineyards
Rhodes has a long and storied history of wine-making that dates back to ancient times, making it one of the first Greek islands to embrace grape cultivation. The island's fertile soil and favorable climate have allowed the wine-making tradition to flourish, resulting in a diverse array of white, red, and rosé wines.
Visitors to Rhodes can explore the island's vineyards, where they can learn about the ancient process of wine-making and even participate in a wine tasting tour. From the grape harvest to the aging of the wine in oak barrels, the art of wine-making in Rhodes is a fascinating journey through time and tradition that is sure to delight wine enthusiasts and novices alike.
How to Get Around and Where to Stay in Rhodes
As you plan your visit to Rhodes, it's important to consider the logistics of getting to Rhodes, and then getting around the island and finding the perfect accommodations to suit your needs. From transportation options such as planes and ferries to a wide variety of accommodation choices, Rhodes offers plenty of options to help you make the most of your vacation.
Find ferries at: Ferryhopper
Whether you're looking for a luxurious resort, a boutique hotel in the heart of Rhodes Old Town, or a charming seaside villa, the island caters to a range of preferences and budgets. So let's explore the various ways to reach Rhodes and the accommodations that await you.
For hotels in Rhodes, I recommend: Booking
Traveling to Rhodes: By Plane or Ferry
There are two main ways to reach Rhodes: by plane or by ferry. Rhodes' international airport is located 16 km southwest of Rhodes city and offers direct flights from several European cities, as well as connecting flights through Athens or Thessaloniki.
Related: How to get from Rhodes Airport to Rhodes Town
Alternatively, you can take a ferry from the Port of Piraeus, near Athens to Rhodes, or from other nearby Dodecanese islands such as Symi, Kos, Halki, or Leros.
When planning your journey, consider factors such as cost, travel time, and personal preferences. While flying may be quicker and more convenient, taking a ferry allows you to enjoy the scenic beauty of the Aegean Sea and visit other nearby islands during your trip.
Find ferries at: Ferryhopper
Accommodation Choices: From Medieval City Stays to Seaside Resorts
When it comes to accommodations in Rhodes, you'll find a wide range of options to suit your needs and preferences. For those seeking a unique experience, consider staying in the heart of Rhodes Old Town, where you can find boutique hotels and charming guesthouses nestled among the medieval architecture.
If you prefer a more relaxing seaside escape, opt for one of the many luxurious resorts and all-inclusive properties located along the island's east coast or near Faliraki. No matter your choice, you can be sure that you'll enjoy a comfortable and memorable stay in Rhodes, with accommodations that cater to every taste and budget.
Island Hopping From Rhodes
Rhodes is also a great island to begin or finish a Greek island hopping adventure. From here, you can take ferries to most of the islands near Rhodes.
Dodecanese Islands: Exploring the Surrounding Gems
The Dodecanese Islands, a part of all the Greek Islands and a subgroup of the Aegean Islands, located in the southeastern Aegean Sea, offer a wealth of fascinating destinations beyond Rhodes. Easily accessible by ferry, islands such as Symi, Kos, Halki, and Leros each possess their own unique charm and attractions, making them perfect for day trips or extended stays.
Symi, in particular, is a must-visit gem with its vibrant neo-classical houses and picturesque harbor. A full-day cruise to explore Symi Island includes stops at the historic Panormitis Monastery and the idyllic Saint George's Bay, offering a delightful mix of culture, history, and natural beauty.
Related: How to get from Rhodes to Symi
As you hop from one island to another, you'll discover that the magic of the island of Rhodes extends far beyond its shores.
Summary
In conclusion, Rhodes is a captivating destination that offers a unique blend of history, culture, and natural beauty. From the awe-inspiring ancient sites and charming villages to the breathtaking beaches and adventurous outdoor activities, the island caters to every traveler's desires. As you indulge in Rhodes' culinary delights and immerse yourself in its rich heritage, you'll discover an unforgettable experience that will leave you longing to return. So pack your bags and set sail for the enchanting island of Rhodes – it's time to create memories that will last a lifetime.
Frequently Asked Questions
What is special about Rhodes?
Rhodes is a beautiful Greek island, and is especially well known for it's medieval castle architecture in Rhodes Old Town. In fact, Rhodes Old Town is a UNESCO site – one of only 18 heritage sites in Greece!
Why do people go to Rhodes?
Many people choose Rhodes for a holiday as in addition to the summer, it is a warm spring and summer destination. English is widely spoken in Rhodes, and it is easy to get around using public transport, taxis or by renting a car.
What does Rhodes Greece have to offer?
Rhodes, Greece offers a truly breathtaking experience with its stunning scenery, plethora of activities, and delicious local cuisine. From hiking up to the Acropolis of Lindos, sunbathing on one of the many beaches, to exploring the old city of Rhodes, this beautiful destination is sure to have something for everyone.
Is Rhodes worth visiting?
Rhodes is absolutely worth visiting, boasting one of the best climates in Greece with warm Mediterranean weather and over 300 days of sunshine annually. The island caters to diverse interests, ensuring a fulfilling experience for every visitor, regardless of their itinerary preferences. History enthusiasts can explore the ancient ruins of the Lindos Acropolis and the medieval Palace of the Grand Master, while beach lovers can unwind on the picturesque shores of Faliraki or enjoy the stunning views of St. Paul's Bay. In short, Rhodes has something for everyone, making it an ideal destination for a memorable vacation.
How many days should I spend in Rhodes?
The ideal duration for a trip to Rhodes depends on your interests and the pace at which you prefer to explore. Generally, spending 4-7 days in Rhodes allows enough time to visit major attractions, relax on the beaches, and experience the local culture. For a more leisurely vacation or if you wish to discover hidden gems and take day trips to nearby islands, consider extending your stay up to 10-14 days.
---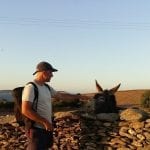 –
Dave Briggs
Dave is a
travel writer
based in Athens, Greece since 2015. In addition to writing these insights into what makes Rhodes in Greece famous, he's also written many more travel blogs about destinations in Greece. Follow Dave on social media for travel inspiration from Greece and beyond: