There is no direct ferry from Athens to Antiparos. Travelers must take a ferry from Athens to Paros, and then take the small local ferry on to Antiparos. This guide shows you how.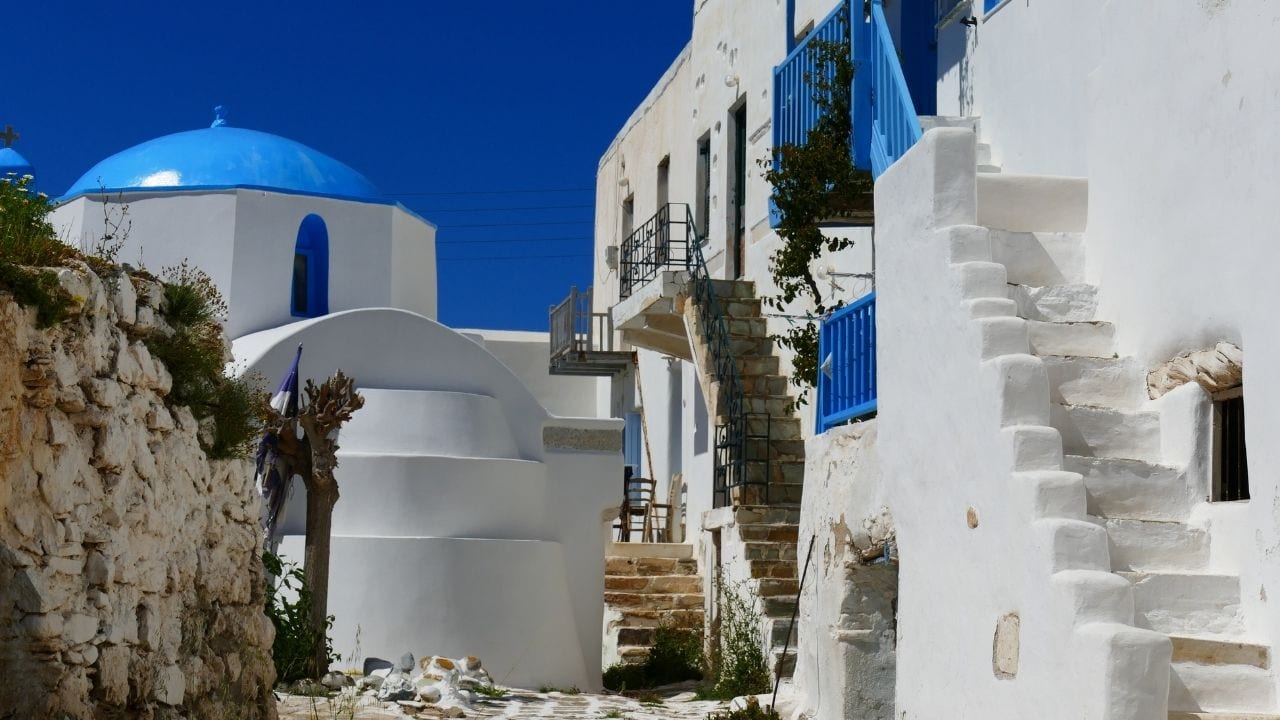 Antiparos island in Greece
Did you know that Tom Hanks loves Antiparos so much he bought a villa there? In fact, he was also given Greek citizenship not long ago, so perhaps Antiparos will be seeing a lot more of him!
What does that mean Antiparos is like though? Well, don't go expecting Mykonos style nightlife. Instead, Antiparos is laid back, has nice beaches, and a genuine local community.
Antiparos is quite a small and tranquil island, with some amazing sandy beaches. You'll love the swimming there, and it's one of those Cyclades islands in Greece you visit for a bit of peace and quiet.
How to get to Antiparos in Greece
There is no airport on the small island of Antiparos and no direct ferry from Athens. To reach Antiparos you will need to travel to Paros first, the larger neighboring island of Antiparos.
Your options to get to Paros first include both plane and ferry. Flights might be more convenient if you are arriving at Athens airport and want to fly straight out. A ferry is better if you want to spend a couple of days in Athens first.
I suggest using Ferryhopper to look for ferry schedules and for booking tickets for ferries online. Try Skyscanner to look for flights from Athens to Paros airport.
Once on Paros, you would then take a local ferry that travels between Paros and Antiparos. There's a couple of options for this.
Getting from Paros to Antiparos
Once on Paros, you would then take a local ferry that travels between Paros and Antiparos. There's a couple of options for this during the summer season.
The first option is a small passenger ship from the main port of Paros, Parikia which takes about 30 minutes. The second option, especially if you are traveling by car, is to take the open deck Antiparos ferry departing from Pounta port. The journey takes about 10 minutes.
I've a guide here: Paros to Antiparos by ferry
Ferries to Paros
If you decide to take a ferry to Paros before Antiparos rather than flying, you should know that ferries to Paros leave from Piraeus Port (the largest port), and Rafina port in Athens.
The Piraeus Paros ferry route connecting Athens to the Cyclades Islands is currently operated by 3 ferry companies. Blue Star Ferries, SeaJets, and Golden Star Ferries. There can be over 20 ferries per week from Athens to Paros as this is a very popular route.
The Rafina Paros ferry route is operated by Seajets. During the peak tourist season more operators and boats may sail between Athens and Paros depending on demand.
I recommend using Ferryhopper to reserve and book ferry ticket to Paros online. Ferry routes are often only uploaded a couple of months in advance.
Related: Athens to Paros Ferry Guide
Travel Tips For Visiting Antiparos
---
---
---
---
---
---
What to see in Antiparos
The best attractions, things to do and places to see in Antiparos during your vacation include:
Exploring the Cave of Antiparos
Relaxing on the beaches
Walking inside Antiparos Castle
Sunset at Sifneiko Beach
Boat tour to Despotiko Island
FAQ About Traveling To Antiparos
These are some of the most commonly asked questions regarding how to get to Antiparos from Athens.
How do I get to Antiparos Greece?
You can only get to Antiparos island via the larger island of Paros. If traveling from Athens, you should first go to Paros, and then take the smaller boat on to Antiparos from there.
Can I fly to Antiparos island in Greece?
Antiparos does not have an airport, although Paros which is the island right next door does. It can be a great idea for some people to fly into Paros, and then take a small ferry to Antiparos afterwards.
How long does the Athens to Antiparos ferry take?
If all the ferries connections line up perfectly, it can take around 5 hours to get from Athens to Antiparos in Greece.
How do I book ferry tickets for Antiparos?
You can use Ferryhopper to book tickets online for the Athens to Paros section of your trip. You would then buy a separate ticket at the ferry port to take the smaller boat to Antiparos.
---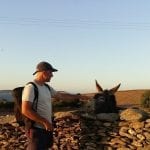 – Dave Briggs
Dave is a travel writer from the UK who has been living in Greece for more years than he can remember. Over the years he's written hundreds of travel blog posts about Greece and the Cyclades islands. He has a somewhat ambitious goal of visiting every Greek island (there's over 200!) and writing about them all.
Follow Dave on social media for travel inspiration from Greece and beyond: Facebook, Twitter, Pinterest, Instagram, YouTube.