This Milos travel blog has my top recommendations and travel tips to planning a vacation in Milos. How to get around Milos, where to stay, what to see, and practical travel info.
You can never have enough Milos travel tips! In this article, I've included ideas and suggestions for Milos, one of the best Greece vacation spots. Includes tips on getting around, accommodation, destinations in Milos, and other practical travel info.
Milos Blog – An introduction to Milos
Milos is one of the Cyclades islands in Greece. It is located in the Aegean Sea, to the east of mainland Greece. It is close to other famous Greek islands like Mykonos, Santorini and Naxos.
The rugged island of Milos has become famous for its iconic beaches and unreal rocky landscapes. In addition, it has its fair share of quaint villages, ancient sites and fantastic food. The nightlife is relaxed and low-key, and so far Milos has stayed out of the popular cruise ship routes.
While Milos has tourist infrastructure, it is by no means over-commercialized. Overall, it's an ideal Greek island to have a relaxing holiday by the beach. At the same time, there are plenty of options for exploration, especially if you like the outdoors.
Milos Travel Blog
It's no surprise that Milos is one of the most upcoming vacation places in Greece. This Greece holiday guide will help you make the most of your trip to Milos in Greece.
I've been fortunate to have visited Milos a couple of times now, spending a total of about a month on the island. This collection of Milos travel tips should give you enough insights to make your Milos island travel planning easier.
Visit my Milos Travel Guide for a deep dive into the island.
What is Milos famous for?
Traditionally, Milos might have been known for the statues Milo de Venus. Today though, it is more famous for it;s wild landscapes and beaches.
Landscapes of Milos
Like Santorini and other Greek islands in the Cyclades, Milos was created after a series of volcanic explosions and earthquakes. As a result, its geology is quite distinctive. Several types of minerals exist on the island, like bentonite, pumice and sulphur. Even today, Milos has an important mining industry.
Because of all those minerals, the stunning Greek island of Milos is full of unique landscapes and rock formations. You will see colourful rocks with diverse textures all around the island.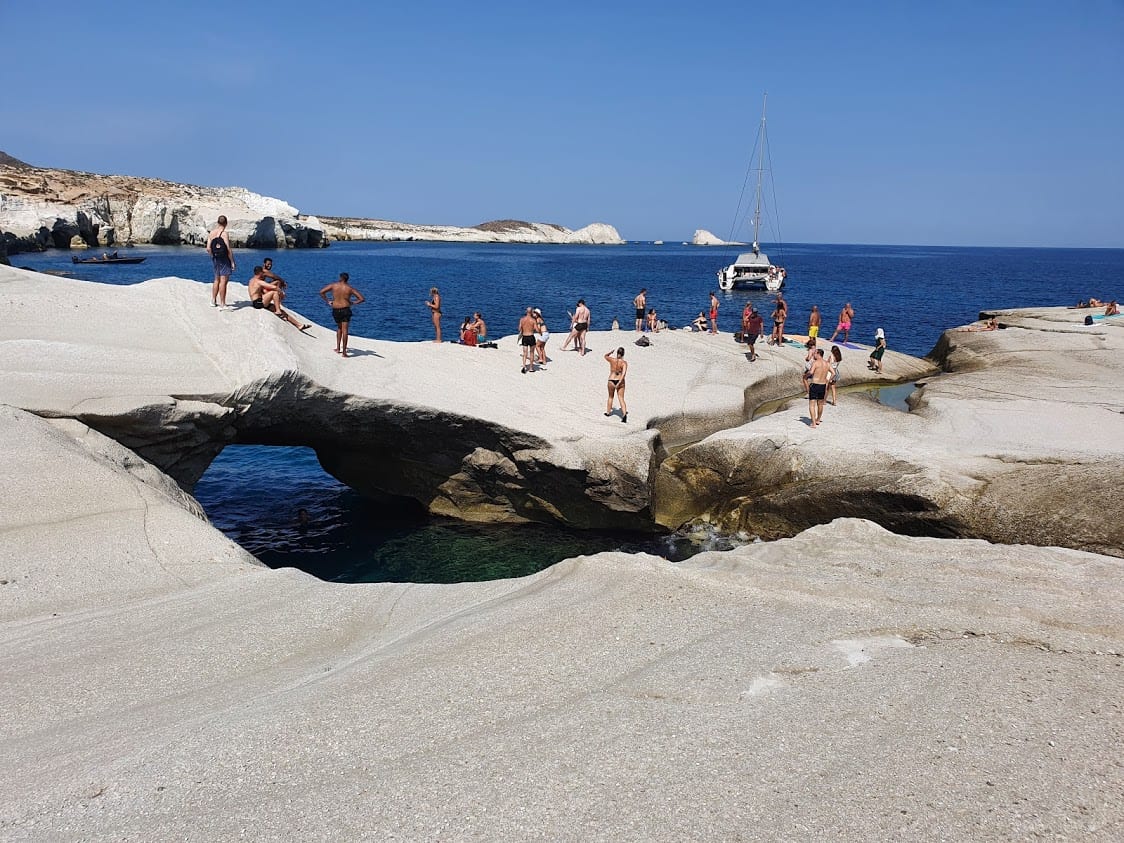 Beautiful Beaches in Milos
Those fantastic landscape also mean that there are a variety of wonderful beaches in Milos – perhaps some of the most unique in the Cyclades islands.
As an example, the white, lunar-like rocks of Sarakiniko beach are among the most photographed places in Greece. In contrast, Thiorichia beach can be best described as yellow, owing to the sulphur compounds. Other beaches on the island have red, brown and even green colours.
Some of the most stunning beaches in Milos include:Papafragas beach, Firiplaka Beach, Sarakiniko Beach, Kleftiko Bay, and Tsigrado Beach. There are literally another 80 beaches though to choose from!
In my experience, Milos is one of the best parts of Greece to visit if you are looking for beach diversity. There is a great mix of sandy and rocky beaches, along with hidden coves and remote sea caves. Here is a guide on the best beaches in Milos.
Milos island in Greece – History and culture in Milos
Milos has plenty to offer for visitors interested in ancient history. The most important site are the ancient catacombs, dating from the early Christian era. You can also visit the small ancient theatre in Milos, which has recently been renovated.
The local archaeological museum is home to several artifacts that were discovered on the island. This includes a replica of the Venus of Milos statue. The original is in the Louvre.
The main towns and the quaint fishing villages are among the highlights in Milos. The most picturesque town is Plaka, with all the white-washed houses and narrow streets you ever dreamt of!
From Plaka, it's only a short drive to Klima. This is the best-known, if a little touristy, fishing village. The so-called syrmata houses, originally designed as boat garages, all have pretty colourful doors. While many of them have been transformed into tourist accommodation, others are still used by the locals.
Greece Milos island – Getting around Milos
Looking at a map of Milos, you could say that it looks roughly like a horseshoe. The eastern (right hand) side is more developed. This is where you will find most of the tourist infrastructure and things to do. In contrast, most of the west side is unspoilt and rugged.
The bus routes in Milos are rather limited, so I would suggest renting your own transportation. As Milos has a long dirt road network, it's best to rent an ATV in Milos or 4×4. A conventional car will not be good enough in certain areas… Talking from experience!
It would take you several days to explore Milos fully. If you only have two or three days in Milos, you should consider going on a sailing tour. This way, you can see some of the best beaches in Milos. Some of them, like Kleftiko Milos, are not easily accessible by land, so a boat tour is the best way to visit.
A last tip: like all of the Cyclades, Milos is lovely to hike around, especially in spring and autumn. Pack some walking shoes, and you may find yourself hiking to Kleftiko beach!
Accommodation in Milos Greece – Where to stay in Milos Greece
There is plenty of accommodation choice in Milos. As the island is becoming more popular, it's best to pre-book your hotel, especially if you are going in high season. Most accommodation in Milos can be found in the three main towns: Adamas port, Plaka Milos and Pollonia Greece.
Adamas port is the most convenient place to stay, especially if you don't have your own transport. There is a couple of half-decent beaches, a few restaurants and cafes. For self-caterers, there are a few supermarkets, minimarkets and bakeries, as well as laundry.
There are plenty of travel agencies, so you can hire a car / ATV or book a boat trip. Buses connect Adamas to the most popular areas in Milos, with timetables varying throughout the year.
Plaka is a good area to stay if you want some Cycladic architecture, beautiful sunsets and bars. Arguably, Milos is not the best Greek island for nightlife, but Plaka has a couple of options. In addition, there are a few nice restaurants and shops.
Finally, you can also consider Pollonia, where I really enjoyed staying on my first Milos vacation. Most of the Milos boutique hotels are located here. In my opinion, Pollonia is better only if you have your own transport. With that said, Pollonia beach Milos beats any of the Adamas beaches. So if you want to be walking distance from a nice beach, you'll probably be better off here.
Here is my complete Milos accommodation guide.
Milos Greece Restaurants
When it comes to Greek food, I can't praise Milos restaurants enough! By now, I've been to over 20 Greek islands, and I thought the food in Milos was some of the best I've had in Greece. From amazing cheeses, to local meats, fresh fish and seafood, everything I've had here was really great!
Check out my detailed restaurants Milos guide for more info.
Getting to Milos Greece
Unlike some other islands in Greece, Milos doesn't have an international airport. This means that there are no direct international flights. However, the island has a local airport, easily accessible through a short domestic flight from Athens.
With that said, when travelling around the Greek islands, you will be likely to use a ferry at some point. Normally, there are several daily ferries to Milos from Piraeus port in Athens. You can spend a few days in Athens, and then catch a ferry to Milos.
Check out my guide here: How to get from Athens to Milos
In addition, there are also numerous connections with other nearby islands, such as Mykonos and Santorini. It might make more sense to fly into one of those islands, and then take an onward ferry to Milos. Here is a list of Greek islands with international airports.
Ferryhopper is a great search engine for ferries in Greece. I suggest that you book your ferry tickets to Milos in advance, especially if you are travelling during peak season.
Onward travel from Milos
After spending time in Milos, you might want to travel on to another island in Greece. Kimolos, the island next door, is a great choice of an island to spend a couple of days. Other choices might include Folegandros, Paros or Naxos.
I've a guide here on getting from Milos to other islands in the Cyclades. You might also like to take a look at these most picturesque Greek islands to visit.
Best time to go to Milos
Overall, the best time to visit Milos is in spring, summer or early autumn. Roughly speaking, this is between April and October.
Now, Greece is a warm country. While some people will find it too cold to swim in April, others will be perfectly ok. And in fact, you may find that July or August temperatures can be way too high for you.
When planning your trip to Milos, it's good to be aware of the meltemi winds. These are strong seasonal winds that blow in summer. There's nothing you can do about them, but note that sailing tours (and sometimes ferries) can get cancelled.
In my experience, June and September are the two best months to visit Milos in terms of weather. In addition, these months are typically less busy than the summer months, when everyone seems to go on vacation.
Related: Best time to go to Greece
FAQ about Milos Island
Readers planning a trip to Milos in Greece sometimes ask questions such as:
How do you get around in Milos?
The easiest way to get around the Greek island of Milos is to hire a vehicle. There are plenty of places to hire a car, although more adventurous people may prefer an ATV in order to visit more remote beaches on unsealed roads. There is also a public bus service which connects the most important destinations and villages on the island.
Where can I stay in Milos without a car?
If you don't want to hire a vehicle in Milos, the best place to stay would be in the port town of Adamas. There are a wide selection of places to stay, easy access to public transport, and you can also take day tours around the island from here either on boat or 4 wheel drive. Regular bus services also connect Adamas with other key destinations in Milos.
How long is the ferry ride from Athens to Milos?
The quickest ferry from Piraeus port in Athens to Milos takes around 3 and a half hours. Slower, and slightly cheaper ferries can take up to 7 hours and 45 minutes to sail to Milos from Athens.
Where should I stay in Milos?
Most people will find that Adamas is the most convenient area to stay in Milos, followed by Pollonia. You might also consider accommodation in Plaka but it's better if you have your own vehicle if choosing to stay there.
Visit Milos island in Greece
I hope this Milos Greek travel blog inspired you to visit this beautiful Greek island! If you have any more questions, feel free to leave a comment below!