It's not currently possible to take a direct ferry from Milos to Iraklia. Instead, you'll need to take an indirect route via Naxos or Paros first.
How to get from Milos to Iraklia
Iraklia is one of the smallest inhabited Greek islands in the Cyclades. As such, it has more limited ferry connections with the other islands nearby than some of the bigger and more well known ones.
If you want to go to Iraklia straight after Milos, you'll need to take an indirect route, as there are no direct ferries sailing between the two. The logical choice here is to first take a ferry from Milos to Paros or Naxos first. I've two guides here you can look at:
To be honest, it doesn't really matter which one you choose, as the route normally goes Milos – Paros – Naxos once a day during the summer on the same vessel.
Once you've arrived at either Paros or Naxos, you will then need to swap ferries for one sailing from Naxos to Iraklia or Paros to Iraklia.
This is where you'll need to have you planning straightened out. On some days, the wait between ferries is just a couple of hours, but others its nearly 10 hours! Don't be tempted with a super-short layover time either – Ferries in Greece can be delayed because of strong wind in the Cyclades known as the Meltemi.
I recommend Ferryhopper as a place to start looking at your Milos Iraklia routes. As a ball park figure, you can expect ticket prices to be around the 75 Euro mark for traveling from Milos to Iraklia.
Iraklia Island Travel Tips
A few travel tips for visiting the Greek island of Iraklia:
---
---
---
---
How to get from Milos to Iraklia FAQ
A few of the questions readers ask about traveling to Iraklia from Milos include:
How can we get to Iraklia from Milos?
If you want to make the journey from Milos to Iraklia you would need to go via another island first such as Naxos or Paros. There are no direct ferries sailing to the Cyclades island of Iraklia from Milos.
Is there an airport on Iraklia?
The Greek islands of Iraklia does not have an airport. The closest airport to Iraklia is located on the nearby island of Naxos.
How long is the ferry ride from Milos to Iraklia?
With no direct ferries going to the island of Iraklia from Milos, it is hard to calculate the exact travel time. If connections line up perfectly, it could be 6 hours or less. In the worst case, you could be looking at 15 hours, or you may need to stay over night on Naxos or Paros.
Where do you get ferry tickets to Iraklia?
The easiest way to get hold of ferry tickets in Greece is by using Ferryhopper. I think it's better that you book your Milos to Iraklia ferry tickets in advance, however you could also wait until you are in Greece, and use a travel agency.
---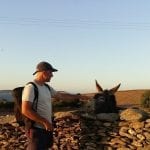 –
Dave Briggs
Dave is a
travel writer
from the UK who lives in and writes about Greece As well as creating this travel guide to ferries from Milos to Iraklia, he's written many more guides to Greece and the islands. Follow Dave on social media for travel inspiration from Greece and beyond: