There are no direct ferries sailing from the island of Ios to Schinousssa in Greece. The only way to get to Schinoussa from Ios is go go via Naxos first. This guide has all the travel information you need.
Ios Schinoussa Ferry Routes
Ios island and Schinoussa might be geographically close to one another, but no direct ferry runs between these two Cycladic islands. You can still get to Schinoussa after visiting Ios, you'll just have to do a little island hopping first.
The best route to choose would be to first take the earliest ferry from Ios to Naxos. Once at Naxos, you would then disembark as you would need to take a separate ferry ride to Schinoussa.
Hopefully, you'll find a ferry leaving the same day to go from Naxos to Schinoussa. If not, you'll need to spend the night. Staying at accommodation in Naxos Chora would be the best option.
Ferry Timetables
In order to put together your island hopping itineraries for this route, I suggest you use the Ferryhopper website. They are the most reliable resource for all ferry schedules between Cyclades Islands.
Ferryhopper is a one-stop shop where you can find accurate timetables, fares and book your tickets in advance, if you wish to do so. I use them for all my own trips to Greek destinations in the Cyclades and other islands chain.
Schinoussa Island Travel Tips
A few travel tips for visitors who are making the trip to Schinoussa island in Greece:
All ferry services depart from the main port in Ios. Passengers are advised to be at the port at least half an hour before the boat is due to leave.
---
Schinoussa is a small island, and hotels might sell out in high season. If you plan to visit Schinoussa in August I recommend you make your reservations in advance.
---
Areas to consider staying on the island include Livadi, Tsigouri, Mersini, and Chora. Take a look at my guide: Where to stay in Schinoussa
---
There are no banks on Schinoussa, but there are a couple of ATMs available on the island.
---
Schinoussa is known for its laid back pace of life. Your travel itinerary of things to see and do will most likely revolve around going to the great beaches, enjoying the stunning scenery, and enjoying fantastic food in the tavernas. Find out more here: Schinoussa Travel Guide
---
One of the best places to look at which ferry companies sail to Schinoussa, make online bookings, and but a ticket is at Ferryhopper. Schinoussa is a quiet destination, but you can expect it to be busier in August, so if you plan to travel then, book in advance.
---
---
---
How to travel from Ios to Schinoussa FAQ
Readers planning on spending time in Schinoussa and the Small Cyclades often ask questions such as:
Is there a direct ferry to Schinoussa from Ios?
There are no direct ferries sailing to the Cyclades island of Schinoussa from Ios. You would need to take two ferries to get there, one from Ios to Naxos and then another from Naxos to Schinoussa.
Is there an airport on Schinoussa?
There is no airport in Schinoussa, so the only way to get from Ios to Schinoussa is by ferry. The nearest airport to Schinoussa is at Naxos.
How long is the ferry crossing from Ios to Schinoussa?
With no direct ferries going to the Greek island of Schinoussa from Ios, it is hard to calculate the exact travel time. If connections line up perfectly, it could be 6 hours or less. In the worst case, you may need to stay over night on Naxos.
Where do I buy ferry tickets to Schinoussa?
The easiest way to check prices and get hold of ferry tickets in Greece is by using Ferryhopper. Although I suggest you book your Ios to Schinoussa ferry tickets in advance, you might also prefer to use a travel agency in Greece when you have arrived.
Is Schinoussa worth visiting?
Schinoussa is a peaceful haven for anyone seeking quiet getaway vacations in a tiny paradise that is perfect to relax on. The island is found to the south of Naxos island, north east of Iraklia island and Koufonissia islands.
If you're looking to visit Schinoussa, then it's best that you plan your trip ahead of time. Not only will this help with accommodations but also the ferry from Ios island is not a direct route and requires some connections in order to get there. If you have any questions about Ios Schinousa ferries or need more information feel free to drop a comment below!
---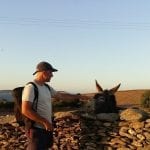 –
Dave Briggs
Dave is a
travel writer
based in Athens, Greece since 2015. In addition to creating this travel guide to ferries from Ios to Schinoussa, he's written hundreds more guides to other destinations in Greece. Follow Dave on social media for travel inspiration from Greece and around the world: