There is one direct Milos to Koufonisia ferry per day during the summer months. The journey time takes around 4 hours and 25 minutes on a highspeed SeaJets vessel.
How to get from Milos to Koufonisia
Visiting Koufonisia might not be an obvious first choice as a next island to visit after Milos, but it is possible thanks to a daily direct ferry sailing between these two beautiful Greek islands.
There will be other stops along the way of course, most likely at Paros and Naxos, but at least you won't have to swap ferries and wait for a connection. The Milos to Koufonissi ferry goes straight through.
If you're wondering if you could fly, you should note that even though Milos has an airport, flying from between Milos and Koufonisia is not possible as there's no airport on Koufonissi.
Ferries to Koufonisia from Milos
The Milos Koufonisia ferry route is a seasonal connection. During the tourist season, you can expect a daily highspeed ferry in the summer from Milos to Koufonisia. These ferries to Koufonisia from Milos are operated by SeaJets.
The ferry crossing to Koufonisia from Milos island takes around 4 hours and 25 minutes. It's a small boat, and the crossing may seem longer if it is a particularly windy day!
You can expect this ticket to be relatively expensive as this is a summer route only. Anywhere between 79.00 Euros and 89 Euros depending on the day of the ferry crossing.
Koufonissi Ferry Tickets
Try using Ferryhopper in order to book ferry tickets online, but be aware that timetables and schedules are often only uploaded a couple of months in advance. If you're looking at ferry schedules in November for ships that sail in August, you might not find any scheduled yet.
If for some reason the Milos Koufonisia ferry is not running when you want to travel, you could try an indirect route instead. This would involve taking a ferry from Milos to Naxos, or a Milos to Paros ferry, and then getting another connection to Koufonisia from either of these two islands.
Note: Passengers planning trips in the high season should plan to book their Greek island tickets as far in advance as possible. While most ferries will not sell out, travelers looking for crossings with limited boats, such as this one, should be are that this is a possibility.
Koufonisia Island Travel Tips
A few travel tips for visiting the Cyclades island of Koufonisia:
Ferry services depart from Adamas port in Milos. Arriving ferries dock at the main port in Chora in Koufonisia.
---
For places to stay in Koufonisia, I recommend looking at Booking. They have a great selection of hotels in Koufonisia and areas to consider staying include Chora. We stayed in Archipelagos hotel, a few minutes walk from the village. If you are traveling to Koufonisia in the the busiest months of summer, I advise reserving apartments in Koufonisia a month or so in advance.
---
Beach lovers recommend these beaches in Koufonisia: Finikas, Fanos, Pori, Italida, and Ammos.
---
Ferryhopper is perhaps the easiest site to use when it comes to booking Ferry tickets online. I recommend you book your Milos to Koufonisia ferry tickets at least a few weeks in advance, especially during the busiest months for travel.
---
---
---
How to take the journey from Milos to Koufonisia FAQ
A few common question about traveling to Koufonisia from Milos include:
How can you get to Koufonisia from Milos?
In order to make a journey from Milos to Koufonisia the best way is by ferry boat. There is 1 highspeed ferry per day in the summer sailing to Koufonisia island from Milos.
Is there an airport in Koufonisia?
Koufonisia does not have an airport. The closest airport to Koufonisia is on nearby Naxos island.
How long is the ferry crossing from Milos to Koufonisia?
The ferries to Koufonisia from Milos take around 4 hours and 10 minutes. Ferry operators on the Milos Koufonisia route may include SeaJets.
How do I buy ferry tickets to Koufonisia?
The best place to look at Greek ferries online is Ferryhopper. Although I recommend you book your Milos to Koufonisia ferry tickets in advance, you might also go to a travel agency in Greece after you arrive.
---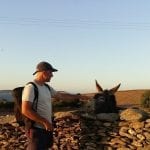 –
Dave Briggs
Dave is a
travel writer
from the UK but living in Greece since 2015. As well as writing this guide about ferries from Milos to Koufonisia, he's written many more guides to Greece and the islands. Follow Dave on social media for travel inspiration from Greece and beyond: