With no direct ferry connections between Milos and Schinoussa islands, the best way to get from Milos to Schinoussa is via Naxos. Here's how.
Traveling from Milos to Schinoussa
If you've decided you want to visit the small Cycladic island of Schinoussa right after spending time on Milos, you should know in advance that there are no direct ferries.
Don't worry though – the journey between Milos and Schinoussa is very easy to make. All it involves is a swap of ferries on a third island.
The obvious choice of island where to swap ferries would be Naxos, which is in fact the largest island in the Cyclades of Greece. A backup choice if connection times don't suit you would be Paros or perhaps even Koufonisia.
Here's my dedicated guides on how to get to each of the connection islands mentioned above:
Once on those islands, you would then take another ferry on to Schinoussa.
Book Ferry Tickets
Top travel tip: For Greek island-hopping journeys such as this, I recommend using the Ferryhopper online ticket booking system. They have a nice simple to use interface, with a Greek island hopping option.
You should note that there may be some waiting time between ferries. In some cases, you may need to stay overnight and take a ferry in the morning. Check out my guide on where to stay in Naxos, and look for places in the port town (Chora).
Visit Schinoussa Island – Travel Tips
A few travel tips for visiting Schinoussa that will help you plan your next trip and sightseeing itinerary:
---
---
---
---
---
How to get from Milos to Schinoussa FAQ
A few of the questions readers ask about traveling to Schinoussa from Milos include:
How can I get to Schinoussa from Milos?
In order to make the journey from Milos to Schinoussa you would need to go via another island first such as Naxos or Paros. There are no direct ferries sailing to the Greek island of Schinoussa from Milos.
Is there an airport on Schinoussa?
The island of Schinoussa does not have an airport. The closest island to Schinoussa with an airport is Naxos.
How long is the ferry ride from Milos to Schinoussa?
With no direct ferries going to the Cyclades island of Schinoussa from Milos, it is hard to calculate the exact travel time. If connections line up perfectly, it could be 6 hours or less. In the worst case, you may need to stay over night on Naxos or Paros.
Where do I buy ferry tickets to Schinoussa?
I find that the Ferryhopper website is the best place to book ferry tickets online. Although I think it's better to book your Milos to Schinoussa ferry tickets in advance, you could also use a local travel agency in Greece.
---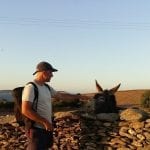 –
Dave Briggs
Dave is a
travel writer
who has been living in Greece and writing about the country since 2015. In addition to writing this guide about ferry connections from Milos to Schinoussa, he's written hundreds more guides to other destinations in Greece. Follow Dave on social media for travel inspiration from Greece and beyond: