There are 3 ferries per day sailing from Paros to Koufonisia in Greece. With an average travel time of 2 hours, the ferry journey between these two beautiful Cyclades islands is quick and easy!
Koufonisia island in Greece
Traveling from Paros to Koufonissi by ferry is a good choice for anyone looking to visit other Greek islands after Paros.
One of the 'Small Cyclades' group of islands, Koufonissi is renowned for its fantastic beaches and beautiful surroundings. It really is one of the most beautiful islands in Greece!
While it would be a stretch to say that Koufonisia is an undiscovered gem, it is far less touristic than Paros.
In fact, due to its small size and the desire to keep the island as pristine as possible, you can't even hire a car or quad here!
Instead, you can reach just about anywhere on foot, and you can hire bicycles to get around.
Just writing about it makes me want to go back already!
Paros Koufonissi Route
During the high season, when most visitors go island hopping, there is a Koufonissi ferry sailing three times a day from Paros.
There's two main Greek ferry companies providing services between Paros and Koufonsia, which are Blue Star Ferries and SeaJets.
The quickest crossing from Paros going to Koufonisia takes around 1 hour and 40 minutes. The slow ferry sailing to Koufonisia from Paros island takes around 3 hours and 40 minutes.
A ferry crossing on a high speed boat is always going to be more expensive – somewhere between 37 and 40 Euros.
Blue Star Ferries to Koufonisia
My preference is to take the Blue Star Ferries vessel whenever possible. This is because the large boats are much better in windy weather!
You might alos find that Blue Star ferries offer the cheapest Koufonisia ferry tickets. You should expect ticket prices to be between 21.00 Euro and 29.00 Euro on their slower conventional ferries.
I find that Ferryhopper is a good website to use to book ferry tickets online. They also have up to date schedules you can use to plan your trip.
Paros to Koufonisia Day Trip
If you just want to go to Koufonisia for the day as a day trip from Paros, take a look at this option: Paros Koufonisia Day Trip
There is a strong possibility you will just end up traveling on the regular ferries, taking the first Paros to Koufonisia ferry of the day out, and then getting the last crossing back.
Still, you don't have to worry about the logistics, and the trip also includes hotel pickups from some locations.
Koufonisia Island Travel Tips
A few travel tips for visiting Koufonisia island:
Ferries leave from the main port, Parikia in Paros. Passengers should aim to be at the port an hour before it is due to sail if they have to collect or buy tickets there.
---
Arriving ferries dock at the main port in Chora in Koufonisia. Most of the island's accommodation is located here.
---
I've previously stayed in Archipelagos hotel, a few minutes walk from the village. They offer spacious rooms with a kitchenette. If you're planning to be in Koufonisia in July and August, you really want to think about booking rooms 3 or 4 months in advance.
---
When you are on vacation, one of the most important things to consider is where you are going to stay. You want a place that is comfortable, affordable, and in a good location.
Some of the best Koufonisia places to stay are:
---
Your days in Koufonisia will revolve around spending time on a stunning beach, going for a swim in the sun, and enjoying good food! Spend time on some of the top rated beach in Koufonisia: Finikas, Ammos, Pori beach, Fanos, and Italida. Read my complete guide to the beaches and how to explore more of the island here: Koufonissi
---
The easiest way to check ferry schedules, find the latest prices, and book ferry tickets in Greece is by using Ferryhopper. Book your Paros to Koufonisia ferry tickets in advance, especially during the height of the tourist season.
---
---
---
How to get from Paros to Koufonisia FAQ
A few of the questions readers ask about traveling to Koufonisia from Paros include:
How can we get to Koufonisia from Paros?
There are 2 or 3 ferries per day sailing to the Greek island of Koufonisia from Paros during the summer tourist season.
Is there an airport in Koufonisia?
The Cyclades island of Koufonisia does not have an airport. The closest island with an airport is Naxos, which has daily flight connections with Athens.
How long is the ferry ride from Paros to Koufonisia?
The ferries to the island of Koufonisia from Paros take between 1 hour and 30 minutes and 3 hours and 5 minutes. Ferry operators on the Paros Koufonisia route may include Blue Star Ferries and SeaJets.
How can I buy tickets for the ferry to Koufonisia?
The best place to look at Greek ferries online is Ferryhopper. Although I suggest you book your Paros to Koufonisia ferry tickets in advance, you could also wait until you are in Greece, and use a travel agency.
Cyclades Islands Guides
You might also be interested in these other travel guides about Greece:
Koufonissi Ferry Final Thoughts
Koufonisia is one of the most beautiful Greek islands, and it's definitely worth a visit if you're looking for stunning beaches, crystal clear waters and pristine surroundings. Keep in mind that there are only three ferries sailing per day from Paros to Koufonisia, so be sure to plan your trip ahead of time! With a trip duration averaging just 2 hours it's a great destination to add to your island hopping trip in Greece!
---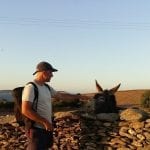 –
Dave Briggs
Dave is a
travel writer
based in Greece In addition to writing this guide about ferries from Paros to Koufonisia, he's written many more guides to Greece and the islands. Follow Dave on social media for travel inspiration from Greece and beyond: