With a single ferry operating once a week on some weeks, and not at all on others, traveling directly from Paros to Kea (Tzia) is not straightforward.
This Greek ferry travel guide shows the direct and indirect ferry crossings between Paros and Kea in Greece.
How to get from Paros to Kea
It has to be said, that traveling to Kea straight after Paros presents problems.
Although both Paros and Kea are in the Cyclades island group, they are separated by quite some distance. They are also in two different 'lanes' that ferries in the Cyclades use to get between the islands.
As a result, there is only one, very sporadically scheduled direct ferry from Paros to Kea island. Not ideal if you're planning an island hopping trip between these two Cyclades islands!
Paros Kea Ferry Route
Operated by SeaJets, this ferry sails some weeks. Not at all for a few. And then sails once a week for a few weeks again.
If you're planning to travel to Kea after Paros check out Ferryhopper. You might get lucky and find this ferry company sails on the right day for you.
For most people though, it will be easier to put an indirect ferry route in order to get from Paros to Kea by ferry.
Paros Kea Indirect Ferry Options
Probably the best idea when it comes to planning a trip from the Greek island of Paros to Kea, is to take an indirect ferry.
What this means, is taking a ferry from Paros to another island. Then, taking a ferry from that island to Kea.
Options may vary from year to year, but the best choice of ferry routes is likely to be Paros > Syros > Kea.
Do be aware though, that there may be no connecting Kea ferries on the same day. You may need to stay overnight in Syros.
Take a look at these guides:
If you want to check ferry schedules and book tickets for the ferry online, check out Ferryhopper.
Kea Island Travel Tips
A few travel tips to help you explore more when visiting Kea island:
Ferries depart from the main port, Parikia in Paros. Passengers should plan to be at the port an hour before departure during the summer to allow for traffic.
---
Ferries arrive at Korissia port in Kea.
---
For accommodation in Kea, take a look at Booking. They have a great choice of rooms to rent in Kea and areas to consider staying include Korrisia, Ioulida, and Otzias. If you are traveling to Kea (or anywhere in Greece) in the tourist season, I advise reserving apartments a few months in advance. Take a look at my guide to the best hotels in Greece for more.
---
Make sure to check out these beaches in Kea: Sikamia, Koundouros, Kaliskia, Xila, Pisses, Kampi, and Spathi.
---
I find that the Ferryhopper website is the best place to book ferry tickets online. Although I suggest you book your Paros to Kea ferry tickets in advance, especially during the the months of July, August, and September.
---
---
---
How to go to from Paros to Kea FAQ
Some commonly asked questions about traveling to Kea from Paros when on vacation include:
How do we get to Kea from Paros?
There may be 1 direct ferry per week (if you are lucky) sailing to the Greek island of Kea from Paros. Perhaps the best option though, is to first take a ferry from Paros to Syros, and then take a different ferry from Syros to Kea.
Is there an airport in Kea?
The island of Kea in Greece does not have an airport. The only way to reach Kea (Tzea) island is by ferry.
How many hours is the ferry from Paros to Kea?
The ferries to the Cyclades island of Kea from Paros take between 3 hours and 20 minutes and over 8 hours. Ferry operators on the Paros Kea route may include SeaJets, Minoan Lines, and Blue Star Ferries.
Where do you get ferry tickets to Kea?
The easiest way to get hold of ferry tickets in Greece is by using Ferryhopper. Although I suggest you book your Paros to Kea ferry tickets in advance, you might also prefer to use a travel agency in Greece when you have arrived.
---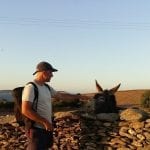 –
Dave Briggs
Dave is a
travel writer
living in and writing about Greece. In addition to writing this travel blog guide ferries from Paros to Kea, he's written many more travel blog posts about destinations in Greece. Follow Dave on social media for travel inspiration from Greece and beyond: