There are between 3 and 5 ferries per day sailing from from Paros to Mykonos during the summer season. Ticket prices start from around 23.00 Euro. This travel guide will show you how to book tickets online, and other tips for island hopping between Paros and Mykonos.
Traveling to Mykonos after Paros
Both Paros and Mykonos are among two of the most popular places to visit in the Cyclades islands of Greece.
As the two islands are quite close by to one another, they also make a natural pairing to include in an island travel itinerary.
During the high season (July and August in particular), there can be between 3 and 5 ferry crossings per day from Paros to Mykonos.
The quickest crossings from Paros going to Mykonos takes around 50 minutes. The slowest ferry journey sailing to Mykonos from Paros takes around 2 hours and 30 minutes.
Ferries to Mykonos from Paros
Ferry companies offering the direct ferry from Paros to Mykonos include Golden Star Ferries, Seajets, Minoan Lines, and Fast Ferries. In summer 2021, Blue Star Ferries did not sail on this ferry route.
The cheapest ferry company is Fast Ferries, but they only sail this route twice a week on Saturdays and Sundays. The cost for tickets starts at 23.00 Euro , and the duration of the ferry ride is 1 hour and 30 minutes.
Departure times are typically at 14.15 which makes it a nice choice for a more relaxing checkout from your hotel.
Book tickets for this trip at Ferryhopper.
The second cheapest ferry from Paros to Mykonos is operated by the ferry company Golden Star Ferries. It's the slowest crossing at 2 hours and 30 minutes, but the price of 30.00 Euros and daily availability appeals to some. The 07.30 early departure time not so much for me though!
Check ferry schedules at Ferryhopper.
High Speed Ferries from Paros to Mykonos
As a rule, the faster boats are generally more expensive when it comes to ferry ticket prices. With a travel time of just 50 minutes though they are a lot quicker.
Minoan Lines make the journey 3 times a week on their vessel the Santorini Palace. If you are traveling with a car, they do have space for vehicles. Prices start from 32.00 Euro for passengers.
SeaJets offer another high speed ferry choice. The price for a ticket starts at 37.70 Euro.
Finally, Golden Star Ferries provide a high speed Mykonos ferry from Paros in addition to their slow crossing. This is the most expensive price at 38.00 Euro for a ticket.
Can I fly Paros Mykonos?
Although both of these Cyclades islands have airports, it is not possible to fly between the two of them. Paros airport currently only has connections with the main airport in Athens.
Mykonos Island Travel Tips
Let me share a tip or two that will make getting to your destination in Mykonos a little easier:
Ferries sail from the main port, Parikia in Paros. It's best to arrive at the port early (I like to be there an hour before). Traffic can build up in town when ferries arrive and leave, so you don't want to be stuck in a traffic jam with the countdown clock ticking away!
---
Ferries arrive at New Tourlos port, a few kilometres from Mykonos Town in Mykonos. You can take a bus into Mykonos Town (which may be crowded) or pre-book a taxi using Welcome.
---
For accommodation in Mykonos, take a look at Booking. Areas to consider staying include Mykonos Town, Psarou, Agios Stefanos, Megali Ammos, Ornos, Platis Gialos, and Agios Ioannis. If you are traveling to Mykonos in the busy summer months, I advise reserving hotels in Mykonos a few months in advance. I've a good guide here: Where to stay in Mykonos.
---
Readers recommend visiting the following beaches in Mykonos: Super Paradise, Platis Gialos, Agrari, Kalafatis, Lia, Paradise, and Agios Sostis. Check out my beach guide: Best beaches in Mykonos.
---
Ferryhopper is perhaps the easiest site to use when it comes to booking Ferry tickets online. You can check your Paros to Mykonos schedule, search for different options, and book Greek ferry tickets online.
---
---
---
What to see in Mykonos
There are many different things to do in Mykonos, here are some of the highlights:
Take a walk around Mykonos Old Town
Sunset drinks at Little Venice
Admire the view from the famous Mykonos Windmills
Check out all those fabulous beaches
See for yourself why Mykonos is called the Party Island
Explore Ancient Delos Archaeological Site
See more of Mykonos on a day trip
Here are some Mykonos sightseeing itineraries that might appeal to you:
Paros to Mykonos Ferry FAQ
Some commonly asked questions about traveling to Mykonos from Paros include:
How do I get from Paros to Mykonos?
You can only travel from Paros to Mykonos in Greece by ferry. There are between 3 and 5 ferries per day sailing to Mykonos from Paros in the high season summer months.
Is there an airport on Mykonos?
Although the Greek island of Mykonos has an airport, taking a plane between Paros and Mykonos is not an option. If you prefer to fly from Paros to the island of Mykonos you'd need to go via Athens should flights be available.
How long is the ferry from Paros to Mykonos?
The ferries to the Cyclades island of Mykonos from Paros take between 50 minutes and 2 hours and 30 minutes. Ferry operators on the Paros Mykonos route may include Golden Star Ferries, Seajets, Minoan Lines, and Fast Ferries.
Where can I buy tickets for the ferry to Mykonos?
The easiest way to get hold of ferry tickets in Greece is by using Ferryhopper. Although I suggest you book your Paros to Mykonos ferry tickets in advance, you could also wait until you are in Greece, and use a travel agency.
Which is better Paros or Mykonos?
The two Greek islands will appeal to different people. Mykonos has the better nightlife and beaches, but Paros has nicer towns and villages, is not as expensive, and has less of a pretentious adge to it.
I hope this travel guide has been helpful for you and that you find it a great help in getting to your destination in Mykonos.
---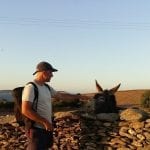 –
Dave Briggs
Dave is a
travel writer
living in and writing about Greece. As well as writing this travel blog post about ferries from Paros to Mykonos, he's written hundreds more guides to other destinations in Greece. Follow Dave on social media for travel inspiration from Greece and beyond: