There are normally three ferries per week traveling from Syros to Serifos island in Greece during the summer months operated by Blue Star Ferries.
How to get from Syros to Serifos
The island of Serifos is located to the south-east of Syros, but as it doesn't have an airport, the only way to travel to Serifos from Syros is by ferry.
Ferry connections tend to vary from year to year. For example, back in 2015 there was only perhaps a single ferry per week which didn't get there particularly quickly. In 2022, there were three direct ferries per week operated by Blue Star Ferries on the Syros Serifos ferry route.
As such, I recommend you have a Plan A which is to get a direct ferry, but also a plan B and C which is to take an indirect ferry just in case. I'll start with the best choice, which is to get there directly.
Direct Ferries to Serifos from Syros
Blue Star Ferries may have three boats per week sailing from Syros to Serifos. In 2022, these ferries left on Sundays, Tuesdays and Wednesdays.
The quickest crossing from Syros going to Serifos takes around two hours and twenty minutes. The slowest ferry sailing to Serifos from Syros island takes around three hours and fourty five minutes.
If you want to check schedules and book tickets for the ferry online, check out Ferryhopper. Take a look here for a guide to ferries from Syros.
Indirect Ferries to Serifos
As we all know, the pandemic crisis of 2020/2021 has thrown travel plans into disarray. This means that Greek ferries during the next few years, especially 2022 and 2023, may have schedules adapted to lower demand.
The short version – don't guarantee on three weekly Syros Serifos ferries and have a Plan B!
Plan B in this case would be to go via another island. The obvious choice here would be to take a ferry from Syros to Paros, and then another one from Paros to Serifos.
A last resort plan might mean taking a ferry from Syros to Piraeus in Athens, and then taking a ferry from Athens to Serifos.
Serifos Island Travel Tips
A few travel tips for visiting Serifos island:
Ferry services leave from Ermoupoli port in Syros. Arriving ferries dock at Livadi port in Serifos.
---
For places to stay in Serifos, I suggest using Booking. They have a great choice of hotels in Serifos and areas to consider staying include Livadi, and Chora. If you are traveling to Serifos in the the busiest months of summer, I advise reserving rooms to rent in Serifos a month or so in advance.
---
Readers recommend visiting the following beaches in Serifos: Psili Ammos, Ganema, Sikamia, Livadakia, Agios Sostis, Karavi, and Ai Giannis.
---
One of the best places to look at ferry schedules and to book tickets online is at Ferryhopper. I suggest you book any Syros to Serifos ferry tickets in advance, especially during the peak travel season, but prepare to be adaptable!
---
---
---
How to get from Syros to Serifos FAQ
Some commonly asked questions about traveling to Serifos from Syros include:
How do we get to Serifos from Syros?
The only way to travel from Syros to Serifos is by taking a ferry. There are up to three direct ferries every week sailing to the island of Serifos from Syros.
Is there an airport on Serifos?
The Greek island of Serifos does not have an airport. The closest airport to Serifos is on the island of Syros.
How long is the ferry ride from Syros to Serifos?
The ferries to the Cyclades island of Serifos from Syros take between two hours and twenty minutes and three hours and fourty five minutes. Ferry operators on the Syros Serifos route may include Blue Star Ferries.
Where do I buy ferry tickets to Serifos?
The easiest way to get hold of ferry tickets in Greece is by using Ferryhopper. Although I suggest you book your Syros to Serifos ferry tickets in advance, you might also go to a travel agency in Greece after you arrive.
Which ferry companies operate the Syros to Serifos route?
Blue Star Ferries are the only ferry company operating a direct connection between the Cyclades islands of Syros and Serifos.
---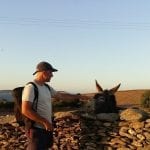 –
Dave Briggs
Dave is a
travel writer
living in and writing about Greece. In addition to creating this travel guide to ferries from Syros to Serifos, he's written hundreds of other insightful travel guides to Greek islands and destinations. Follow Dave on social media for travel inspiration from Greece and beyond: