Inflation seems to be the buzzword of 2024, and so the question is how will inflation affect your vacation to Greece this year? Let's take a look.
Will inflation affect your Greek holiday 2024?
As we approach the end of February, many people are planning their summer vacations.
And this year, one word seems to be everywhere we look – inflation.
A few readers have asked whether prices have gone up in Greece, and if this is likely to affect their vacation.
The short answer is yes some prices have gone up, but not as much as you might think.
If it's starting to concern you, check out my guide to the Cheapest Greek Islands.
Is it more expensive to travel to Greece in 2024?
So, inflation then…
Let's start with the good news: Guided tours and entrance fees to ancient sites and museums have not been affected so far – or it's been negligible.
This means that prices for your day to day activities while on holiday in Greece won't have changed much if at all.
Staples such as an Acropolis Guided Tour have similar prices to the last few years.
As always, book your guided tours through Get Your Guide for quality tours at sensible prices.
Car rentals Greece 2024
Car rentals are a different story.
Prices vary depending on the time of year you want to visit Greece and where you go. There's some real bargains to be had in the shoulder season on bigger islands such as Rhodes. Car rentals for getting around Santorini and Mykonos might be a bit eye-watering in August though!
In 2022, there seemed to be a shortage of available rental cars on some islands – probably due to fleet downsizing because of the pandemic. This lead to higher prices. Hopefully for this year, the number of rental cars will have increased.
I recommend: Discover Cars for sorting out where to get your rental cars in Greece.
Greek Ferries 2024
Ferry tickets: There was actually a huge boost in prices last year on some of the popular SeaJets crossings. This year, the prices have not gone up dramatically – so far.
On most ferry routes, you will find slower boats are cheaper that faster ones.
Ferryhopper and Ferryscanner are the only two places I recommend booking tickets online, unless you go directly through a ferry company site of course (which is not always easy!).
Hotels In Greece 2024
Accommodation: This is quite an unknown factor. Most people know that Santorini and Mykonos are quite overpriced compared to other islands in this regard, but prices are going up everywhere.
On Greek islands with more accommodation choices, prices are more competitive. Crete, Kos, and Samos all have some very wallet friendly options.
When booking accommodation, it's not worth trying AirBnB in my opinion. It offers less than Booking, and normally at a higher price.
I recommend Booking as the site to search for hotels in Greece online. It's very easy to narrow down searches depending on what type of place you want to stay in.
If you find somewhere that looks value for money now, I'd book it while you can rather than wait too long.
How to cut costs on your trip to Greece
There are several ways to cut costs on a trip to Greece. Here are a few suggestions:
Travel during the shoulder season: Greece's peak tourist season is July and August, and prices tend to be higher during this time. Consider traveling during the shoulder season (May, June, September, and October) when the weather is still pleasant, but prices are lower. Read: Best time to go to Greece
Use public transportation: Greece has a good public transportation system that includes buses, trains, and ferries. Instead of renting a car or taking taxis, use public transportation to save money on transportation costs. If you do want to rent a vehicle, consider doing so for just a day or two when it's absolutely needed.
Stay in budget accommodations: There are plenty of budget accommodations in Greece, including simple studios, guesthouses, and apartments. These are often cheaper than hotels and can help you save money on accommodation costs. I almost always stay in studio style accommodation which includes cooking facilities, which saves on eating out for every meal.
Eat like a local: When you do eat out, choose wisely. While Greece has plenty of fancy restaurants, there are also many local eateries that offer delicious food at lower prices. Look for places where locals eat and try the traditional dishes. Read: Food to try in Greece
Avoid tourist traps: Tourist areas tend to be more expensive than other parts of Greece. Instead of sticking to the tourist hotspots, explore the less-visited areas to save money on food, drinks, and activities. Read: Greece on a budget
Final thoughts
I think factoring in a 10-20% price increase is probably sensible if you are planning a return trip to Greece based on past vacations. If it is your first time traveling to Greece, you will probably still find that it is very affordable when compare to other European destinations.
---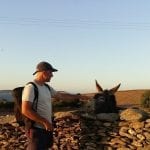 –
Dave Briggs
Dave is a
travel writer
who has been based in Greece since 2015. In addition to writing this blog post about how inflation in 2024 might affect your Greek vacation, he's written hundreds of other insightful travel guides to Greek islands and destinations. Follow Dave on social media for travel inspiration from Greece and beyond: