Which one of these 7 amazing Ancient Greek sites would you visit on a one day trip from Athens? Personally I love Delphi, but perhaps you would prefer low-key Nemea?
There is no shortage of ancient Greek sites to visit in Greece. If you're only able to take day trips from Athens or are on holiday for just a few days though you'll need to choose where to go carefully.
Here's 7 amazing Ancient Greek sites near Athens you can comfortably visit in one day. Better still, take your time and stay in each area overnight to have more time to enjoy these historic ancient Greek sites!
1. The Temple of Poseidon at Cape Sounion
This is the closest to Athens of the ancient Greek sites on our list. Typically, it is visited as a half-day tour from Athens which is timed to witness the impressive sunset from the Temple.
The Temple of Poseidon is one the most important ancient Greek sites in Greece, and is thought to be one of the points of a Sacred Triangle of Ancient Greek Temples!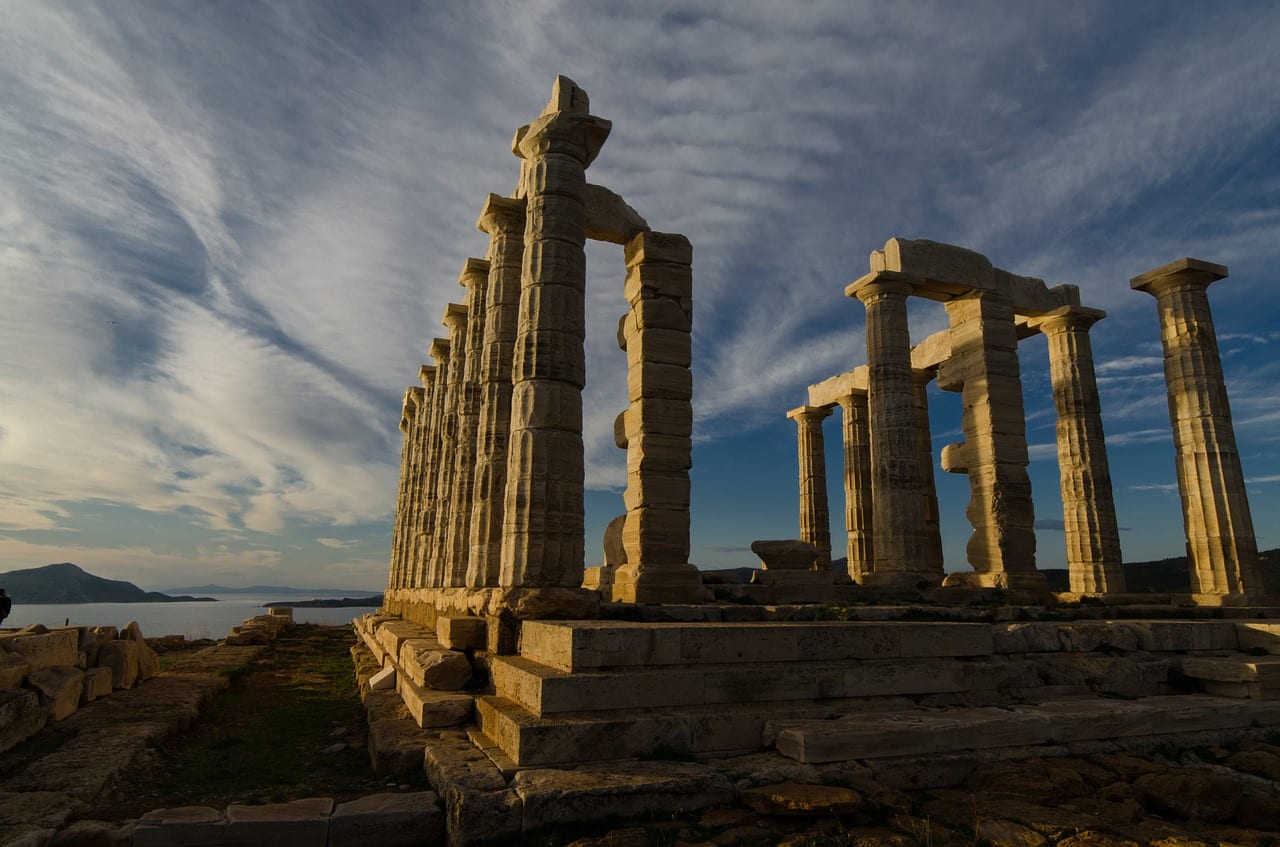 The Temple of Poseidon is about 50 miles (80 km) southeast of Athens. While there is some limited public transport to the site from Athens center, the best way to visit the Temple of Poseidon is either to take a drive in your own vehicle, or go on a half-day tour out of Athens.
2. Delphi Oracle Site
The ancient site of Delphi is much more well-known than the Temple at Sounion, and in fact, Delphi is a UNESCO World Heritage Site. Once thought of as the navel of the world, it has been drawing visitors, whether pilgrims from the ancient Greek world, or tourists in the modern age for thousands of years.
The site of Delphi is about an hour and a half drive from Athens. There are buses that run to the area, but it's best if you have your own vehicle or take a one day trip from Athens.
3. Ancient Mycenae
Ancient Mycenae is a UNESCO World Heritage Site, and it's about an hour and a half drive from Athens but in the opposite direction to Delphi. Mycenae is thought to have been the heart of the Mycenean civilization which was a precursor to the classical age of Greece.
The site itself is dominated by a bronze age hill fort, which is accompanied by several huge burial chambers. The onsite museum houses some of the treasures which have been found at Mycenae.
Mycenae is a natural stopping point for anyone driving from Athens to begin a road trip around the Peloponnese region. Most people will find it more convenient to take a tour from Athens, which normally includes stops at other attractions such as Epidaurus and Corinth.
4. Ancient Theater of Epidaurus
The Ancient Theater of Epidaurus is one the most famous ancient Greek sites in Greece. It was built around the 4th century BC, although the site itself was considered holy and was a pilgrimage centre long before this.
The theatre at Epidaurus hosted performances for over a thousand years before its closure by Christians during Byzantine times, who considered theatre to be sinful because they believed that actors were playing gods on stage. The acoustics of the theatre are particularly remarkable, and audience members can quite literally hear the slightest whisper from the stage!
Anyone planning a trip to Epidaurus has the option to take a day tour from Athens, or to drive there themselves. If you're planning a 2 day break in the area, you can also get a bus from Athens to Epidaurus and stay in the towns nearby.
5. Ancient Nemea
The ancient site of Nemea in Greece often gets overlooked by visitors. It's easy to see why, as there are so many other 'big name' attractions in Greece to see, but it's really worth getting over to.
Unlike many sites in Greece, Nemea does not have so many frequent day trips from Athens running to it. Those that do, often combine it with a visit to the very good Nemea wineries. As a result, Nemea is most often visited by people driving themselves around the Peloponnese.
6. Ancient Corinth
Corinth was a city-state on the Isthmus of Corinth, the narrow stretch of land that joins mainland Greece to the Peloponnese Peninsula. The ancient ruins of Corinth give an important insight into the region's ancient civilization and architecture.
One of the most well-known monuments in the area is called the Archaic Temple of Apollo which has been dated to around 550 BC with its design being based off a similar structure at Delphi that had burned down. The site also houses many other ruins as well as an informative museum.
Typically, the tours out of Athens that visit sites such as Mycenae and Epidaurus also stop at both Corinth canal and the ancient site of Corinth. If you are taking a road trip in Greece, you'll also want to visit the Acrocorinth which many organized tours do not include.
7. Ancient Olympia
To be fair, Ancient Olympia is really on the edge of things as somewhere that can be visited as a one day trip from Athens. Ancient Olympia is located in the Peloponnese region of Greece, and even today its position is quite remote!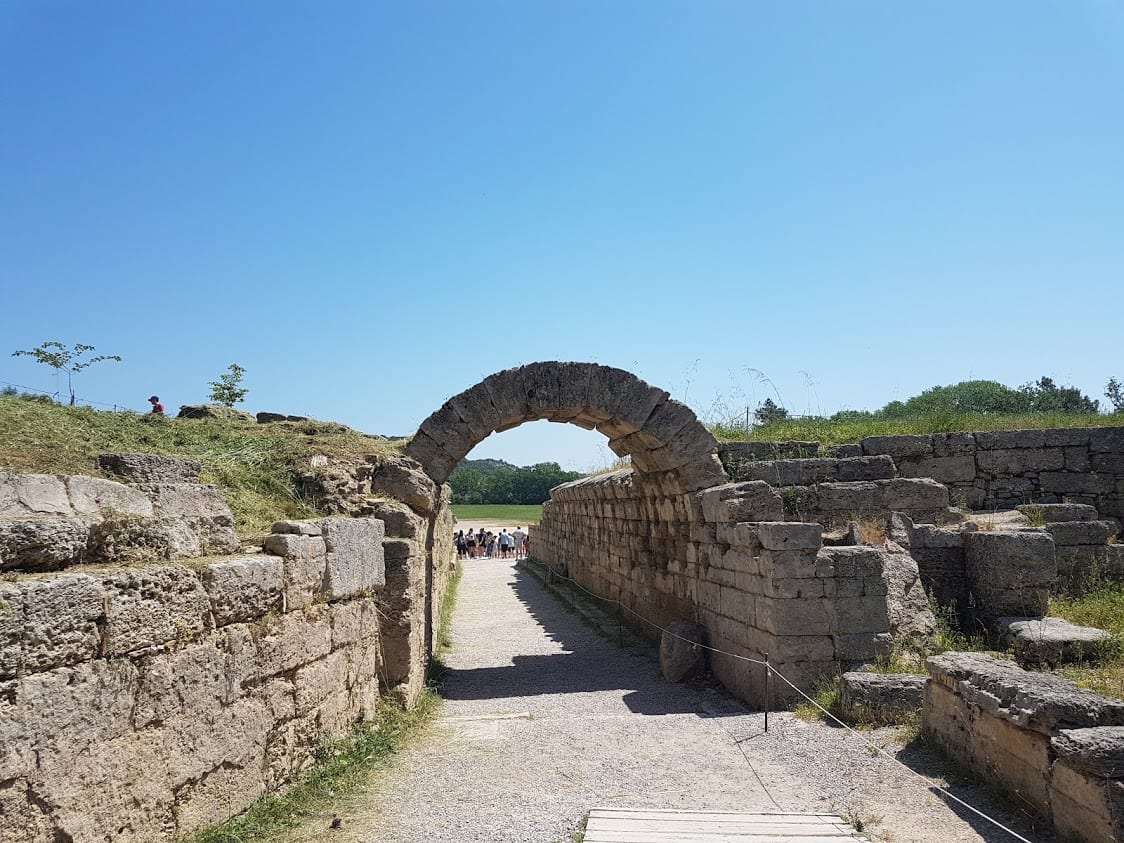 The site of Ancient Olympia is a UNESCO World Heritage Site, and it's easy to see why. The ruins are spread over an area that would have been the size for about 16 football pitches!
It was here in ancient times where people came from all around Greece (and beyond) every four years or so to celebrate and compete with one another. A curios fact, is that although many Greek states were in conflict with one another, a truce would be called when the Games were held!
The archaeological site of Ancient Olympia is one that I would recommend visiting if you have the time. It's a great place to explore, and it gives an insight into what life was like in ancient Greece!
While you will find day trips out of Athens to Olympia, it really makes more sense to spend longer in the area, so I would recommend an overnight stay. There are some KTEL bus connections, and anyone with their own vehicles will find it more flexible and rewarding to visit Olympia at their own pace.
One Day Trips From Athens FAQ
Readers planning excursions from Athens often ask questions similar to:
What are the best day trips from Athens?
Some of the best places to visit from Athens that you can get to and back from in a day include Delphi, Mycenae, Corinth, Epidaurus and Ancient Olympia.
Where should I travel from Athens Greece?
If you are planning a one day trip from Athens to places of interest, it's best to consider destinations that can be reached within two hours or so. This is because you'll want enough time to see the destination you have arrived at, and will want to travel back to Athens again when you've finished.
Is one day in Athens enough?
While you can see the main highlights of Athens in one day, a two or three day city break in Athens would be better. This way, you won't feel rushed as you see the major places of interest such as the Acropolis and Parthenon, and you'll also have time to take a trip to Cape Sounion and the Temple of Poseidon or other ancient sites near Athens.
Is Meteora a day trip from Athens?
You can just about see Meteora in a one day trip out of Athens, but it doesn't leave you much time to enjoy the area. A much better idea would be to stay overnight so you can really enjoy the mountains and monasteries of Meteora in Greece.
Related: What is Athens famous for?
---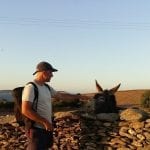 –
Dave Briggs
Dave is a
travel writer
who is based in Athens and spends his time traveling around and writing about Greece. As well as writing this guide about which ancient sites to visit on a one day trip from Athens, he's also written many more travel blogs about destinations in Greece. Follow Dave on social media for travel inspiration from Greece and beyond: