If you plan to travel to Athens in October, you'll find plenty to see and do as this Athens travel guide will show. Here's what to do in Athens, Greece in October.
Visiting Athens During October
Athens, the capital of Greece, is a perfect city to visit year around. With its history and monuments dating back thousands of years, cool food scene, and endless museums, it's a key European city break destination.
Having lived here for five years, I believe that some months are better than others when it comes to times to visit.
October in particular can be an ideal month to see Athens. You will see a more authentic side, and compared to the summer months October is relatively quiet in terms of foreign visitors. There may be times when you have a whole museum room to yourself!
October Weather Athens
Another upside for planning an October city break in Athens, is the weather. The scorching summer temperatures have died away, but it can still be a nice warm temperature during the day.
The average day time Athens temperature in October is a high of 23.5 degrees (74.3 F), and a low average temperature of 15.9 degrees (60.6 F).
The weather in Athens Greece in October does include a little rain, but not much with rain occurring on just 5 days on average.
What to do in Athens in October
So is everything still open in October in Athens, and what can you see and do? Well, the answer is that everything is open, and in addition, there are one or two local celebrations in Athens and Greece in October which you might check out when visiting.
Let's start with the obvious choices first though…
Visit the Acropolis
Think of Athens, and pictures of the Parthenon and the Acropolis will undoubtedly come time mind. It's certainly a place not to be missed, and is on everyone's list of things to do in Athens!
The Acropolis itself is a large ancient citadel up on a hill, overlooking the city. It contains several important temples, of which the best known one is the Parthenon. This impressive ancient place of worship was constructed during the 5th century BC, and it was dedicated to Athena, the Goddess of Wisdom.
You can also see the remains of the Erechtheion, another important temple which was built a few years later. The Erectheion was built to honour Athena and Poseidon, the God of the Sea. Replicas of the Caryatid statues are keeping the roof in place, while the originals can be seen in the Acropolis Museum.
Allow a couple of hours to fully explore the Acropolis. If you want to find out more about it, I'd recommend taking a guided tour. The best ones combine a visit here with the impressive Acropolis Museum.
Pro travel tip – On 28 October, entrance to the Acropolis is free. If it's a nice day, it may be very crowded! Alternatively, a single ticket for the Acropolis costs 20 euro. If you are planning to visit more archaeological sites in Athens, you can get the combined ticket which costs 30 euro. Check out opening hours in advance, as sometimes they tend to vary in October.
Find out more: Amazing facts about the Acropolis and Parthenon in Athens.
Walk around Ancient Athens for free
Few people realize that parts of Athens have not really changed since the ancient times. The Acropolis, the Ancient Agora and all the hills around them have been in the same place for millennia.
One of the best walks in Athens in October – and any time – is the pedestrianized Dionysiou Areopagitou Street. This is a long road stretching from Acropolis metro to Thisseio metro.
As you are walking, you will see the Acropolis and Herodion theatre to your right, and you will eventually reach the Ancient Agora. You can also climb up Mars Hill, the ancient Greek court, offering some of the best views of the Acropolis. On your left hand side, the large green Filopappou hill is a popular spot for Athenians.
Related: Best ATM to use in Greece
Explore the Ancient Agora of Athens
The Ancient Agora was the heart of Ancient Athens. This is where everything happened – socialising, discussing, honouring the gods, shopping.
Today, you can wander around the site and explore the temples and other relics of the past. Don't miss the temple of Hephaestus – it's perhaps the best preserved of the ancient Greek temples in Greece!
Before you leave, make sure you visit the Agora Museum, which offers an insight to life in Ancient Greece.
Enjoy the museums in Athens in October with fewer visitors
October is a great month to visit the numerous museums in Athens – plus, it's a great activity for a rainy day. There are several museums to choose from, so it really depends on how much time you have and what you are mostly interested in.
If you have visited Athens in summer in recent years, you may remember how crowded the Acropolis Museum was. October is generally much better in terms of crowds, though there may be some schools visiting in the mornings.
The National Archaeological Museum is one of my favourite museums in Athens. There are artifacts covering much of Ancient Greece's long history, as well as an impressive Egyptian section. Allow a few hours if you want to explore it fully, and take a break for a coffee at the basement café. It will be time well spent!
Another great museum to visit is the main branch of the Benaki museum. It will give you a good overview of Greece's history, from ancient times to the 1821 Revolution era. Tip – entrance is free on Thursday evenings.
A lesser known historical museum in Athens is the Byzantine and Christian Museum. This will be of particular interest if you are into Byzantine history and art. Plus, you are likely to be on your own!
Walk around Plaka and Anafiotika areas
Ask anyone who has visited Athens in the past, and they will probably mention one area – Plaka. This tiny neighbourhood is home to some of the first neoclassical houses of modern Athens. This is where all the tiny nightclubs appeared in the late 60s and early 70s.
Today, this quarter is a nice mix of souvenir shops, tavernas, small hotels, neoclassical houses and street art. Stroll around, and enjoy a coffee or a meal without the summer crowds.
Walking up from Plaka, you will find another tiny area called Anafiotika. This is a small neighbourhood, built by the first construction workers who came to Athens in the 1840s. These people mostly came from the Cyclades, and therefore the architecture will remind you of the white-washed houses of Mykonos and Santorini.
Pro travel tip – Perhaps the easiest way to find Anafiotika is through Thrassilou street, close to the Acropolis. Alternatively, you can go up Klepsydras street and then turn left.
See the Changing of the Guards
The tall, iconic Guards standing in front of the Parliament are undoubtedly a tourist attraction. However, they have an important role in terms of the Greek tradition.
The Guards, called "Evzones" in Greek, are chosen from the pool of people who are serving in the military. They need to fulfil several criteria, one of them being their height – they must be over 1.88 metres tall. The Evzones undergo special training for a few weeks.
The Evzones guard the Tomb of the Unknown Soldier, which is a cenotaph right in front of the Parliament. They have hourly shifts, and the changing happens every hour, on the hour. There is also a large ceremonial parade every Sunday, at 11 am.
As for the uniform, it is inspired by the uniforms of several revolution heroes. There are a few different uniforms – the ones used on Sundays have very intricate decorations and there are quite a few symbolisms.
Stroll through the National Gardens
Right next to the Parliament, there are the National Gardens of Athens. Athens isn't exactly full of parks, but those gardens right in the heart of the city are really nice to stroll through.
The Gardens were originally designed by Queen Amaila, the first queen of Greece. While they were originally reserved for the royalty, they were gradually opened to the public.
They tend to get quite busy in summer, with both locals and tourists, as they offer shelter from the scorching sun. If you are visiting Athens in October, when the temperatures are milder, you will really enjoy the gardens.
Admire the Panathenaic Stadium in Athens
This superb stadium was originally constructed in the 4th century BC, to host the Panathenaic Games. It was reconstructed during the Roman Era, but was later abandoned due to the prevalence of Christianity.
Towards the end of the 19th century, it was decided that Greece would host the first modern Olympic Games. The benefactor George Averof offered large sums of money for the cause. If his name sounds familiar, you may have read this article on the Averof Museum in Athens.
You can visit the Panathenaic Stadium from 8 am to 7 pm on a daily basis. There is also a small museum dedicated to the Olympic Games that I found very interesting.
Go shopping in the central food market
If you want to see a more authentic side of Athens in October, go to the Varvakios central food market on Athinas street. This is where many Athenians do their grocery shopping.
The market has a few different sections. You will find meat, fish, fruit and veg, and a large number of shops selling Greek products and houseware.
Unlike other food markets in Europe, the Varvakios has kept its original character. You will still see large pieces of meat and whole animals hanging from large hooks. It might be slightly shocking to some people, but it's totally worth checking out.
Check the views from Lycabettus hill
Another popular attraction in Athens is Lycabettus hill. This natural viewing point, called Likavittos in Greek, is in the upmarket Kolonaki area, not far from the Benaki museum.
You can reach the top of Lycabettus hill on foot. Some people may prefer taking a taxi or the iconic cable car. You will find a small church, called Agios Georgios. The views of Athens from up there are quite amazing!
A popular time to visit is during sunset. You can then walk down and go for a coffee or dinner somewhere in Kolonaki area.
Take a trip to the Temple of Poseidon at Sounion
Greece has hundreds of ancient sites. Few of them were built on such an impressive spot as the temple of Poseidon at Sounion, 70 kms away from Athens.
The ancient temple was built in honour of the God of the Sea, Poseidon. Quite fittingly, it is built on a hill by the sea. The sea views from the site are incredible.
The temple of Poseidon can be visited quite comfortably on a half-day trip from Athens. Visit for sunset if you can – on a good day, it may even beat the famous Santorini sunset!
If the weather is good, you can even go swim somewhere along the way. The Athens riviera is quite impressive, as it stretches for several kilometres. There are many sandy beaches and hidden coves where you can enjoy the Mediterranean sea.
For more information, check out this blog post.
Watch the "Ohi" day parades
On 28 October, Athens celebrates the "Ohi" day with school parades. "Ohi" means "no" in Greek, and the celebrations pay tribute to Greece refusing the Italian ultimatum on 28 October 1940, during WWII. The biggest parade in the city passes in front of the Parliament.
On this day, entry into archaeological sites and certain museums is free. Go early, as it's a popular day for locals to visit!
Celebrate Halloween in Athens
In all honesty, Halloween is not a big deal in Athens. However, if you are looking for a place to get into the spooky seasonal spirit, then I'd suggest visiting the Little Kook cafe.
This cafe redecorates several times a year according (for example Valentine's and Christmas), and Halloween is one they go all out for. You'll find not only the cafe but the nearby streets filled with Halloween decorations. It will be decorated like this for most of October, so go check it out!
Related: Halloween Captions for Instagram
Athens Hotels
Sold on the idea of spending some time in Athens during October? You'll want somewhere to stay! When it comes to hotels, Athens has numerous places to choose from, but I would suggest finding somewhere near the historic center.
The reason for this, is that you can make the most of your time in the city by staying near most of the major Athens attractions. I've got a good guide here on where to stay near the Acropolis in Athens.
More things to do in Athens
If you have any questions about Athens or visiting Greece, please leave them in the comments section at the end of this city guide. I will be more than happy to answer them!
You can also signup for my newsletter, where I'll share with you my best Athens posts and content to help you plan your trip to Greece more easily.
Interesting Read: Explore alternative Athens
FAQ About October in Athens
If you plan to visit Athens during October, the following travel tips and information might be useful:
Is October a good time to visit Athens?
October can be a great time of year to explore Athens. There are fewer crowds in the city centre, the Fall still has plenty of sunny days, and the temperature is comfortable enough to enjoy walking around the Greek capital.
Is Athens hot in October?
Athens weather in October: It begins to get cooler in October, although it may appear idyllic to many since the average high temperature is now 24°C and low temperatures about 16°C. It might be warm enough to go swimming during the first half of the month, when the average sea temperature is still quite warm at 22°C.
Is October a good time to visit Greece?
Even in late October, the Mediterranean climate of Greece is still surprisingly warm. October is perhaps the last month of the year where you can get some meaningful beach time and when the water temperature of the sea is still nice enough to swim.
What should I pack to visit Athens in October?
During the day, you may still be able to wear T Shirts and shorts, but you may need a light jacket for the evenings, and even a rain jacket for occasional rain.
Next read: What is Athens famous for?
---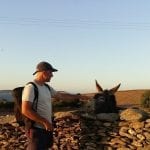 –
Dave Briggs
Dave is a
travel writer
based in Athens, Greece since 2015. In addition to creating this guide to October Athens experiences, he's also written hundreds more travel guides to Greek islands and other destinations in Greece. Follow Dave on social media for travel inspiration from Greece and beyond: