Visiting Santorini in October can be a good choice for avoiding peak season prices and temperatures. Here's my guide on things to do in Santorini in October.
Santorini, Greece in October
If you're one of the lucky ones that can pick and choose what month to take a vacation in Greece, I've got great news. Santorini is a lovely island to visit in October!
You'll miss the peak of the tourist crowds that descend upon the island in August, and enjoy cooler temperatures and more reasonable prices.
While a few businesses may have closed for winter, the majority should still be open. You may even find that the luxury hotels in Santorini have dropped their prices in October, giving you great value for money.
You'll probably still need to make reservations for Santorini restaurants with sunset views, but generally speaking, things are a lot less hectic than in the peak season months!
Weather in Santorini in October
The Santorini weather in October isn't as warm as the summer months, but in some ways that can be a relief. Even with cooling winds, August can have some uncomfortably hot days.
By contrast, Santorini weather in October is reasonably mild, but you are likely to have several sunny days. In fact, many people find the temperature in Santorini in October much more pleasant than under the scorching summer sun.
The weather in Santorini Greece in October produces average day time highs of 22 degrees, with lows of 17 degrees. Considering much of the rest of Europe is freezing by comparison at that time, Santorini can make an ideal choice for an autumn break for last of the year sun.
For the best Santorini weather October, the earlier in the month the better.
Santorini Hotels in October
One of the best things about going to Santorini in October, is that accommodation prices are lower than in summer.
Whilst you can generally find cheap hotels or rooms in Santorini all through the year (if you know where to look!), the hotels prices in Oia and Fira become more reasonable in October.
Below, you can find a map to look at hotels and where to stay in Santorini in October, and you can also check out their prices. I've a guide here on Where to stay in Santorini that will help you decide what area in Santorini is best for you to stay at.
Things to do in Santorini in October
So what can you expect to do if you plan an October visit to Santorini?
Below, I've laid out a combination of frequently asked questions about what is Santorini like in October. There's also some useful information on what to do in Santorini in October.
October swimming in Santorini
There are several beaches all around Santorini. They are all quite unique in terms of colours and landscapes.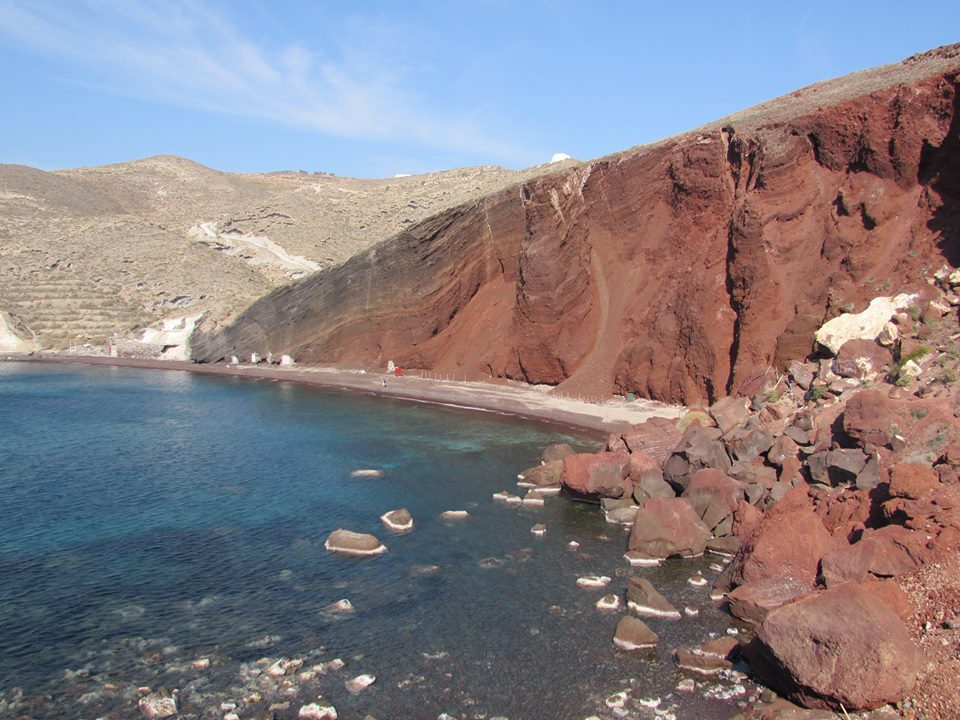 Some of the most famous beaches in Santorini are the Red Beach, the White Beach and Perissa / Perivolos. None of them are the typical long stretch of sand that you may be expecting.
Nevertheless, swimming in the Aegean is always enjoyable. The water is crystal clear, and it should be warm enough to go for a swim with good October Santorini weather.
There will typically be loungers and umbrellas on Perissa and Perivolos beaches, so all you really need is your swimsuit and towel. As for the White beach, while it is possible to reach it on foot, the easiest way is to get there by boat. More on this right below.
Sailing around Santorini in October
Exploring Santorini by sea is really a must-do if you are spending a few days on the island. There are several types of sailing tours suitable for all budgets, including private tours and group tours.
Some trips visit the famous beaches on Santorini, while others include a walk on the volcano.
In terms of a volcano sailing tour, October is a great month. During this day trip, you will get the chance to walk on the actual volcano, where summer temperatures can get pretty uncomfortable. The landscape is quite unique, and the views of Santorini from the boat are pretty awesome.
Here are some of the best boat tours in Santorini, to help you choose. In general, these tours include time for swimming and snorkelling, while some of them also include snacks or a meal. Most of them also include a visit to the hot springs, where you can enjoy a thermal bath at any time of year!
Scuba diving in Santorini
If you are looking for something a little more adventurous, you can also try scuba diving. You can then enjoy a unique view of the island's volcanic environment.
There are short scuba-diving sessions on offer, that are ideal even for people who have never scuba diving before. Make sure you contact the scuba diving school in advance, so you can arrange your equipment and ask any questions.
Watch the famous Santorini sunset
The small island is world-famous for its spectacular sunsets with a view to the volcano. The white-washed Oia village is the most famous spot to watch the sunset from.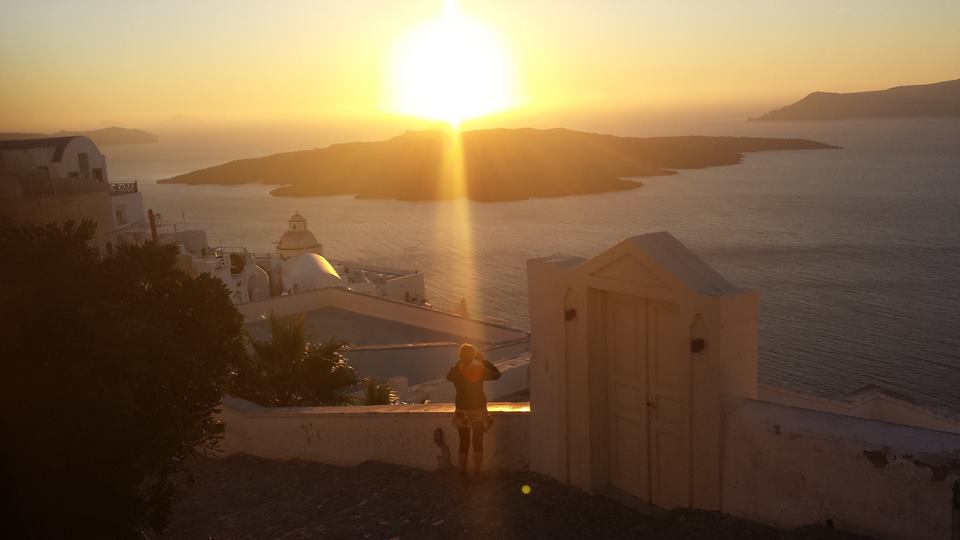 However, you don't need to go to Oia to see the sunset. Any spot on the western side of the island has incredible views to the volcano. You can choose to stay in Fira, Firostefani or Imerovigli, and you will still enjoy the breathtaking views.
If you are staying in a hotel facing the caldera, make sure you allow at least one evening to enjoy the sunset views from your balcony. Here is a selection of hotels with views to the volcano.
Explore the hiking path from Fira to Oia
This is one of our favourite activities in Santorini in October. The hike is 10 km (6 miles) long and should be fine for most people who are used to walking. It's a fairly easy path, with just a couple of somewhat challenging spots.
The Santorini October weather is perfect for this popular hike to Oia from Fira, as it is much cooler than the summer.
If you are staying in Fira, you can walk from Fira to Oia, stay for the famous sunset, and take the bus back to Fira. Just make sure you check the time the last bus departs, as it varies by month.
Alternatively, you can do it the other way round, heading from Oia to Fira. This might make more sense if you are based in Fira, as you won't have to think about catching the bus back.
Depending on how many photos you are planning to take, allow 3 or 4 hours for the hike. The views are really beyond description! Bring water and snacks, and some sunscreen, just in case. Here's some detailed information about hiking from Fira to Oia.
Enjoy a winery tour in Santorini
Santorini is famous for its wine production. The volcanic soil helps produce unique, distinctive wines, many of which are exported worldwide.
Sigalas, Gavalas, Boutaris, Venetsanos, Santo Wines and Koutsoyannopoulos are just a handful of the Santorini wineries that have become popular attractions.
While you can visit most of them independently, you will learn a lot if you take one of the numerous specialized wine tasting tours. Plus, you will not have to worry about the designated driver if you take organized wine tours!
Here are some of the best winery tours that you can take in Santorini in October. Choose between a daytime tour or a sunset tour, and enjoy!
Visit Ancient Akrotiri in Santorini
For such a small island, Santorini has more than its fair share of archaeological sites and museums. Of these, Ancient Akrotiri is the most significant and best known.
Akrotiri is a Minoan settlement dating from the Bronze Age. It was destroyed by a strong volcanic eruption in the 17th century BC.
Subsequently, it was buried underneath the volcanic ashes, and was not discovered until the late 1860s. To the archaeologists' delight, the ruins were very well preserved under the ashes.
A few years ago, the ancient complex was covered by a purpose-built construction, to protect the findings. This also protects visitors from the scorching sun! There is a wooden walkway all around the ancient ruins where visitors can walk.
Akrotiri is easily accessible by public transport. Alternatively, you can rent a car, or book a tour.
Did you know that some people think Akrotiri could have been part of Atlantis? Read about that and more fun facts about Santorini.
Explore Fira and Oia in Santorini
Fira an Oia are two of Santorini's most popular towns for visitors to stay. Even though there is a touristy side to both, they are definitely worth exploring. In terms of history and culture, both Fira and Oia have several museums.
In Fira, you can visit the Archaeological Museum of Thera, the Museum of Prehistoric Thera, the Gyzi Megaron, as well as smaller exhibition centres and art galleries. Apart from these, the town is full of souvenir shops, cafes, bars and several tavernas, so you will never be bored.
Oia is more famous for its sunsets. You should aim to spend a few hours here and enjoy the views and the ambiance. If you have time, walk the stairs down to Ammoudi beach for a stroll and a meal.
While in Oia, you can also visit the Maritime Museum, which hosts exhibits mostly from the 19th century.
Visit the inland villages in Santorini in October
It's no secret that Santorini is a fairly touristy destination. Still, there are certain villages that are relatively off the beaten path. Some of them are included in land tours of the island, but you can always hire a car and explore on your own.
Many people consider Pyrgos village, also known as Pyrgos Kallistis, to be the most beautiful on the island. This medieval settlement has a Venetian fort where you can climb up if you don't mind steep paths. The lovely views all around will definitely reward you.
In Pyrgos, you can also visit the Museum of Icons and Ecclesiastical Artefacts, inside the former Agia Triada chapel, and see several religious artefacts. There is also an ethnographical museum, exploring Santorini's recent past.
Another interesting village is Emporeio, not far from Perissa Beach. You can discover its windmills and old churches, and then stop at a local taverna for a nice meal.
If you happen to be in Emporeio on 22 October, watch out for St Averkios' feast. This is the day when they open the barrels with the new wine, so you can get a few tastings!
Messaria is another village worth visiting. Offering beautiful views of the caldera, Messaria has many tavernas or bars where you can enjoy a meal or drink.
Popular places to visit include Canava Santorini ouzo distillery and the neoclassical Argyros Mansion which has been transformed into a museum. The feast of St Dimitrios is celebrated on 25-26 October, so ask around.
Megalochori village, literally meaning "big village", is home to a number of beautiful churches, restaurants and boutique hotels. Walk up and down the alleys, and explore the iconic white-washed houses.
Finally, if you are in Santorini on 20 October, head out to Finikia village, where St Matrona's feast is celebrated. This is an important religious and cultural event.
Like all major religious feasts, it is followed by a special meal including cod, potatoes, specially cooked rice and lots of wine. You will also get to experience several hours of traditional Greek music!
Join the Santorini Experience race
If you ever dreamed of running around Santorini's caldera, this is your chance! The October weather in Santorini is just about ideal for this still challenging race.
The Santorini Experience competition includes running and swimming races around Greece's most popular island. There are two types of races, 10 and 15 kms (6.2 and 9.3 miles), while the swimming race is 2.4 kms (1.5 miles).
In 2020, the event is scheduled for 2-4 October. You can find more information and the registration forms here.
Travel Tips To Visit Santorini
If you're planning a Santorini holiday in the shoulder season month of October, some of these travel tips may be of help:
Use Ferryhopper for ferry tickets from Santorini to other islands.
Sea temperatures are too cold to swim for most visitors to Santorini in October
If you get a hotel with a swimming pool in Santorini in fall, you might want to check it is heated.
The best restaurants in Santorini with sunset and caldera views may still need reserving
You can get some great deals on accommodation when you visit Santorini in the month of October. Try Booking for deals.
Get Your Guide have a great selection of tours and activities to choose from. Sunset tours are recommended!
Visiting Santorini in October FAQ
Here are some commonly asked questions that readers have when planning a Santorini October vacation:
What is the weather in Santorini in October like?
You can still expect pleasant weather in October in Santorini, especially at the beginning of the month. The average temperatures in Santorini in October are 21°C with daily highs of 23°C and lows of 18°C. It's also just about warm enough to still be swimming in the sea!
Does Santorini close down in October?
October is the last month of the main tourist season, and some businesses start to close towards the end of the month. Santorini never really totally closes though, and there are always places to stay and eat. The famous Santorini sunset never closes of course!
Can you swim in Santorini in October?
You absolutely can! The waters surrounding Santorini are still warm enough to swim, especially during the beginning of October. As the month draws to an end, you might find the amount of time you spend in the water becoming a little shorter though!
Is Santorini expensive in October?
October is one of the most affordable months to visit the Cyclades island of Santorini. There is less competition for hotels and accommodation, meaning that the prices to stay on the island are far cheaper than when compared to the peak month of August.
What is Santorini like in October?
There are fewer crowds and lower hotel prices, and the average temperature in Santorini, Greece in October is 21°C with daily highs of 23°C and lows of 18°C. The top things to do in Santorini in October include watching the fabulous sunset, exploring Oia, visiting the volcano and hot springs, observing the colourful beaches, and discovering the local wines.
Santorini October
If you enjoyed this October Santorini travel guide, please feel free to pin it to one of your boards on Pinterest for later. That way other people may be inspired to visit the Greek island of Santorini in October as well!
Greek Island Hopping Guides
If you are considering visiting other Greek islands, you may find these other travel guides to be useful:
---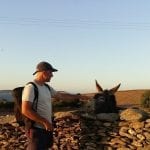 –
Dave Briggs
Dave is a
travel writer
based in Athens, Greece since 2015. In addition to writing this travel blog post about Santorini Greece in October, he's written hundreds more guides to other destinations in Greece. Follow Dave on social media for travel inspiration from Greece and beyond: