Here's 50 of the best trekking quotes to inspire you to get outdoors and enjoy a little outdoor adventure. Perfect motivation for when you can hit the trail again!
Best Trekking Quotes
We all need a little travel inspiration, and there's no better inspiration than a good quote!
We've put together 50 of the best quotes about trekking and hiking for you to contemplate.
Every one of these trekking captions has been matched with a beautiful image, which we encourage you to pin to your Pinterest boards.
That way, even more people can fall in love with the idea of getting outside, and enjoying the great Outdoors!
Hiking Quotes
Here's our first 10 quotes about trekking to get you started. Remember, The journey of a thousand miles begins with a single step!
Be a true traveller, don't be a temporary tourist.
― Amit Kalantri
---
Travel teaches as much as a teacher
― Amit Kalantri
---
He wasn't a great man, but he had a great life.
― Jeffrey Rasley
---
You need mountains, long staircases don't make good hikers
― Amit Kalantri
---
Travelling the road will tell you more about the road than the google will tell you about the road.
― Amit Kalantri

---
Feeling LOW? Go on mountains.
― Prajakta Mhadnak
---
Travelling shouldn't be just a tour, it should be a tale.
― Amit Kalantri
---
Trekking means a travelling experience with a thrilling excitement
― Amit Kalantri
---
The traveler sees what he sees, the tourist sees what he has come to see.
― Gilbert K. Chesterton
---
Quotes about Hiking
This is our next section of trekking quotes and sayings. Have you found one that resonates strongly yet? By the way, you might also want to check out this guide to outdoor survival gear. It contains items you should definitely pack when trekking!
It is the mountain that has been calling me, and it's time to answer.
― Susan Jagannath
---
There are two kinds of climbers, those who climb because their heart sings when they're in the mountains, and all the rest.
– Alex Lowe
---
No matter how sophisticated you may be, a large granite mountain cannot be denied—it speaks in silence to the very core of your being
– Ansel Adams
---
If you are seeking creative ideas, go out walking. Angels whisper to a man when he goes for a walk
– Raymond Inmon
---
In every walk with nature, one receives far more than he seeks
– John Muir
---
Mountains have a way of dealing with overconfidence
– Nemann Buhl
---
Thousands of tired, nerve-shaken, over-civilized people are beginning to find out that going to the mountains is going home; that wildness is a necessity
– John Muir
---
May your trails be crooked, winding, lonesome, dangerous, leading to the most amazing view. May your mountains rise into and above the clouds
– Edward Abbey
---
I like being near the top of a mountain. One can't get lost here.
– Wislawa Szymborska
---
Mountains are the cathedrals where I practice my religion.
– Anatoli Boukreev
---
Quotes About Trekking
These quotes about walking and hiking make us want to put on a pair of boots and hit the mountains! Here's our next section of carefully selected wilderness quotes and sayings about hiking.
The experienced mountain climber is not intimidated by a mountain, he is inspired by it
– William Artur Ward
---
Of all the paths you take in life, make sure a few of them are dirt
– John Muir
---
Mountain hikes instilled in me a life-long urge to get to the top of any inviting summit or peak
– Paul D. Boyer
---
Great things are done when men and mountains meet; This is not done by jostling in the street
– William Blake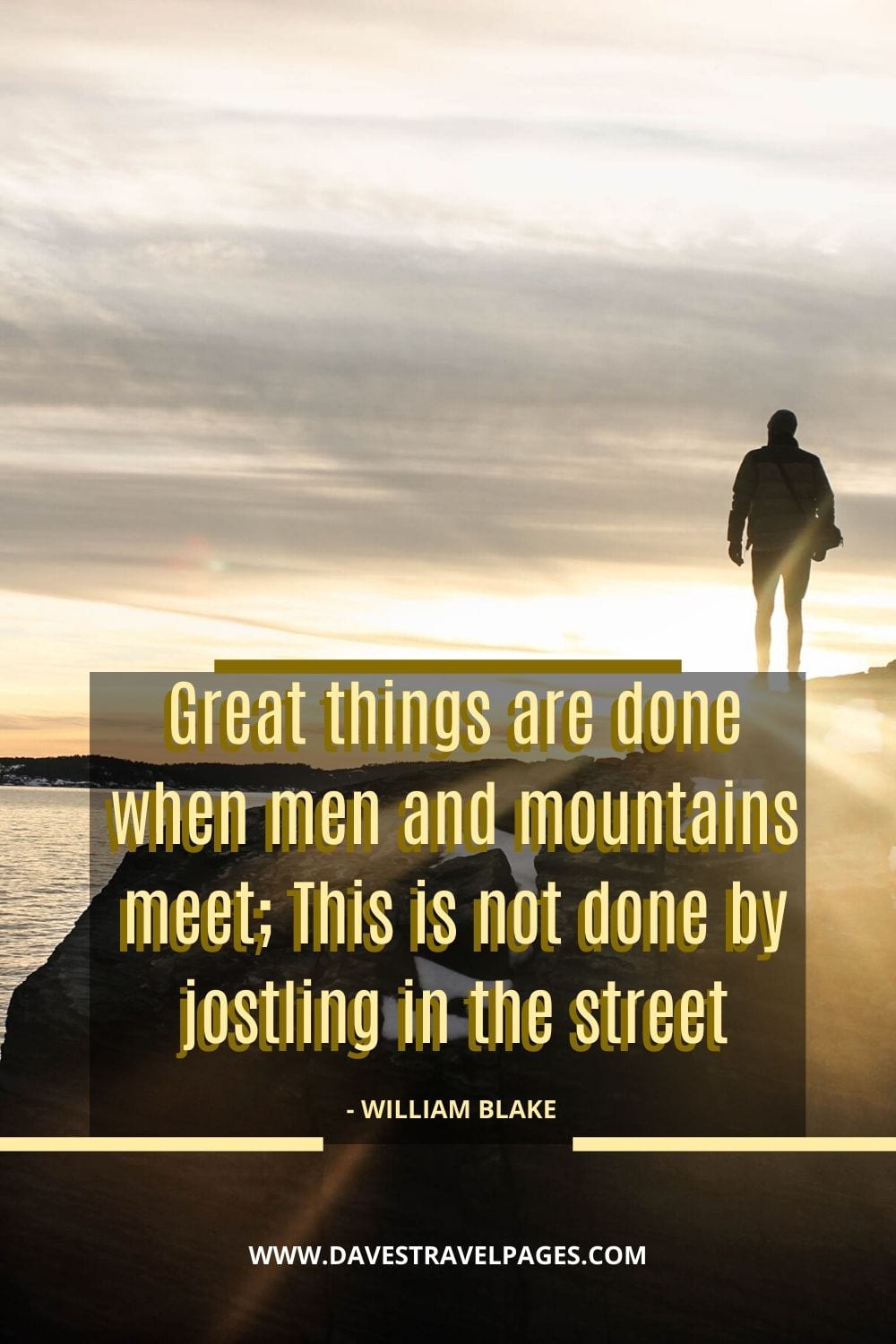 ---
Climbing is as close as we can come to flying
– Margaret Young
---
The higher you climb on the mountain, the harder the wind blows
– Sam Cummings
---
Climb the mountains and get their good tidings. Nature's peace will flow into you as sunshine flows into trees
– John Muir
---
Do not go where the path may lead, go instead where there is no path and leave a trail
– Ralph Waldo Emerson
---
Hiking and happiness go hand in hand or foot in boot
– Diane Spicer
---
Me thinks that the moment my legs begin to move, my thoughts begin to flow
– Henry David Thoreau
---
Hiking and Trekking Quotes
If you've been waiting out the winter in order to hit the trails in spring, you need a little motivation to get you through those days indoors.
Here's some more quotes about hiking and trekking for your inspiration.
You need special shoes for hiking—and a bit of a special soul as well
– Terri Guillemets
---
The long distance hiker, a breed set apart, from the likes of the usual pack. He'll shoulder his gear, be hittin' the trail; Long gone, long 'fore he'll be back
– M.J. Eberhart
---
Never measure the height of a mountain until you have reached the top. Then you will see how low it was
– Dag Hammarskjold
---
Trekking means a travelling experience with a thrilling excitement
– Amit Kalantri
---
Somewhere between the bottom of the climb and the summit is the answer to the mystery why we climb
– Greg Child
---
Nobody climbs mountains for scientific reasons. Science is used to raise money for the expeditions, but you really climb for the hell of it.
– Sir Edmund Hillary
---
Mountains are the beginning and the end of all natural scenery
– John Ruskin
---
It's not the mountain we conquer, but ourselves
– Sir Edmund Hillary
---
Returning home is the most difficult part of long-distance hiking; You have grown outside the puzzle and your piece no longer fits
– Cindy Ross
---
Remember that time spent on a rock climb isn't subtracted from your life span.
– Will Niccolls
---
Trekking and Hiking Sayings
This is our final selection of quotes and images to do with trekking. If you've enjoyed them, leave a comment at the end of the post!
When preparing to climb a mountain—pack a light heart.
– Dan May
---
Getting to the top is optional. Getting down is mandatory
– Ed Viesturs
---
Study nature, love nature, stay close to nature. It will never fail you
– Frank Lloyd Wright
---
Many climbers become writers because of the misconceptions about climbing
– Jonathan Waterman
---
After a day's walk everything has twice its usual value.
– George Macauley Trevelyan
---
The mountains are calling and I must go
– John Muir
---
I see my path, but I don't know where it leads. Not knowing where I'm going is what inspires me to travel it
– Rosalia de Castro
---
Hiking is just walking where it's okay to pee
– Demetri Martin
Inspirational Hiking Quotes
Wrapping up, here's a few more of our favourite hiking captions and sayings that will make you want to spend time outdoors on nature walks.
"Because in the end, you won't remember the time you spent working in the office or mowing your lawn. Climb that goddamn mountain." – Jack Kerouac
"We don't stop hiking because we grow old – we grow old because we stop hiking." – Finish Mitchell
"Everyone wants to live on top of the mountain, but all the happiness and growth occurs while you're climbing it." – Andy Rooney
"Each fresh peak ascended teaches something." — Sir Martin Convay
"There is no such thing as bad weather, only inappropriate clothing." – Sir Rannulph Fiennes
Hiking Instagram Captions
Looking for some captions you can use on your Instagram feed to go with those amazing photos you just took on the hiking trail? Here's some great captions for Instagram for you.
A trekking experience is all about the journey, not the destination
The mountains are a great place to find peace and understanding
If you're looking for a challenge, hiking is the perfect way to find it
Nature is one of the best teachers around – take the time to learn from her
There's nothing quite like the feeling of standing on top of a mountain
Hiking can be a great way to connect with yourself and your surroundings
Be prepared for adventure when you hit the trails!
Remember, the journey is always more important than the destination.
The best views are always worth the climb
There's nothing like a good hike to clear your head
Quitting is for the weak. Push yourself to the summit
A day spent outdoors is a day well spent
The journey is always more rewarding than the destination
Caught a beautiful view on my hike today!
A good hike is the perfect way to clear your head
Love spending my weekends hiking in the woods
New hiking trails to explore = the best weekend plans
---
More Travel Quotes and Captions
You might also like to check out these other trekking and travel quote collections:
[one-half-first]
[/one-half-first]
[one-half]
[/one-half]
We hope you enjoyed our selection of trekking quotes and images. We're always looking for new content to publish on the blog, so if there's anything that piques your interest, let us know! For now though, don't forget to share this post with friends who love hiking or are planning their first backpacking trips. It would make a great gift too – just give them the link and they can find all these awesome motivational messages in one place. Happy trails!