Travel to the Greek islands in September, and you might just have chosen the perfect time of year. Here's which islands in Greece to visit in September and why.
Greek Island Holidays in September
Greece is one of the most popular holiday destinations in the Mediterranean. Its perfect mix of warm weather, beautiful islands, breathtaking scenery and great food makes for a relaxing vacation.
Many people visit Greece in the peak months of July and August, but personally, I think September is the best month to hit the Greek islands.
This is because the school holidays have finished in Europe, the highest temperatures are over with, and the shoulder season in Greece offers better value for money.
This short trip planning guide will help you decide if visiting Greece in September is for you, and will also provide travel tips and advice on which are the best Greek islands to go to in September.
Best Greek Islands to visit in September
Greece has over 220 inhabited islands, so there are plenty to choose from! Here's the 10 best islands in Greece to visit in September:
Inevitably, first time visitors to Greece will be attracted to the 'big name' islands such as Crete, Santorini, Mykonos and Rhodes. If this sounds like you, then I suggest reading this: 2 Weeks in Greece Itinerary: Athens – Santorini – Crete – Rhodes.
Don't discount the other islands though. If you want to get away from it all, you could choose quiet Greek islands in September such as Schinoussa or Iraklia.
Better still, put an island hopping itinerary together, where you could visit several islands over a couple of weeks. It all depends on how adventurous you are!
Getting to the Greek Islands
The best place to find information about Greek ferries online, and also book tickets, is Ferryhopper. Trust me, this site will make your life a lot easier when it comes to Greece travel planning around the islands!
You can also fly directly to some of the islands in Greece in September from some European cities. I've a guide here to Greek islands with airports for further travel planning.
Greek islands in September weather
When it comes to weather, September may be the best time to go to the Greek islands. Not too hot, not too cold, just right!
All in all, September can best be described as having great beach weather, particularly the first couple of weeks. Some areas often get temperatures of 25-30 degrees during the day. This makes it perhaps the hottest European country in September.
That said, the climate can vary a lot, and the best places to visit in Greece in September for good weather will be in the south, which is typically a lot warmer than northern Greece.
For example Crete, which is perhaps the warmest Greek island in September might be basking in sunshine, but the northern mountains on the mainland might be feeling more chilly.
The absolute best islands to visit in terms of good weather would be Crete and Rhodes, but September is still warm enough on most islands.
Even Ionian islands like Kefalonia, which is quite far north, should be fine to swim and spend some time on the beach. I remember it being very warm when I was grape picking in Kefalonia in September in 2004. That said, bring a couple of warmer clothes, just in case!
Is there anything else I should know about September in Greece?
September is when things start getting back to normal after the peak tourist month of August. Schools reopen on 11 September, which means by traveling after this time you'd have even more of the islands to yourselves!
You might find that hotel prices become cheaper after the 11th of September. I recommend using Booking for reserving your hotels online.
Related: Cheapest Greek islands to visit
Festivals and Events in Greece in September
September is an interesting month for religious feasts called panigiria. These local events are tied to religion, and there are masses in churches and monasteries celebrating Greek Orthodox saints.
There are other cultural aspects though. In short, a Greek panigiri might be best described as an eating, drinking, socializing and dancing feast. If you get the chance to experience one, go for it.
Finally, the European Heritage Days are celebrated on the last weekend of September. These are cultural events happening all around Europe.
In Greece, all monuments and many museums have free entrance on those days. As this weekend often coincides with the International Tourism Day (27 September), it's worth checking out any local events wherever you are.
Ten best Greek islands in September
Here's my top suggestions of islands in Greece to visit in September.

1. Crete
Crete is the biggest Greek island, and it would take you about a month – or a lifetime – to explore it properly. As it's further south than mainland Greece, it tends to be warmer than other parts of the country, which means that swimming can be more pleasant.
The weather in Crete in September is about perfect. It's slightly cooler than the very high temperatures of August, but still warm enough to spend most of your time in shorts and T-shirts. It would be my number one choice for best Greek islands in September.
In fact, Crete almost feels like a separate country. It's got unique and very diverse landscapes, ranging from gorges to tall mountains and from deep rivers to some of the nicest beaches in Greece. There are tourist resorts, vibrant cities and remote villages.
There are plenty of things to do in Crete in September, including visiting archaeological sites. The most famous one is Knossos – but you should also check out Festos, Gortyna, Matala, Malia, Zakros and many more. There are also magnificent castles and museums all around the island, and it would take several trips to explore them all.
Don't miss: Hiking the Samaria Gorge. This is a real highlight of the island, and the temperatures in September are ideal for the experience.
In terms of food, Crete has some of the richest and most varied local cuisines in Greece. You will definitely be impressed by the flavours and the freshness of ingredients. Goat, lamb, fish, cheese and barley rusks, along with many vegetables and the local strong drink, raki, are what makes the Cretan cuisine so distinctively unique.
As Crete is a big island, there are several local events all around. In fact, September is a great month for the local panigiria. Some of the most important fiestas are on 8 and 14 September, in several areas and monasteries. Ask around, and locals will be more than happy to point you to the closest one.
You will find several international flights to Crete's main airports. If you are in Greece already, you can either fly or take an overnight ferry from Athens.
Start planning a trip to Crete: Crete Travel Guides

2. Rhodes
Another fantastic island to visit in September is Rhodes. The biggest island of the Dodecanese, Rhodes is home to an amazing UNESCO medieval town that is very different from most other Greek islands.
You can stay in the main town and have more time to explore the castle and even walk on the medieval walls.
Much like Crete, Rhodes has very mild weather in September. Taking day trips to the beaches around the island is fairly straightforward. Some of the most popular beaches in Rhodes are the cosmopolitan Elli, the busy Ialissos, the lively Faliraki and the famous Anthony Quinn beach.
However, if you are looking for a little less action, you can drive around the island and discover your own favourites. Or you can take a sailing trip and enjoy a care-free day. Rhodes is a paradise for surfers, scuba-divers, snorkellers and anyone who likes beach activities.
Even though Rhodes is a popular island, many areas have kept their authentic character. You can attend several local events if you are in Rhodes in September.
Some of the biggest ones are the Vine celebration in Fanes, on 5-6 September, and several panigiria on 8 and 14 September, in many areas of the island. Additionally, there are numerous cultural events on 27 September, which is the International Tourism Day.
Rhodes is best approached by a short flight from Athens. In September, there are also international flights from several countries.

3. Tinos Island
For people who are after laid-back, off-the-beaten-track destinations, Tinos is an excellent choice. Due to its incredible Lady of Tinos church, it's got a reputation of a religious island – but it's a lot more than that.
Tinos has some of the most picturesque villages in Greece. There are more than 30 villages that are worth stopping by, and this is no exaggeration!
A few names to keep in mind are Pyrgos, Volax, Kardiani, Ysternia and Agapi, but really all villages in Tinos deserve to be explored.
On the beach front, Tinos will not disappoint. There are dozens of beaches for all tastes, and in our experience most of them are fairly quiet in September. If you are looking to relax, you will enjoy it a lot.
Related: Best Greek Islands For Beaches
In terms of food, Tinos has several local dishes. Try the small kafeneia – every little village has at least one. Tip – if you feel active, there are several well-signposted paths that you can follow to hike between certain villages.
You can get to Tinos by ferry from either Piraeus or the smaller and friendlier Rafina port near Athens.
Start planning a trip: Tinos travel guide

4. Milos
Milos is an upcoming Greek Cyclades island, and it's mostly famous for its beautiful beaches. Apart from Kleftiko and Sarakiniko, that feature on all Milos travel guides, the island has at least another 70.
If you're looking for beach holidays in September in Greece to soak up the late summer sun, it doesn't get better than this!
You'll need several days to explore them all, and if you visit in September you may have a beach all to yourself. I've a full guide here: Best beaches in Milos.
People who like exploring will love Milos, as there are many quaint villages where fishermen used to live. While many of those fishermen's houses are now being rented to tourists, the villages are still authentic and pretty.
In addition, the island has some wild landscapes – if you like driving, you can explore a lot of the island by land.
When I visited Milos, I took a day 4WD trip focusing on the island's connection with mining. Combined with a visit to the mining museum in Adamas, this was an eye-opening experience. It is always interesting to see what local people did for a living before tourism came along.
Check out more day trips in Milos.
We also really enjoyed a sailing trip of Milos on the Chrysovalandou II catamaran. We saw some of the best swimming and snorkeling spots on the island, and had an amazing meal.
Milos has a domestic airport and is also easily reached by ferry from Piraeus. There are ferry connections to some of the other Cyclades, if you want to go on an island-hopping trip.
Start planning a trip: Milos island travel guide

5. Lefkada
Lefkada is one of the Ionian islands, to the west of mainland Greece. It has some of the nicest sandy beach in all of Greece and is overall a very green island. The inland villages may remind you of the mountain villages in mainland Greece!
Lefkada's main town has some picturesque parts. Walking around, you will discover a few museums, with a focus on history, local tradition and ethnography. Just outside the town, you can visit Agia Mavra castle, originally built by the Frankish invaders in the 14th century.
Even though it's an island, Lefkada is connected to mainland Greece through a bridge. This makes it rather popular with Greeks driving their own cars, as there are no ferry fees. The closest international airport is Aktion airport on mainland Greece, 17 kms away from Lefkada.
More here: Lefkada Travel Guide

6. Santorini in September
It's hard to keep Santorini out of a list of the best Greek islands in September. While some islands start closing down after August, Santorini is one of the liveliest Greek islands at this time of year.
If quiet islands are not your thing, Santorini can be a good option, although I personally preferred Santorini in November!
Santorini has lots to offer. To begin with, there are the amazing views to the volcano, the quaint landscapes and the famous sunset. In addition, there is an abundance of wineries and quality restaurants, and the island is famous for its local specialties.
Santorini is home to the ancient site of Akrotiri, and also a few historical and cultural museums and wineries. Going on a wine tasting experience is a must!
You can drive around and explore the smaller villages, but you won't need a vehicle in Fira and Oia as it is largely pedestrianized.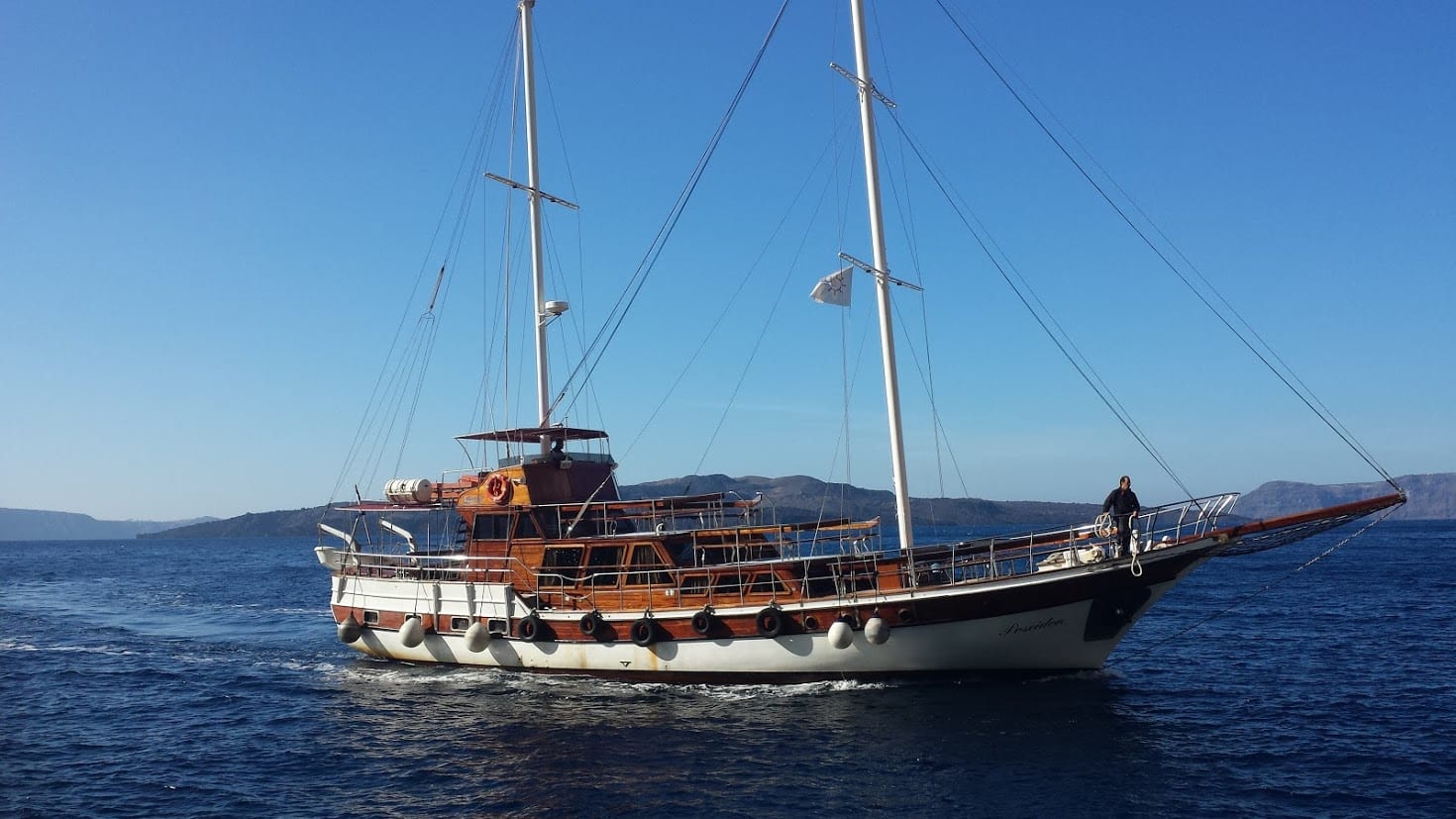 The small volcanic island has several unique beaches. You can explore some of them by land and reach certain others on a sailing trip. In addition, you can take a cruise to the volcano, and walk on the small volcanic islands – it's an almost eerie experience.
That said, I won't lie – In my opinion Santorini doesn't have particularly great beaches. All the Greek islands mentioned above are much better in terms of beaches!
If you are visiting Santorini in September, make sure to check out the local panigiria. The biggest ones happen on 8 and 14 September in Perissa, on 21 September on the little Thirassia island, and in Kamari on 24 September.
There are several direct international flights to Santorini. Alternatively, you can catch a short flight from Athens, or take a ferry from Piraeus port.
Mykonos is a popular destination to visit after Santorini. I've a guide here in on how to get from Santorini to Mykonos.
7. Hydra Island (Close to Athens)
If you have limited time in Athens, but still want to see a Greek island, Hydra is a good option, as it's just over an hour away from Piraeus port. Even though it's so close to Athens it's entirely different, as no vehicles are allowed!
The small island has a lot to offer, including a beautifully preserved main town and interesting museums. There is also a lot of beautiful nature, so you can combine a hike and a swim.
More here: Hydra island

8. Kefalonia
As I mentioned earlier, I spent some time in Kefalonia in 2004 grape picking, part of which was in September. I remember the days being very warm, although at night the temperature did drop a little which I noticed as I was camping out in my tent!
Kefalonia has some lovely sandy beaches, great views, and also of course wine to taste! The local wine is known as Robola, made famous by the Captain Corelli's Mandolin by Louis de Bernières.
More here: Things to do in Kefalonia

9. Mykonos
The residents of Mykonos must breathe a sigh of relief when August is finally over with! Not that the tourist seasons ends of course, as September is still a good month to go to Mykonos.
The absolute peak of the party scenes may be over, but there's still plenty of things to do in Mykonos in September. And if paying over the odds for cocktails on the beach is your style, then don't worry, you can still do that too!
While you are there, spend some time enjoying walking the streets of Mykonos town, and take a boat trip over to the amazing archaeological site of Delos.
One note: You may find accommodation cheaper in September than in August. Check out my guide here on where to stay in Mykonos for more.
More here: Best time to go to Mykonos

10. Naxos
Finally, we have Naxos. This could be termed as the family-friendly version of Mykonos, with a much lower key party scene, and a lot more authenticity.
Naxos also has some great beaches to spend time on, and can be nice and quiet in September. Naxos is a good choice for a family holiday to a Greek island in September.
More here: Naxos travel guide
FAQ About the best Greek islands to visit in September
Readers planning a Greek vacation in early September often ask questions similar to:
Is September a good time to visit Greek islands?
September is a great month to visit the Greek islands! The European school summer holidays are over, meaning that there are fewer people, the sea temperature is warm, and prices are lower than high season.
What is the best Greek island to visit in September?
Crete, which is the largest island, are Rhodes would make good choices to enjoy some mid September beach time as they are still lovely and warm at that time of year.
Which Greek island is hottest in September?
The islands of Kos, Crete and Corfu could all lay claim to being the warmest islands in September, and you can expect temperatures to reach 28 degrees, especially at the beginning of the month.
Which is the nicest Greek island to visit?
This is a matter of personal taste. I've always found that the smaller and lesser known Cyclades islands such as Donoussa, Iraklia and Schinoussa are among some of the nicest in Greece.
Also read: Money and ATMs in Greece
Greece Weather September
The weather in Greece in September is normally hot at the beginning of the month, and cools down a little as the month progresses into late September. The average maximum daytime temperatures are 29 C and the average daily minimum is 13 C. You might want to pack a light jacket for late night meals when eating outdoors. Rain showers might start to occur from the middle of the month onward.
Related: International Travel Checklist
Share this Greek island guide
Pin this guide on the best islands to visit in September in Greece for later:
What is the best Greek island for holidays in your opinion? Leave a comment below!
Thinking of taking a vacation at the end of the year? Read about the warmest places in Europe in December
---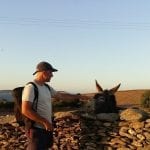 –
Dave Briggs
Dave is a
travel writer
based in Greece As well as creating this guide on where to go in September in Greece, he's also written hundreds more travel guides to Greek destinations. Follow Dave on social media for travel inspiration from Greece and beyond: