There are 7 ferries a day going from Athens to Spetses island. The travel time ranges between 2 and 3 hours, and all ferries to Spetses from Athens depart from Piraeus Port. Here's all the information you need to know to plan a trip from Athens to Spetses.
Visit Spetses from Athens
The Greek island of Spetses is one of the Saronic islands of Greece. It's about 2 or 3 hours away from Athens (depending on which ferry you take), which means it's just about possible to visit on a day trip if you take the earliest ferry out and latest ferry back.
It probably wouldn't leave you too much time in Spetses though, so I'd suggest planning to stay there for at least a night or two.
As it's a reasonably popular weekend break destination for Athenians, you might want to visit mid-week if you are flexible on your travel times.
How to get from Athens to Spetses
Spetses is an island without an airport, so the only way to get there is by ferry.
During the peak months of summer, you may expect up to 7 ferries a day in the summer from Athens to Spetses. These ferries to Spetses from Athens are operated by Blue Star Ferries and Alpha Lines.
Ferries leave from the main ferry port of Piraeus.
The fastest connection from Athens going to Spetses takes around 2 hours and 15 minutes. The slow ferry sailing to Spetses from Athens takes around 3 hours and 10 minutes.
You can get E tickets when you book online at no extra cost at the Ferryhopper website. Tickets start at around 38.50 Euro.
It is also possible to buy a ferry ticket at Piraeus, but keep in mind that in peak season this ferry route may sell out. It's advisable to book ferry tickets at least a few weeks in advance.
An important note: There are no car ferries going to Spetses. This is because Spetses, just like Hydra, is one of the traffic free Saronic islands. One you are there, you'll appreciate the absence of vehicles!
Getting to Piraeus Port
If you're staying in Athens city center, you can take the X96 bus from Syntagma Square to Piraeus. This X96 is the same bus that goes all the way from Athens Airport to Piraeus.
It's also possible to get to Piraeus on the metro using the green line. Monastiraki is a good place to take the metro from if you're centrally based.
One more option is to take a taxi. You can pre-book a Piraeus taxi at Welcome, and the journey this way will take you around 25 minutes.
The benefit of the taxi, is that they can take you straight to your ferry departure gate in Piraeus.
If you arrive at the port using the other methods you might have some walking to do to get to where you Spetses ferry leaves from.
Ferries from Piraeus to Spetses normally leave from gate E12, but you should check when you buy your tickets.
Ferry trip to Spetses from Athens
My advice when taking Greek ferries is always aim to be at your departure point an hour in advance of when the boat is scheduled to leave. This is especially the case when using public transport or taxis in Athens. Traffic can cause some delays at times!
All the ferries have toilets to use. Only some of them may have a bar or cafe service, the prices of which are higher than normal prices in Athens. I always take my own food and water when traveling by ferry.
As you might expect, on a windy day, the Spetses ferry might not be totally smooth. Take some motion sickness tablets before you board!
Look at the Ferryhopper website for the latest ferry schedule updates and for booking online.
Spetses ferries from Athens Piraeus
All the boats used in the Piraeus Spetses ferry route are slightly different to one another.
Blue Star Ferries run the Flying Cat 4, Flying Cat 6, Flying Cat 5, Flying Cat 1, Flying cat 4, and Flying Dolphin vessels.
Alpha Lines run the Speed Cat 1.
If you want to geek out on how fast each boat travels along with other statistics, take a look at my Ferries in Greece guide. There's a lot of info there you might see 'emulated' elsewhere online!
Spetses Island Travel Tips
A few travel tips for visiting Spetses island:
Ferries for Spetses depart from Piraeus port of Athens. Ferries arrive at the main port close to Spetses town.
---
Staying in the main town makes the most sense. I suggest looking at Booking for hotels and other accommodation.
---
As mentioned, Spetses is virtually traffic free, although there are public buses that will take you to points of interest around the island. Hiring a bicycle in the best way to really enjoy Spetses.
---
If you're looking to take a ferry from Athens, Greece to Spetses Island in the Saronic Gulf make sure you book your tickets at least a few weeks in advance.
---
One of the best places to look at ferry schedules and to check ferry ticket prices online is at Ferryhopper. You can also go into any travel agency as they sell ferry tickets, and you'll normally find these at an island's ferry port.
---
---
---
Ferry schedules from Athens to Spetses FAQ
Readers sometimes ask these question about traveling to Spetses from Athens include:
How do you get from Athens to Spetses?
You can only travel from Athens to Spetses by ferry. Two ferry companies run services out of Athens Piraeus port to Spetses, and there are up to 7 ferries a day in the summer.
Is there an airport on Spetses?
There is no airport on Spetses island. The closest international airport to Spetses is Athens International Airport, which receives flights from all Greek islands and many foreign countries. Every day, several ferries depart from the port of Piraeus in Athens for Spetses.
How long is the ferry ride from Athens to Spetses?
The ferries to Spetses from Athens take between 2 hours and 15 minutes and 3 hours and 10 minutes. Ferry operators on the Athens Spetses route may include Blue Star Ferries and Alpha Lines.
Where do you get ferry tickets to Spetses?
The easiest way to get hold of ferry tickets in Greece is by using Ferryhopper. Although I recommend you book your Athens to Spetses ferry tickets in advance, you might also prefer to use a travel agency in Greece when you have arrived.
Can you drive from Athens to Spetses?
Spetses is one of the traffic free islands in the Saronic Gulf of Greece. You can not take your car there from Athens.
More island hopping guides
If you're planning to visit other islands either from Athens or on a Greek island hopping adventure, I've plenty of other travel guide that can help.
A good starting point is here: Greek Island Hopping Blog
And here are some popular Greek islands to visit from Athens:
---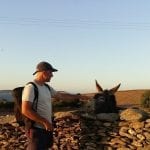 –
Dave Briggs
Dave is a
travel writer
from the UK who lives in and writes about Greece As well as writing this travel blog post about ferries from Athens to Spetses, he's also written many more travel blogs about destinations in Greece. Follow Dave on social media for travel inspiration from Greece and beyond: