There's only one Ios to Amorgos ferry a week (Sundays), so if you want to travel between Ios and Amorgos on other days, you'll need to do a little Greek island hopping. This guide shows you how.
How to get from Ios to Amorgos
The Greek islands of Ios and Amorgos might look close together on a map, but getting between them is not as straightforward as you might think.
This is because there is only one direct ferry per week sailing from Ios to Amorgos on a Sunday afternoon. The trip takes around 2 hours and 55 minutes.
Ferry operator Small Cyclades Lines offers this Ios Amorgos service on their boat the Express Skopelitis. It's a relatively small ferry, but it is big enough to take cars and other vehicles.
Schedules can vary from year to year, and even month to month. Check Ferryhopper for the latest.
So what do you do if you want to get from Ios to Amorgos on the other days of the week?
Well, it's time to put your Greek island hopping skills to the test!
Indirect ferries to Amorgos from Ios
The best course of action is to take a ferry from Ios to another island, disembark, and then take a ferry from that island on to Amorgos.
If everything lines up perfectly, the travel time might not be too long.
If it doesn't, you might need to spend a night on another island.
The best island to go via, is Naxos. Another choice would be Santorini.
If you can't decide between the two, I'd suggest going via Naxos. This is because you can walk easily from the port to hotels in the Chora, whereas in Santorini, you'll need to make the journey from the port by public transport or taxi to hotels.
Here's the guides you need to plan your route:
The best place to look at up to date schedules and book tickets online is Ferryhopper.
Amorgos Island Travel Tips
A few travel tips for visiting the island of Amorgos:
Ferry services leave from the main port, called Gialos in Ios. Arriving ferries dock at Katapola and Aegiali ports in Amorgos. Make sure you know your port when booking accommodation!
---
For where to stay in Amorgos, have a look at Booking. They have a great range of places to stay in Amorgos and areas to consider staying include Chora, Egiali / Aegiali, and Katapola. If you are traveling to Amorgos in the height of summer, I advise reserving apartments in Amorgos a month or so in advance.
---
Spend time on some of the top rated beach in Amorgos: Kalotaritissa, Psili Ammos, Agios Pavlos, Agia Anna, Egiali, Levrosos, and Mouros. Check out my guide on the best things to do in Amorgos to start planning your itinerary!
---
The easiest way to get hold of ferry tickets in Greece is by using Ferryhopper. I recommend you book your Ios to Amorgos ferry tickets in advance whenever possible, especially during the busy summer months.
---
---
---
How to travel from Ios to Amorgos FAQ
Some commonly asked questions about traveling to Amorgos from Ios include:
How can I get to Amorgos from Ios?
You can only reach Amorgos by ferry. There is one direct ferry per week sailing from Ios to Amorgos, and there is also the option to take indirect routes which involves swapping ferries at a midway island such as Naxos or Santorini.
Is there an airport on Amorgos?
There is no airport in Amorgos, so the only way to make the trip from Ios to Amorgos is to use a ferry. The airport nearest to Amorgos is at Naxos which has domestic flights to Athens.
How long is the ferry ride from Ios to Amorgos?
The direct ferries to the Cyclades island of Amorgos from Ios take around 2 hours and 55 minutes on the Express Skopelitis. Indirect routes between Ios and Amorgos can take considerably longer.
How can I buy tickets for the ferry to Amorgos?
Ferryhopper is perhaps the easiest site to use when it comes to booking Ferry tickets online. Although I recommend you book your Ios to Amorgos ferry tickets in advance, you might also go to a travel agency in Greece after you arrive.
Which ferry companies sail between the Cyclades islands of Ios and Amorgos?
The only ferry company sailing between Ios and the island of Amorgos is Small Cyclades Lines on their vessel Express Skopelitis. They have a once a week crossing on this ferry route which only operates between May and October.
What are ferry ticket prices for the Ios Amorgos route?
In 2022, passengers could expect fares of 11.20 Euro for the Ios Amorgos route.
Latest Blog Posts
---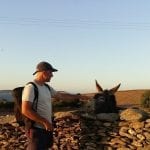 –
Dave Briggs
Dave is a
travel writer
currently based in Greece As well as creating this travel blog post about ferries from Ios to Amorgos, he's created many other Greek island travel guides. Follow Dave on social media for travel inspiration from Greece and beyond: