From Kalamata town, you can take day trips out to medieval castles, ancient Greek sites, and natural wonders in the Southern Peloponnese of Greece.
Kalamata, Greece
Kalamata is a coastal city located in the southern region of the Peloponnese, Greece. While the name may sound familiar thanks to the famous Kalamata olives, the city is known for its great beaches and lovely climate. Kalamata also has a big student population, which means that the nightlife and food scenes are excellent!
Even though it has a small airport and good public transport connections with Athens, Kalamata is still somewhat of an undiscovered destination. Most people heading to Greece do so in order to head out to the islands, and so Kalamata gets overlooked. Perhaps this is a good thing – it's unspoiled and there are plenty of hidden gems to discover!
Check out my travel guide to : Best things to do in Kalamata
I've visited Kalamata several times over the last seven years of living in Greece, and it's probably the only place in Greece outside of Athens that I would consider moving to year around. I've also found Kalamata to be an ideal base from which to explore more of the southern Peloponnese area.
Best Side Trips From Kalamata
If you're wondering whether or not to visit Kalamata and see more of the Peloponnese from there, let me try to persuade you the answer should be yes! For example, did you know that of the 18 UNESCO sites in Greece, there are 5 in the Peloponnese!
From Kalamata you can check out these sites as well as other destination highlights of this part of Greece, partake in some cultural and outdoor activities, and go swimming on some fantastic beaches.
One word of advise though – I strongly suggest renting a car in Kalamata in order to see more of the surrounding area. Public transport to some of the places mentioned is not always straightforward, and organized tours are not always available to all the places listed here.
For car rentals in Greece: Discover Cars
If you want to see what tours are available I recommend Get Your Guide and Viator.
Here's some of the best day trips you can take from Kalamata. They are a mix of organized and unorganized tours. For the purposes of this guide, I am only listing Kalamata day trip ideas to places that can be reached within an hour or two of driving so that you can get there and back in a day. Obviously, there is plenty more to see and do further away in the Peloponnese!
Related: Southern Peloponnese Road Trip
Day Trip to Medieval Castles Near Kalamata
One thing that surprises many people about this part of Greece, is the number of medieval castles. This is thanks to the area's long history of wars and invasions, as well as its strategic location.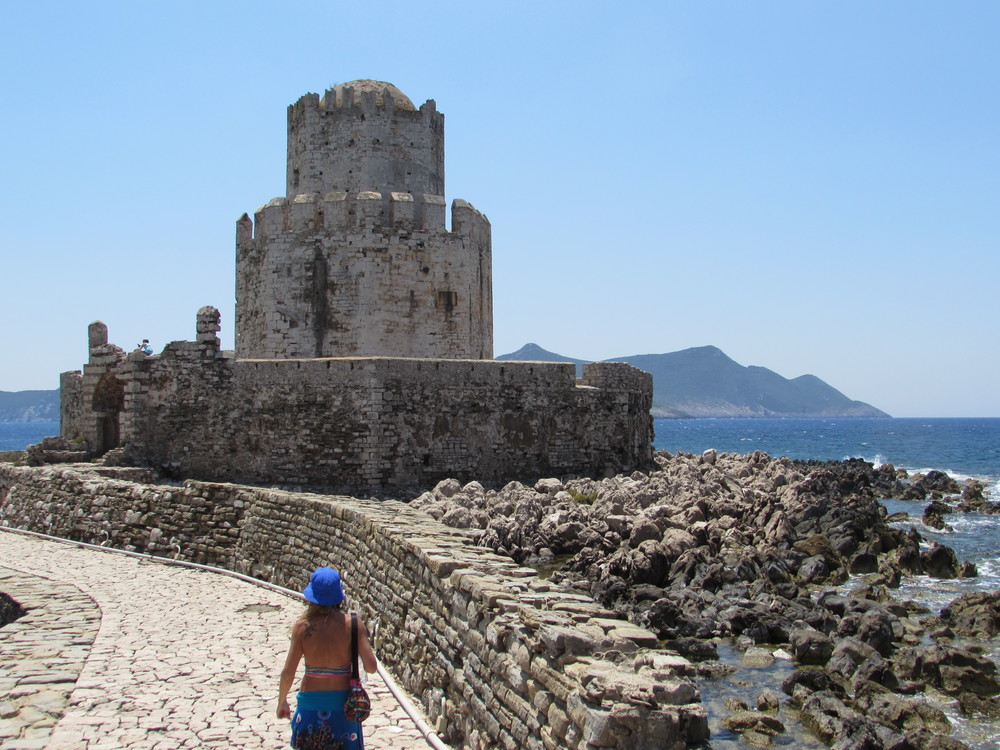 You can put together a good day trip from Kalamata to see three castles all in one day, but you'll need to drive. These castles are Methoni, Koroni and Pylos. Methoni castle is one of the most picturesque castles you'll ever see!
Want to squeeze in one more castle with a bit of hiking? Head a bit further up the coast to Old Navarino castle and you can even walk to Nestor's cave from there. You'll probably want to relax on the crescent shaped Voidokilia Beach for a bit and take a swim before retuning to Kalamata.
You can read more here about: Methoni and Koroni castles
Day Trip to Olympia and Archaeological Site at Bassae of Phigaleia
If you're interested in ancient history, a day trip from Kalamata to Olympia and the Archaeological Site at Bassae of Phigaleia is a must-see experience. These two sites are located in the western part of the Peloponnese peninsula and offer visitors a chance to explore some of the most impressive ancient ruins in Greece.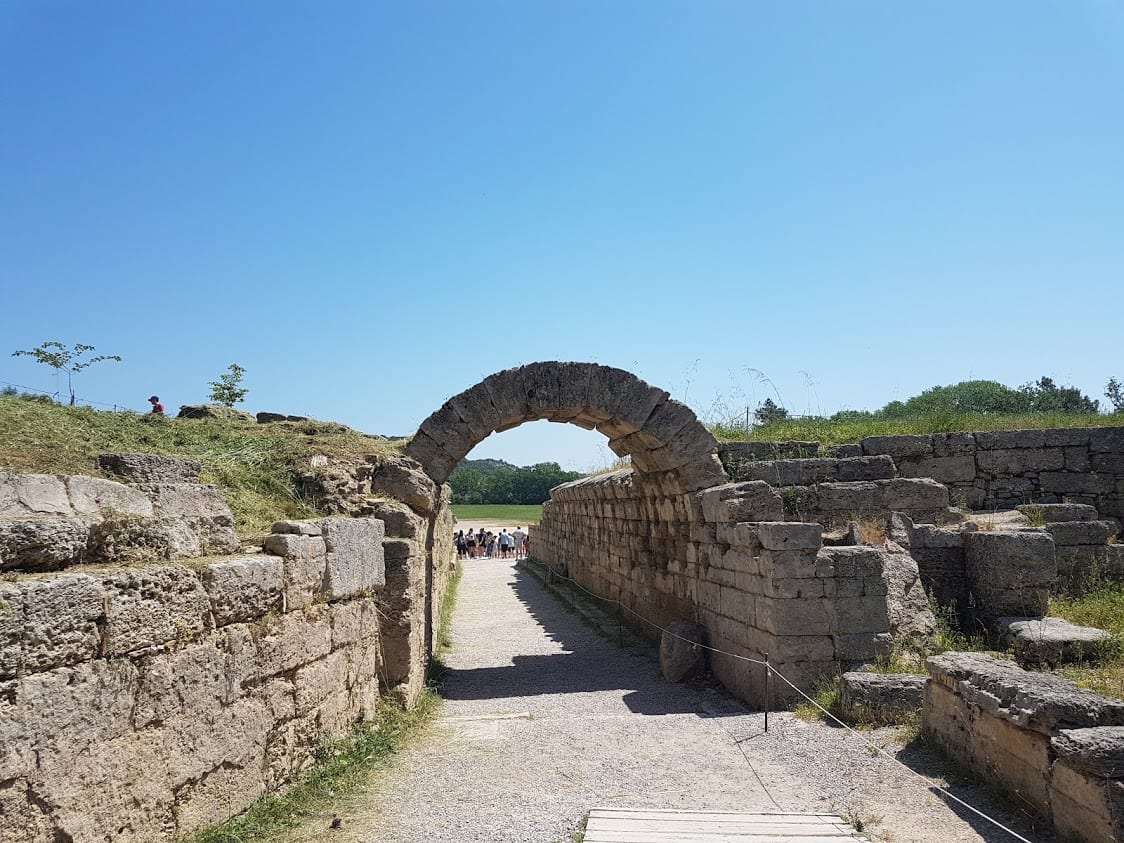 I'd suggest visiting Olympia first, and then the smaller Bassae site on the way back, but you might want to swap it around if you are visiting during a time of year when site opening hours are shortened.
Olympia is located about 120 km northwest of Kalamata. This ancient sanctuary was home to the Olympic Games, which were held every four years from 776 BCE to 393 CE. Today, visitors can explore the ruins of the ancient stadium, the Temple of Zeus, and the Temple of Hera, among other impressive structures. The Archaeological Museum of Olympia is also a must-visit, as it houses some of the most significant artifacts from the site.
After exploring Olympia, you backtrack a little to the Archaeological Site at Bassae of Phigaleia, which is located about 90 km away from Kalamata. This ancient site is home to the Temple of Apollo Epikourios, which was built in the 5th century BCE and is considered one of the best-preserved ancient Greek temples in existence. It's also one of the least known UNESCO sites in Greece.
Day Trip To (but not quite in) Mani Peninsula
Porto Kagio, on the very southern end of the Mani peninsula in the Peloponnese is a little too far away to make on a day trip from Kalamata. If you really want to 'do' the Mani region, you'll need a couple of days at least.
You can read about my experiences here: Mani road trip
However, you can visit some beautiful towns on the edges of the Mani and get back to Kalamata in one day. Driving a loop to take in Kardyamyli (where the author Patrick Leigh Fermor lived), Areopoli and Dilos caves, Gythion, as well as Vathia (stone houses) is just about possible as a self-driving day trip from Kalamata – but it will be a full on day!
Kalamata day trip to Tiryns and Mycenae UNESCO Site
These are two separate archaeological sites, located quite close to each other, and are listed together as part of the UNESCO World Heritage List. Tiryns is an ancient Mycenaean fortress-city which was founded in the 13th century BC and is located just outside of Nafplion.
Mycenae, 20 kms further up the road, is one of the most important archaeological sites in Greece as it was once home to of legendary King Agamemnon. Here you can explore the royal palace and tombs, including the famous "Treasury of Atreus".
These two sites are a must-see for anyone interested in Greek history, making them an ideal day trip from Kalamata.
Day trip from Kalamata to Nafplio
It takes about 1 hour and 45 minutes to drive from Kalamata to Nafplio. This means you'll end up doing quite a bit of driving, but if you can't stay a night or two in Nafplio, then this is a great way to experience the beauty of the city and its surroundings.
Nafplio is a picturesque port town located at the eastern side of the Peloponnese. It was Greece's first capital after independence from the Ottoman Empire and has maintained much of its original beauty throughout centuries. Nafplio Old Town is a great place to wander around, with its narrow cobblestone streets, picturesque squares, and impressive fortresses.
Most people will spend the day exploring the city, walking through its charming alleyways, soaking up some sun on the beach or walking up to the top of the fortress with views that go on forever!
Read more: Things to do in Nafplio
Kalamata to Mystras Day Trip
Mystras (another UNESCO site!) is a fortified town built more or less on the slopes of Mount Taygetos in the Peloponnese, and it's a great day trip from Kalamata.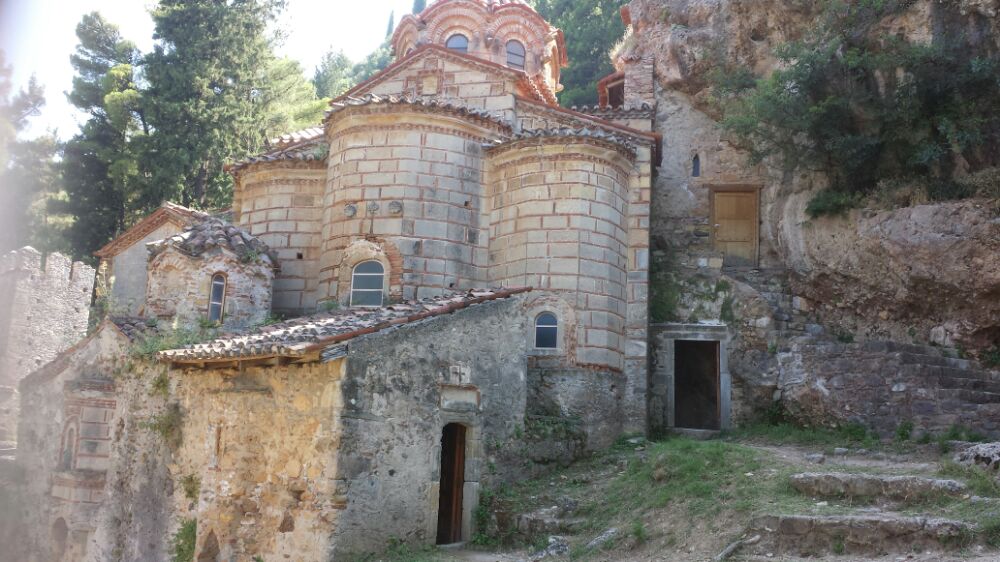 The ruins of Mystras are an incredible sight to behold – well preserved Byzantine churches, monasteries and palaces that have been frozen in time since being abandoned in the 14th century. If you're a fan of architecture, then this is a must-see destination on your trip to Greece.
Read more here: Mystras in Greece
Ancient Messene Trip
While this site isn't on the UNESCO list, you'll be amazed that it isn't. Messene is one of the most important archaeological sites in Greece. This ancient city still has impressive remains to explore, including temples, theaters and fortifications. And, it's a huge site!
If there was a best kept secret of the Peloponnese, I'd say that Ancient Messene is it!
Find out more here: Ancient Messene
Other places a bit too far for day trips
You might see some other attractions mentioned in the Peloponnese such as the castle town of Monemvasia, Elafonisos, Patras, and Epidaurus. In my opinion these are just a little too far to be visited on a day trip from Kalamata. If you are spending more time in the Peloponnese and can make a road trip though, be sure to add these places to your travel itinerary!
Read more: Best Places to Visit in the Peloponnese
Side trips from Kalamata Greece FAQ
If you're planning to spend a few days in Kalamata in the Peloponnese area of Greece, these questions and answers might be useful reading:
Is Kalamata worth a visit?
Kalamata is definitely worth a visit! It is a beautiful coastal city in the Peloponnese area of Greece, and the gateway to some of the most important archaeological sites in all of Greece.
Where in Greece is Kalamata?
Kalamata is a city located in the Peloponnese region of Southern Greece. It lies along the Messenian Gulf, and has a population of around 65,000 people.
Does Kalamata have an airport?
Yes, Kalamata has an airport. The Kalamata International Airport serves the region with domestic and international flights to major Greek cities and a few international destinations.
Can I visit Ancient Olympia from Kalamata?
Yes, you can visit Ancient Olympia from Kalamata. While it does take a little over 1.5 hours to drive from Kalamata to Ancient Olympia, it's one of the best day trips from Kalamata you can go on.
What is the best time of year to visit Kalamata?
The best time of year to visit Kalamata is from May to September. During this time, the weather in the region is warm and sunny, making it a great choice for those looking to relax and explore the region. Due to its southern location, Kalamata also make a good off-season destination as the weather stays warmer for longer.
---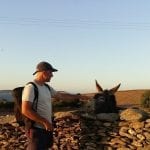 –
Dave Briggs
Dave is a
travel writer
based in Athens, and is one of the most widely read travel bloggers in Greece. In addition to writing these ideas for day trips to take from Kalamata in the Peloponnese of Greece, he's written many more travel guides with inside tips to destinations all over Greece. Follow Dave on social media for travel inspiration from Greece and beyond: