50 Quotes about Greece for Greek culture lovers and vacation dreamers. Inspiring Greece quotes from the best Greek philosophers, writers and poets.
Greece Quotes
It took me five years of living in Greece, but finally, I put together a collection of the best quotes about Greece!
These quotes have been chosen from Greek philosophers, as well as writers and travelers who found themselves on Greek shores.
As with any good sayings, these Greece quotes make you think on many different levels.
Sure, you'll think of Greece (at least I hope so!), but you'll also think about life and your place in the universe – just as any Greek philosopher would!
50 Quotes About Greece
Greece – The feeling of being lost in time and geography with months and years hazily sparkling ahead in a prospect of inconjecturable magic
– Patrick Leigh Fermor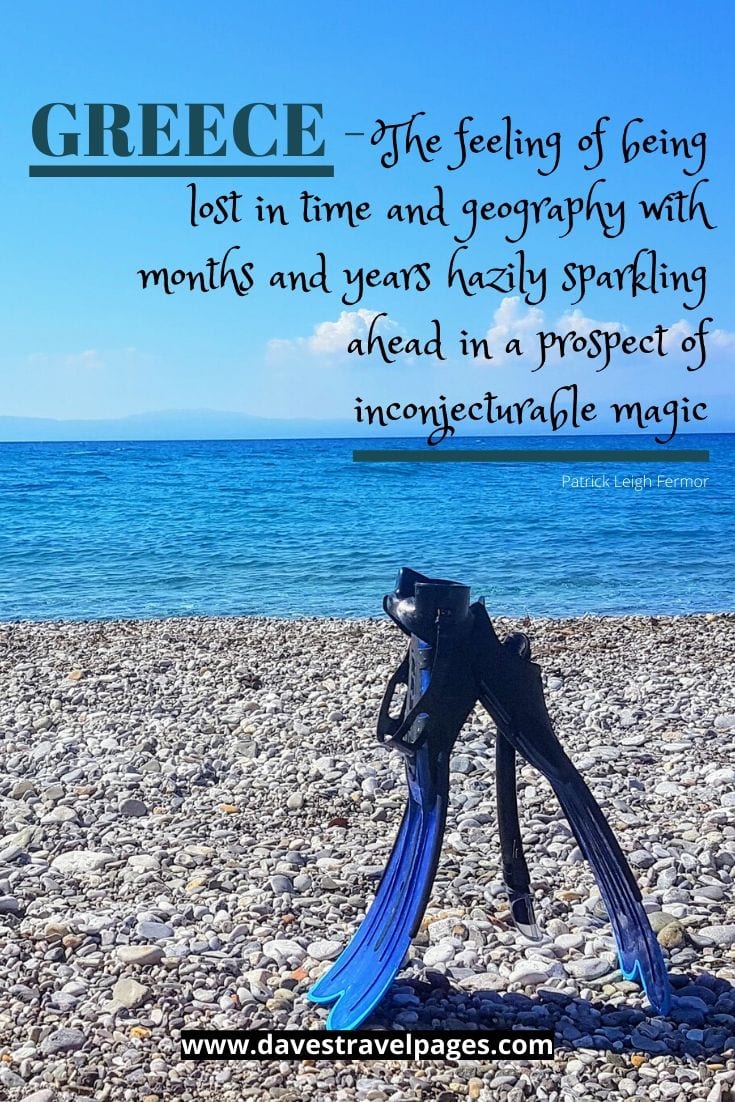 ---
Happy is the man, I thought, who, before dying, has the good fortune to sail the Aegean sea.
– Nikos Kazantzakis, Zorba the Greek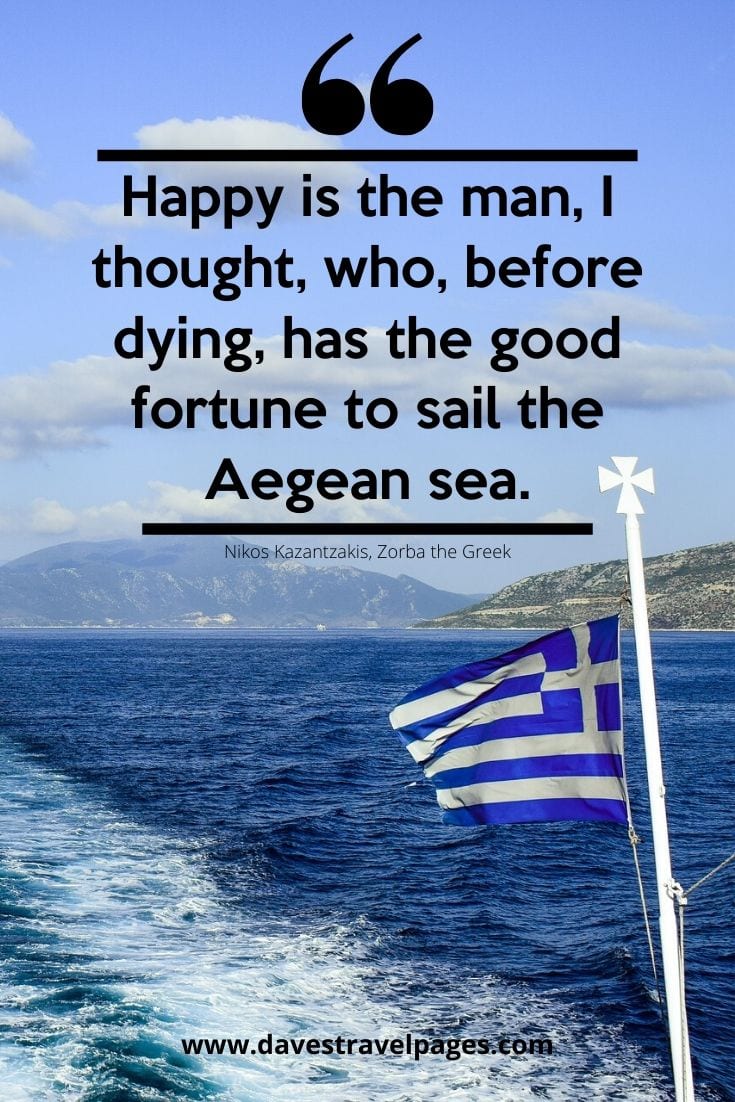 ---
"On a summers night, I have sat on the balcony drinking Ouzo, watching the ghosts of Greek Heroes sailing past, listening to the rustle of their sail cloths and the gentle lapping of their oars…and lain alongside Pythagoras watching him study the myriad of triangles in the constellations twinkling above us."
– Phil Simpkin
---
The ancient Oracle said that I was the wisest of all the Greeks. It is because I alone, of all the Greeks, know that I know nothing.
– Socrates
---
Greece is a good place to look at the moon, isn't it
– Kari Hesthamar
---
You don't develop courage by being happy in your relationships everyday. You develop it by surviving difficult times and challenging adversity.
– Epicurus
---
If I'd been born in ancient Greece, I'd worship Zeus and Aphrodite
– Richard Dawkins
---
I want to have an 'Eat, Pray, Love' experience where I drop off the face of the planet and move to Greece.
– Jennifer Hyman
---
There is only one good, knowledge, and one evil, ignorance
– Socrates
---
I want to see the Parthenon by moonlight
– Daphne Du Maurier
---
For the wise is easy to go anywhere. Because the whole world is home for a good soul.
– Democritus
Related: Weekend Vibes Captions
---
Want to turn your Greek vacation dreams into reality? Sign up for my free travel guides to Greece below. I'll show you where to travel in Greece, how to get there, and when to go!
Related: Best time to go to Greece
Greek Quotes
Here's the next selection of quotes about Greece. We hope you love them as much as we do!
We must free ourselves of the hope that the sea will ever rest. We must learn to sail in high winds.
– Aristotle Onassis
---
Everything flows
– Heraclitus
---
In many ways we are all sons and daughters of ancient Greece.
– Nia Vardalos
---
There was never a genius without a tincture of madness
– Aristotle
---
Since we cannot change reality, let us change the eyes which see reality.
– Nikos Kazantzakis
---
There is nothing permanent except change
– Heraclitus
---
As you set out for Ithaca, hope your road is a long one, full of adventure, full of discovery.
– Konstantinos Kavafis
---
Athens, the eye of Greece, mother of arts and eloquence, native to famous wits.
– John Milton
---
How great are the dangers I face to win a good name in Athens.
– Alexander the Great
Also read: 100+ Captions About Athens
---
Inspiring Quotes About Greece
Have you visited Greece, and if not, where would you like to go? You've probably heard of the glamorous islands of Mykonos and Santorini, but there's a lot more to Greece.
From the magnificent landscapes of Meteora to the quiet islands such as Schinoussa and everything in between, Greece has something for everyone!
Which reminds me, I've got a great list of Santorini quotes and Santorini Instagram captions here.
I felt once more how simple and frugal a thing is happiness: a glass of wine, a roast chestnut, a wretched little brazier, the sound of the sea. Nothing else.
– Nikos Kazantzakis, Zorba the Greek
---
If you go back to the Greeks and Romans, they talk about all three – wine, food, and art – as a way of enhancing life.
– Robert Mondavi
---
The Greeks had invented democracy, built the Acropolis and called it a day.
– David Sedaris
---
Nature does nothing without purpose or in vain
– Aristotle
---
Death does not concern us, because as long as we exist, death is not here. And when it does come, we no longer exist.
– Epicurus
---
Greece was a muse. It inspired creativity in magical ways that I can't even begin to understand or explain.
– Joe Bonamassa
---
Man is the measure of all things
– Protagoras
---
The less you want, the richer you are. The more you need in order to be happy, the more miserable you'll be.
– Yanni
---
Knowledge creates happiness
– Plato
---
There are two kinds of people. Greeks, and everyone else who wish they was Greek.
– My big fat Greek wedding
Check also: Out list of Mykonos Quotes and Instagram Captions
---
Quotes for lovers of Greek culture
I have always been consumed with one desire; to touch and see as much as possible of the earth and the sea before I die
– Nikos Kazantzakis, Zorba the Greek
---
We are what we repeatedly do. Excellence, then, is not an act, but a habit.
– Aristotle
---
Beware the barrenness of a busy life
– Socrates
---
I hope nothing. I fear nothing. I am free.
– Nikos Kazantzakis
---
The best things in life, the very best things happen unexpectedly
– Mamma Mia! Here We Go Again
Related: Mamma Mia Church in Skopelos
---
Educating the mind without educating the heart is no education at all
– Aristotle
---
For persuasion, reasoning is far stronger than gold
– Democritus
---
Reach what you cannot
– Nikos Kazantzakis, Report to Greco
---
There are no such things as the Elgin Marbles
– Melina Mercouri
---
Never start a job, a battle, or a relationship, if the fear of losing overshadows the prospect of success.
– Aristotle Onassis
---
Top Greece Quotes
Here's our final selection of the best quotes about Greece. We hope you've enjoyed them so far. Feel free to share them on Pinterest so that others can also be inspired!
Of all things which wisdom provides to make life entirely happy, much the greatest is the possession of friendship
– Epicurus
---
All you need is passion. If you have a passion for something, you'll create the talent.
– Yanni
---
It's not what happens to you, but how you react to it that matters
– Epictetus
---
Happiness depends upon ourselves
– Aristotle
---
Do not spoil what you have by desiring what you have not; remember that what you now have was once among the things you only hoped for
– Epicurus
---
The beginning is the most important part of the work
– Plato
---
The unexamined life is not worth living
– Socrates
---
A man needs a little madness, or else… he never dares cut the rope and be free
– Nikos Kazantzakis, Zorba the Greek
---
Give me a word, any word, and I'll show you that the root of that word is Greek
– Every Greek, ever
---
It's all Greek to me!
– Everyone who's tried to learn Greek!
---
"My childhood in Corfu shaped my life. If I had the craft of Merlin, I would give every child the gift of my childhood."
― Gerald Durrell
Inspiring Travel Sayings and Quotes
Take a look at these other collections of short quotes for even more travel inspiration!:
Best Greece Travel Guides
Planning a vacation in Greece soon? Check out my most popular Greek travel guides:
If you enjoyed these famous Greek quotes, you might also like to read some of these most commonly asked questions and answers:
What is a famous Greek quote?
'Know thyself' is a popular quote that was one of the original Delphic Maxims. It's been used throughout history as a reminder to think deeply about one's own character and behaviors.
What is Greece famously known for?
Greece is known as the birthplace of democracy, and the ancient Greeks also made important contributions to literature, philosophy, theater and mathematics. Today, Greece is well-known for its impressive archaeological sites, beautiful islands, stunning landscapes, delicious Mediterranean cuisine, and unique art and architecture.
Who are the most quoted Greek philosophers?
The most influential and widely-quoted ancient Greek philosophers are Socrates, Plato, and Aristotle. These three figures laid the groundwork for a great deal of Western thought and are widely quoted in the fields of philosophy and political science. Other well-known and quoted philosophers from Greece include Epicurus, Thales, and Democritus – all of which have made significant contributions to the field.
What was ancient Greece like?
Ancient Greece was a vibrant society, with a strong emphasis on art, literature, philosophy, and science. Its citizens lived in city-states that were often in competition with one another. Greek culture was highly advanced for its time, and the Ancient Greeks are credited with many inventions and innovations such as the Olympics, democracy, and even theatrical performances. Ancient Greek culture has had a lasting impact on art, architecture, literature, and politics to this day.
This article listed a collection of 50 inspiring quotes about Greece, reflecting the unique culture and life of the Greek people. It features quotes from famous writers and travelers, covering topics such as excellence, habit, fear, wanderlust, and the beauty of the Greek islands. The quotes provide insight into why people love Greece, from its laid-back atmosphere to its age-old culture.
---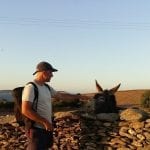 –
Dave Briggs
Dave is a
travel writer
originally from the UK who now lives in Athens, Greece. As well as putting together these quotes on Greece, he's written hundreds of travel guides and blog post insights to do with Greece. Follow Dave on social media for travel inspiration from Greece and beyond: