This travel guide shows how to get from Athens to Kalamata by bus, plane and car. Find the best way to get to Kalamata from Athens and other essential travel information.
How to get to Kalamata in Greece
If you are sure you've heard the name "Kalamata" before, you are absolutely right. This small city in the Peloponnese of Greece is famous for its olives – Kalamata olives! But that's not the only reason to visit.
The coastal city of Kalamata in the Peloponnese is a popular holiday destination. Loved by locals and foreign tourists alike, it has great weather, a laid back atmosphere, and an amazing food scene. There's a lot to see and do here, covered in my guide: Things to do in Kalamata.
Kalamata is also a good base from which to explore other parts of the Peloponnese. From the city, you can make day trips to significant archaeological sites, check out Venetian castles, and of course chill out on miles upon miles of some of the best beaches in Greece.
But first, you have to get to Kalamata!
Where is Kalamata?
Kalamata is the second biggest city in the Peloponnese after Patras. It is located to the south of the Peloponnese, right on a long stretch of sandy beach, at the foot of Taygetos mountain.
Kalamata is approximately 3 hours away from Athens, and 3 hours away from Patras by road.
How to get to Kalamata from Athens by car
If you have a chat with a Greek, you will immediately realize that the Athens – Kalamata route wasn't always a straightforward trip. In fact there were times when it seemed more like an epic journey!
Things have changed though, and a tollway was recently completed. This means you can now drive from Athens to Kalamata in less than 3 hours.
In terms of navigation, Google maps works perfectly, and is probably more up to date than printed maps because of the relative newness of the completed toll road.
One thing that you will probably find annoying is the number of toll stations along the way. The total cost on the Athens to Kalamata route is just under 15 euro at the time of writing.
The toll stations accept debit and credit cards, but we use it as an opportunity to get rid of our small change!
Related: Pros and cons of road trips
Driving from Athens to Kalamata
About an hour away from Athens, you will pass by the Corinth canal. Have a short break to stretch your legs and take some photos – the canal is really fascinating! There is an archaeological site as well, but in all honesty it is not the most spectacular in Greece.
Instead, on your way to Kalamata, consider stopping at Mycenae or Epidaurus – or perhaps both. These two are among the best archaeological sites in Greece!
Inside Kalamata, parking is very straightforward, and driving around the city was really easy. That said, everything is walking distance, so you won't really need your car too much if you want to explore the city.
Buses from Athens to Kalamata
Another way to get from Athens to Kalamata is the bus. If you are travelling on your own, this will work out much cheaper than renting a car. A one way ticket is about 25 euro, whereas a return ticket is 43 euro.
Buses from Athens to Kalamata depart from Kifissos bus station. These long-distance, privately-run buses are called KTEL. You can book your tickets in advance, and find all other relevant information here.
The Athens to Kalamata bus should take about three hours, though it will generally depend on traffic and road conditions. The bus station in Kalamata is opposite the food market, very close to the historical centre.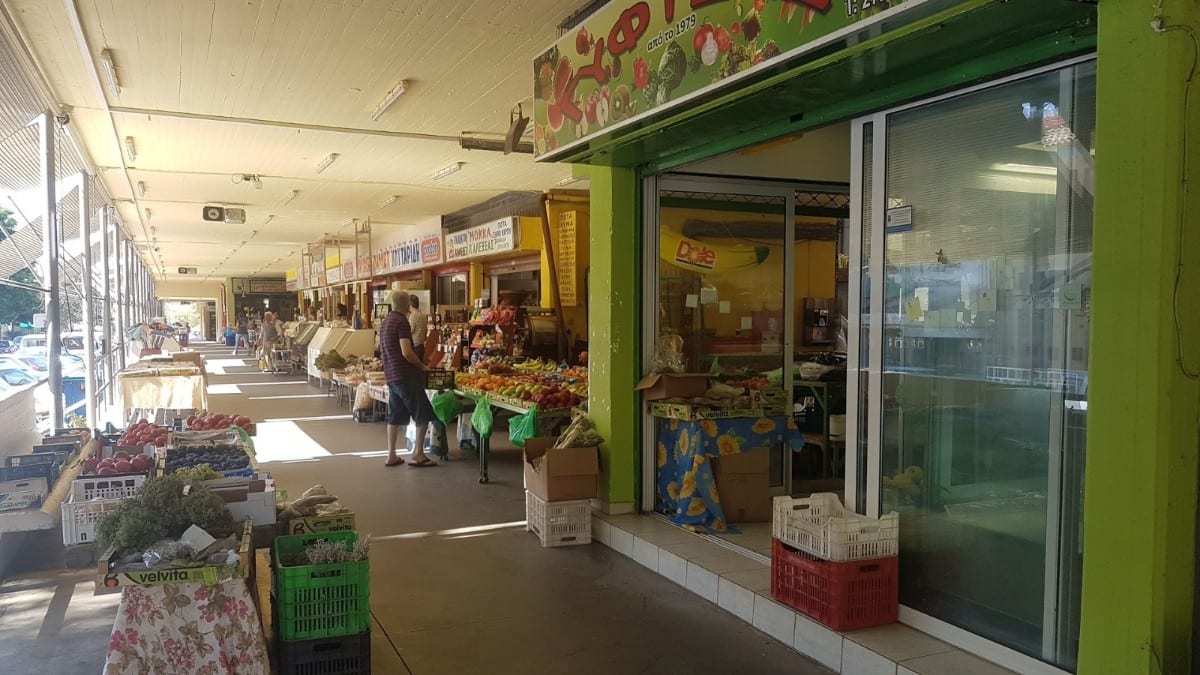 Flights to Kalamata
Kalamata does have an airport, and so flying is a good option for some people. In fact there are several direct international routes, including flights to Kalamata from London. There's also a popular Manchester to Kalamata route.
Other big cities with direct flight connections to Kalamata include Paris, Vienna, Amsterdam, Moscow, Frankfurt, Zurich, Milan and many more. So if you want a weekend break somewhere warm, Kalamata is a perfect choice!
Note that in winter, there are very few international flights to Kalamata. There are plenty in spring, summer and autumn however.
Athens to Kalamata flights
If you don't have a direct flight to Kalamata, you might be thinking that you could land at Athens airport, and jump onto another flight from there. Unfortunately, that won't work. In the past, there used to be Athens to Kalamata flights, but not anymore! The only direct flights within Greece are to and from Thessaloniki.
If you do decide to land at Athens airport, you'll need to use the bus option to get to Kalamata after you land. The X93 bus leaves from Athens airport and takes you to Kifissos bus station in about an hour. The price at the time of writing this travel guide was 6 euro.
Also read: Advantages and Disadvantages of Traveling by Plane
Taking the train from Athens to Kalamata
Good luck with that! There once was a train connection from Athens to Kalamata, with a stop at Corinth. This route ceased functioning well over a decade ago, though there may be future plans for an Athens Kalamata train connection. Watch this space!
How to get from Athens to Kalamata FAQ
Travelers planning an itinerary in Greece which includes travel from Athens to Kalamata often ask questions similar to:
Is Kalamata worth visiting?
Kalamata is an interesting place to spend time. It has lovely stretches of beaches, vibrant nightlife, and cultural places of interest.
Is Kalamata close to Athens?
The driving distance between Athens and Kalamata is about 148 miles or 238 km. The travel time by car is approximately is about 2 hours and 30 minutes.
Are there cheap flights to Kalamata from Athens?
There are currently no flights between Athens and Kalamata airports.
How frequent are the Kalamata bus services from Athens?
There are 48 buses per week traveling from the capital of Athens and on to Kalamata. They leave roughly every four hours.
What is the quickest way to travel between Athens and Kalamata?
Driving is the fastest means of transport from Athens to Kalamata, and takes about 2.5 hours.
Have you been to Kalamata, and how did you get there? If you drove, what did you think of the highway? Let us know in the comments!
You might also be interested in these other travel guides: