While renting a car in Mykonos will enable you to explore more of the island, people staying in Mykonos for just a couple of days will not really need a rental car.
Do you need a rental car in Mykonos, Greece?
Mykonos, with its stunning beaches and vibrant nightlife attracts millions of tourists every year. If you're planning on being one of them, you might be wondering what is the best way to get around Mykonos.
The answer to this really depends on where you plan to stay in Mykonos, how many days you have, and what you want to do when there.
Most visitors to Mykonos tend to stay just a couple of days. During this time they might explore the Old Town, take a trip to Delos, see the sunset at Little Venice and check out a few of the beaches.
If this sounds like you, then the only time you might need access to a car would be to go to some of the Mykonos beaches, but even then you could get a taxi or a bus.
So, if you're planning on spending two or three days in Mykonos, you probably don't need to rent a car.
If you staying more days though, having a car can be a great idea. This way you can see the sunset at Armenistis Lighthouse, and spend time at more remote beaches in Mykonos like Fokos Beach.
Find car rentals in Mykonos at: Discover Cars
Pros and Cons of Renting A Car In Mykonos
The question then – Should you rent a car during your stay on Mykonos, or rely on public transportation or taxis? Here's a look at the pros and cons of renting a car in Mykonos, so you can make an informed decision.
Pros of Renting a Car in Mykonos:
1. Freedom to explore: Renting a car gives you the flexibility to explore Mykonos at your own pace. You can take detours and visit isolated spots that public transportation might not cover. I discovered many great beaches this way!
2. Discover hidden gems: With a car, you can venture off the beaten path and uncover some of the most beautiful hidden beaches and scenic landscapes. This made my trip more unique and memorable.
3. Visit famous beaches with ease: Mykonos has quite a few gorgeous beaches like Elia, Psarou, and Super Paradise Beach, which are more accessible with a car.
4. No waiting around for taxis or buses: With a rental car in Mykonos, there's no time wasted waiting for a taxi to turn up or a bus to arrive. You are in total control of your own sightseeing itinerary!
Cons of Renting a Car in Mykonos:
1. Parking difficulties: I found parking to be quite a hassle, especially during peak tourist season. It can be challenging to find spots close to popular attractions and accommodations. Good luck trying to park anywhere near the Mykonos windmills at night!
2. Expense: Renting a car in Mykonos can be expensive, especially during peak season. If you're only visiting for a short time, it might not be worth the money.
3. Limited availability: Mykonos is a much smaller island than people realize, and so the number of cars and ATVs to rent are quite limited. In August, car rentals in Mykonos might be very hard to find.
4. Narrow, winding, and steep roads: Be prepared for narrow, winding, and steep roads that can be challenging to navigate, particularly if you're driving for the first time in Mykonos.
Alternative Transportation Options:
1. Public buses: Mykonos has a well-established network of public buses that can take you to many popular destinations around the island.
2. Taxis: Taxis are also available but be prepared to wait in long lines, especially during peak season. I suggest pre-booking taxis in Mykonos for trips to the airport or ferry port.
3. Tours: Taking a tour can actually be a pretty good way of getting around Mykonos and seeing the main places of interest. Viator have a great selection of day tours to choose from.
Tips on Renting a Car in Mykonos:
Plan ahead and book your rental car as early as possible. I recommend Discover Cars to start looking for Mykonos car rental offers.
Ask about parking options at your hotel before renting your car. If you're staying in the Old Town of Mykonos parking will be a nightmare!
Be mindful of the narrow, winding, and steep roads of Mykonos. These can be challenging to navigate, especially if you head out to some unsealed tracks.
Ensure that you have adequate auto insurance coverage to protect you in case of an accident.
Read this guide about renting cars in Greece before you go!
Latest Posts:
---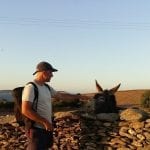 –
Dave Briggs
Dave is a
travel writer
originally from the UK, and now lives in Athens Greece. As well as creating this look at the pros and cons of renting a car on Mykonos island in Greece, he's written many more blog posts about hundreds more destinations in Greece. Follow Dave on social media for more Mykonos travel secrets: