The Museum of the Athens-Piraeus Electric Railways is a museum dedicated to the history of the Athens-Piraeus railway. Located in Piraeus railway station, it offers free admission, and is open Monday to Friday between 09.00 and 14.00. Read the full article below.
Electric Railways Museum of Athens Piraeus
Anyone with an interest in railways or the metro system in Athens should definitely pay the Museum of the Athens-Piraeus Electric Railways a visit.
Funded by the Retired Electric Railways Workers Union, and housed in the former post office of the Piraeus railway Station, it is a concept which keeps the culture and history of the railways alive.
Although I am not a train or railway fanatic myself, my time spent in India travelling by train has given me an appreciation for how railways around the world have what you might call a unique ecosphere.
Products are made specifically for the railways, the stations have a unique rhythm and pattern of life, and there is a structure and organisation which makes it almost like a self-supporting industry.
Museum at Piraeus Railway
The Museum of the Athens-Piraeus Electric Railways does an excellent job in bringing together all manner of artefacts and exhibits. This helps to keep the history and culture of the railways alive.
Even the tiny things, like the way tickets have developed over the years, or how there are specific buttons for the uniforms have great historical value. This is a place to be treasured.
Most of the exhibits are marked in Greek, but there are two extremely helpful brochures in English which help to explain the place for foreign visitors.
One gives an overview of the Museum of the Athens-Piraeus Electric Railways itself, whilst the other describes in detail the exhibits by documenting each one. In short, this is probably the best laid out, displayed, and explained museums in Athens.
No photos allowed
There is a downside though. No photos are allowed inside. This is my pet hate when it comes to visiting museums, and I don't understand the logic behind it.
In a world where social media helps get the word out about places and increases visitors, you would think it would be encouraged. After chatting with one of the people who worked there, he said I could use some of the images from their website, which I have done here.
In conclusion, I really recommend the Museum of the Athens-Piraeus Electric Railways as a place to visit. If you are taking the metro to Piraeus and have some spare time, it is certainly worth taking a look around.
I visited the Museum of the Athens-Piraeus Electric Railways as part of my project to visit every museum in Athens. For a full list of museums in Athens, click here – Complete List of Museums in Athens.
You might also be interested in:
---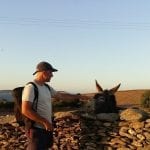 –
Dave Briggs
Dave is a
travel writer
originally from the UK who has been living in Athens, Greece since 2015. As well as creating this guide to the Museum of the Athens-Piraeus Electric Railways, he's written hundreds of other travel guides about Athens and other destinations all over Greece. Follow Dave on social media for travel inspiration from Greece and beyond: