A genuine and realistic guide on what to see and do with 2 days in Athens. This is the exact itinerary I used when my brother, nephew, and niece came over to visit me in Athens recently. It was their first time in Athens, and so I wanted to show them the parts I considered to be important, without blowing their minds completely. If you are researching what to see and do in 48 hours in Athens, read on for more…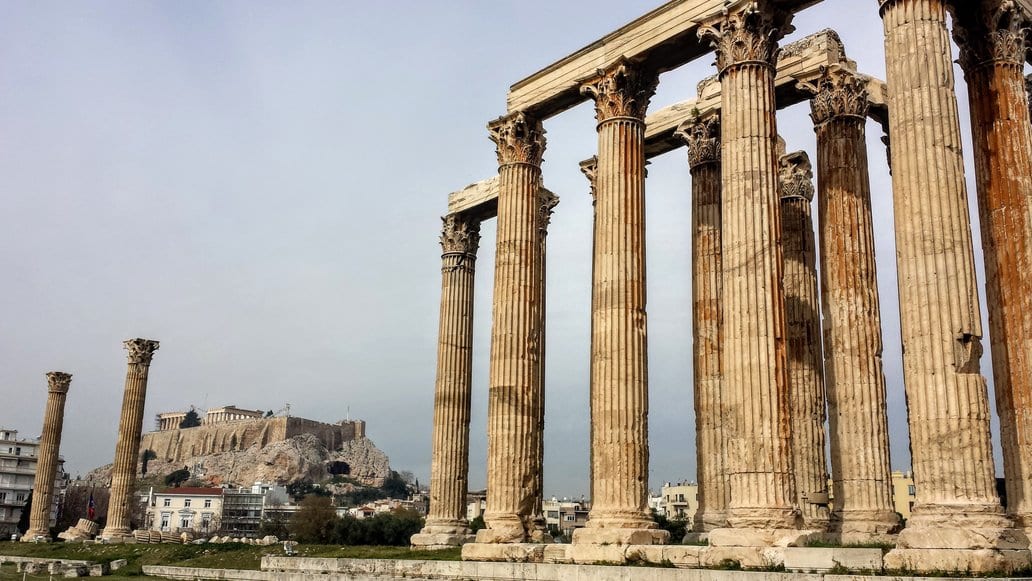 2 Days in Athens
As regular readers may know, I have been living in Athens for little over two years now. Although I by no means claim to be an expert on the city, I know enough to put together a nice little itinerary of things to see and do with 2 days in Athens. So, when some of my family came over to visit, it was time to put those plans into practice! It was obvious that they would would to see the main places during 2 days in Athens such as:
The Acropolis and Parthenon
The Ancient Agora
Monastiraki Square
The Temple of Zeus
Panathenaic Stadium
The Acropolis Museum
Planning an Itinerary for Athens
This is where reality struck though. I mean, you can sit on your arse anywhere in the world, and make a list of the top 10 things to see and do in Athens. There is a massive difference between making a list, drawing up an itinerary, and then applying it though. Especially when there are two kids, jet-lag, and some catching up to do! This then, is an itinerary resulting from what we actually did. It is a genuine and realistic guide on what to see and do during 2 days in Athens, taking in most of the main highlights. If you are visiting Athens for a couple of days with kids, it might also prove to be very useful.
What to See and Do in 48 Hours in Athens Day 1
(Eventually left the apartment at 10.15 after trying to get everyone moving, caught the metro, and arrived at Syntagma metro stop)
Syntagma Square – Bought a koulouri or two from the seller opposite the entrance, and had a look at the square. Explained that this is where the majority of the political protests and demonstrations take place. Obligatory photo by the fountain, and then walked up the stairs for photos of the Parliament Building. Crossed the road, and found a good position to see the changing of the guards.
Changing of the Guards –  The Tomb of the Unknown Solider is positioned just in front of the Parliament Building. This is guarded day and night, by two Evzone guards. On the hour, every hour, the guards change and is a spectacle not to be missed! We were there at 11.00 on a Wednesday. On Sundays at the same time, the ceremony is a hugely elaborate affair. If you have 2 days in Athens, and one day is a Sunday, be sure to plan your day around this!
Panathenaic Stadium – (Arrived 11.25) Being a sport family, my brother and the kids wanted to see the Panathenaic Stadium, which hosted the first modern Olympic Games in 1896.  The walk from the Tomb of the Unknown Soldier took five or ten minutes. You can pay to go inside the stadium and visit the small museum there. We decided against this due to time constraints, so took our photos, and walked on.
The Temple of Zeus – (Arrived 11.45) Some people decide not to include this temple on their 2 days in Athens things to see list, but I think that's a mistake. To me, it is one of the more impressive temples in Athens. It may not be complete, some of the repair work may be questionable, but the sheer size of the columns is amazing. Additionally, you get a good view of both the temple and the Acropolis in the background if you choose your angle wisely!
Hadrian's Arch – (Arrived 12.05) This is located just outside of the Temple of Zeus, and is on the walking route to the Acropolis. A quick pit-stop here.
Ice Cream Break – (12.15) After crossing the road, and heading to the Acropolis, it was time for an ice cream break. In all honesty, this area doesn't sell the best ice cream in Athens, but it was on the way!
Acropolis and Parthenon – (Arrived 12.30) I would normally suggest avoiding this time of day during the hot summer months, but in February with 22 degrees, it was fine. For some reason, they are now operating two entrances to the Acropolis complex. The first area gives access to the lower slopes, and includes the Theatre of Dionysus, and the Odeion of Herodes Attikus. The Odeion is actually my favourite part of the Acropolis complex. We then had to exit the complex and walk a couple of hundred metres to another entrance to walk up to the Acropolis itself.
It goes without saying, that you have to include visiting the Acropolis and Parthenon on a 2 days in Athens tour itinerary! In a way, I always find it more impressive looking up at the Acropolis and Parthenon than being on the top of it. It seems each time I visit, there are more cranes and scaffolding. Of course, there are parts of it which are amazing such as the Erechtheion. The views out over Athens are also amazing. If you are interested in having a guided tour of the Acropolis, you can find out more here – Acropolis Guided Tours.
Roman Agora – (14.00) I wanted to leave the Ancient Agora until the next day, but knew we would have time to visit the much smaller Roman Agora before lunch. The Temple of the Winds has also been refurbished there, or at least that is what it looked like. Unfortunately, the site was closed for an unspecified reason when we tried to visit. A shame, but it is there for next time.
Lunch – (Arrived 14.20) By this time everyone was very ready to eat! We headed to Psiri, where there is a nice square with a number of tavernas and restaurants. This was a chance for a big meal and a chat, and also to rest the legs for an hour or so!
Market – By the time we left the restaurant, it was about 15.45. With a sunset at 18.00 in February, and the main sites on shorter opening hours (15.00), I decided to take them to the indoor market. I think it was an interesting experience for them to see the fish and meat on display, complete with entrails, eyeballs, and pigs heads! Opposite the indoor market, is the fruit and veg market, where Lauren picked up a bargain with some very tasty strawberries which we all enjoyed later!
Street Art and Shopping – I decided that we should go graffiti hunting next in the Psiri area, and loop back to where we had lunch. There is no real exact science to this – You basically head down any side street and alley, and hope you discover something interesting! I think we did pretty well, and there were a number of street art designs I hadn't seen before.
After the graffiti hunting was over, we looped back to Monastiraki station, where we spent some time wandering the side streets, looking in the shops. This is a good area to buy souvenirs and postcards if you are into that sort of thing.
Beer – (Arrived 17.01) My brother had spotted a happy hour 2 for 1 offer on the square where we had lunch, and so we headed back there. This was another chance for a catch up, and we also had a couple of games of cards. As I am still not drinking (coming up to four months now!), I enjoyed a coffee and a water!
Back home – (Arrived 20.00) We stopped of at a kiosk on the way back to the metro station to buy some snacks, and then headed back home. I think the kids were pretty tired at this point, so we watched a film, had a couple of games of cards, and called it a night!
What to See and Do in 2 Days in Athens Day 2
(Eventually left the apartment at 10.40 and took the metro to Monastiraki Station)
Breakfast – After looking for somewhere to eat, we settled for breakfast from a bakery on the square itself.
Ancient Agora – (Arrived 11.40) This was our 'main site' of the day. I have visited the Ancient Agora a number of times before, and have a more in-depth article about it here >> Ancient Agora Sightseeing Guide. We started off in the Museum of the Ancient Agora first, and then wandered through the archaeological site until we reached the Temple of Hephaistos. This is by far the best preserved temple in Greece. The Ancient Agora is one of my favourite places to visit in Athens.
Walk Around Acropolis – (Started 12.40) After leaving the Agora, we took the walk around the Acropolis along the mainly pedestrianised street towards the Acropolis Museum. This gave Lauren a chance to look at some of the handmade jewellery and other handmade crafts being sold.
Herakleidon Museum – (Arrived 13.00) These museum has two buildings, and we visited the 'Annex' building. This has a temporary exhibition being displayed until May 2016 called 'The Amazing Inventions of the Ancient Greeks'. It features machines based on Ancient Greek designs, revealing just how advanced our ancestors really one. I had visited this exhibition before in a different part of Greece, and in that one, there were a lot of 'hands-on' machines you could interact with. I thought this would be great for the kids, but unfortunately, there were no interactive displays or machines here which was a shame. From a personal point of view, visiting this museum was handy though, as I am going to write about it for my next #museummonday article, which is part of a project to visit all the museums in Athens.
Acropolis Museum – (Arrived 13.30) This museum gives a good overview of how the Parthenon and other parts of the Acropolis may have looked thousands of years ago. Many people claim this to be one of the best museums in Athens. I have a slightly different, more controversial opinion about it here – Acropolis Museum in Athens. Still, I think everyone enjoyed their time there, and of course, we also talked about the Elgin Marbles!
Lunch – (Arrived 14.40) We found a nice little restaurant called the Smile Family Cafe Restaurant near the Acropolis. Good service, and more genuinely priced than the restaurants on the main street near the Acropolis metro station! I also thought this might be a nice place to work from, so I may be return with my laptop at some point!
Walk Through Plaka – Leaving the restaurant after the meal and a few games of cards at 14.40, we then went for a walk towards and around Plaka. This is definitely the area to head to if you want to buy gifts for back home, and Steve ended up with a Greek flag for the bar back in England.
Hard Rock Cafe – (Arrived 18.00 ish) We finished off in the newly opened Hard Rock Cafe near Monastiraki Station. They do a range of food and beer, and it was a nice little venue. It's not exactly a traditional 'Greek' thing to do, but if you are into music and music memorabilia, it's certainly worth considering. What on earth a bass guitar from Wham was doing in there though, I have no idea!
And that, my friends, is the exact 2 days in Athens  itinerary we followed when my brother and kids visited. Could we have squeezed more in? Yes. Did we still get to see all the main sights? Yes. Does it leave plenty of things for them to see on their next visit? Yes it does, and they are welcome back any time!
If you are planning a trip to Athens, and are looking for where to stay, this blog post will be of great help. – Hotels Near the Acropolis in Athens.