The most beautiful islands in Greece for a romantic holiday include Santorini, Milos and Corfu. Here's the best Greek islands for couples!
Many islands could win the title of the best Greek island for couples. In this article, I've put together a list of perfect Greek islands that couples will love.
Most Romantic Greek Islands
I'm often asked about the most romantic Greek islands. It's a difficult question to answer, as all couples are different. As you can probably tell from the photo above!!
Some couples when planning a romantic trip to Greece prefer to take it easy and relax. Others come to Greece to visit the ancient sites.
Some travellers want to explore, hike and spend time on the spectacular beaches. There are also people whose main priority is to party and enjoy the nightlife.
Thankfully, Greece has dozens of islands for all tastes.
Personally, I feel that almost any of the Cyclades islands in Greece have that romantic edge to them, but before we jump on to the most romantic islands in Greece, here's a tip: There are several different groups of islands in Greece, all of which have their own 'feel'.
Here's an introduction to the Greek islands, to get you started.
And now, here's what I think are the best Greek islands for couples, to give you some ideas for a special trip in Greece.
Milos
– The ultimate Greek island for couples
Among Greeks, Milos has been known as a "couples island" for many years. You would expect that from the place where the statue of Aphrodite of Milos was found! It's only in the previous decade, however, that this Cycladic island has become an international sensation.
Thanks to its gorgeous beaches and otherworldly landscapes, Milos is the perfect island for couples who enjoy nature. You will find plenty of secluded coves to swim at, but also lovely sunsets and quaint fishing villages.
I have thoroughly enjoyed exploring this beautiful Greek island with Vanessa on many occasions. So much so, that we co-wrote a book about it! You can find it on Amazon here: Milos and Kimolos islands guidebook.
There's plenty to see and do in Milos, with world-famous beaches like Sarakiniko and Kleftiko. A Milos boat tour is ideal for couples who want to take it easy and adds an extra touch of romance to the vacation!
Feeling more adventurous? Visitors who like exploring will love driving around the rugged dirt roads and hiking on the numerous trails.
Even though Milos retains its wild, unspoiled character, there are plenty of options for boutique accommodation. Here is my guide on where to stay in Milos Greece.
Santorini
– Romantic sunset cruises and winery tours
For most foreign visitors, Santorini is the number one Greek island. It is famous for the wonderful volcano views, the white-washed villages, the Ancient site of Akrotiri, and its iconic black beaches.
Santorini is a truly unique place in the Cyclades. Couples love the romantic atmosphere, and the sunset views from the west side of the island, facing the volcano. Many people choose to get married in Santorini, or to spend their honeymoon here.
Some of the most popular Santorini day trips and activities include the amazing sunset cruises. Sailing around the volcano is an unforgettable experience! There is nothing better than cruising around the Aegean Sea with a relaxed meal and a glass of wine.
Speaking of wine, visitors also enjoy visiting the island's popular wineries. You can taste many of the island's distinctive wines, like Vinsanto and Assyrtiko. You can visit them independently, but couples often prefer an organized Santorini wine tasting tour.
All in all, Santorini is the perfect island for couples who want to enjoy their vacation on a cosmopolitan Greek island. As you would expect, there is plenty of luxurious accommodation for these special moments. Here is my guide on the best Santorini sunset hotels.
Just one tip: Before you book your trip to visit the volcanic island of Santorini, you should be aware that it is very popular. It attracts higher number of tourists than most other Greek islands, and is a stop for cruise boats.
Based on my personal experience, I suggest you visit Santorini outside the high season to avoid the crowds and the high prices. Then you will get to enjoy it more!
Mykonos
– Party like there's no tomorrow
Now every couple is different. Some couples are looking for quiet Greek islands for romantic holidays, while others prefer busier places.
When it comes to wild partying, nothing beats the original Greek party island, Mykonos. Its beach parties and nightclubs are world-famous, and everyone who wants to see and be seen has visited at some point.
We had the chance to visit Mykonos without the crowds. We absolutely loved the white sand beaches, and thought they are among the best beaches in the Cyclades, and the whole of Greece. No wonder Mykonos became so famous so many decades ago!
Its popularity further increased after the movie Shirley Valentine was filmed here in 1989, presenting the island in a romantic, laid-back light.
Most couples who visit Mykonos today are after a much different vibe. If your main interest is to party, socialize and enjoy a lively atmosphere, then Mykonos is a great choice. But that's not all – there are many more things to do in Mykonos.
You should know that Mykonos is one of the most expensive islands to visit in Greece. If you are looking for boutique hotels or luxurious villas with private pools, you will be spoilt for choice. Moreover, if you are looking for something more than a down-to-earth taverna, you will find several top-end restaurants.
Couples who want to visit Mykonos but aren't super keen on the wild party scene could consider visiting outside the peak season. Bonus – accommodation prices are typically lower before May or after mid-September.
Here is a guide on the best hotels on the beach in Mykonos, to help you choose.
Tinos
– A mix of pretty villages, iconic churches and Greek culture
Tinos seldom features in the lists of the best Greek islands for couples. It could be that people who write those lists have never been there!
This relatively unknown Cycladic island has been a popular destination for Greeks for many decades. This is because it is home to one of the most important churches in Greece, our Lady of Tinos. Pilgrims come from all around the Christian world to pay their respects. On 15th August, when the church celebrates, the island is packed with visitors.
Tinos is a wonderful island for couples who like visiting quaint villages and discovering local traditional Greek culture. You will find no less than 30 (!) villages with white-washed houses, spread all around the island. We loved walking around every single village and admiring the interesting architecture. In addition, Tinos has several excellent museums, which offer a glimpse of authentic Greek culture.
That is not to say that Tinos doesn't have great beaches – there are several of them, dotted around the coastline. Couples can enjoy quiet moments and swim in the crystal-clear waters. The island is also a paradise for hikers and climbers.
One thing Tinos isn't famous for is the nightlife. If you prefer all-day café-restaurants to late-night bars, you will agree that Tinos is an ideal Greek island for couples!
Note: Unlike some other islands, Tinos does not have an international airport. You can reach it by taking a ferry ride from either Athens or Mykonos.
Related: Best time to go to Greece
Crete
– The biggest Greek island
Couples who love exploring will fall in love with Crete. Greece's biggest island is an ideal destination for all sorts of travellers. You just need to pick the activities that appeal the most, depending on your style of travelling and the time you have.
The main cities in Crete are on the north side of the island. Heraklion and Chania are the biggest cities, and they both have ferry ports and international airports. Rethymnon and Agios Nikolaos are smaller and quieter. All these towns are ideal for couples to spend some time in. They all have a great mix of history, culture, shopping and fantastic food.
The south coast of Crete is more relaxed, with several smaller towns and villages. Some of the best beaches in Crete, such as the famous Elafonisi, can be found here. South Crete is great for couples who are looking to relax and enjoy some of the longest sandy beaches in Greece.
Crete is a fantastic destination for couples who are into ancient history. There are many historical sites to visit, and the fascinating site of Ancient Knossos, a few kilometres out of Heraklion, is a must-see. We have also enjoyed visiting Phestos, Gortyna and Matala – but there are many more minor archaeological sites in Crete.
When it comes to hiking, Crete has tons to offer. The most famous destination is the Samaria gorge. However, there are many more gorges, caves and nature reserves to explore.
All in all, couples who have a lot of time in their hands will fall in love with Crete. It is no surprise that many foreign visitors have made it their home, or got married here. It would take a lifetime to explore it properly, so the more time you have, the better!
Here is my comprehensive guide on Crete.
Corfu
– Cosmopolitan charm and unique architecture
Corfu, the second biggest Ionian island, is popular with couples who are after culture, cosmopolitan vibes and stunning architecture. During its rich history, it was occupied by the Venetians, the French and the British, which is evident when you are exploring the island.
The first place most people will visit is the Old Town of Corfu. This UNESCO World Heritage Site is full of impressive Venetian castles and neoclassical houses, as well as French and British palaces. There are also a few imposing churches, and several interesting museums within the main town. These include the fascinating museum of Asian Art and the Serbian museum.
Like most Greek islands, Corfu has its fair share of churches and monasteries. Apart from the churches in the Old Town, you should also visit the monasteries of Pantokratoros and Palaiokastritsa.
Couples who like exploring, will love the numerous small villages in Corfu. There are literally over a hundred towns and villages! Some of the most popular places to visit include Kalami, Afionas, Pelekas, Sokraki, Kaminaki and Palia Perithia.
In terms of nature, the large island won't disappoint. You will find beautiful beaches with crystal-clear waters. It is said that even people who live in Corfu haven't visited all the beaches! There is a large variety, from cosmopolitan, lively beaches to off-the-beaten-track coves and bays. Couples who are looking for romantic spots should venture to the west side of the island and enjoy the scenic sunsets.
Tip – Corfu is big. You could easily spend a week here and never run out of things to do and see. This is why so many expats have made it their home!
Ithaca
– For relaxed, laid-back holidays
Couples who are after relaxed, peaceful holidays might find Ithaca the perfect place. It is one of the Ionian islands, much less visited than its more famous sisters, Corfu and Zakynthos.
According to Greek mythology, Ithaca was the homeland of mythical Odysseus. It took him ten years to get back after the end of the Trojan War, but he insisted on returning. And once you visit, you will understand why.
Ithaca is a fantastically green island surrounded by crystal-clear water. When we drove around, there were whole areas that were fully covered with trees. In some cases, the pine trees go all the way to the beach.
The capital of the island, Vathy, sits in a gorgeous natural bay. The architecture is stunning, and there are a couple of nice museums. It is an ideal town for relaxed strolls and long, lazy dinners, or a couple of quiet drinks.
Apart from Vathy, most of the towns and villages in Ithaca are quite small. Couples will love the secluded coves and laid-back cafes. As for us, we had a lot of fun exploring what is thought to be the palace of Odysseus!
For more information, check my article on the best things to do in Ithaca Greece.
Skopelos
– The Mamma Mia island
Skopelos is a beautiful Greek island in the Sporades group. It's twice the size of the more easily accessible Skiathos, but it's equally famous. One of the reasons is the popular movie Mamma Mia, which was filmed here in 2007.
Couples who have been to the Cyclades will think that Skopelos is in a different country! Two-thirds of the island are covered by pine trees, in stark contrast with the lovely blue sea. There is a variety of beaches for all tastes, from sandy to pebbly, from cosmopolitan to secluded.
You can enjoy the traditional architecture in many towns in Skopelos, especially Chora and Palio Klima. In addition, there are plenty of churches, chapels and monasteries you can visit. Quaint villages, ancient ruins and a Venetian castle complete the picture. You'll also want to visit the Mamma Mia chapel of course!
Skopelos has several romantic spots, such as the quaint Loutraki port town, where you can sit and watch the sunset. Early birds can climb up to the castle in Chora, to enjoy a unique sunrise. If you like outdoors adventures, you will find plenty, like kayaking, snorkelling and hiking.
All in all, Skopelos is ideal for relaxed, romantic holidays, while offering plenty of activities. It's one of the best choices for couples holidays to Greek islands. Take a look here for where to stay in Skopelos.
Rhodes
– Medieval history, nightlife and a gorgeous coastline
Rhodes is Greece's fourth biggest island, in the group of islands called the Dodecanese. It is famous for its medieval town, a UNESCO World Heritage Site, but also for its vibrant nightlife. Couples who like sandy beaches will be spoilt for choice all around the island.
Rhodes Old Town is one of the most impressive towns in all of Greece. The Knights Hospitaller ruled the island from the 14th to the 16th century. They built a large castle, which still stands tall and attracts thousands of visitors every year. It's a very romantic attraction, especially if you use your imagination!
There are many other places of interest in Rhodes. Most people will visit the ancient sites of Lindos and Kameiros, as well as the Valley of the butterflies.
This beautiful island is full of pretty beaches. Some of the best-known beaches in Rhodes include Anthony Quinn Bay, Tsambika, Glyfada, Afantou, the remote Prassonisi and the stunning town beach, Elli. You will find plenty of watersports and other activities on many of them.
Rhodes is also famous for its wild nightlife, especially in the seaside towns of Faliraki and Ialyssos. Young couples will enjoy the crazy vibe and the inexpensive prices. People who are not interested in partying, can have relaxed drinks or listen to live Greek music in the Old Town.
With an exceptionally warm climate, Rhodes is home to hundreds of expats. Some of them came for a holiday and returned to live here forever. All in all, it's an excellent choice for couples who want to enjoy a lively, cosmopolitan Greek island.
Romantic Greek islands
And the best island in Greece for couples is…
As you can see from the above, there is no single best Greek island for couples! It all depends on what you are looking for. My favourite is Milos, which has just the right combination for Vanessa and myself.
Which Greek island is your favourite? I'd love to know, so leave a comment below.
FAQ About which Greek island is the best
Readers looking for a romantic getaway when visiting Greece often ask questions similar to:
What is the best Greek island for hiking?
The Cyclades islands in Greece have a good reputation for their well-marked hiking paths and trails. The island of Andros in particular stands out as being a good island in Greece for hiking.
Which are the best Greek islands for families?
The larger islands of Crete and Naxos are perhaps the best destinations in Greece for families. They have a lot of variety, infrastructure, great beaches, and there are plenty of friendly people who speak English!
Where are the best Greek islands to live on?
The islands in Greece which are popular places to move to include Crete, Rhodes, and Corfu. They have large communities of non-Greeks who have decided to make these islands their new home, and they are also good islands to live on all the year around.
Which is the best Greek island for older couples?
Almost any island in Greece is suitable for older couples, although the party islands of Mykonos and Ios might be best avoided in August if you want a quieter, laid-back vacation!
Which part of Greece is best for couples?
In terms of a vacation, the Greek islands such as Milos and Santorini offer the most romantic destinations. For creative couples though, Athens might be a good place to visit as there is a very happening arts and music scene.
---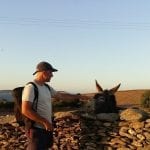 –
Dave Briggs
Dave is a
travel writer
living in Athens, Greece. In addition to creating this travel guide about the best islands in Greece for couples, he's also written hundreds more travel guides about Greek island hopping and destinations throughout the Greek mainland. Follow Dave on social media for travel inspiration from Greece and beyond: