Looking for warm weather and fewer crowds for an October getaway? The weather in Greece in October is perfect for off season travelers looking to soak up the last sun of the year!
This guide to the weather in Greece in October will help you decide if visiting in Autumn is for you. Discover if the October weather in Greece is good enough for swimming, outdoor activities, and more!
Before I leap in with the article, I should mention that the photo above was taken in October in the Peloponnese. So yes, you can swim in Greece in October!
When to visit Greece
While most people visit Greece in the summer season, there are an increasing number of visitors that prefer to explore the country during less popular seasons.
There's several reasons for this. For some, the peak temperatures of summer are simply too hot. For others, the numbers of tourists in August is too overwhelming.
As such, the visiting Greece in the shoulder seasons is becoming more popular. This leads on to travelers wondering if the weather in Greece in October is good, and whether they will enjoy their time here.
On a side note, if you happen to be in Greece on 28th October, look out for the student parade happening in pretty much every place in Greece, to celebrate the Ohi day You will see parades and Greek flags pretty much everywhere – the biggest ones are in Athens and Thessaloniki.
Weather in October in Greece
To be fair, the month of October in Greece is a little tricky when it comes to weather. It can be warm and sunny, but it can also be gray with some rainfall.
Depending on where in Greece you want to go to, you might experience temperatures from 25 C / 77 F to under 10 C / 50 F.
The short answer is that yes, October is a great month to visit Greece, however if you want to spend most of your time on the beach, you might have to reconsider.
This article will help you decide if the October Greece weather is for you.
Weather in Athens in October
If you are only visiting Athens, and are interested in sightseeing, museums, shopping and food, October is generally a good choice. You will probably get a bit of rain, but average temperatures will be pleasant overall.
October in Athens is an interesting time, as life is back to normal after the long summer. There will be many events happening, and fewer tourists, as the cruise boat arrivals fade away.
There are still some cruise boats coming into Pireaus, the port of Athens though. Their passengers generally visit the Acropolis and perhaps the Acropolis Museum, and the majority of them leave to go back to the boat by the late afternoon.
This means the city is at its quietest in the afternoons, however some archaeological spaces may also close early. They normally go back to winter schedule (8.00-15.00 or 8.00-17.00) at some point in October.
As for hotels in Athens in October, you will find that you have a lot more choice than if you come in summer, and prices go down. So if you want to visit Athens and budget is a concern, coming over in October will work in your benefit.
Related post: The best time to visit Athens.
Weather in Meteora in October
One of Greece's most popular destinations, Meteora, is in the region of Thessaly, a few hours away from Athens. As such, the weather can be very different from the weather in Athens in October.
All in all, you should expect pleasant temperatures, but it can get windy and possibly rainy. Generally speaking, you should aim to visit in early October if you can.
Hint: Bring a windproof – waterproof jacket, just in case.
The best thing about going to Meteora in October is that you will be able to skip the crowds visiting in summer. There's also going to be plenty of affordable hotels in Meteora around.
Related Posts: Meteora day trip from Athens, Visit Meteora
Weather in Delphi in October
Ancient Greece's "navel of the world", Delphi, is one of the most important UNESCO sites in Greece.
As the ancient site is up on Mount Parnassos in mainland Greece, the weather will be a little colder than in other places. That said, you are very likely to have sunny days when visiting Delphi in October.
Check the official website for information on opening hours, as it varies: Delphi Opening Hours
If you stay around Delphi overnight, consider the village of Arachova. It's a very pretty place, with great tavernas and food.
Temperatures at night will fall well below 10C / 50F though,and it will be rather damp, so make sure you bring some warm clothes.
Related Post: Visiting Delphi
Weather in Thessaloniki in October
The second largest city in Greece, Thessaloniki, is a unique destination that many visitors have never heard of.
If you are specifically interested in Byzantine monuments, or if you want to visit a city in Greece which is not Athens, Thessaloniki is one of the best choices.
With a relaxed pace and fantastic food, it's a great weekend break – or you can spend several days if you have time.
Although weather in Thessaloniki in October can get a little rainy and damp, this shouldn't stop you from visiting. The city is fully alive, the museums are amazing, and as the city is right on the coast you can enjoy views of the Mediterranean at any time.
With plenty of affordable accommodation to choose from, such as this lovely apartment, Thessaloniki should be on your list of places to see in Greece.
Related post: How to get from Athens to Thessaloniki
Weather in Santorini in October
The Mrs and I visited Santorini in October/November 2015, and the weather was really amazing. Although neither of us felt a compelling urge to swim, the temperature was very pleasant and our hike from Fira to Oia was most enjoyable.
In my opinion, going to Santorini in October is actually a great choice. Although there are still several cruise boats arriving on the island, there will be fewer people staying overnight in Santorini.
Most of the tourist businesses, such as hotels and restaurants, will still be open. Accommodation prices will be much lower than in summer – they could be half price, or even less. Take a look here – Santorini sunset hotels.
Given that Santorini's beaches do not rate highly compared to other beaches in Greece, you should really consider visiting Santorini in October.
This island in the Cyclades has lots more than the beaches to offer, and you could also take one of the most popular day tours, such as a wine tour or a volcano tour.
In terms of getting to Santorini from Athens in October, it might be best to fly, as getting there on a high-speed ferry will not be pleasant if it gets very windy.
Related post: How to get from Athens to Santorini
Weather in Mykonos in October
Mykonos is well-known to be a party island, with most of the wildest parties happening in summer.
If you are going to Mykonos in October, don't expect any of this atmosphere – in fact, parts of the island begin shutting down for winter. There are still cruise boats coming in though, so don't expect to be on your own.
If you want to go to Mykonos for the beaches, you will find that they are nowhere near as crowded as in summer. That said, the weather will not be too warm, and many people would find it too cold to swim.
So in this case, October might not be the best time to visit Mykonos, and you should consider going in September instead.
As for hotels in Mykonos in October, they will generally be much better value than in August, and you will be able to book accommodation even last minute.
All in all, if you are just curious to visit Mykonos but swimming or party life are not priorities, October is a good time to visit. You can also visit Delos archaeological space, which should still be open until the end of October.
The best way to get to Mykonos in October would be either by plane or ferry – there are several ferries and highspeed ferries departing on a daily basis from Rafina and Pireaus to Mykonos.
Related Post: How to get from Athens to Mykonos
Weather in Naxos in October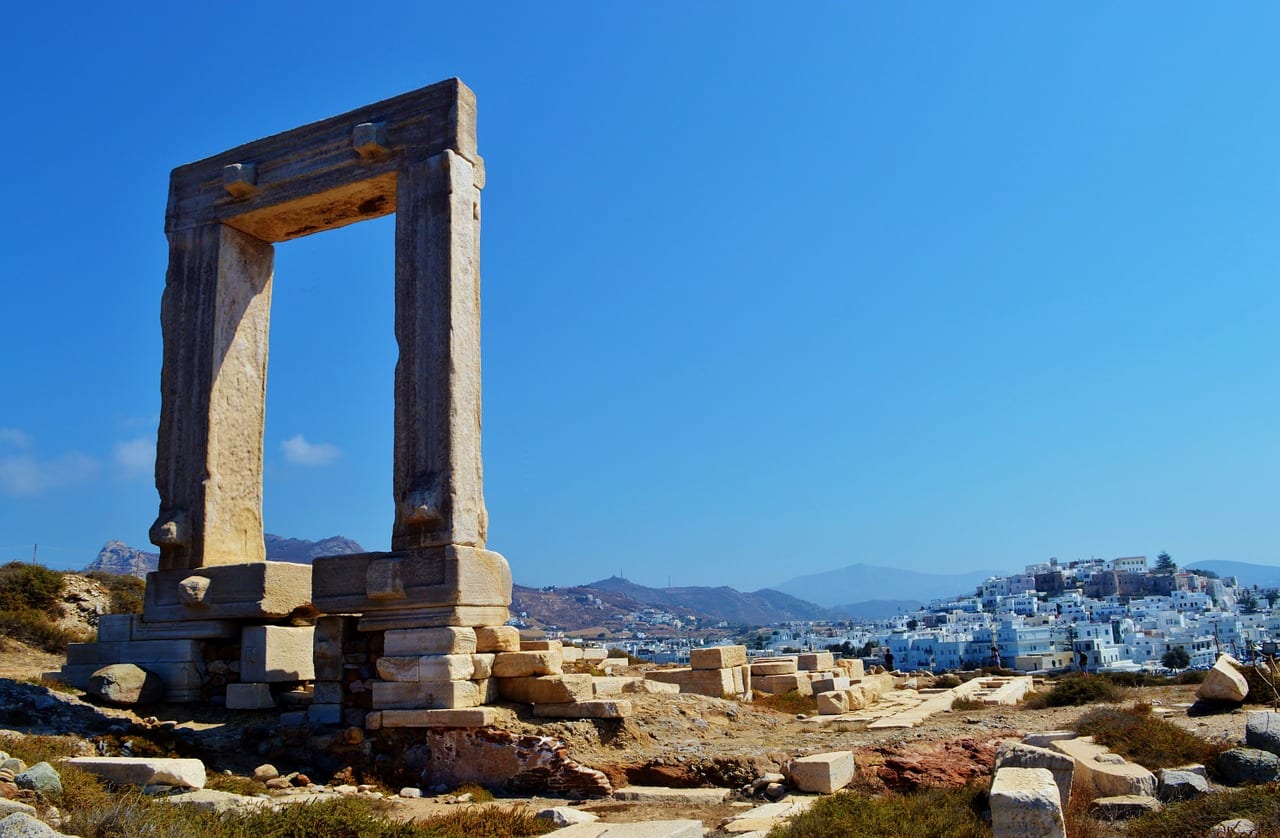 Just like in Mykonos and Santorini, the weather in Naxos in October might be very variable. Though a swim cannot be guaranteed on the amazing Naxos beaches, the weather on the island should still be pleasant.
As there are many mountain villages to explore, visiting Naxos in October can be a very rewarding experience.
Naxos made it on my list of top islands in Greece to visit in October.
Related Post: Things to do in Naxos
Weather in Milos in October
Similarly to the other Cycladic islands mentioned above, Milos is best visited when the weather is slightly warmer.
If you visit Milos in October, you should still be able to go on a sailing trip around the island. Whether it's warm enough to swim at one of the beaches in Milos depends on your tolerance to cold.
At the same time, you will get to experience an upcoming Greek destination at a relaxed time of the year, so if you are looking for authenticity, Milos in October is a good choice.
Related Post: Milos Travel Guide
Weather in Crete in October
Crete is one of the best Greek destinations to visit in October. With the majority of the tourist crowds and cruise boats gone, you are likely to have some of the beaches and archaeological sites to yourself, especially if you go down south.
If you are after crazy parties and nightlife you might not find exactly what you want, but there are plenty of bar and restaurant options that are open all year round in the main cities on the north – Chania, Rethymno, Heraklion, Agios Nikolaos and Sitia – and in many other areas on the island.
Unlike smaller places like Mykonos or Milos, Crete is still very much alive in October. With a population of roughly two thirds of a million people, living mostly in the bigger cities, it will not disappoint you.
Make sure you have enough time to explore the island – though in our experience time spent in Crete is never enough!
Related posts: Crete Travel Blog, Best time to visit Crete
Weather in Rhodes in October
If you aim to go swimming during your visit to Greece in October, Rhodes is one of the safest choices. With a highest temperature at around 25C / 77F during the day and only 5 rainy days on average, it is one of the most pleasant destinations in Greece in October.
The Rhodes weather October allows many locals swim all year round, so if you are coming from a cold country you will love the weather.
In terms of sightseeing, restaurants and accommodation, you will find that things are quite relaxed in Rhodes in October. Though a few places might close down for winter during October, there will be plenty of other choices.
It might be best to stay in Rhodes town, rent a car and explore the island in your own pace, without the hordes of other tourists visiting in summer.
Weather in the Peloponnese in October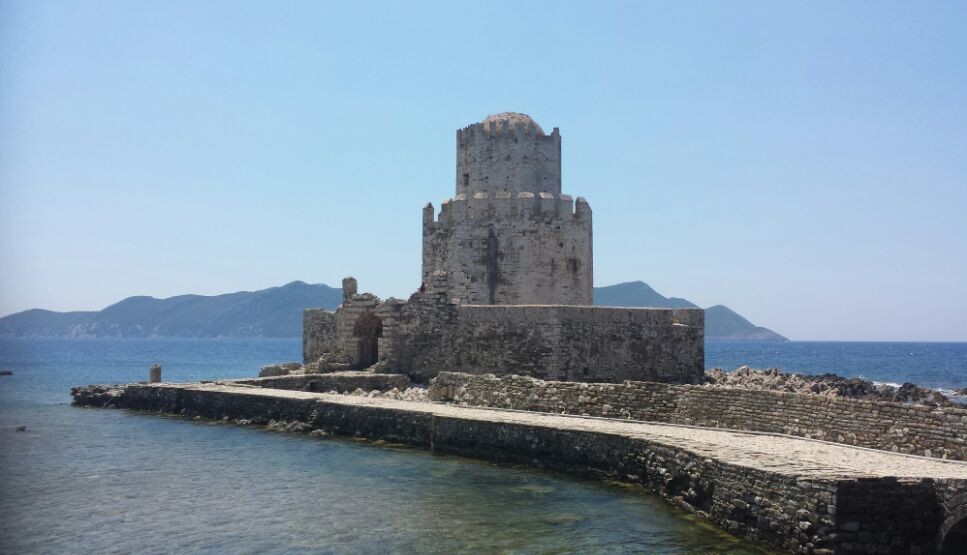 The Peloponnese, one of our favourite areas in Greece, is a great choice if you are going to Greece in October. It offers many different landscapes and experiences to choose from.
There are never-ending sandy beaches, small coves, rocky mountains, ancient sites in the middle of nowhere, rivers, lakes, monasteries, and so much more – the Peloponnese is one of the richest areas in Greece in terms of culture and landscape diversity.
As you can imagine, the weather in the Peloponnese in October can be quite variable. The southern towns and beaches will overall have higher temperatures, and many locals in Kalamata or Finikounda swim all year long. At the same time, mountainous areas and cities at an altitude will be quite cold.
If you are planning to explore the Peloponnese in October, bring a range of clothes to suit all weathers, and don't forget an umbrella or a weatherproof overcoat.
In 2017, we enjoyed great weather during October in the Peloponnese, and had plenty of swims throughout our road trip itinerary. Will 2019 be the same? Watch this space!
Related Post: Things to do in the Peloponnese
Verdict – Should I visit Greece in October?
There is only one correct answer to this – yes, by all means come to Greece in October! Chances are that you will get at least a few pleasant days in Greece in October, just brace yourself for the occasional storm and generally colder weather. All in all, make sure you have some warm clothes with you, but bring your swimsuit just in case.
Remember that the weather is generally warmer in the areas down south, especially the Greek islands such as Crete, Rhodes, and the Peloponnese. At the same time, don't dismiss destinations like Milos and Mykonos, as you will get the chance to see a more authentic side to them, without thousands of tourists.
Further reading: Best places to visit in Europe in October and best time to visit Europe.
Greece Weather in October Frequently Asked Questions
These are some of the most asked questions about visiting Greece during the month of October, and some answers that may help you plan your trip.
Is October a good month to go to Greece?
Generally speaking, the shoulder seasons are the best time to visit Greece which means that October is a great month to travel to Greece.
Is it still warm in Greece in October?
The average high-temperature, in October, in Athens, Greece, is 23.5°C (74.3°F), while the average low-temperature is 15.9°C (60.6°F). The islands have more or less the same temperatures, meaning it is still nice and warm in October.
Is October a good time to visit Athens?
The best time for sightseeing in Athens is during months with milder weather such as October. The temperatures are much more pleasant in October when climbing up the Acropolis.
Is Corfu still hot in October?
The weather in Corfu, Greece, is moderately hot. Average October temperature measures between 23.2°C (73.8°F) and 13.4°C (56.1°F).
How is Crete in October?
The autumn begins in Crete in October, and so some precipitation can be expected, and on occasion the rainfall will be heavy. Generally though, the temperatures are pleasant and warm and the sun shines for of the most days. Sea temperatures are still very pleasant at around 23°C, meaning it's still nice to swim.
Free Greece Guides
Signup using the form below to receive awesome free guides which will help you plan your trip to Greece in October or any other month of the year!
Pin this guide to the weather in Greece in October
I'm pretty certain this pin would look amazing on one of your Pinterest boards! Feel free to add it, and then you or others can come back to this post on October weather in Greece for later.
Also read:
---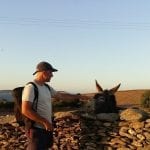 –
Dave Briggs
Dave is a
travel writer
based in Greece As well as creating this guide to what weather to expect in Greece in October, he's also written hundreds more travel guides to Greek destinations. Follow Dave on social media for travel inspiration from Greece and beyond: