These happy journey quotes are perfect for wishing someone Bon Voyage on their next trip. 50 of the most inspiring and best happy journey quotes in one awesome collection!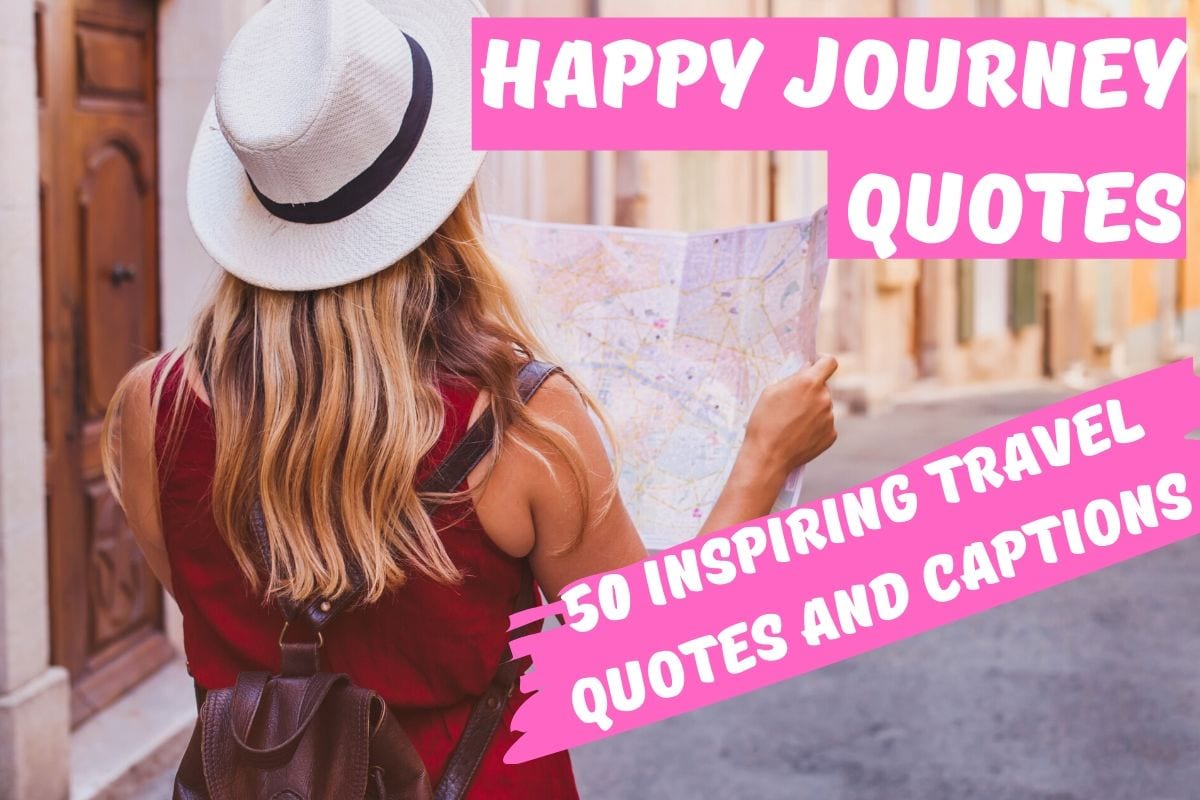 Happy Journey Wishes
Our collection of 50 of the best happy journey quotes is ideal for wishing someone happy travels.
Whether it's a friend leaving to live overseas, a son or a daughter on a gap year, or work colleague taking a sabbatical to travel the world, wish them well with one of these travel quotes!
---
"All journeys have secret destinations of which the traveler is unaware."
– Martin Buber
---
"No place is ever as bad as they tell you it's going to be."
– Chuck Thompson
---
"If you think adventure is dangerous, try routine, it's lethal"
– Paulo Coelho
---
"The world is waiting for you. Good Luck. Travel Safe. Go!"
– Phil Keoghan
---
"Beautiful girl, take care of yourself. No-one else knows what your soul needs."
– Aston G
---
"The farther you go, however, the harder it is to return. The world has many edges, and it's easy to fall off."
– Anderson Cooper
Related: Summer vacation quotes
---
"The more you weigh the harder you are to kidnap. Stay safe. Eat cake."
– Unknown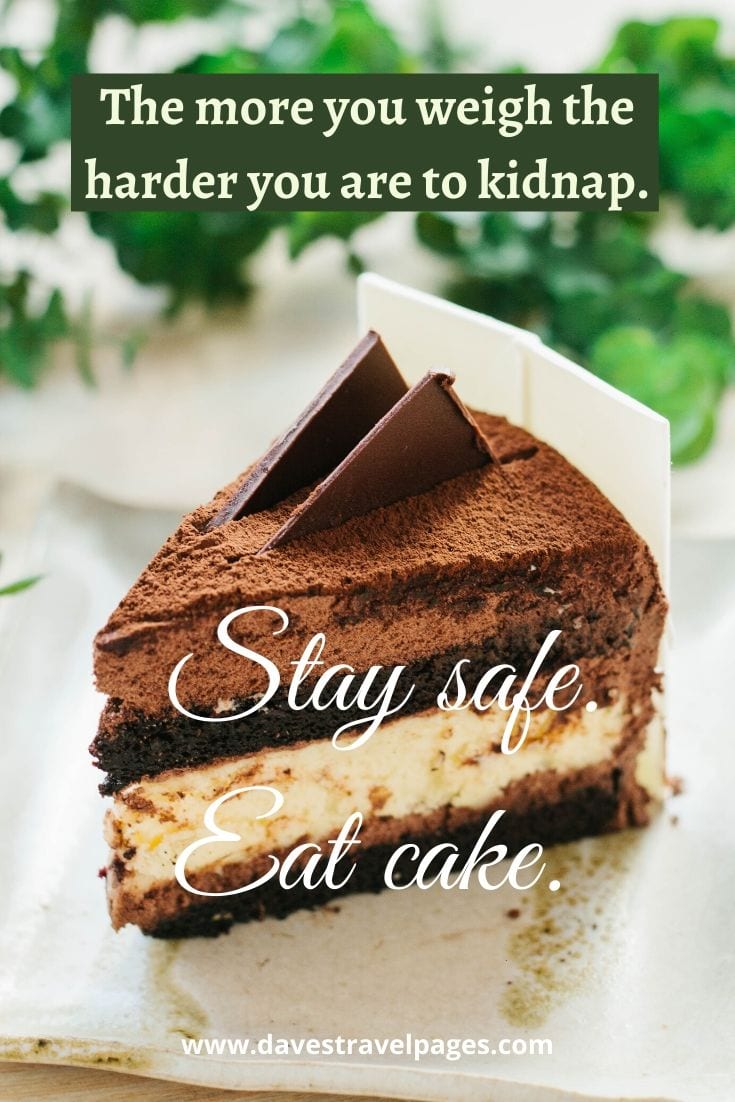 ---
"Wherever you go, go with all your heart."
– Confucius
---
"Man cannot discover new oceans unless he has the courage to lose sight of the shore."
– Andre Gide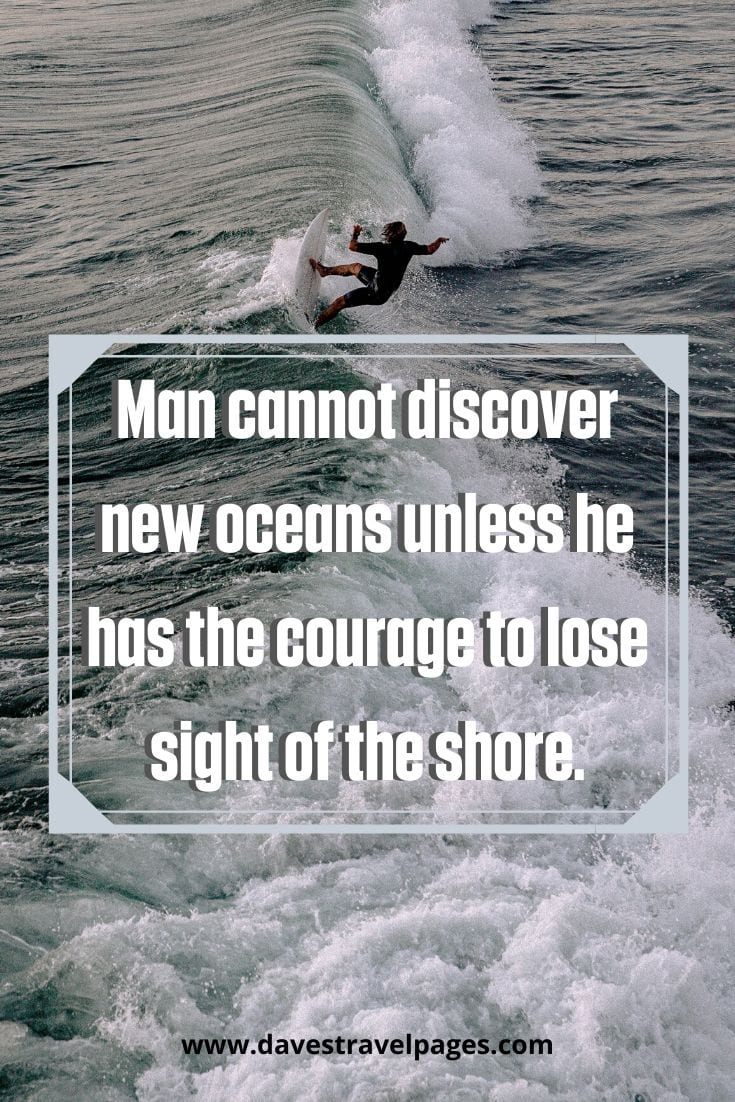 ---
"A ship in a harbour is safe, but that is not what ships are built for."
– John A. Shedd
---
Safe Journey Wishes
If you are looking for some simple but lovely sentences to wish someone a safe and happy journey, take a look at the following:
Have a wonderful trip, make amazing memories, and stay safe and well!
May the journey create sweet memories. Return Safely!
Life is either a daring adventure or nothing at all.
Wishing you a very happy journey. Miss you already!
Be happy and safe journey!
Safe travels my wonderful friend!
Meet wonderful people, make great memories, and stay safe and sound
Have a safe ride and happy trip
Have a pleasant journey there and back again
The world is a book, and those who do not travel read only one page. Time to write your own amazing stories!
We travel not to escape life, but for life not to escape us. Have the happiest journey!
God bless and have an amazing time!
---
Quotes about taking a journey
How do you wish someone a happy journey? Perhaps one of these travel quotes or sayings is perfect for the job!
No matter if you know someone going on a short trip or an epic around the world travel adventure, it's always nice to wish someone safe and happy travels!
"Great things never came from comfort zones."
– Anonymous
---
"Everything you want is on the other side of fear."
– Jack Canfield
---
"I wandered everywhere, through cities and countries wide. And everywhere I went, the world was on my side."
– Roman Payne
---
"Fill your life with experiences, not things. Have stories to tell, not stuff to show"
– Unknown
---
"A man travels the world over in search of what he needs and returns home to find it."
– George Augustus Moore
---
"Everything will be alright in the end so if it is not alright it is not the end."
– Deborah Moggach
---
"Adventure is worthwhile."
– Aesop
---
"Stop worrying about the potholes in the road and enjoy the journey."
– Babs Hoffman
---
"A journey is best measured in friends, rather than miles."
– Tim Cahill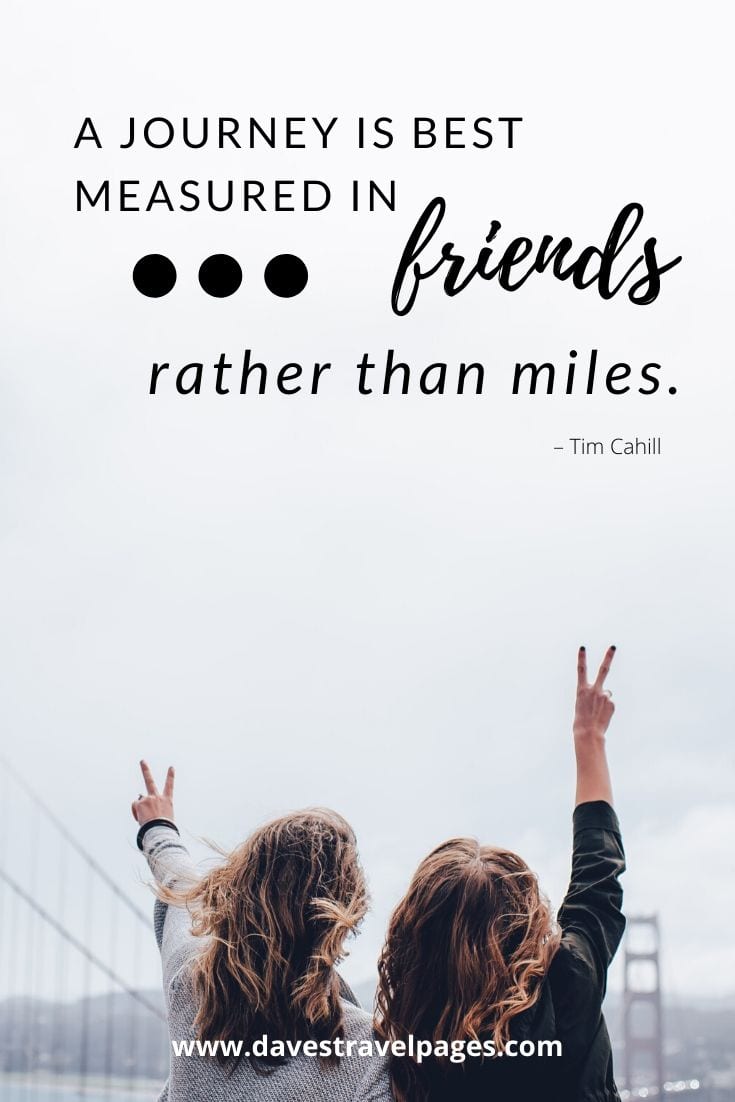 ---
"To travel is to take a journey into yourself."
– Danny Kaye
---
Safe Journey Quote Collection
If you've enjoyed these happy travel captions so far, feel free to pin them to your Pinterest boards.
That way, other people may also be inspired to travel and see more of our beautiful world!
"Every day is a journey, and the journey itself is home."
– Matsuo Basho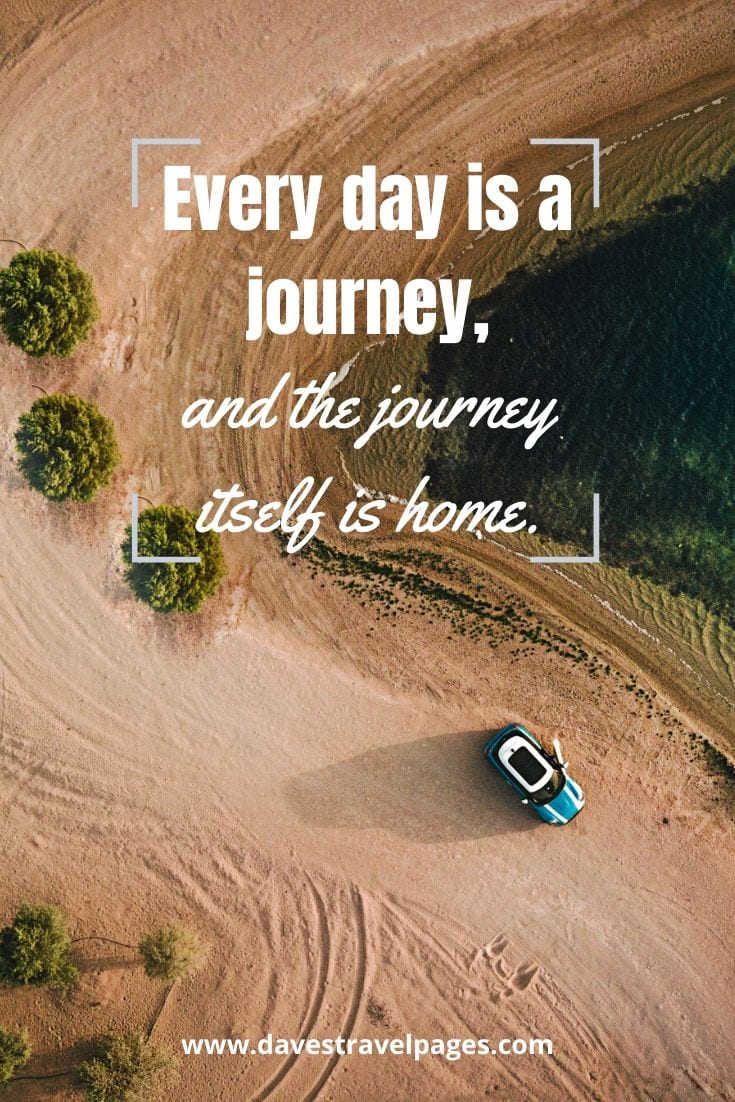 ---
"And you? When will you begin that long journey into yourself?"
– Rumi
---
"Travel is about the gorgeous feeling of teetering in the unknown."
---
"Your body is not a temple, it's an amusement park. Enjoy the ride."
– Anthony Bourdain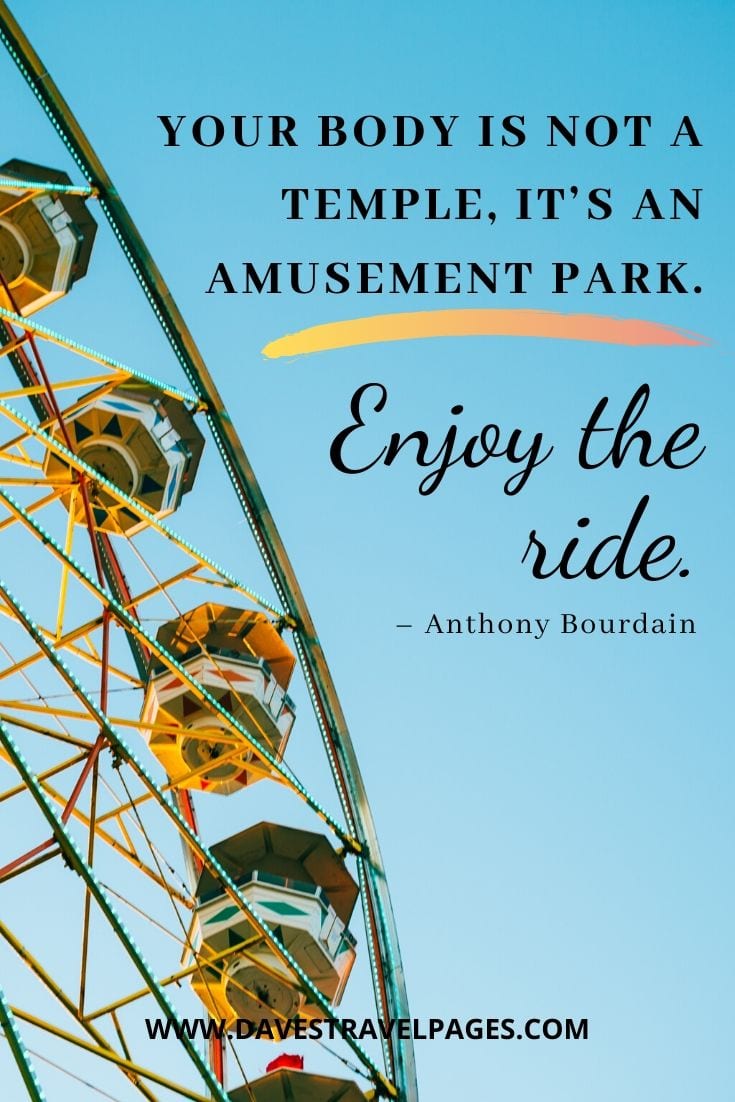 ---
"A good traveler has no fixed plans and is not intent on arriving."
– Lao Tzu
---
"The journey of a thousand miles begins with a single step."
– Lao Tzu
---
Keep Calm and Have a Safe Trip.
---
Safe journey! Have a blast and be well!
---
You've always been adventurous. I hope that you arrive safe and tell me all about what you have seen and done.
---
May your journey be eye-opening! May you have new and profound experiences, and may you arrive and depart in a safe manner!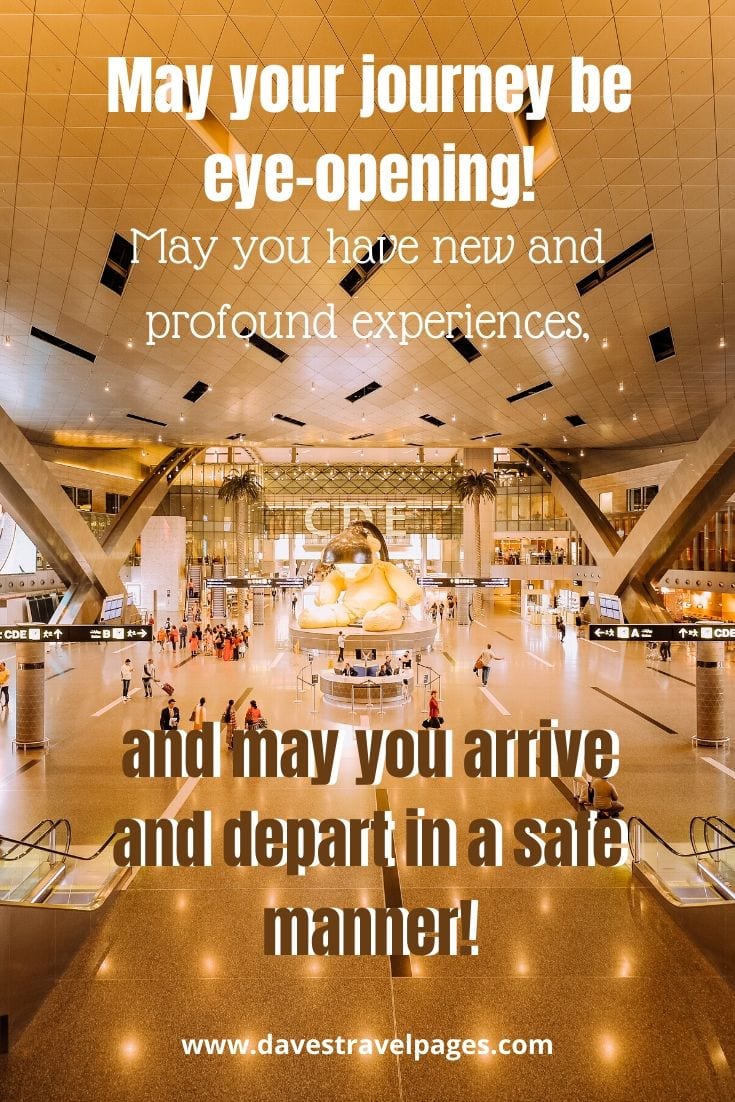 ---
Top Happy Journey Quotes
Here's the next 10 inspiring travel quotes to wish someone a happy journey.
They'd be ideal to write inside a card or personal note to give to someone just before they set off on their trip!
Go safe, move safe, stay safe, leave safe and then back safe…Wishing you a safe journey.
---
May angels fly with you wherever you roam and guide you back safely to family and home.
---
You are more special than words can say….have a safe journey!
---
As long as you have an open mind, able body and a kind heart, you will be safe everywhere.
---
Open your senses, feed your soul. Be carefree and let wanderlust take control. Stay safe.
---
Travelling is less about selfies and more about memories. Have a safe trip.
---
Don't get so distracted by the finish line that you forget to enjoy the journey.
---
Life isn't meant to be lived caged within walls and mindsets. The only way to break free from the shackles of monotony is to travel. Bon voyage!
---
"I travel not to go anywhere but to go. I travel for travel's sake. The great affair is to move."
– Robert Louis Stevenson
---
"I read; I travel; I become"
– Derek Walcott
---
Best Happy Journey Quotes and Captions
Our last 10 inspiring journey quotes for you. Have you found a saying or caption that resonates with you yet?
"Travel brings power and love back into your life."
– Rumi
---
"To awaken quite alone in a strange town is one of the most pleasant sensations in the world. You are surrounded by adventure"
– Freya Stark
---
"Only one who wanders finds new paths."
– Norwegian proverb
---
"To move, to breathe, to fly, to float, to gain all while you give, to roam the roads of lands remote, to travel is to live."
– Hans Christian Andersen
---
"Life is a daring adventure or nothing at all."
– Helen Keller
---
"One way to get the most out of life is to look upon it as an adventure."
– William Feather
---
"It is good to have an end to journey toward; but it is the journey that matters, in the end."
– Ernest Hemingway
---
"One's destination is never a place, but a new way of seeing things."
– Henry Miller
---
"We travel, some of us forever, to seek other states, other lives, other souls."
– Anaïs Nin
---
"The further I go, the closer to me I get."
– Andrew McCarthy
Best Wishes For A Happy Journey
Safe Flight!
---
May your air be clear, the flight be smooth, the plane be safe, and the sky be blue!
---
Enjoy the journey!
---
Bon voyage and safe travels
---
Safe travels!
---
Have a great trip!
---
Bon voyage!
---
Have a wonderful journey!
---
Wishing you a wonderful adventure!
---
All the best on your travels!
---
Enjoy your journey!
---
Have fun and make memories!
---
May your trip be filled with joy and success!
---
Best wishes for an amazing vacation!
---
Inspiring Travel Sayings and Quotes
Take a look at these other collections of short quotes for even more travel inspiration!:
[one-half-first]
[/one-half-first]
[one-half]
[/one-half]