Which island should you visit, Santorini or Rhodes? Santorini has unparalleled scenic beauty, yet Rhodes has stunning medieval architecture.
Comparing Rhodes and Santorini
If you are considering visiting either Rhodes or Santorini but can't decide between them, I feel for you!
Both islands are really fantastic places to visit, and I've been to each one about half a dozen times. That fact I've returned to them more than once means that they both have appeal!
What I would say to you right from the start though, is that these two Greek islands are very different places.
Architecturally, the blue domed churches of Santorini contrast with the medieval fortifications of Rhodes Old Town. Size wise, the 1,401 km² of Rhodes dwarfs tiny Santorini's 73 km2.
In fact, it's hard to find many similarities between Santorini and Rhodes to a certain extent. And that's a great thing – if everywhere was the same, the world would be a pretty boring place!
Which is better, Santorini or Rhodes?
If I absolutely had to give you my preference between Santorini or Rhodes, I would um and ah for a bit, and then probably say Rhodes. But, it would be a close call.
In this blog post, I'll go through the differences between these two stunning islands, from their crowd levels and affordability to their main attractions and scenic wonders.
Santorini or Rhodes: Which one is best for…
Beaches: Rhodes has far better beaches. Santorini's beaches are unique, but not overly special.
Accommodation: Rhodes being the bigger island has far more choices when looking for hotels.
Scenery: Santorini has the most picturesque views and photo ops.
Peak Season: Santorini is very crowded in July and August. Rhodes is also busy, but copes with it better as it is a far bigger island.
Tours: Surprisingly, Santorini has some very affordable and good value for money tours such as the Volcano tour.
Wineries: Santorini has a dozen or so wineries you can visit for tastings. While Rhodes also has wineries, the Santorini wineries are geared up for visitors better.
Also read: What is Rhodes known for
Ok, let's break it down and have more of a side by side look at how Santorini and Rhodes differ.
Santorini vs Rhodes – Which island feels more crowded?
If crowds are not to your liking, don't go anywhere near Santorini in July or August. It's the peak tourist season, and flight arrivals combine with cruise ship passengers to make it unbearably busy.
The only possible way to enjoy Santorini in August is to spend so much money that you insulate yourself from the heaving mobs with sunset hotels, private transfers, and private sailing trips.
Rhodes, while also busy in August, does cope with the amount of visitors better. Rhodes Old Town will feel busy, but nothing like the circus of trying to see the sunset at Oia in Santorini on an August evening.
Basically, it all comes down to size, and Santorini being such a small island suffers under the sheer number of people visiting. Rhodes on the other hand copes far better.
Related: Largest islands of Greece
Travel: Accessibility and Getting Around
Both Santorini and Rhodes are well connected with other islands in Greece via ferry, and both islands also have international airports with flight from many European destinations as well as Athens.
Santorini and Rhodes can also be used as a start, end, or middle point of a Greek island hopping trip.
I'd say that on the accessibility front, this makes Rhodes and Santorini about level. You can book ferry tickets between Greek islands online at: Ferryhopper
Santorini Buses vs Rhodes Buses
When it comes to transportation, Santorini and Rhodes have pretty good bus networks, taxi services, and rental car options. With Santorini being smaller you'd think it is easier to get around, this is not always the case.
There are no 'around the island' public bus routes. This means for example, that if you want to get from Santorini Airport to Oia, you first have to take a Santorini Airport to Fira bus, then take another Fira to Oia bus.
During the summer, the bus schedule is basically ignored as traffic is so built up on Santorini, that the bus will arrive when it can. One local joked to me that soon, it would be easier to walk along the roofs of the buses to get from one place to another!
Rhodes buses on the other hand generally stick to their timetables, are better organized and less chaotic.
Santorini Taxis vs Rhodes Taxis
Santorini's taxis are unmetered, meaning that you'll ned to be sure of the price before you start the journey.
Rhodes taxis, especially from places like Lindos, normally have set fares to popular destinations on the island. This means you know up front what you will be paying.
Rhodes also has far more taxis because of the island's size. In summer, it's very difficult to get a taxi in Santorini, especially at the last minute. In Rhodes, it's not so much of a problem.
Car Rentals in Santorini and Mykonos
You don't necessarily need to rent a car in Santorini unless you are staying in Santorini for a few days.
If you do want to rent a car, scoot, or ATV, you'll need to pre-book way in advance. I recommend Discover Cars as a way to sort out which car rental company in Santorini to use.
If you need to rent a car in Rhodes outside of August, you might be better waiting until you arrive in Rhodes and then shopping around. There are plenty of car rental places in all the resort areas, and the competition makes prices a little keener for car rentals in Rhodes.
Accommodation in Santorini and Rhodes
No matter your budget, both Santorini and Rhodes have a wide range of accommodation options to choose from. In Rhodes, you can find family-friendly aparthotels overlooking popular beaches or luxurious honeymoon hotels with spectacular views of secluded bays.
In Santorini, you have exclusive caldera view hotels with private pools, or more basic accommodation over in the beach resorts of Kamari.
Santorini is marginally more expensive, (especially in, and I'm going to mention the month again, August). Santorini due to its limited number of lodgings also runs out more quickly of lower and mid-range places to stay.
I advise reserving hotels in both islands well in advance of your trip. Read more here about how to choose a Santorini hotel without breaking the bank
Beach Adventures
A trip to the Greek islands is synonymous with beach adventures, and both Santorini and Rhodes boast stunning coastlines to explore.
While Santorini's beaches are known for their unique features such as red and black sands, Rhodes offers a variety of picturesque beaches for sunbathing and snorkeling.
In this section, I'll compare the beach experiences in Santorini and Rhodes, helping you decide which island best suits your beach adventure needs.
Related: Antony Quinn Bay Rhodes
Sand Quality
One of the most striking differences between the beaches of Santorini and Rhodes is the quality of sand. Santorini's beaches are characterized by their dark volcanic sand, a result of the island's volcanic past. However, this black sand can become uncomfortably hot during the summer months.
In contrast, Rhodes boasts golden sand beaches, more typical of the Mediterranean region. Depending on your personal preference, you may find one type of sand more appealing than the other. It's golden sand all the way for me every time!
Snorkeling Opportunities
If snorkeling is high on your list of beach adventures, Rhodes is the clear winner when compared to Santorini. With its crystal-clear waters and diverse marine life, Rhodes offers a more enjoyable snorkeling experience for both beginners and experienced snorkelers alike.
Some of the best snorkeling spots in Santorini include Red Beach, White Beach, and Kambia. However, Rhodes' abundance of beautiful beaches and underwater scenery makes it a more suitable destination for those looking to explore the underwater world.
I'm not big on snorkeling, but Vanessa is, and when I asked her which island she preferred for snorkeling it was Rhodes.
Scenic Wonders
Beyond the beaches, both Santorini and Rhodes boast stunning scenic wonders that are worth exploring during your visit. From breathtaking sunsets to awe-inspiring ancient sites, these islands are home to some of the most beautiful places in the world.
In this section, we will delve into the scenic wonders that make Santorini and Rhodes truly unforgettable destinations.
Sunset Experiences
There's no denying that Santorini is famous for its breathtaking sunsets, with numerous vantage points offering incredible views of the sun dipping below the horizon.
Some of the best spots for sunset viewing in Santorini include Oia Castle, Skaros Rock, Fira, Akrotiri Lighthouse, and Santo Winery.
In Rhodes, you can also catch stunning sunsets at locations such as Lindos Acropolis, Kallithea Springs, and the Palace of the Grand Master of the Knights of Rhodes.
I'd say that when its a good sunset in Santorini (which it isn't always!), Santorini is far superior than Rhodes.
Related: Day Trips In Rhodes
Unique Landscapes
Santorini and Rhodes each offer their own unique landscapes, providing a diverse range of picturesque settings for visitors to explore. Santorini is characterized by its impressive cliffs, charming white architecture, deep blue waters, and stunning caldera, as well as its volcanic beaches and lunar landscapes.
Rhodes, on the other hand, boasts lush green hills, quaint villages, and stunning beaches. Whether you're drawn to the dramatic beauty of Santorini or the more traditional Mediterranean charm of Rhodes, you'll be captivated by their unique landscapes.
On balance, Santorini edges ahead here. In my opinion, the best way to enjoy the Santorini views is by walking from Fira to Oia along the caldera trail.
Historical Sites
Both Santorini and Rhodes are steeped in ancient history, with numerous historical sites waiting to be explored. In Santorini, you can visit Ancient Akrotiri (allegedly Atlantis!), and Ancient Thera.
Rhodes, on the other hand, offers a greater number of historical sights, including the Palace of the Grand Masters, Rhodes Old Town, Lindos Acropolis and more.
In fact, the Medieval City of Rhodes (Rhodes old town) is a UNESCO World Heritage site – one of only 18 UNESCO sites in Greece!
If you like archaeological sites, fortifications, and castles, Rhodes is vastly superior to Santorini.
Nightlife Vibes
After a day of exploring the beautiful landscapes and historical sites of Santorini and Rhodes, you may be in the mood for some nightlife adventures. Both islands offer a range of options for evening entertainment, but their vibes differ significantly.
Relaxed Evenings
For those seeking a more relaxed evening atmosphere, Santorini is the perfect destination. With its chill bars, wine tasting tours, live music, and sunset cocktail bars, Santorini offers a laid-back nightlife experience that is ideal for couples and travelers looking for a peaceful night out.
Some popular spots for relaxed evenings in Santorini include Franco's Bar, Tranquilo Beach Bar, Volkan on the Rocks, PK Cocktail Bar, Kira Thira, Tango Bar, Fino Cocktail Bar, and Enigma.
Party Scenes
If you're looking for a more lively party scene, Rhodes may be the better choice for you. With a bustling club scene, sophisticated nightspots, and over 500 bars to choose from, Rhodes offers a diverse nightlife experience that caters to a variety of tastes.
Popular party spots in Santorini include PK Cocktail Bar, Tranquilo Beach Bar, and Volkan on the Rocks, as well as nightclubs like Enigma, Koo, and Casablanca Soul. In Rhodes, you can find vibrant party venues in the Old Town, Faliraki, and Lindos.
Unforgettable Experiences
In addition to their breathtaking landscapes, historical sites, and vibrant nightlife, both Santorini and Rhodes offer unique experiences that will make your trip truly unforgettable. From scuba diving excursions to exploring preserved Bronze Age settlements, each island provides a wealth of activities for travelers to enjoy.
I'd say that in this regard Santorini has the upper hand over Rhodes. A catamaran sunset tour or a winery tour of the island is something that is likely to stick in your memory for a long time.
Related: Boat Trips In Santorini
Santorini v Rhodes: FAQ
Readers trying to decide between Rhodes and Santorini for their holidays in Greece often ask questions such as:
What is better Rhodes or Santorini?
Both Santorini and Rhodes are beautiful Greek islands with rich history and stunning scenery. It ultimately depends on what type of experience you're looking for. Santorini is known for its iconic white-washed buildings and picturesque sunsets, while Rhodes is famous for its medieval city and ancient ruins. Which one is best may depend on the type of traveler you are, and you expectations going in.
Is Santorini the most beautiful place in the world?
Santorini has earned its reputation as one of the most beautiful places in the world to visit thanks to the almost fairytale aesthetics of Oia. The Cycladic architecture, blue domed churches, and coloured buildings make it a photographer's dream. It's easy to see why Santorini is a popular honeymoon destination.
Why is Rhodes so special?
Rhodes is special because of its rich history and diverse cultural influences. The island has been inhabited since ancient times and was ruled by various empires, including the Greeks, Romans, Byzantines, Knights of St. John, Ottomans, and Italians. This has resulted in a unique blend of architecture, cuisine, and traditions that can be seen throughout the island. Additionally, the medieval Old Town of Rhodes is a UNESCO World Heritage Site and one of the best-preserved medieval towns in Europe.
Why is Santorini so special?
Santorini is special for its unique geological features and volcanic history. The island was formed by a volcanic eruption that occurred over 3,000 years ago, resulting in a crescent-shaped caldera that offers stunning views and picturesque landscapes.
---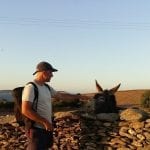 –
Dave Briggs
Dave is a
travel writer
who has been living in Greece and writing about the country since 2015. As well as creating this comparison guide of Santorini and Rhodes, he's also written many more travel blogs about destinations in Greece and around the world. Follow Dave on social media for travel inspiration from Greece and beyond: