Blessed with fantastic landscapes, Milos is a great Greek island for all sorts of outdoor activities. Find out here about hiking in Milos, kayaking and more!
Outdoor Activities in Milos
Some of the most memorable attractions of the island of Milos are the varied landscapes. Milos is something of a geological wonder, and it seems that each beach or area is a different world from the last.
As a result, outdoor activities in Milos are often rewarded with stunning views and unique experiences. Hiking, sailing, swimming and snorkelling are all fantastic ways to enjoy this beautiful island.
Hiking in Milos
Milos is a breath-taking place to go hiking, as you will be able to see more of its unusual landscapes. The mountainous, wild island has a long network of hiking trails and paths, some of which are in better condition than others.
A good place to start is the Miloterranean Geo Experience, a network of routes guiding you around the geological points of interest in Milos. These are signposted, and you will find indications for Natura 2000 reserves, mining areas and volcanic craters.
You can also hike to some beaches that can't be accessed by vehicles such as Kleftiko Bay.
Popular Hiking Trails in Milos
There are several hiking trails in Milos, covering various parts of the island. Some of the most popular routes include the following:
Trypiti – Catacombs – Ancient theatre – Profitis Ilias – Venus of Milos (2.5 km / 45 minutes)
Trypiti – Catacombs – Milos theatre – Klima (2.5 km / 45 minutes)
Zefyria – Agia Kyriaki beach (5 km / 2 hours)
Cape Vani – Agia Marina (12 km / 5 hours)
Fylakopi – Papafragas – Pahena – Agios Konstantinos – Mytakas – Sarakiniko – Mandrakia (9 km / 3 hours)
Adamantas – Katsogria – Profitis Ilias (1 hour)
Agios Ioannis Siderianos – Kleftiko Bay (45 minutes)
Agios Ioannis Siderianos – Sikia cave (2.5 km / 1 hour)
Plaka – Panagia Thalassitra – Venetian Castle
Pollonia – Fylakopi
Katsogria – Ai Giorgis – Agia Marina – Rivari – Embourios
If you are planning to go hiking in Milos, bring some proper walking shoes. Although many of the trails can easily be done in sandals, it's always better to keep your feet protected and safe from the red vipers that live in Milos especially on the Kleftiko Bay hike!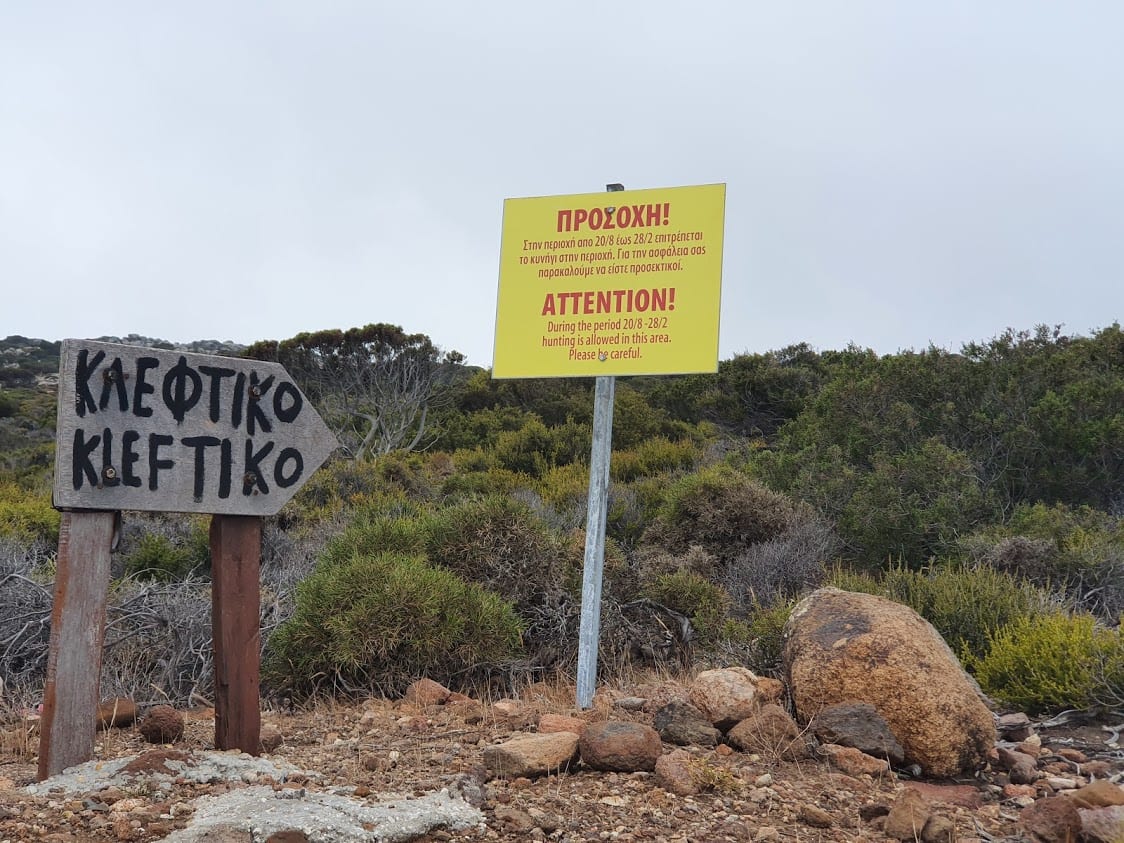 Best Time: Some people will find hiking in Milos a little challenging in summer, as the weather will be hot. Spring and autumn are the best seasons for hiking in Milos.
You can find excellent detailed hiking maps of Milos at TerrainMaps and Anavsi.
Watersports and Diving in Milos
We can't stress it enough – for people who love beaches, Milos is a real paradise. There are dozens of beautiful beaches in Milos with picturesque rock formations, sea caves and crystal-clear waters. As Milos has a coastline of 125 kms, a week is hardly enough to see them all.
You can take a boat tour in Milos which will enable you to go snorkeling in some quite unique places, but there are many other sea-related activities on the island.
If you want to explore underwater Greece, you can go snorkelling or scuba diving. There are many diving schools on the island that you can contact for a fun dive, a PADI license, or a snorkelling trip. Here are two of them:
Experienced divers will discover many wonderful diving spots in Milos. Greece may not have the colourful fish of SE Asia or the Caribbean, but there are many fascinating shipwrecks. In addition, you may be lucky enough to encounter a seal!
Kayaking in Milos
If being underwater is not your style, you can try other watersports such as surfing, windsurf, SUP or kayak. Whether you are travelling with family, friends or significant other, these experiences are always fun. Achivadolimni and Papikinou beaches are good places to look for information.
If you want to try a nice kayaking trip to Tsigrado and Gerakas Beach, take a look here: Kayaking to Milos Beaches.
Keep Safe: Like all the Cyclades, Milos can get very windy, especially during the Meltemi winds season (July and August). Your safety is first! If you are swimming, snorkeling or windsurfing on your own, make sure you take all necessary precautions. Always stay close to the coast, as the currents might be deceptively strong.
Related: Kayaking Instagram Captions
Rock Climbing in Milos
Not surprisingly, an island with such unique landscapes offers huge opportunities for rock climbing. However, the latest information regarding the climbing fields in Cape Vani and Glaronisia islets is that they are not well maintained, and the areas are considered unsafe for visitors. Ask around, in case this has changed.
Milos Hiking FAQ
Like many Greek islands, Milos is an ideal island for hikes and outdoors adventure. The beaches are fantastic to take a swim on as well!
Readers planning itineraries to Milos and other other islands often ask questions such as these when planning ways of exploring destinations:
Can you walk around Milos?
The island of Milos has a number of very interesting walking routes you can use as day hikes. While it might be possibly viable to travel all around the island on foot if you had a week to spare, Milos is really too big and wild to walk all around.
How do you get around Milos?
I'd recommend renting an ATV or car as the best way to get around Milos. There are many interesting beaches down dirt roads, and the landscape is very rewarding to drive around.
How do I get to Kleftiko?
Taking a boat tour is the most popular way to see Kleftiko Bay. You can also hike along a path to get there, but it involves driving out to the start of the trail, so you'd need to rent a car first.
Why should I visit Milos?
Nowadays, Milos is known for its fabulous beaches, and the photos of Sarakiniko Beach and Kleftiko make Milos an island not to miss out on.
Would you like to find out more about Milos island in Greece? These travel guides are a great starting point for planning your Milos holidays:
---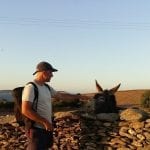 –
Dave Briggs
Dave is a
travel blogger
from the UK, and now living in Athens, Greece. In addition to writing this post about outdoor activities in Milos island, he's written many other articles about traveling to Greece. Follow Dave on social media for travel inspiration from Greece and beyond: