These quotes about adventure will inspire you to step outside your comfort zone and embrace new experiences! Here's our list of top 50 adventure quotes.
Adventure Quotes
Take a walk on the wild side, and leap into a life of adventure and travel! This collection of 50 quotes about adventure and traveling will show you there's a different way to live your life.
Whether you want to climb a mountain, cycle around the world, hike in Nepal, or backpack through South America, the first step begins with your imagination.
So, get ready to be inspired and motivated with this list of the best quotes and captions about adventure!
As soon as I saw you, I knew an adventure was going to happen!
– Winnie Pooh
---
Great things never come from comfort zones!
---
Make your life the best adventure!
---
Every adventure, actually everything in life requires a first step!
---
Be brave. Take risks. Nothing can substitute your experience!
---
Failing means you tried something new. That's a win, not a fail!
---
We have nothing to lose and a world to explore!
---
Being nervous is nothing bad. It means, you are trying something you didn't try before.
---
Man cannot discover new oceans unless he has the courage to lose sight of the shore.
---
"The biggest adventure you can take is to live the life of your dreams."
– Oprah Winfrey
---
Adventure Travel Quotes
Here's our next selection of inspiring adventure quotes paired with stunning images. Just the thing to use on a vision board, screen saver or Pinterest board!
---
"Do not stop thinking of life as an adventure. You have no security unless you can live bravely, excitingly, imaginatively, unless you can choose a challenge instead of a competence."
– Eleanor Roosevelt
---
"Life is an adventure and that is best lived boldly."
– Bear Grylls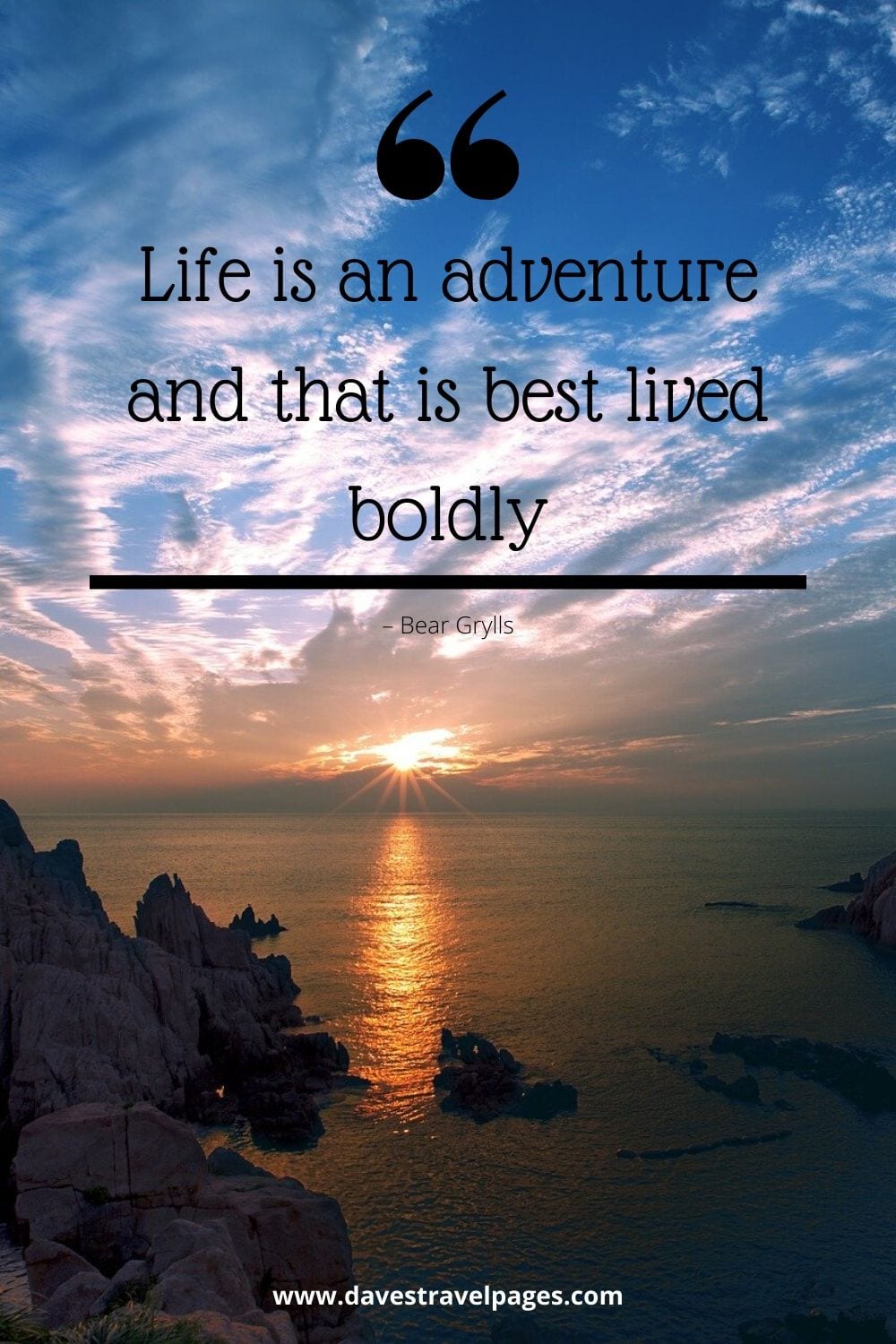 ---
"Start where you are. Do what you can. Use what you have!"
---
"Life is a wonderful adventure. Share it with someone special"
---
"Relationship status: in love with adventure"
---
"Life is one big adventure. Wanna join?"
---
When you're safe at home you wish you were having an adventure; when you're having an adventure you wish you were safe at home.
– Thornton Wilder
---
A work of art is above all an adventure of the mind.
– Eugene Ionesco
---
"An adventure is only an inconvenience rightly considered. An inconvenience is only an adventure wrongly considered."
― G.K. Chesterton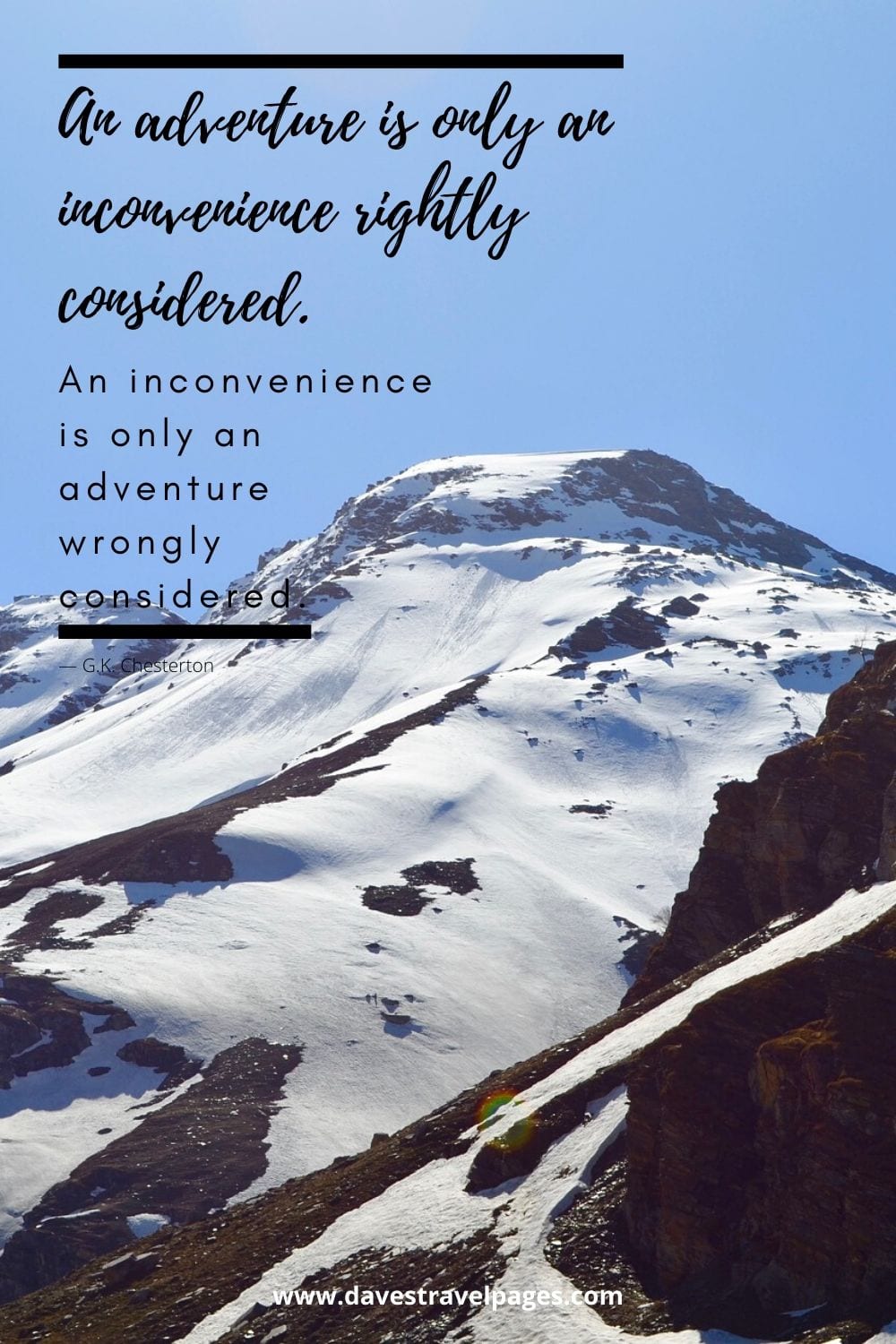 ---
Being soaked alone is cold. Being soaked with your best friend is an adventure."
― Emily Wing Smith
---
Quotes About Adventure
What does adventure mean? I think that whatever takes you outside you comfort zone is an adventure. For some, it's visiting a new country, for others, conquering a mountain!
---
"Adventure is not outside man; it is within."
― George Eliot
---
"Adventures do occur, but not punctually."
― E.M. Forster
---
"So shut up, live, travel, adventure, bless and don't be sorry"
― Jack Kerouac
---
"Some adventures require nothing more than a willing heart and the ability to trip over the cracks in the world."
― Seanan McGuire
---
May your adventures bring you closer together, even as they take you far away from home."
― Trenton Lee Stewart
---
One does not discover new lands without consenting to lose sight of the shore for a very long time."
― André Gide
---
"I didn't say no because between safety and adventure I choose adventure."
― Craig Ferguson
---
All great adventures have moments that are really crap."
― Ellen Potter
---
Set out from any point. They are all alike. They all lead to a point of departure."
― Antonio Porchia
---
I have discovered that even the mediocre can have adventures and even the fearful can achieve."
― Edmund Hillary
---
Travel and Adventure Quotes
Here's our next selection of adventure and travel captions. We've really enjoyed collecting these for our list!
---
I decided that adventure was the best way to learn about writing."
― Lloyd Alexander
---
For an occurrence to become an adventure, it is necessary and sufficient for one to recount it."
― Jean-Paul Sartre
---
It is great to do what you love but greater with the great team."
― Lailah Gifty Akita
---
I – will have poetry in my life. And adventure. And love. Love above all."
― Marc Norman
---
A smart person is not one that knows the answers, but one who knows where to find them…"
― William Petersen
---
Go small, go simple, go now"
― Larry Pardey
---
Adventures are what happens when an event is flawed, a mark of imperfection."
― Kij Johnson
---
All adventure is now reactionary.
– William F. Buckley, Jr.
---
It's not a real adventure when you have to pay for it.
– Edmund Hillary
---
Adventure without risk is Disneyland.
– Douglas Coupland
---
Quotes about Travel and Adventure
This is our last section of quotes and sayings about adventure. If you're looking for more travel inspiration, take a look at our other collections at the end of this blog post.
---
I'm a very professional man. I'm not out for the experience of adventure.
– Werner Herzog
---
Every time you make a movie it's an adventure.
– Shia LaBeouf
---
To die will be an awfully big adventure.
– James M. Barrie
---
My primary goal of hacking was the intellectual curiosity, the seduction of adventure.
– Kevin Mitnick
---
Without adventure civilization is in full decay.
– Alfred North Whitehead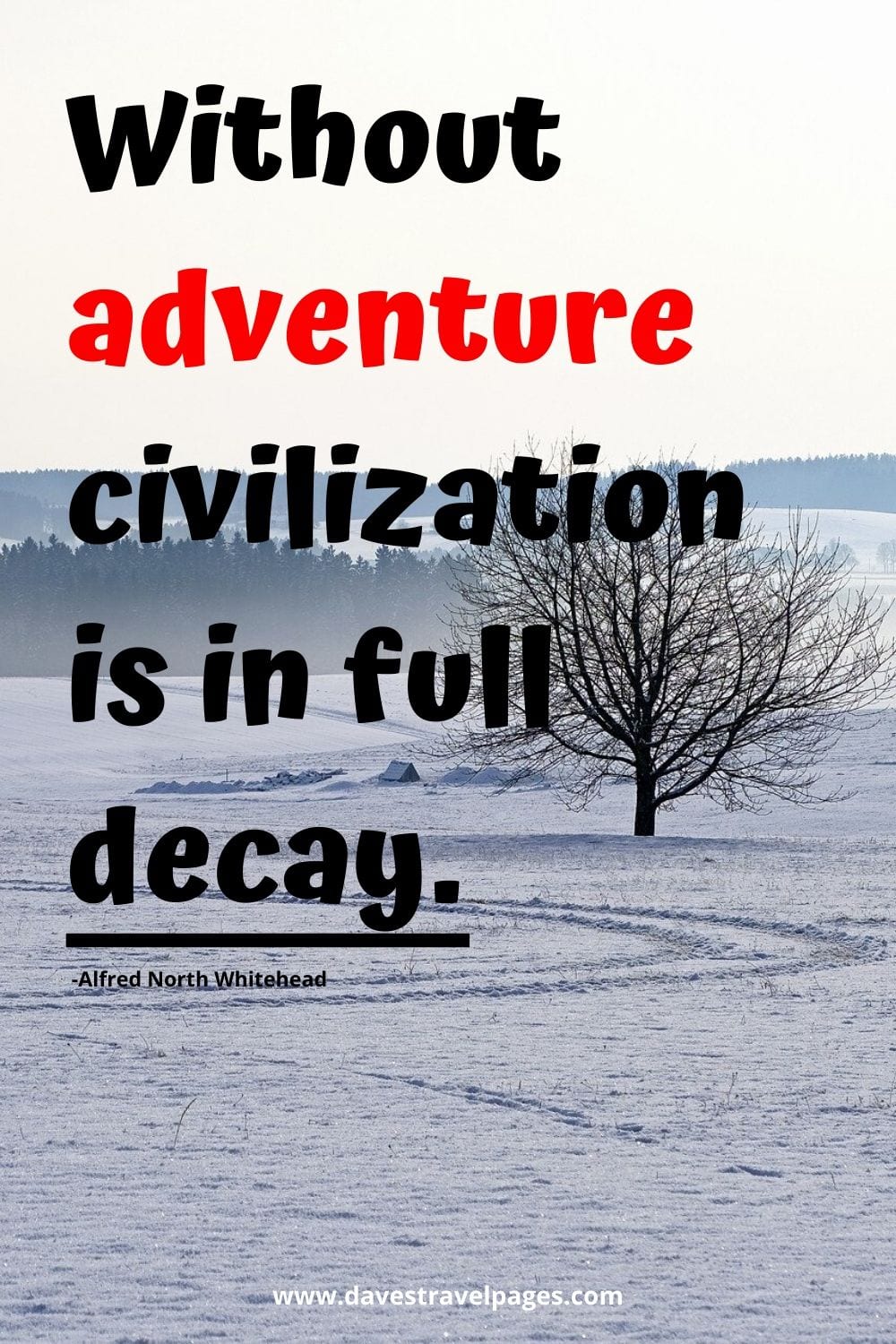 ---
One way to get the most out of life is to look upon it as an adventure.
– William Feather
---
I think it's my adventure, my trip, my journey, and I guess my attitude is, let the chips fall where they may.
– Leonard Nimoy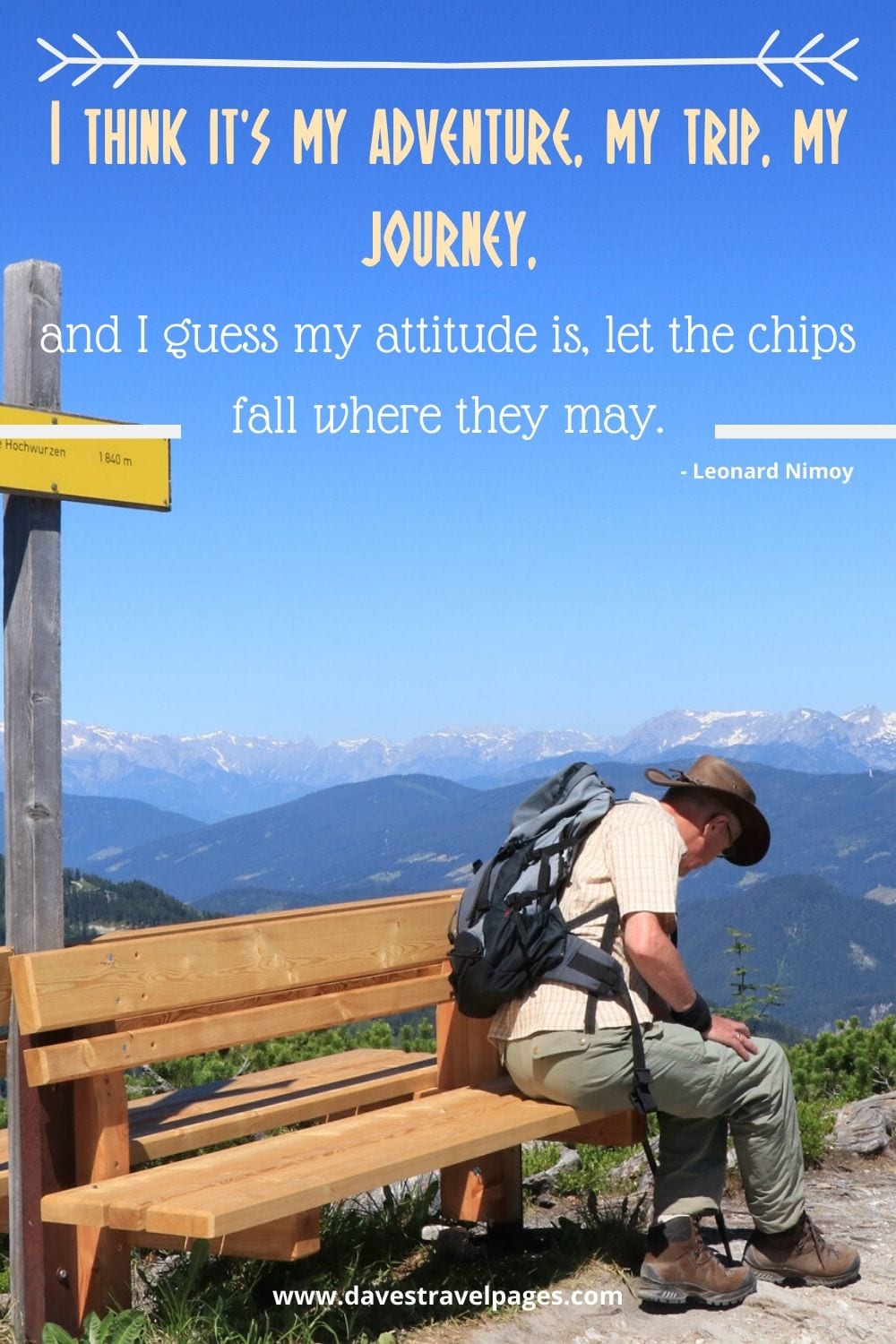 ---
Adventure with a purpose is what we do.
– Travis Kalanick
---
I think risk-taking is a great adventure. And life should be full of adventures.
– Herbie Hancock
---
"Never fear quarrels, but seek hazardous adventures."
― Alexandre Dumas
More Inspiring Travel Quote Collections
You might also be interested in these other inspirational quotes and sayings about travel: