Do you dream of exploring the world and living life to its fullest? Fire up the imagination and dream of faraway places with these travel quotes!
If you're looking for inspirational quotes about traveling, you've arrived at the right place!
This post contains a list of 50 of the best travel quotes designed to get you thinking about travel and vacations to far off places.
Each one of these travel captions has a thoughtful phrase by famous people throughout the ages.
Here, you'll find contemporary travel authors sharing their quotes alongside philosophers and thinkers from thousands of years ago.
It's amazing to think that travel has inspired generations of people over millennia. Travel seems to be something that is fused into our souls!
---
Quotes For Travel Dreamers
And I think to myself, what a wonderful world.
– Performed by Louis Armstrong
---
We travel not to escape life, but for life not to escape us
---
"One cannot discover new oceans without the courage to lose sight of the shore."
– Andre Gide
---
The world is a book and those who do not travel read only one page.
---
"Be fearless in the pursuit of what sets your soul on fire."
– Jennifer Lee
---
"Better to see something once than hear about it a thousand times"
---
"Adventure may hurt you but monotony will kill you."
---
"Don't listen to what they say. Go see."
---
"All you need to know is that it's possible."
– Wolf, an Appalachian Trail Hiker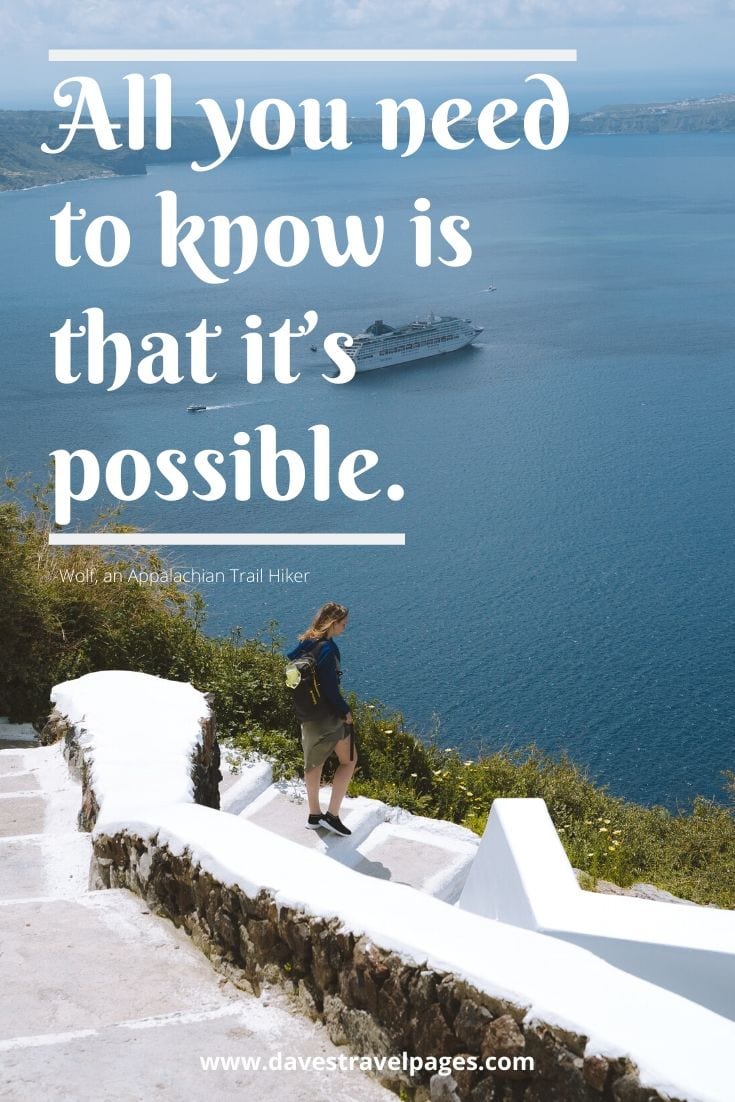 ---
"To Travel is to Live"
– Hans Christian Andersen
---
"Work, Travel, Save, Repeat"
---
"The journey not the arrival matters."
–T.S. Eliot
Related: Camping Captions
---
"Life is short and the world is wide"
---
"Dare to live the life you've always wanted."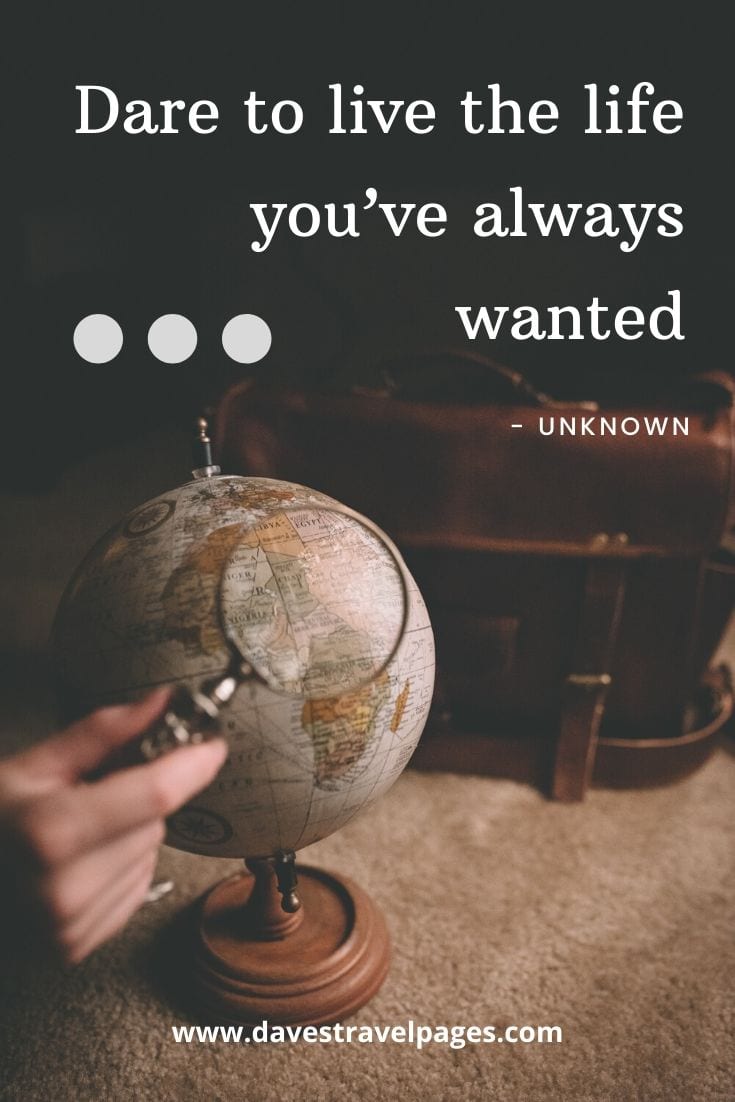 ---
Quotes About Travelers
Here's the next section of quotes. Some of these come from films about travel. Others are from famous writers and philosophers.
Take a look at the first one.
Did you know that Seneca was born over 2000 years ago? Amazing to think that the benefits of travel were known and thought about even then!
"Travel and change of place impart new vigor to the mind."
– Seneca
---
"He who would travel happily must travel light."
– Antoine de St. Exupery
---
"Life is either a daring adventure or nothing at all."
– Helen Keller
---
"Go, fly, roam, travel, voyage, explore, journey, discover, adventure."
---
All journeys have secret destinations of which the traveler is unaware.
---
Remember that happiness is a way of travel – not a destination.
---
Life begins at the end of your comfort zone.
---
"It is a big and beautiful world. Most of us live and die in the same corner where we were born and never get to see any of it. I don't want to be most of us."
– Oberyn Martell, Game of Thrones
---
" Travel makes a wise man better but a fool worse."
– Thomas Fuller
---
"Not all those who wander are lost."
– J.R.R. Tolkien
---
"A good traveler has no fixed plans and is not intent on arriving."
– Lao Tzu
---
"Life is a journey. Make the best of it."
---
"Travel is the only thing you buy that makes you richer"
---
"A journey is best measured in friends, rather than miles."
– Tim Cahill
---
Quotes About Traveling
This next section of travel captions includes captions and quotes about adventure, hope, and even Eastern wisdom.
"Hope is the only thing stronger than fear."
– Suzanne Collins
---
"Blessed are the curious for they will have adventures."
---
Jobs fill your pockets, adventures fill your soul.
---
The biggest adventure you can take is to live the life of your dreams
---
The real voyage of discovery consists not in seeking new landscapes, but in having new eyes.
---
To awaken quite alone in a strange town is one of the most pleasant sensations in the world."
– Freya Stark
---
"You can shake the sand from your shoes, but it will never leave your soul."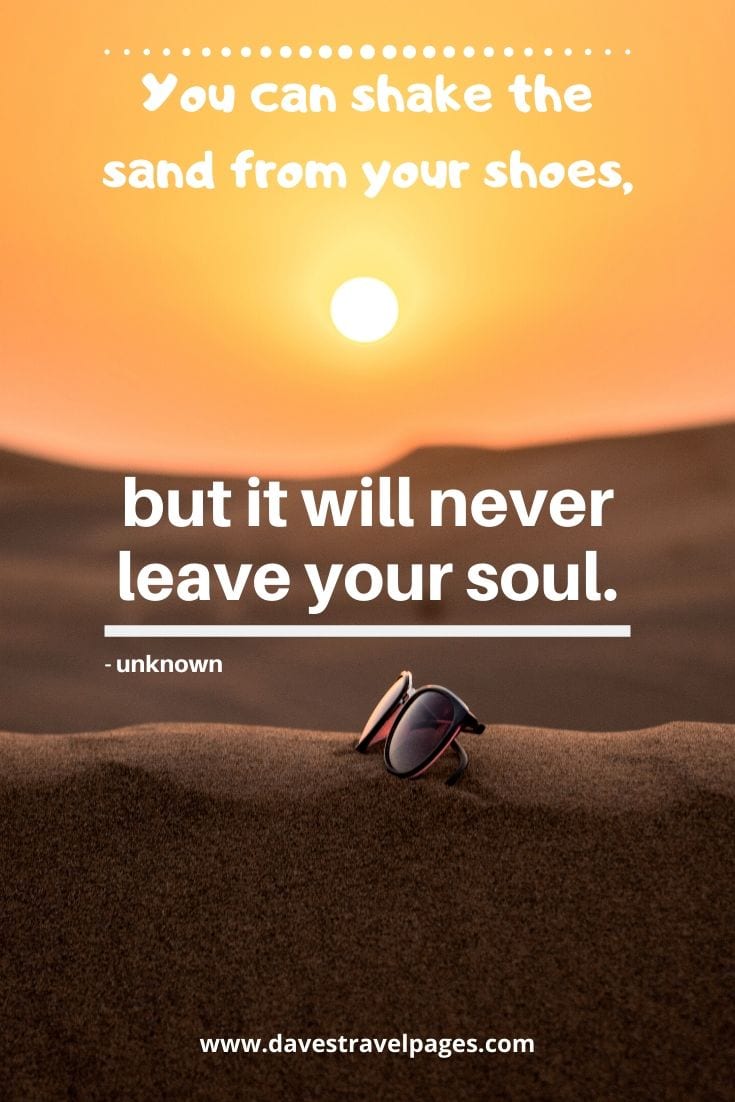 ---
"Take only memories, leave only footprints."
– Chief Seattle
Related: Seattle Instagram Captions
---
"I'm in love with cities I've never been to and people I've never met."
---
"Oh the places you'll go."
– Dr. Seuss
---
"Wherever you go, go with all your heart!"
– Confucius
---
"Don't call it a dream…call it a plan"
---
"A great way to learn about your country is to leave it."
– Henry Rollins
---
"Then I realized adventures are the best way to learn."
---
Travel Captions
Take a look at the second quote in this next section. I strongly relate to this. Did you know that I've cycled around the world on $10 a day?
You certainly don't need to be rich to travel!
"It is not down in any map; true places never are."
– Herman Melville
---
"You don't have to be rich to travel well. "
– Eugene Fodor
---
"I love the feeling of being anonymous in a city I've never been before."
---
Collect Moments, Not Things.
---
When preparing to travel, lay out all of your clothes and all of your money. Then take half the clothes and twice the money.
---
"I am not the same, having seen the moon shine on the other side of the world."
– Mary Anne Radmacher
---
"Once a year, go someplace you've never been before."
– Dalai Lama
---
"Travel is never a matter of money but of courage."
– Paolo Coelho
---
"The goal is to die with memories not dreams"
---
"Live your life by a compass, not a clock."
– Stephen Covey
---
" With the right mindset and spirit, only the sky is the limit"
---
"Everything you do is based on the choices you make"
– Wayne Dyer
---
"There's no way I was born to just pay bills and die"
---
Inspiring Quotes About Travels Around The World
Travel is an education. Not just because of the places you see, but also because of what you learn about yourself. This first quote about traveling sums that up nicely.
"Travel far enough, you meet yourself"
– David Mitchell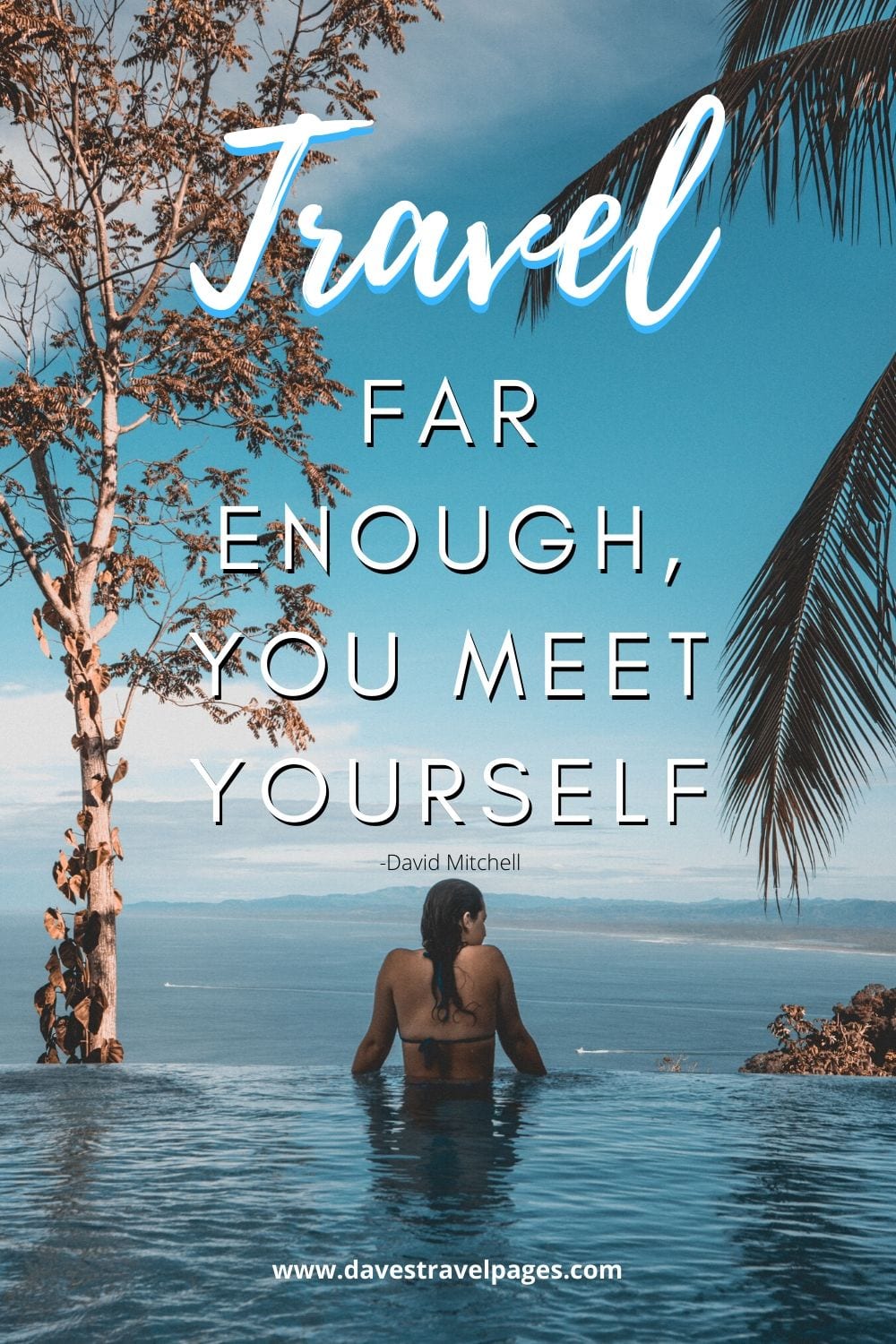 ---
"It feels good to be in the right direction."
---
"A ship in a harbor is safe, but it not what ships are build for."
– John A. Shedd
---
"Wherever you go becomes a part of you somehow."
– Anita Desai
---
"Good company in a journey makes the way seem shorter."
– Izaak Walton
---
"Live life with no excuses, travel with no regret"
– Oscar Wilde
---
" Veni, Vini, Amavi. We came, we saw, we loved."
---
Quit your job, buy a ticket, get a tan, fall in love, never return.
---
Traveling—it leaves you speechless, then turns you into a storyteller.
― Ibn Battuta
---
The real voyage of discovery consists not in seeking new landscapes, but in having new eyes.
– Marcel Proust
---
Because in the end, you won't remember the time you spent working in the office or mowing your lawn. Climb that goddamn mountain.
― Jack Kerouac
---
More Collections Of My Favorite Travel Quotes
You might also be interested in these other inspirational quotes and sayings about travel: