Here are some of my favorite quotes about Santorini, as well as some Santorini Instagram captions to help you capture the magic of this special place.
Santorini Island, Greece
The breathtaking scenery and spectacular views of Santorini make it one of the most popular destinations in the world. But what makes Santorini so special?
For starters, the dramatic cliffs and crystal-clear waters make for some stunning views. And with villages like Oia perched high on the cliffs, it's no wonder that Santorini is renowned for its picturesque landscapes. Santorini is one of the most Instagram worthy destinations in the world!
But it's not just the natural beauty that makes Santorini so special. The island is also steeped in history, with a fascinating culture that dates back to ancient times. From the Venetian architecture to the traditional whitewashed houses, Santorini is a photographers' dream come true.
It's no wonder then, that poets, writers, and travelers are inspired to write memorable thoughts, captions and Santorini quotes.
If you've taken some amazing photos of Santorini and want to match them with beautiful words, this collection of Santorini Instagram captions and quotes is just what you need!
Santorini Instagram Captions
Here's a little Instagram caption inspiration you can use on your photos and reels on Instagram. It mixes some beautiful words with silly puns so there's something in these Santorini Instagram captions for everyone!
I'm Greeking out over these amazing views!!
---
Santorini – Bucket list item check!
---
Santorini – So blue-tiful!
---
You Odyssey this view!
---
Morning views in Santorini don't make me blue
---
"Santorini, you stole my heart!"
---
50 Shades of Blue. 50 Shades of White
---
"When words fail, pictures speak."
---
So near, so Fira!
---
Feeling the blues in Santorini
---
"Life is a journey, not a destination."
---
It's all going in one Oia and out of the other!
---
"All journeys have secret destinations of which the traveler is unaware."
---
"Let's have a weekend in Santorini!"
---
"Santorini, you stole my heart!"
---
"I am in love with this place."
---
"Soaking up the sun and the history in Santorini."
Related: Weekend Captions
---
---
"The view from my porch in Oia."
---
"A little slice of heaven on earth."
---
"The colors of Santorini are like nothing else I've ever seen."
---
"Nostalgia in every step."
---
"Stunning sunsets and breathtaking views."
---
"Santorini is the most beautiful place I've ever seen!"
---
The views from Oia are absolutely stunning!"
---
"I'm in love with the white buildings and blue roofs of Santorini!"
---
"Santorini is a photographers' dream come true!"
---
"I can't believe how lucky I am to have visited Santorini!"
---
Check out my other Instagram captions about Greece for more inspiration!
Quotes About Santorini
From Greek mythology to modern literature and pop culture, there are many inspiring quotes about Greece and Santorini that have been said by various individuals.
Here's some of the best Santorini quotes. I thought I'd start unashamedly by adding one of my own at the top!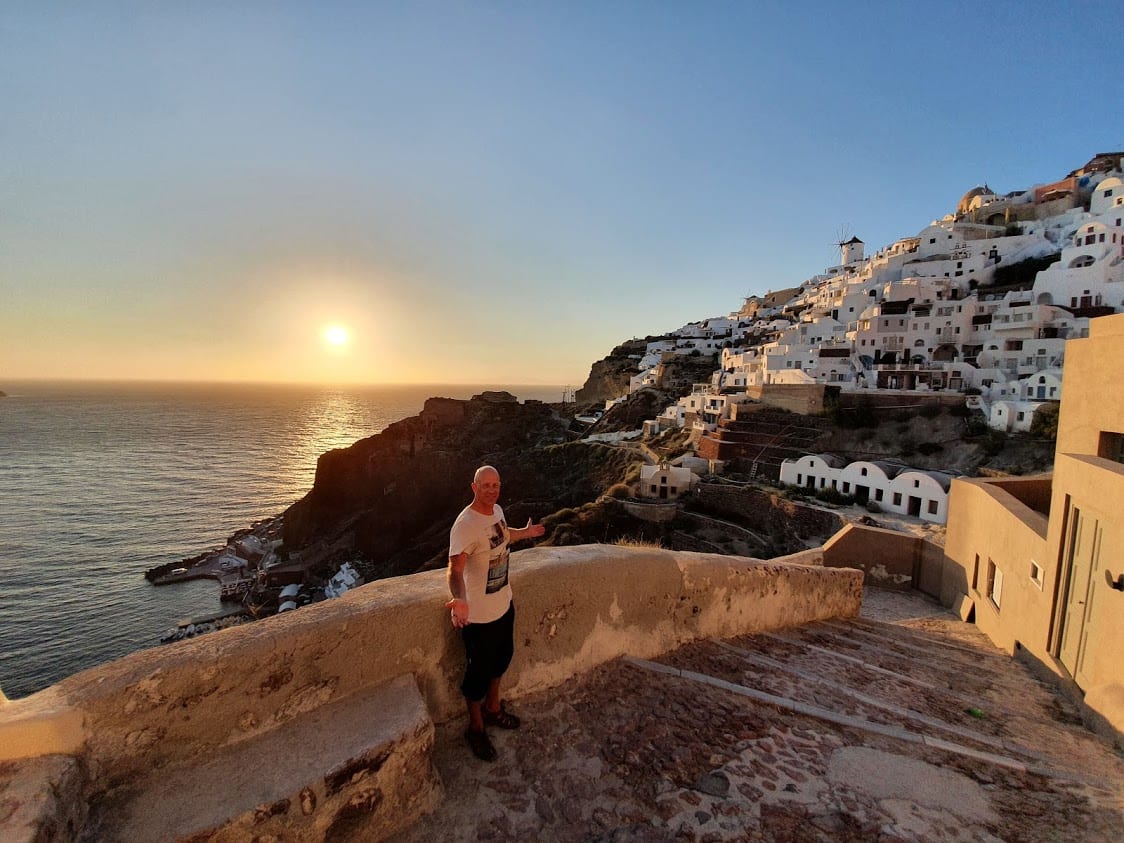 ---
"Santorini sunsets seem surreal"
― Dave Briggs, Dave's Travel Pages
---
"And now Percy has his arms around me and Santorini and the sea are spread like a feast before us and there is sky all the way to the horizon. And what a sky it is."
― Mackenzi Lee, The Gentleman's Guide to Vice and Virtue
---
"On a summers night, I have sat on the balcony drinking Ouzo, watching the ghosts of Greek Heroes sailing past, listening to the rustle of their sail cloths and the gentle lapping of their oars…and lain alongside Pythagoras watching him study the myriad of triangles in the constellations twinkling above us. Whether it was Crete, the heat, the Ouzo, or a combination, it is unequalled anywhere other than Santorini, in my humble opinion."
― Phil Simpkin
---
"Off the Santorini cliff on a dark, starless night, I tossed a message in a bottle and love found me washed up on the black lava sand of the Aegean shore. As with my previous loves, volcanic in nature. Almost destructive before it started."
― Melody Lee, Moon Gypsy
Related: Nature Quotes
---
Santorini Greece Quotes
"We descended from the chariot and walked across the volcanic Island in the Cyclades group of Greek islands. A fear did wake me like the active Santorini. I felt, anytime my mind outbreaks with the real passion of words. But I maintained my mind with a silent revenge, which was active, secretly in my inward cavity."
― Nithin Purple, The Bell Ringing Woman: A Blue Bell of Inspiration
---
The light of Greece opened my eyes, penetrated my pores, expanded my whole being.
― Henry Miller
---
According to some theories, the legendary Atlantis said to have sunk beneath the sea in a great cataclysm, is in actuality the Greek Island of Santorini.
― Laura Brooks
---
"Greece – The feeling of being lost in time and geography with months and years hazily sparkling ahead in a prospect of un-conjecturable magic"
― Patrick Leigh Fermor
---
"I want to have an 'Eat, Pray, Love' experience where I drop off the face of the planet and move to Greece"
― Jennifer Hyman
---
"Greece was a muse. It inspired creativity in magical ways that I can't even begin to understand or explain."
― Joe Bonamassa
---
Check out my other quotes about Greece for more inspiration!
Related: Short Traveling Quotes
FAQ About the Greek island of Santorini
What is beautiful about Santorini?
There are many things that make Santorini beautiful, but one of the most striking aspects is its natural beauty. With its dramatic cliffs and bright blue waters, Santorini is a photographer's dream come true.
How would you describe Santorini?
The beauty of this Greek island is truly unparalleled. The whitewashed buildings, blue domed churches, and spectacular sunsets make Santorini a well deserved bucket list destination in Europe.
What should I Caption a travel photo?
Travel photos are difficult to caption because it's entirely subjective. Some people want their selfies to be funny, while others prefer something more poetic. Do what feels best for you!
What are good beach captions?
People go to the beach for a variety of reasons. Whether you're relaxing, taking photos, surfing, or tanning, it's important that your caption reflects that.
Check out out best beach quotes and captions here!
Discover Greece
Santorini is one of the most beautiful and romantic places in the world. A visit to this idyllic island is a must for anyone looking for a little bit of paradise. Whether you're there for the stunning views, the delicious food, or the incredible nightlife, Santorini will not disappoint.
Would you like to learn more about Greece and start planning your island hopping adventures in this beautiful country? Sign up to my newsletter at the top of the page, and I'll share my insights into traveling in Santorini and the rest of Greece!
Remember: "Greece is the most magical place on Earth." – Kylie Bax
My Santorini Travel Guides
---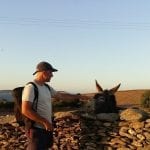 –
Dave Briggs
Dave is a
travel writer
living in and writing about Greece. In addition to creating this list of fun Santorini Quotes and Santorini Instagram Captions, Dave has also written countless other blog posts about destinations and things to see and do in Greece. Follow him on social media for travel inspiration from Greece and beyond: