With warm sunny weather, little rain, and fewer visitors, May is a good month to visit Santorini in Greece. Here's everything you need to know.
Is May a good time to visit Santorini?
I always recommend that if possible, people should travel to Santorini outside of the high season months of July and August, especially if they want to avoid crowds. As such, May is a great month to go to Santorini island in Greece!
You'll find warm weather, good hotels with lower prices than peak season, there's more availability for rental cars (if you want one), and cost wise everything is just a little cheaper.
With fewer people, Santorini in May is a lot more quiet compared to August. You'll have better opportunities for more undisturbed Instagram snaps too!
Related: How to plan a travel budget
Weather In Santorini In May
The weather conditions in Santorini during May can vary, but on the whole expect sunny days and cool evenings.
During the day, the Santorini weather will most likely feel warm enough to wander around Santorini in shorts and a t-shirt. In the evenings you may need a light jacket.
In terms of Santorini temperatures in May, you can expect it to be warm with 20 C during the day, with cool nights at 17 C. This means that the weather in Santorini in May is far more pleasant than in July and August, when you can get ridiculously extreme temperatures and the strong Meltemi winds.
The water temperature of Santorini is perhaps not as warm as during the summer months, but you can still go for a swim in the sea in May.
Bottom line: The May weather in Santorini is a lot more pleasant for sightseeing!
What is Santorini like in May?
On most Greek islands, May might be considered early for the tourist season. Santorini, while not quite year round, has a longer season than other island though.
Many businesses and most restaurants open before Greek Easter, which is in April or May, and stay open through until late October.
By the end of May, you will find that Santorini is starting to get busier and busier – more cruise ships will arrive, and the popular sunset spots will get very busy. If you have your pick of when in May to go to Santorini, the second week would be about ideal.
What to do in Santorini island in May
As May is not quite the shoulder season in May, but not the high season either, you can expect to find a full range of activities and things to do on the island!
I've got some specific itineraries for spending 2 days in Santorini and 3 days in Santorini you might want to check out. Here in brief, are the things to do in Santorini in May you might want to consider:
Walk from Fira to Oia in May
I personally find that the walk along the caldera path from Fira to Oia is one of the most rewarding experiences from a trip to Santorini. The view are lovely, and in May, the weather is just about perfect for it! Trust me, the Fira Oia hike will be a real highlight when visiting Santorini.
The walk is non technical and well signed. You'll need to be of average fitness. Allow 3-4 hour for the walk from Fira to Oia which is around 10kms long (6 miles). Make sure to time your arrival in Oia to make it for the sunset!!
Take a Santorini sailing trip
Sailing is one of the most popular activities to do in Santorini. These boat tours offer a unique perspective to this beautiful island, and in May, there are fewer tourists so you'll enjoy it all the more.
Choose from a volcano trip, a sunset cruise, or a caldera view boat trip. Take a look here for my inside tips on the best Santorini boat trips.
Trying different sunset spots in Santorini
The Santorini sunset is legendary, and in May there is less of the summer haze that occurs in July and August. This means your sunset photos from Santorini will be all the more awesome!
Most people head for the castle in Oia for sunset photos – which can get quite crowded, even in May. Other places to consider taking sunset photos include Fira, Imerovigli, Akrotiri lighthouse, Santo wines winery, and of course a sunset boat cruise.
Santorini towns and villages
Several lovely settlements and villages, including the famous white-washed homes and blue-domed churches, can be found on the gorgeous Cycladic island.
Fira is the island's largest town, while Oia is both a beautiful sunset viewpoint as well as a popular resort. Both of these towns are on the west coast. Other villages you might want to spend time at include: Firostefani village, Pyrgos village, Kamari village, Akrotiri village, and Perissa village.
See the ancient site of Akrotiri
The ancient site of Akrotiri is an archaeological site that was buried in ash following a volcanic eruption in 1627 BC. The excavation of the site began in 1967 and continues to this day.
The site consists of a large number of buildings, including houses, workshops. Parts of the frescoes on the walls have survived, although now you can only see them in the National Archaeological Museum in Athens.
Take a wine tour in Santorini
Santorini is a volcanic island and as a result, the soil is rich in minerals. This gives the grapes that are grown on the island a unique flavor which is captured in the wine made from them.
There are many wineries on Santorini that offer wine tours. You can either do a self-guided wine tasting tour or go on a tour with a guide. I've put together a list of the best winery tours in Santorini for wine lovers which includes some of the smaller, family-owned wineries as well as the larger ones.
Santorini Hotels
May can be a good time of year to find accommodation in Santorini. The prices aren't as high as in July and August, and actually you can find some quite keenly priced hotels and places to stay outside of Oia.
Some people look for hotels with a swimming pool in Santorini. For the most part these are normally good for photos, but not practical in terms of swimming – just so you know!
I've a more complete guide here to where to stay in Santorini.
Traveling to Santorini in May
To get to Santorini, you can either fly or take a ferry. As Santorini has a small international airport, people from the UK and other European countries might want to arrange their itinerary so that they fly straight there.
Santorini airport also has connections with Athens airport. So, if you are arriving from the USA or Canada, you might want to get a connecting flight.
I recommend Skyscanner as a good site to compare flight prices before you visit Greece.
Ferries from Athens and other Greek islands
As with all the islands in the Cyclades group in Greece, you can also travel there by ferry. Santorini has regular ferry connections with Athens (about 5 or 6 hours), nearby islands such as Folegandros, Sikinos and Ios, and further away but still popular destinations like Mykonos, Crete, and Milos.
If you plan to visit Santorini island in May, the ferries are extremely unlikely to be booked out. Still, it doesn't hurt to book ferry tickets a month or two in advance, even when traveling to Santorini in the off season.
You'll find the Ferryscanner site an extremely helpful place to look at ferry schedules and book ferry tickets for Santorini online.
FAQ For Taking A May Greek Vacation In Santorini
If you have an upcoming trip to Santorini planned for May, but are unsure of what to expect, you might find some of these frequently asked questions and answers useful.
Is May a good time to visit Santorini?
The weather is warm, the average rainfall is minimal, and the crowds are fewer. May is a great month to spend in Santorini!
Can you swim in Santorini in May?
The beaches on the east side of the island are suitable for swimming, but keep in mind that the water might not have fully warmed up, so extended sea swims in May in Santorini might be a bit chilly!
Is Santorini busy in May?
Compared to July and August, May is not a busy month for Santorini, but visitors still might find more people there than expected. This is one of the most popular Greek islands to visit, and lots of cruise ships stop here.
When should you avoid Santorini?
August is the most expensive and crowded month in Santorini. If you have a choice, plan a trip to Santorini in May instead.
Is May a good month for an island hopping trip in Greece?
May is really just the start of the tourist season in Greece. It can be a good time for island hopping for budget travelers, as accommodation will be affordable, but the sea might be cold for spending too much time swimming.
Can you swim in Greece in May?
When visiting Santorini in Greece in May, you may find that it is warm enough to go swimming. Perhaps not for extended swims, but certainly long enough to cool down if you have been laying on the black sand beaches of Kamari and Perissa.
Next read:
---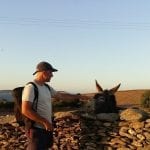 –
Dave Briggs
Dave is a
travel writer
who spends his time traveling around and writing about Greece. As well as putting together this guide on what Santorini is like in May, he has written hundreds of travel blog posts about destinations and adventure activities in Greece and beyond. Follow Dave on social media for travel inspiration from around the world: