Have you ever wondered what visiting Greece in January and February is like? Here's my travel tips and advice for visiting Greece in winter.
Visiting Greece in Winter
Are the months of January and February a good time of year to visit Greece? It's a question quite a few readers have asked, and so I thought to put all the information here in one place.
Before we start though, I should make clear that visiting Greece in January and February has its pros and cons.
On the positive side, you'll have bargain prices for hotels, there'll be very few tourists, and you could try out a ski resort in the mountains. You'll also find the ancient sites a lot less busy than they are during peak season!
On the negative side, there will be occasional rainy days, some Greek islands will be virtually closed for winter, and you won't really be lazing around on the beach.
If you're visiting from Northern Europe or Northern America, you might find the weather pleasantly mild compared to your own winters. If you're visiting Greece from Asia, you might find January a bit too chilly to be comfortable.
January and February in Greece
If you're planning to visit Greece during January or February, these frequently asked questions and answers might be of use. Let's start off with an obvious one, and build up from there!
Visit Greece in January – Weather Overview
In January, Greece has average temperature of 10°C, with highs of 13°C and an average low temperature of 7°C. You'll need some cold weather clothing, and as there are some rainy days, perhaps a packable umbrella.
What season is Greece in January?
As with all of Europe, January in Greece is firmly in the winter season. Although both January and February are the coldest months of the year in Greece, winters are mild compared to the rest of Europe due to its southern location.
Are the Greek islands warm in January?
January is normally the coldest month of the year in the Greek Islands. Gray skies and rain can be frequent in winter, and the sea temperatures are too cold for most people to enjoy swimming.
What is the weather in Greece in January?
Greece has average temperatures of 10°C, with highs of 13°C and lows of 7°C in January. Rainfall can vary due to location, for example Athens has 12.6 days of rain and regularly aggregates up to 56.9mm (2.2″) of precipitation.
Is January a good time to visit Athens?
January is a good time to explore Athens, especially as important sites like the Acropolis, and Agora will be much quieter than in summer. Museum lovers will also appreciate being able to take their time in the Athens museums in January rather than feeling they are being rushed along.
Related: Best time to visit Greece
It looks like January is off-season so will I be ok to book tours when I get there or should I do it now?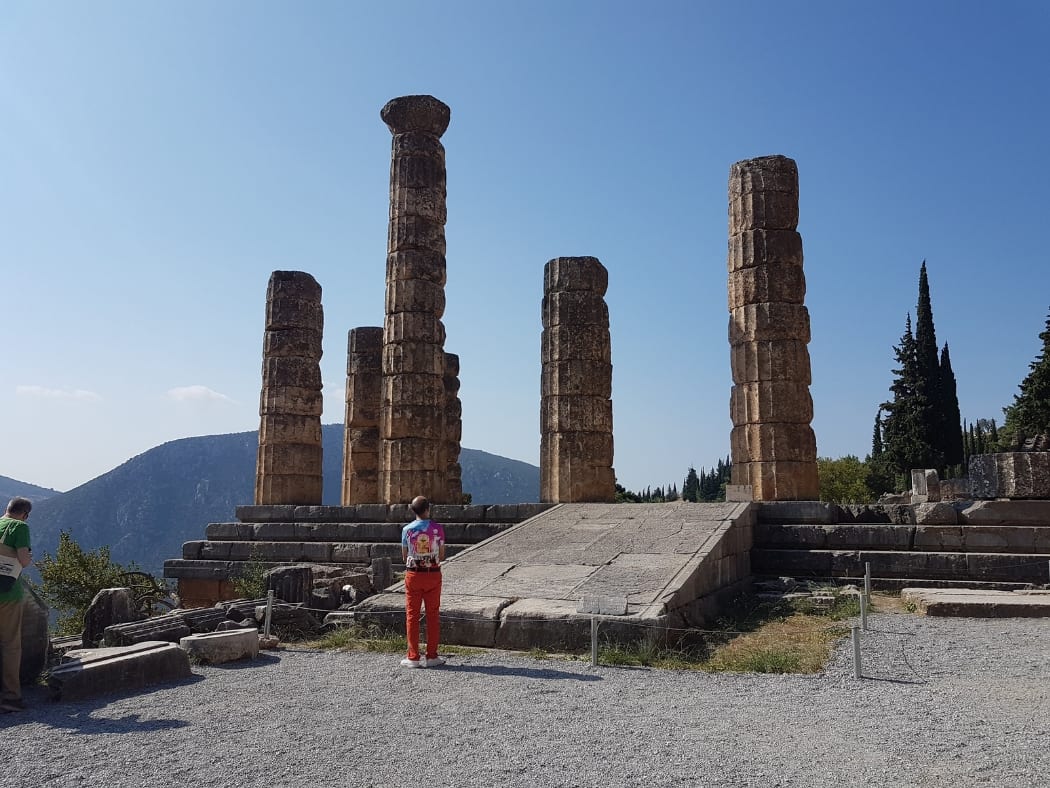 Answer: You could almost definitely book tours a day or two before you want to go, as tour operators will have room. From a practical point of view though, my travel tip is to book in advance.
This is from experience! I'm currently traveling around Asia, and we've spent a surprising amount of time researching and booking tours on the fly.
If we had booked in advance, we'd have more time enjoying the sights and sounds, and less time in front of a computer screen!
Do archaeological sites in Greece have shorter opening hours in winter?
Answer: Archaeological sites in Greece have shorter opening hours in January than in summer. The major ones mostly close at 15.00 because there is less daylight, so get your sightseeing in early. Minor ones may not open at all. If you are visiting Athens, the Acropolis and Parthenon closes at 17.00, but the Acropolis Museum does open until 20.00, (depending on the day) so you can plan your day around that.
Check out this article for more: Things to do in Athens in winter.
Should I go to Mykonos in January or February?
Answer: This is a difficult one to answer! It really depends what it is you want to get out of Mykonos. You certainly won't be swimming or sunbathing at that time of year!
There won't be much in the way of tourist infrastructure open, but on the other hand, you will get a true taste of Greek island life in off-season. Generally speaking Mykonos and other Greek islands of the Cyclades are not a winter destination.
If you've ever thought of moving to Greece, I'd suggest seeing Mykonos or any of the islands in the winter – Life might be a lot slower than you might expect!
Take a look here for: The best time to visit Mykonos
Should I go to Santorini in January or February?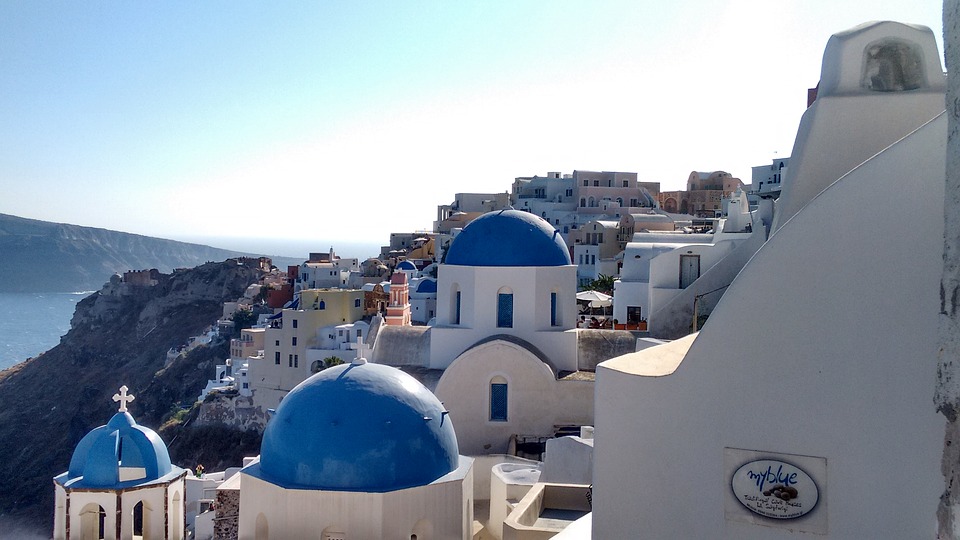 Answer: I think this is a great time to visit Santorini! Some of the tourist infrastructure will be closed, that's for sure. You might also have to take your chances with the weather. The massive positive side though, is that there are very few tourists at that time of year.
You might also have to take your chances with the weather. Whilst you might have occasional rain, you could also experience sunny days with better photo opportunities than in the summer months. It's a bit of a lottery. Here's what Santorini in Winter is like,
More here: Best time to visit Santorini
What's the weather like in Greece in January and February
Answer: Pretty cold actually! You might have noticed on the news that snow covered Athens in 2019. It's a rare event, but spectacular. Towards the later end of February, the temperatures can pick back up though. It won't quite be shorts and t-shirt weather, but it will be a lot warmer than Northern Europe!
Related: Snow quotes for Instagram
Does Greece have ski resorts?
Yes, you can find ski resorts in Greece in the mountainous regions. The most well known are Mount Parnassos near Arachova, and Kalavrita in the Peloponnese. The ski resorts in Greece are usually open between January and March, weather permitting.
Visiting Greece in Winter
Here's some more information in the weather, temperatures and climate you might expect if visiting Greece during the winter months.
Weather in Greece in December: Temperatures are mild, with temperatures hovering around the 18-20°C mark (65-68 degrees Fahrenheit) during the day and 12-14°F at night. The air is moist, leading to some precipitation in form of rain or snow in the north of the country. In Athens in the south, snow tends to fall later in January unless it's a particularly cold year.
Greece Weather in January: Greece is a pretty cold place in January, with temperatures around the average of 12°C (54 degrees Fahrenheit) during the day. Temperatures at night can dip down to zero degrees.
Greece Weather in February: February can be a strange month for weather, as there are normally a few days where you think that summer has arrived early! These are known as the Halycon Days. At the same time, it's not unusual for their to be a little snow even in the city of Athens in February!
If you've got any questions about visiting Greece in winter, send them through to me by leaving a comment below. I'll do my best to answer them.
You might also be interested in the best time to visit Europe.
Sign up for free Greece travel guides
Planning a trip to Greece? Sometimes a little inside knowledge goes a long way. Sign up for my free Greece travel guides below, and I'll share the best Greece travel tips and advice so you can plan the perfect vacation in Greece!
Also read: Warm places in Europe in December
---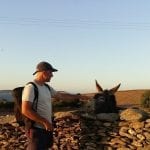 –
Dave Briggs
Dave is a
travel writer
who has been living in Athens, Greece since around 2015. In addition to creating this travel guide about traveling to Greece in winter, he's also written hundreds more travel guides to Greek destinations on this website.Follow Dave on social media for travel inspiration from Greece and beyond: